Hi Guys, welcome to today's blogpost for all the travel lovers out there!
If you are reading this right now, I assume travelling the world is one of your biggest dreams. But unfortunately, travelling can be quite pricey – and the flights are often the most expensive part. In the last years I booked countless flights and I gained some experience in finding the cheapest flights. In this blogpost, I want to share my favourite tips how to find cheap flights & travel the world with you. 🙂
Hi Leute, willkommen zum heutigen Blogpost für alle Reiseverrückten da draußen!
Wenn du das hier liest, dann gehe ich davon aus, dass es einer deiner größten Träume ist, die Welt zu bereisen. Aber leider ist das oft sehr teuer – und die Flüge machen dabei den teuersten Teil aus. In den letzen Jahren habe ich unzählige Flüge gebucht und ein wenig Erfahrung darin gesammelt, die günstigsten Flüge zu finden. In diesem Blogpost möchte ich meine Lieblingstipps mit dir teilen, damit auch du die günstigsten Flüge findest und die Welt bereisen kannst. 🙂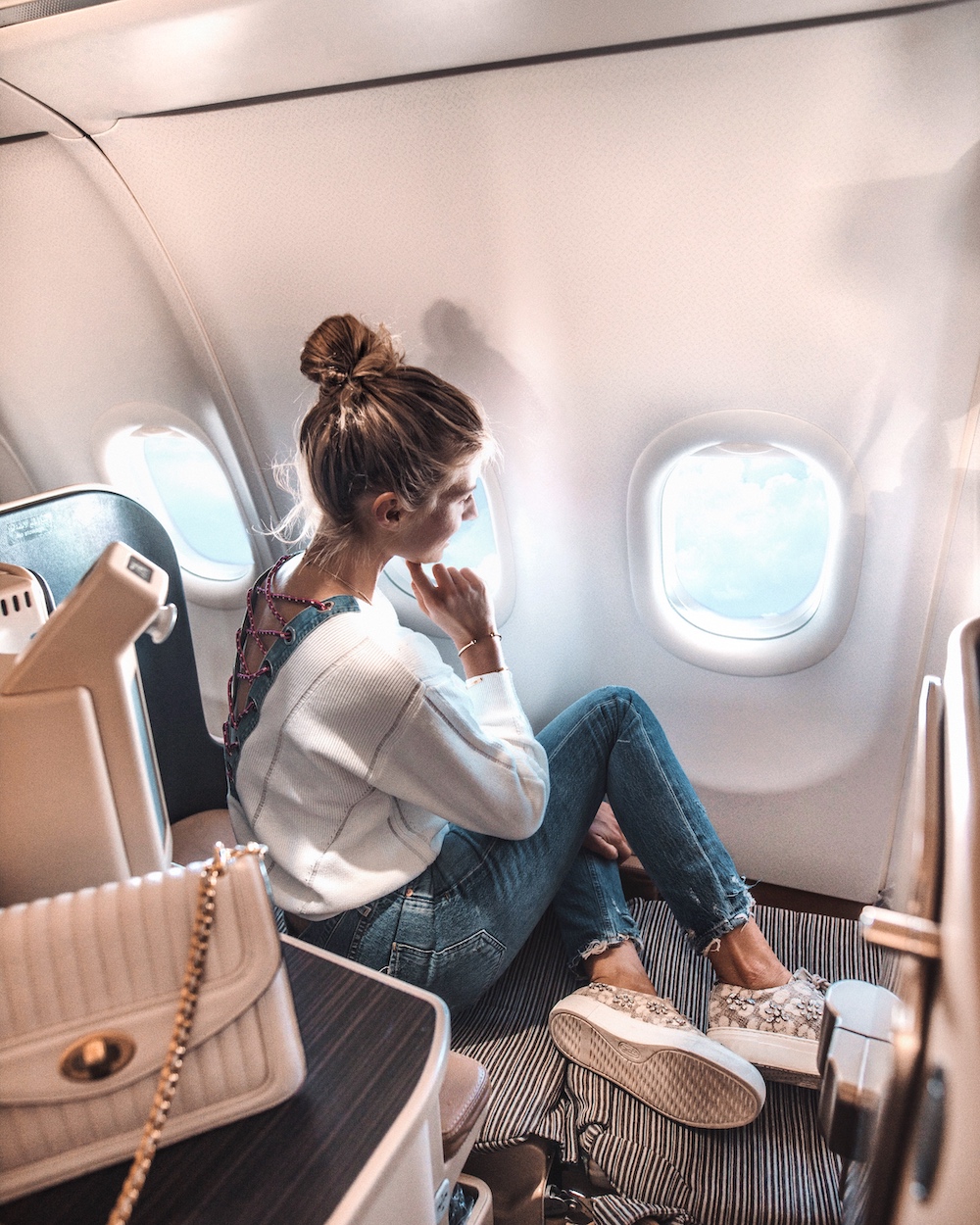 1. Timing is everything – especially when booking flights
The prices for flights are constantly changing. That's why timing is so important when booking a flight. From my research and experience, I can tell you: Don't book too early, but don't book too late either! Most of the prices are cheapest around 6-8 weeks before departure. But especially for long-haul flights, it makes sense to check the prices regularly 3-4 months in advance. Although I know better, most of the time it is not possible for us to book flights weeks or months in advance due to our job. Therefore most of the time we end up paying a lot more for our flights. But if I had the chance I would never do the following:
Don't wait for last-minute deals: Most of the times the prices do not go down a day before, or even on the day of depature. Often, prices increase, because business travelers who are dependent on taking that specific flight, pay much higher prices than budget travelers would.
Flugpreise ändern sich ständig. Deshalb ist das richtige Timing so wichtig, wenn du Flüge buchst. Aus meiner Erfahrung kann ich sagen: Buche nicht zu früh, aber auch nicht zu spät. Meist sind Flüge etwa 6-8 Wochen vor Abflug am günstigsten. Aber besonders bei Langstreckenflügen macht es Sinn, die Preise schon etwa 3-4 Monate vor Abreise regelmäßig im Blick zu behalten. Obwohl ich es besser weiß, müssen wir unsere Flüge häufig sehr spontan buchen aufgrund unseres Jobs und können nicht schon Wochen oder Monate vorher buchen. Daher zahlen wir am Ende für unsere Flüge oft viel mehr als wir müssten. Wenn ich die Möglichkeit hätte, würde ich Folgendes immer vermeiden:
Warte nicht auf Last-Minute Angebote: Meistens gehen die Flugpreise auch am Tag vor Abreise, oder sogar am Tag der Abreise nicht runter. Meistens steigen sie sogar noch, da Geschäftsreisende auf genau diesen Flug angewiesen sind und ohnehin bereit sind viel mehr zu zahlen, als jemand der günstig die Welt bereisen möchte.
Another flight-booking hack I want to share with you is that I often see that prices are cheaper when I look for flights during the week, than on weekends. On weekends, prices usually go up, because most of the people have more time to book vacation then, and so prices will increase a little. I heard a lot of times that Tuesday is the best day to book cheap flights.
The price-alert feature on the search engine skyscanner.com can help you finding the cheapest price for your flight. It will send you an e-mail, when prices are changing. Saves you a lot of time!! 🙂
Ein weiterer Flugbuchungs-Hack den ich gern mit dir teilen möchte, ist dass Flüge unter der Woche oft günstiger sind als am Wochenende. Am Wochenende gehen die Preise oft nach oben, da dann mehr Leute Zeit haben ihren Urlaub zu buchen. Daher werden Flüge etwas teurer. Ich habe schon oft gehört, dass Dienstag der beste Tag sein soll, um günstige Flüge zu buchen.
Die Preis-Alarm Funktion der Suchmachine Skyscanner.de kann dir dabei helfen, den günstigsten Flug zu finden. Du bekommst dann Emails, wenn sich die Preise ändern. So sparst du viel Zeit! 🙂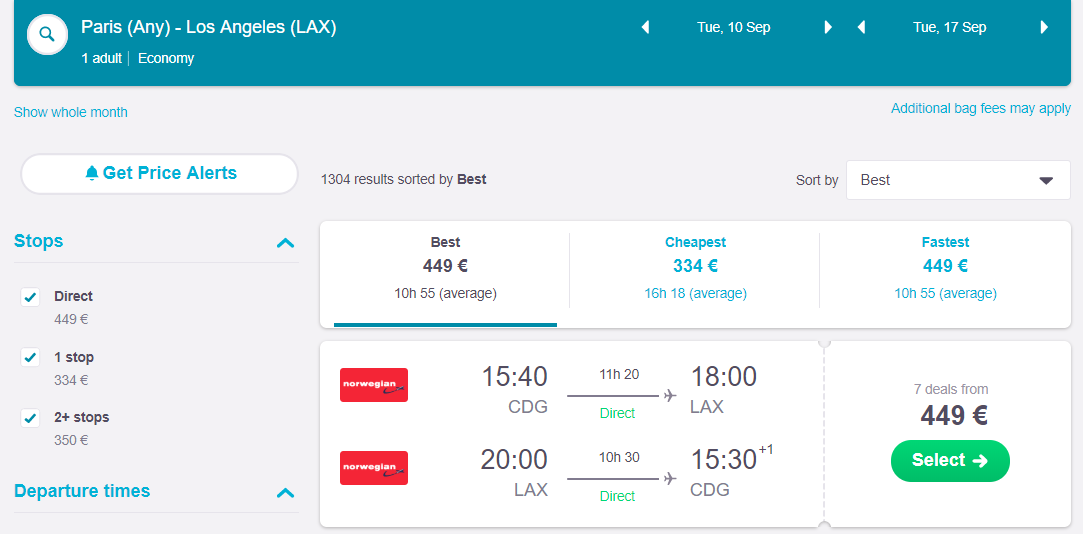 2. Choose the best days for departure and return – Be flexible
Usually, the best days for departures are Tuedays, Wednesdays and Saturdays. People, who want to do a trip during the weekend (Friday-Sunday/Monday) pay much more for their flights. Also try to avoid public holidays and school holidays.
Normalerweise sind Dienstag, Mittwoch und Samstag die besten Tage für einen Hinflug. Menschen, die einen Wochenendtrip (Freitag-Sonntag/Montag) machen wollen, müssen meist viel mehr für ihre Flüge zahlen. Versuche Feiertage und Ferien zu vermeiden, wenn du kannst.
3. Use search engines for flights
I aaaalways start my search for flights on skyscanner.com! It's my favourite search engine for flights, because it has so many features, but still it's so simple to use. But there are also other search engines, like Momondo & Kiwi, that I sometimes use to double-check, if I really found the best deal.
If I am flexible about my departure/return day, then I always use the "whole month"-option. When selecting your travel dates, you simply click on "whole month" and then Skyscanner will show you how the prices change during the whole months and you can save a loooooot of money. 🙂
Ich starte meine Suche nach Flüge immer auf skyscanner.de! Das ist meine Lieblingssuchmaschine für Flüge, weil sie super viele nützliche Features hat, aber trotzdem super einfach zu bedienen ist. Aber natürlich gibt es auch andere Suchmaschinen wie Momondo oder Kiwi, die ich manchmal nutze, um zu schauen, ob ich auch wirklich das beste Angebot gefunden habe.
Wenn ich was An- und Abreise angeht flexibel bin, dann nutze ich immer die "Ganzer Monat" Option. Wenn du deine Reisedaten auswählst, klickst du einfach auf "Ganzer Monat" und wählst deinen Reisemonat aus. Skyscanner zeigt dir dann wie sich die Preise über den ganzen Monat verändern und du kannst so eine Menge Geld sparen.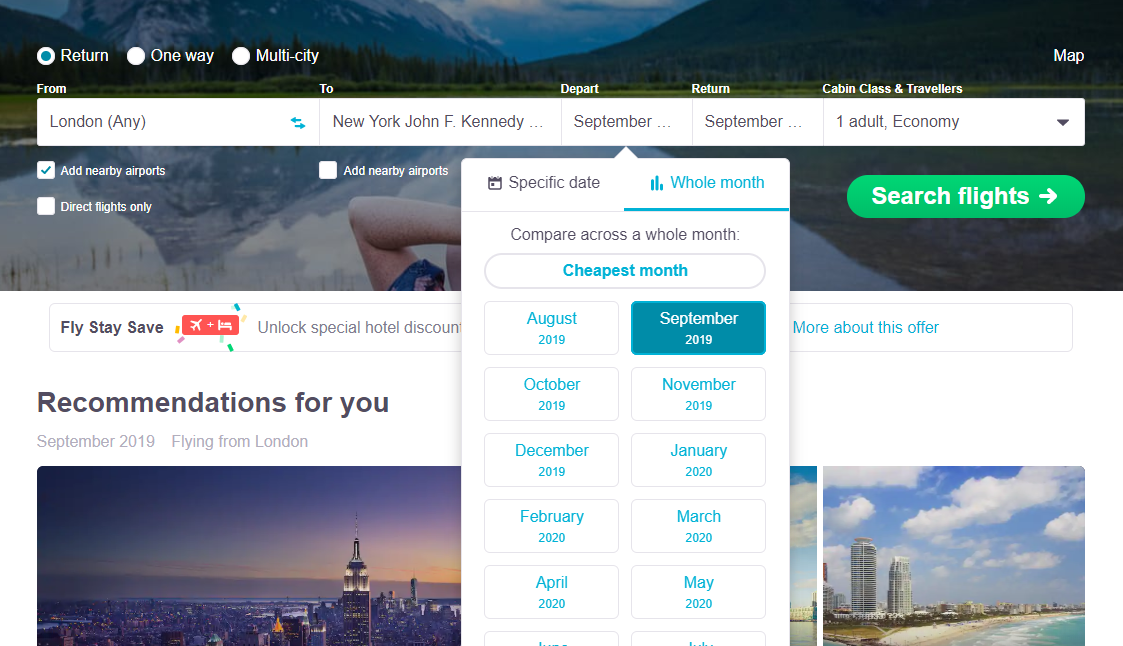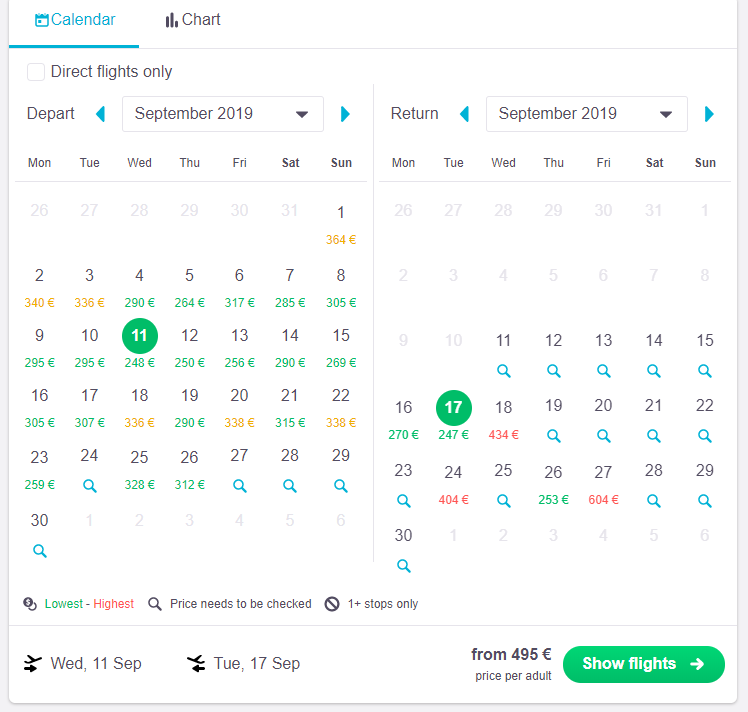 4. Compare different airports
I use Skyscanner in order to compare the prices of different airports by using their "add near airports" feature. For example I can compare the prices of flying from London Heathrow Airport to the prices of flying from London Gatwick Airport, and sometimes there are huge differences in price, although the two airports are quite close to each other. Comparing airports can definitely save you some money! To find the cheapest flight, you can also select "cheapest month" and skyscanner will show you the cheapest travel month for your selected destination.
Ich nutze Skyscanner auch um verschiedene Flughäfen miteinander zu vergleichen, indem ich die Funktion "Nahegelegene Flughäfen hinzufügen" nutze. Ich kann zum Beispiel vergleichen, was mich ein Flug von New York City von London Heathrow kostet und was ich zahlen muss, wenn ich von London Gatwick fliege. Manchmal gibt es wirklich große Preisunterschiede, obwohl die Flughäfen nicht weit voneinander entfernt sind. Nahegelegene Flughäfen zu vergleichen kann dich auf jeden Fall Geld sparen! Um den günstigsten Flug überhaupt zu finden, kannst du auch "Günstigster Monat" anklicken und dann zeigt Skyscanner dir, in welchem Monat die Flüge zu deiner Destination am günstigsten sind.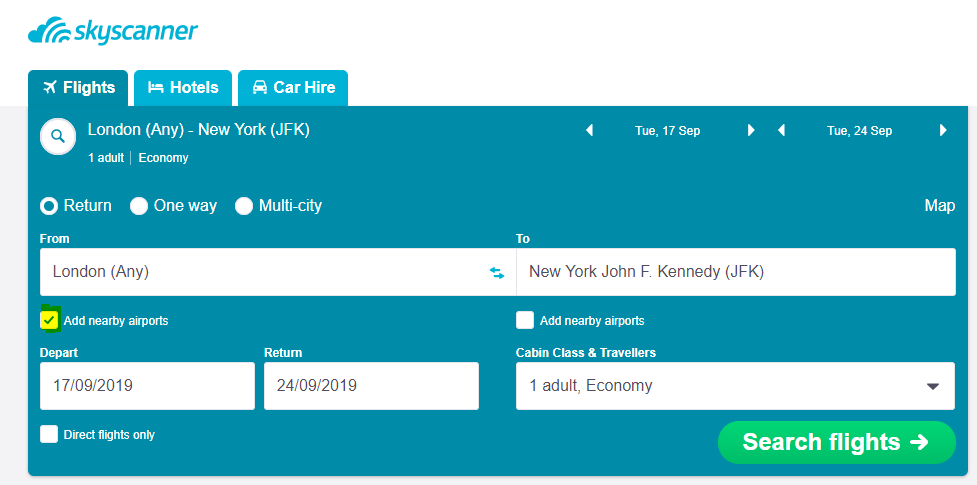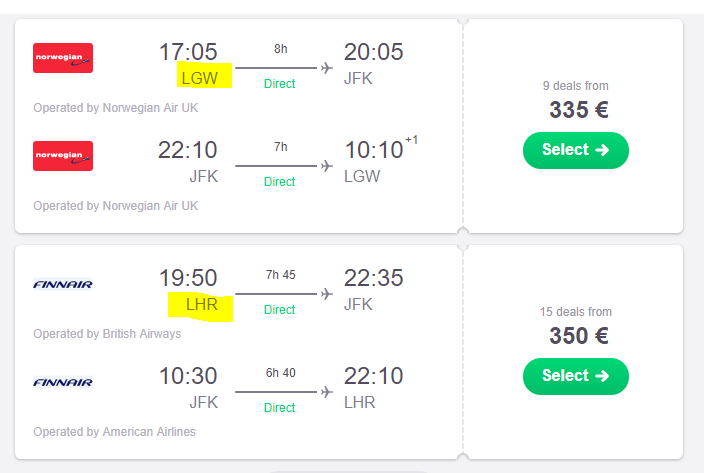 5. Search for flights only in incognito/private browser mode
You can try it yourself and maybe you will see a difference: When you look for certain flights (eg. Amsterdam – Dubai) on a regular basis – let's say every day for 3-4 days – then chances are high, that the prices will increase! Those search engines know that you are interested in those flights and they will make use of that! But you can trick them, simply by browsing in private or incognito mode, so they won't track your search. You can also delete your old browser cookies from time to time.
Du kannst es selbst ausprobieren und vielleicht wirst du einen Unterschied bemerken: Wenn du regelmäßig nach bestimmten Flügen suchst (zB. Amsterdam – Dubai); sagen wir jeden Tag für die nächsten 3-4 Tage; dann sind die Chancen hoch, dass die Preise ansteigen! Diese Suchmachinen bemerken dann, dass du Interesse an genau diesen Flügen hast und nutzen das natürlich aus! Aber du kannst sie austricksen, indem du einfach im Inkognito-Modus nach ihnen suchst, damit sie deine Suche nicht mehr nachverfolgen. Du kannst auch ab und an mal deine alten Browser-Cookies löschen.
6. Use bargain websites for cheap travels
If you haven't decided where exactly you want to go and need some inspiration for cheap travels, I can also recommend you to to websites like Holidayguru. They always look for the best travel deals 24/7 and post them online. Visiting their website can save you a lot of time to find crazy deals like flying to Budapest for only 3€!!
Wenn du dich noch nicht entschieden hast, wo genau die Reise hingehen soll, dann kann ich die Reiseschnäppchen-Plattform urlaubsguru.de empfehlen. Dort werden immer 24/7 die besten Schnäppchen geteilt. Die Seite zu besuchen kann dich einige Menge Zeit sparen, damit du wirklich verrückte Reisedeals findest, wie ein Flug nach Budapest für 3€!!
7. Never buy one-way tickets
Buying one-way tickets will cost you around 80% of the price you would pay for a return ticket. So unless you are really planning to never come back 😉 – always buy both tickets together.
Ein Einzelticket zu kaufen kostet dich etwa 80% des Preises von Hin- und Rückflug. Falls du also nicht explizit planst, nicht mehr zurück zu kommen, dann empfehle ich dir, immer beide Tickets gemeinsam zu kaufen.
I have one last advice for you: Keep in mind that, especially with low fare airlines, cheap deals are not always cheap in the end. Those airlines charge extra costs for EVERYTHING. Luggage, reserved seat next to your travelmate, food on board, paying by credit card, etc. So always look out for those details – and I am sure you will have amazing travels on a low budget.
Einen letzten Tipp habe ich noch für dich: Behalte im Kopf, dass besonders Flüge mit sogenannten Billigairlines nicht immer so günstig sind, wie sie auf den ersten Blick scheinen. Solche Airlines haben Extrakosten für wirklich ALLES. Gepäck, ein Sitzplatz neben deinem Reisepartner, Essen an Bord, Zahlung mit Kreditkarte, usw. Achte also immer auf die Details – und dann bin ich sicher, dass du großartige Reisen mit einem kleinen Budget erleben wirst. 🙂
Do you have some more hacks for finding cheap flights, that I haven't mentioned already? Please tell me in the comments! And let me know: What was your best travel bargain that you have EVER booked?
Have a safe flight! xx Debi
Hast du noch mehr Tipps wie man günstige Flüge finden kann, die ich bisher noch nicht erwähnt habe? Dann sag mir schnell in den Kommentaren bescheid. Und lass mich gerne wissen: Was war das beste Reiseschnäppchen, das du JEMALS ergattert hast?
Einen sicheren Flug! xx Debi