Hi Guys,
first of all I wanna wish all of you happy new year and all the best for 2018! 🙂 I'd like to start my 2018 with a new travel diary from our latest trip to paradise on earth: the Maldives – MY PERSONAL TRAVEL GOAL! These white beaches and the crystal clear water are from another world! Never seen something like this before… so be prepared for a looooot of pics 😉
Hallo ihr Lieben,
zu aller erst wünsch' ich euch allen eine frohes neues Jahr und alles alles gute für 2018! 🙂 Dieses Jahr startet mit einem neuen Travel Diary von unserem letzten Trip ins Paradies auf Erden: die Malediven – MEIN PERSÖNLICHES TRAUM-REISEZIEL! Diese weißen Strände und das kristallklare Wasser sind einfach von einer anderen Welt! So etwas habe ich zuvor noch nie gesehen… also seid bereit für eine meeeeenge Bilder 😉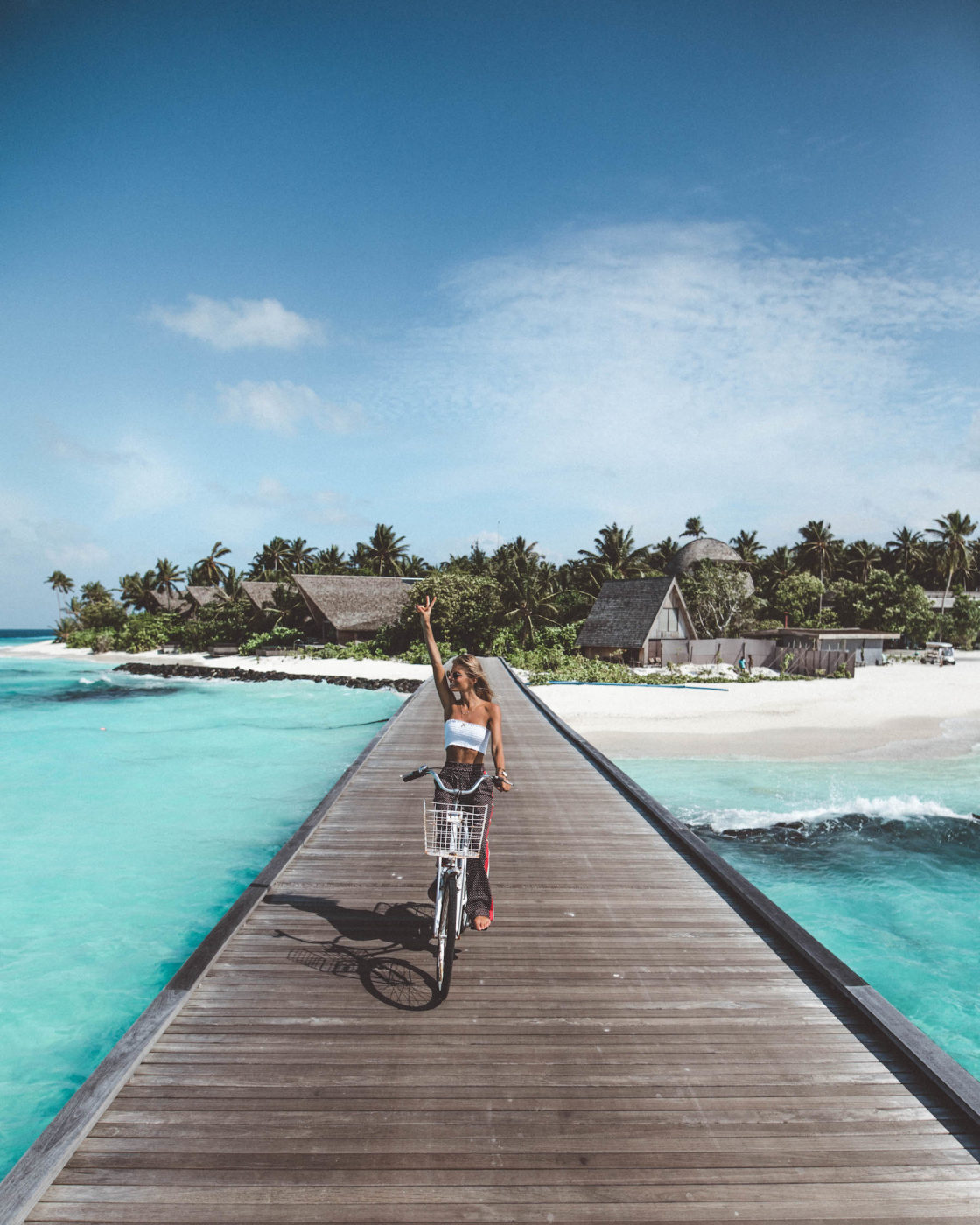 As we were departing from Dubai it was just a 4-hours-flight and we already arrived at Male Airport. We were welcomed very warmly by a member of the St. Regis Team who took us to the St. Regis Airport Lounge where we waited for our seaplane transfer to our final destination: the St. Regis Maldives Vommuli Island. The island is about 45 minutes from the main island Male. The flight is super fun and the view has been amazing! There are so many small beautiful islands which make me wanna build my own house on them 😀 Although the weather was quite "bad" on arrival we already had an amazing sunset *.*
Weil wir von Dubai aus angereist sind, waren es nur knapp 4 Stunden Flug und schon waren wir am Flughafen Male. Dort wurden wir von einem Mitglied des St. Regis Teams empfangen und in die St. Regis Airport Lounge gebracht, wo wir noch wenige Minuten auf unseren Seaplane Transfer zu unserem Zielort – dem St. Regis Maldives Vommuli Island – gewartet haben. Der Flug mit dem Wasserflugzeug dauert ca. 45 Minuten – uns ist wirklich etwas besonderes! Wir haben soooo viele wunderschöne, kleine Inseln unter uns entdeckt, auf denen ich am liebsten gleich ein Haus bauen würde 😀 Und gleich nach der Landung hatten wir trotz relativ "schlechtem" Wetter gleich einen traumhaften Sonnenuntergang *.*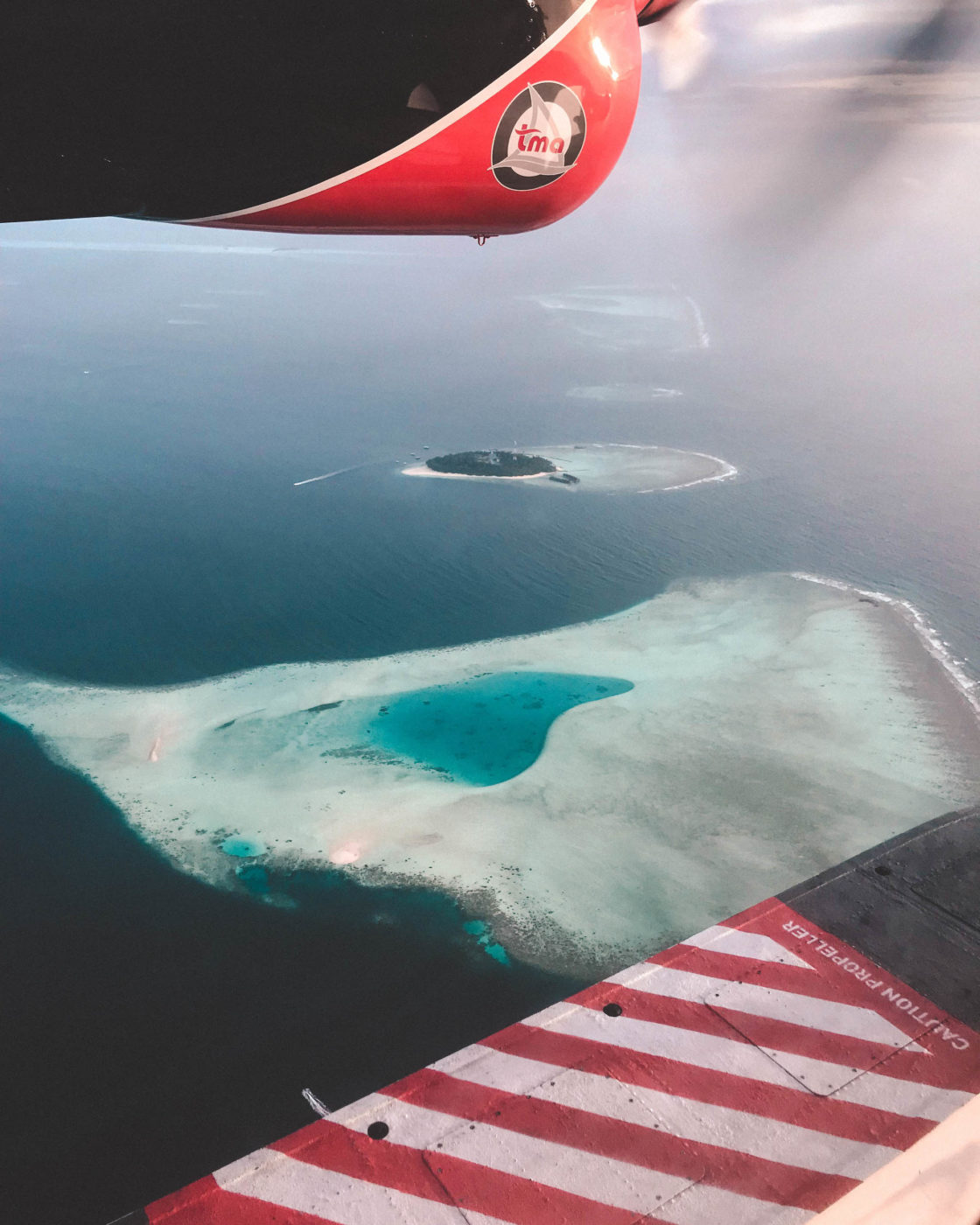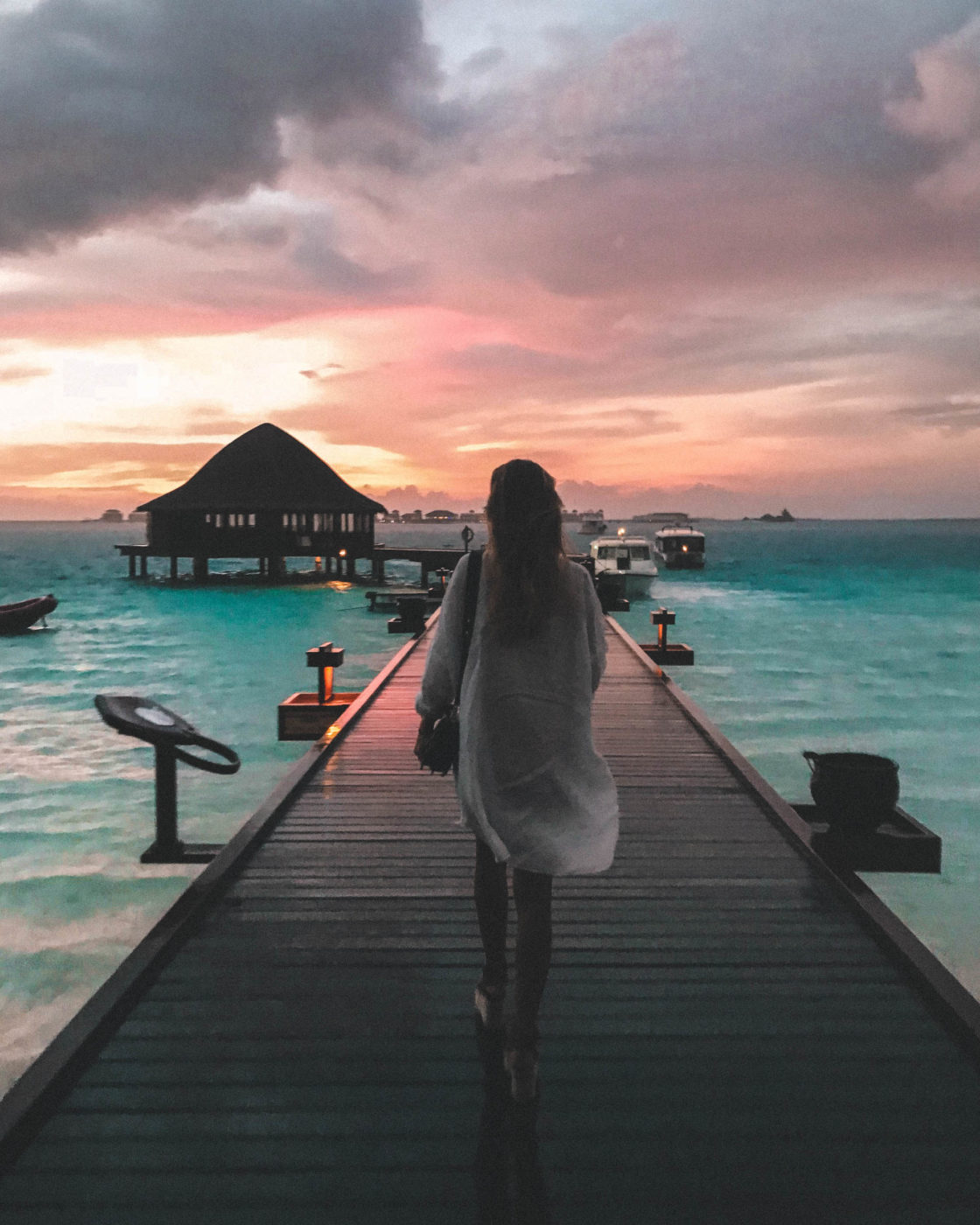 …and it kept raining for the next day – but hey: we went to the gym, had the best dinner ever *.* (Kev can't stop thinking about the Risotto in the ALBA Restaurant haha). I should have asked the chef cook if he could reveal his secret 😛
When the sun finally came out again on the next day we were literally flashed by our view… Our overwater villa was AMAZING! 🙂 Just like I have always imagined staying on the Maldives 🙂 It was so much fun to jump into the water, just hang out over the water in our hammock or go snorkeling.
…und es regnete leider auch den ganzen nächsten Tag – aber hey: wir konnten die Gym nutzen und hatten eines der schönsten Dinner ever *.* (Kev kann gar nicht aufhören vom Risotto im ALBA Restaurant zu schwärmen, haha). Ich hätte den Koch eigentlich nach dem Rezept fragen müssen 😉
Als sich die Sonne am nächsten Morgen endlich wieder gezeigt hat, waren wir wortwörtlich geflasht von unserem View… unsere Villa war der Wahnsinn! 🙂 genau wie ich es mir immer vorgestellt habe, mal die Malediven zu besuchen 🙂 Es war so schön gleich von dort ins Wasser zuspringen, auf unserer Hängematte über dem Wasser zu baumeln oder gleich ein bisschen schnorcheln zu gehen.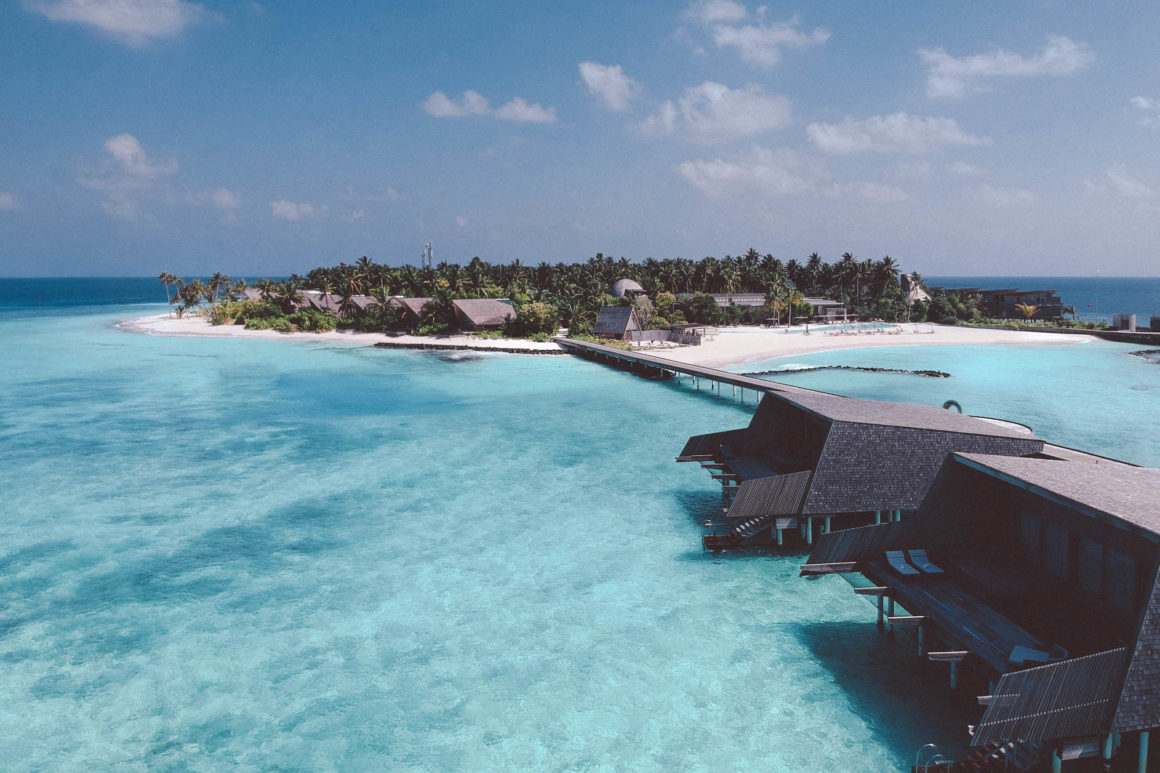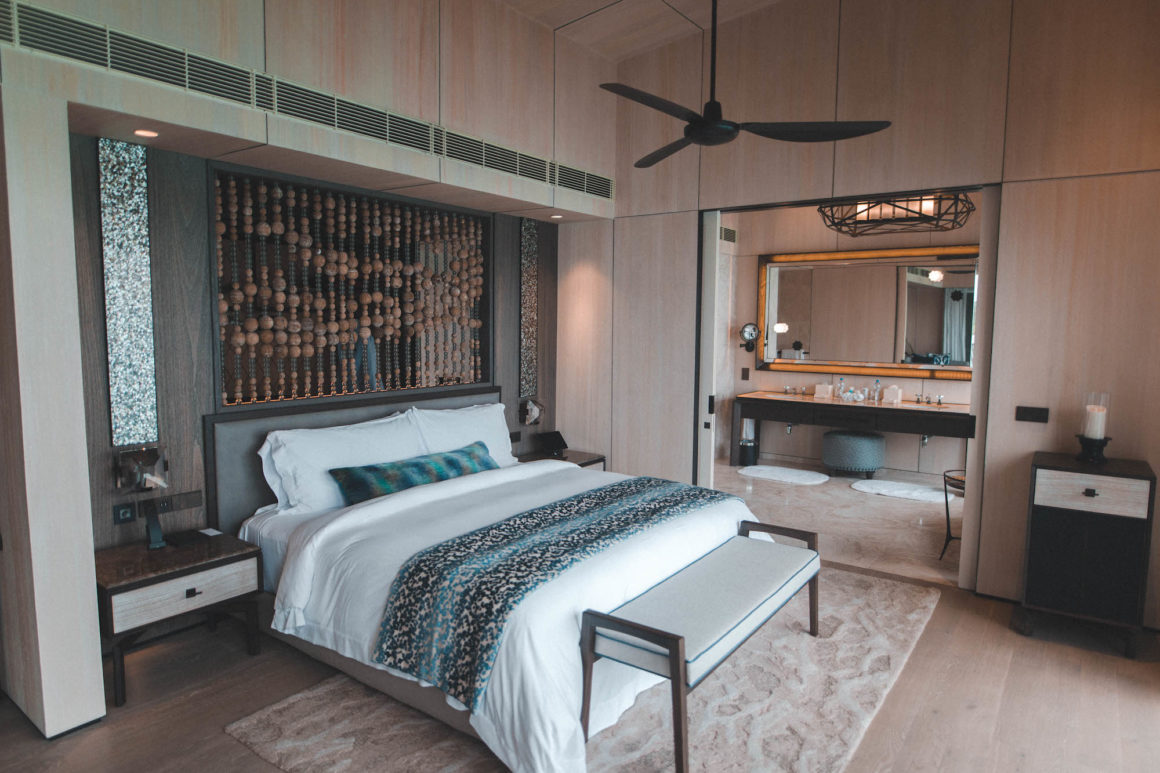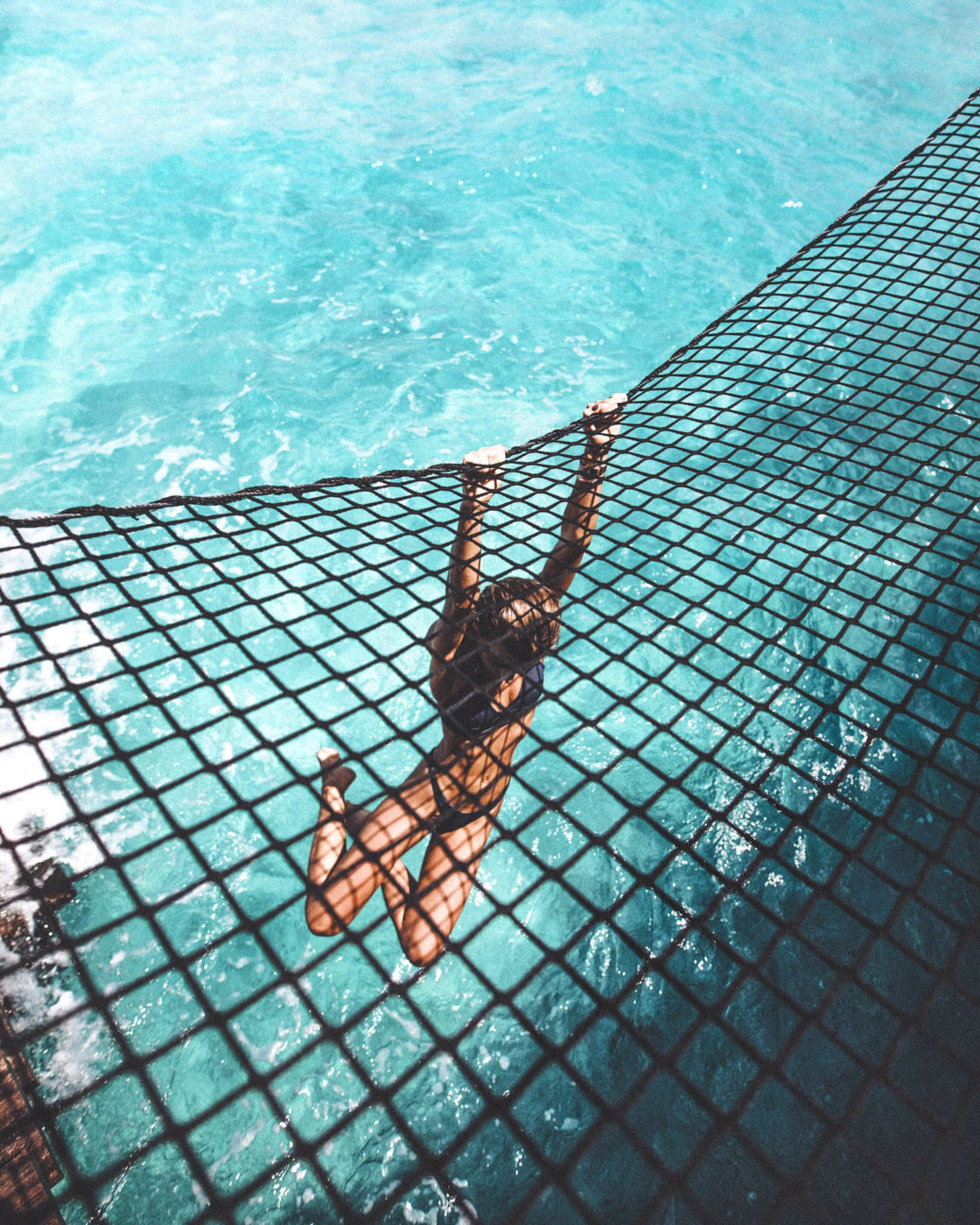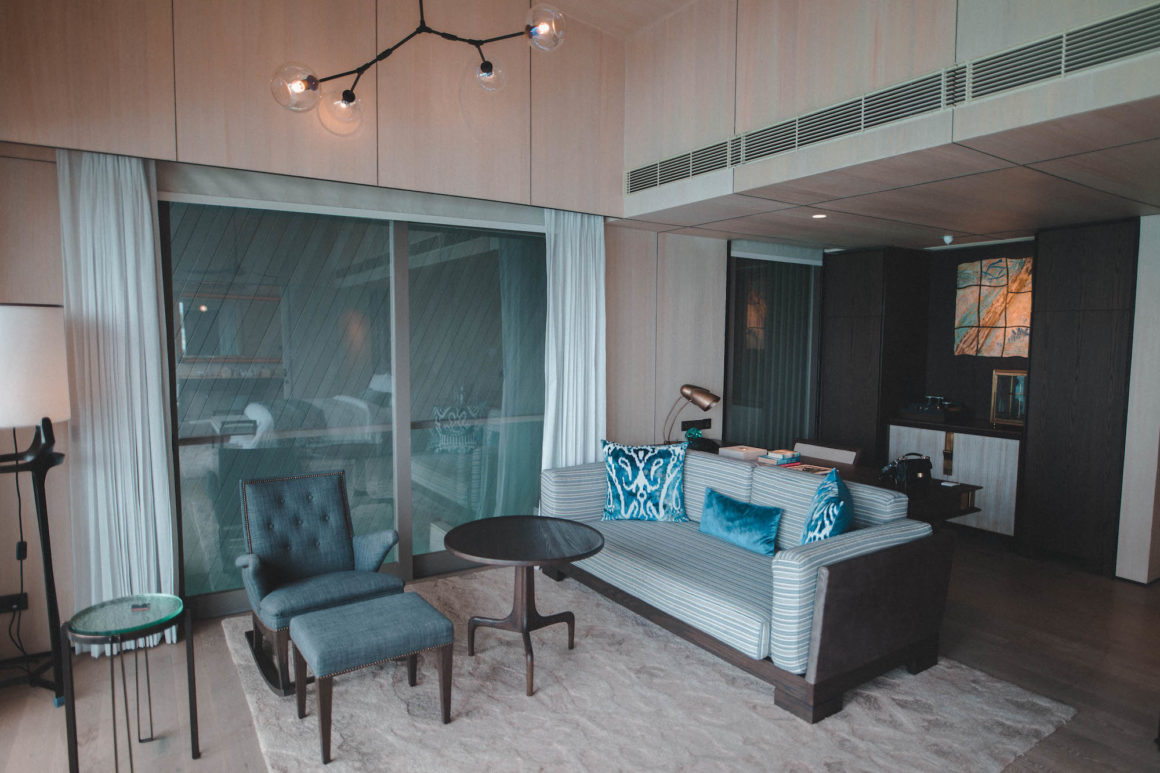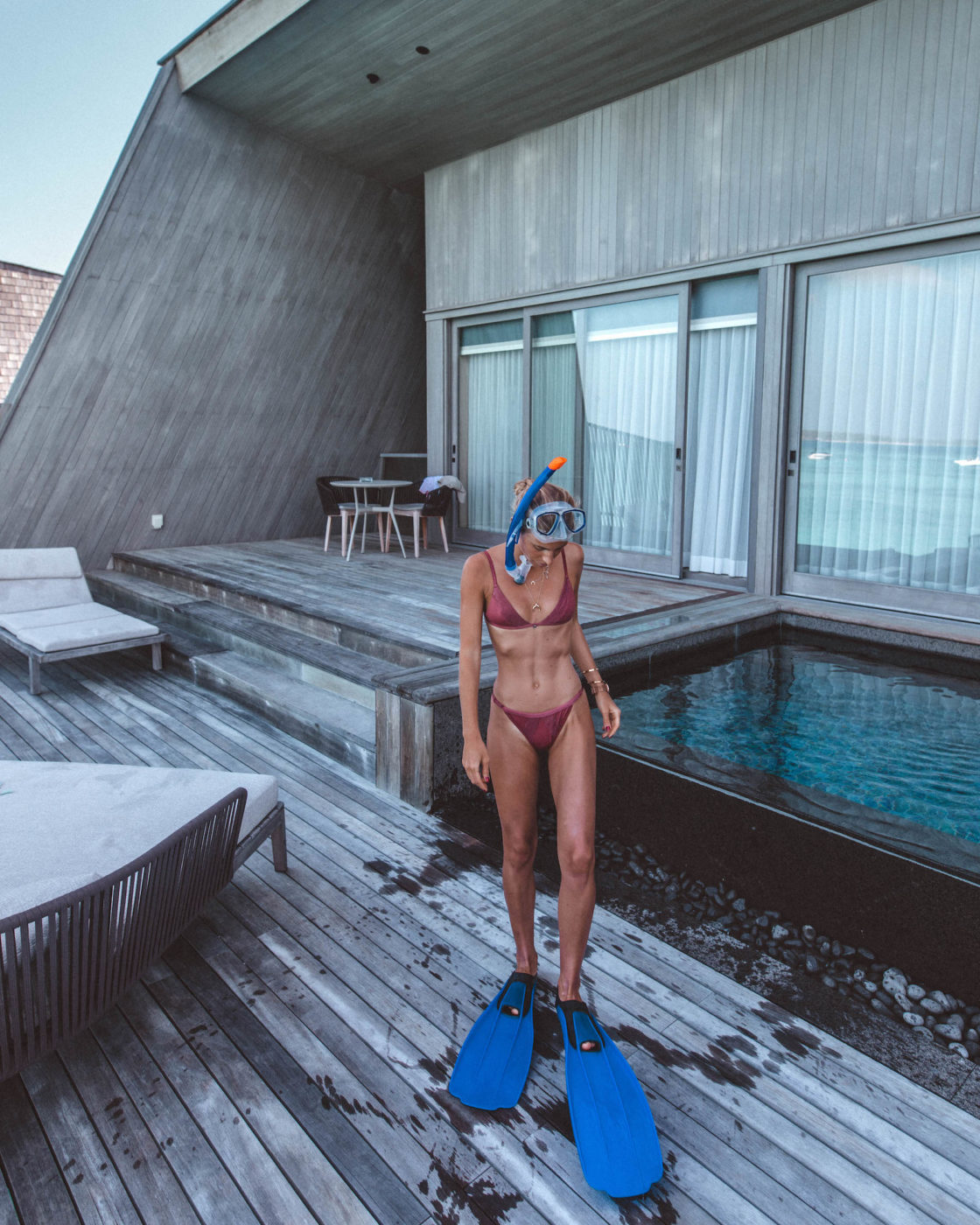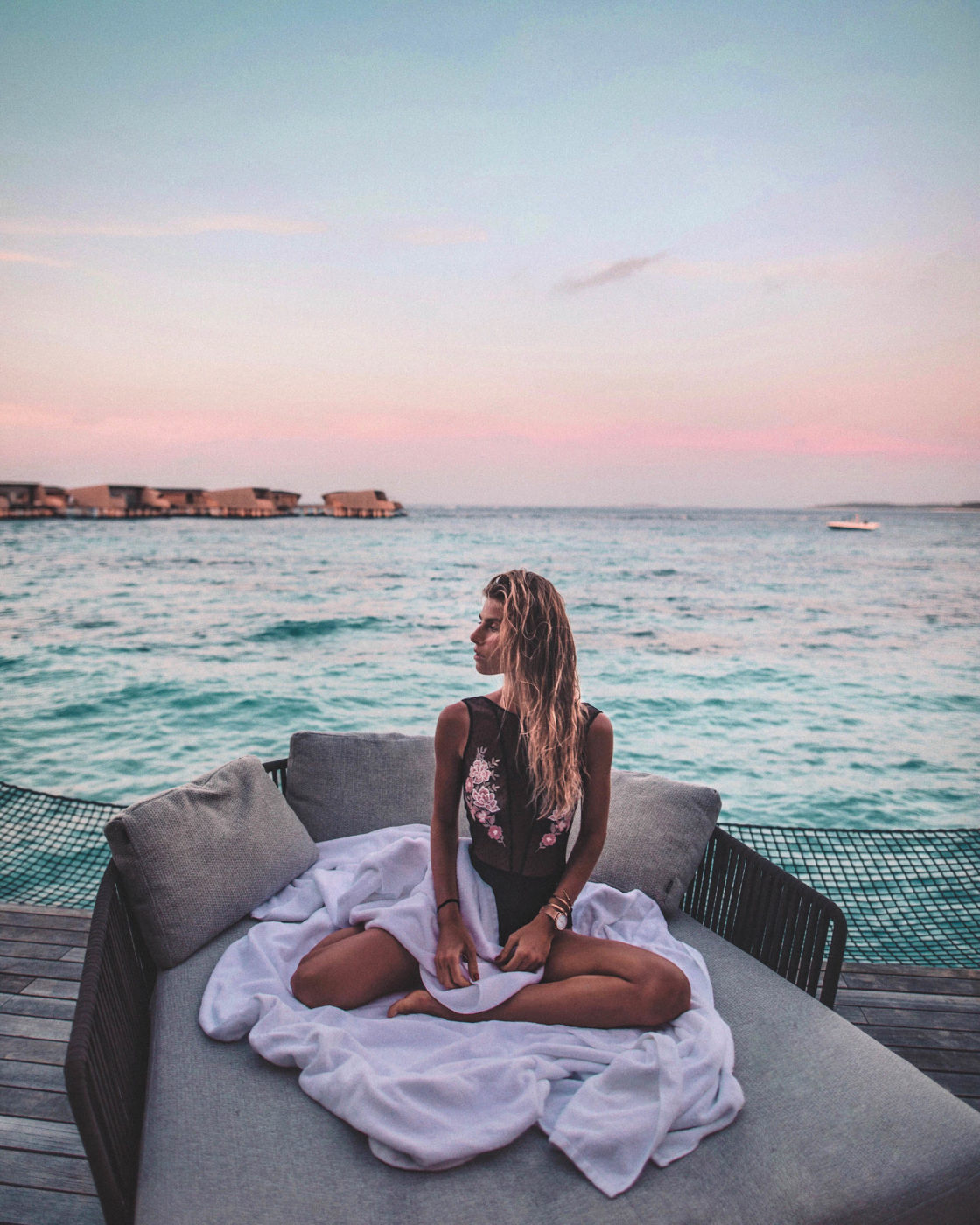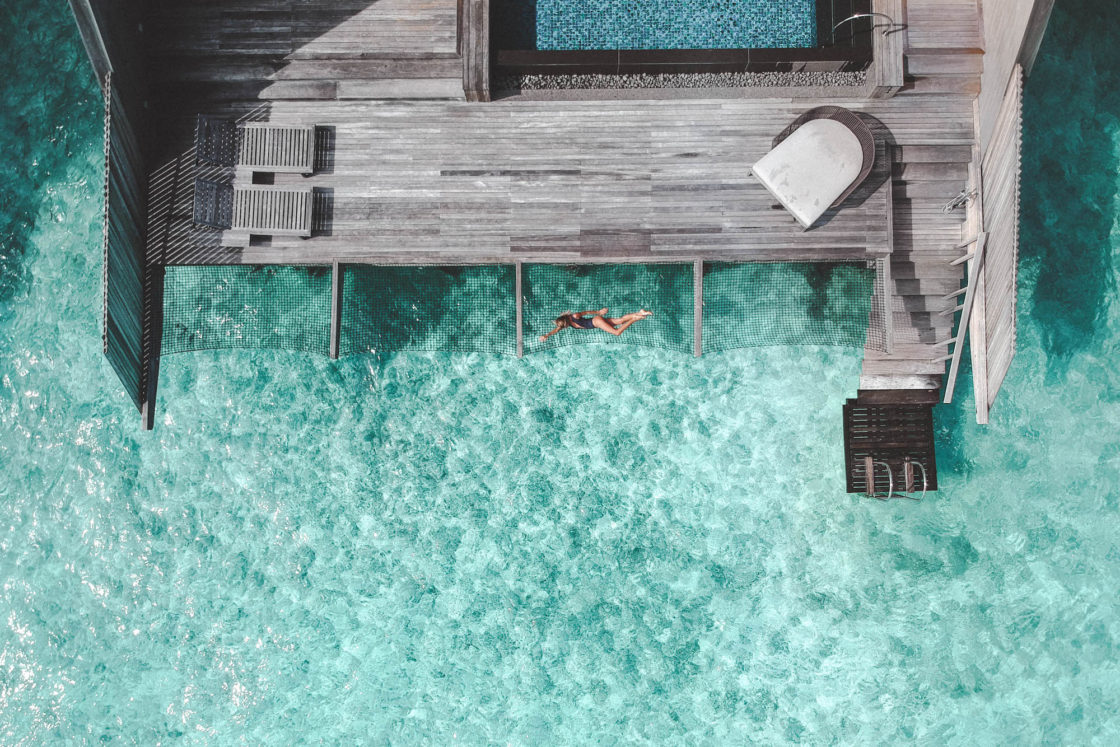 As our villa was so beautiful we spent a lot of time there just enjoying it 🙂 but of course there is a lot more to do and explore on Vommuli Island 😉 You need to know that the whole Island is just for the St. Regis Resort. By bike (which is free of charge) you can get around the whole island in about 10 Minutes and explore every spot which is super fun as it feels like driving through a little jungle and at the end you'll get to the most beautiful beaches you could wish for!
Wir haben wirklich eine Menge Zeit in unserer Villa verbracht und einfach genossen 🙂 Aber natürlich gibt es auf Vommuli Island noch einige andere Dinge zu erleben 😉 Ihr müsst wissen, die ganze Insel gehört zu St. Regis Resort. Mit dem Fahrrad (wird kostenlos zur Verfügung gestellt) kann man die Insel in ca. 10 Minuten umrunden und jeden Spot erkunden, was wirklich Spaß macht, da man durch eine kleinen "Dschungel" saust und am Ende an den schönsten Stränden überhaupt landet.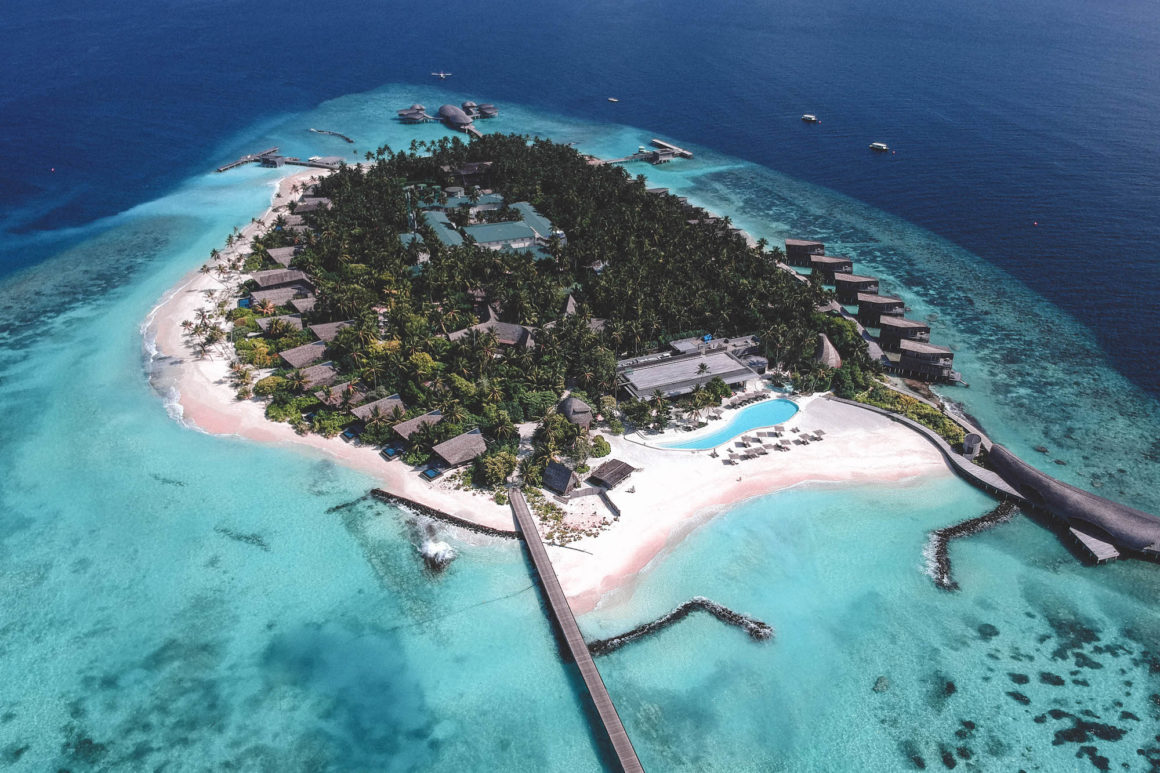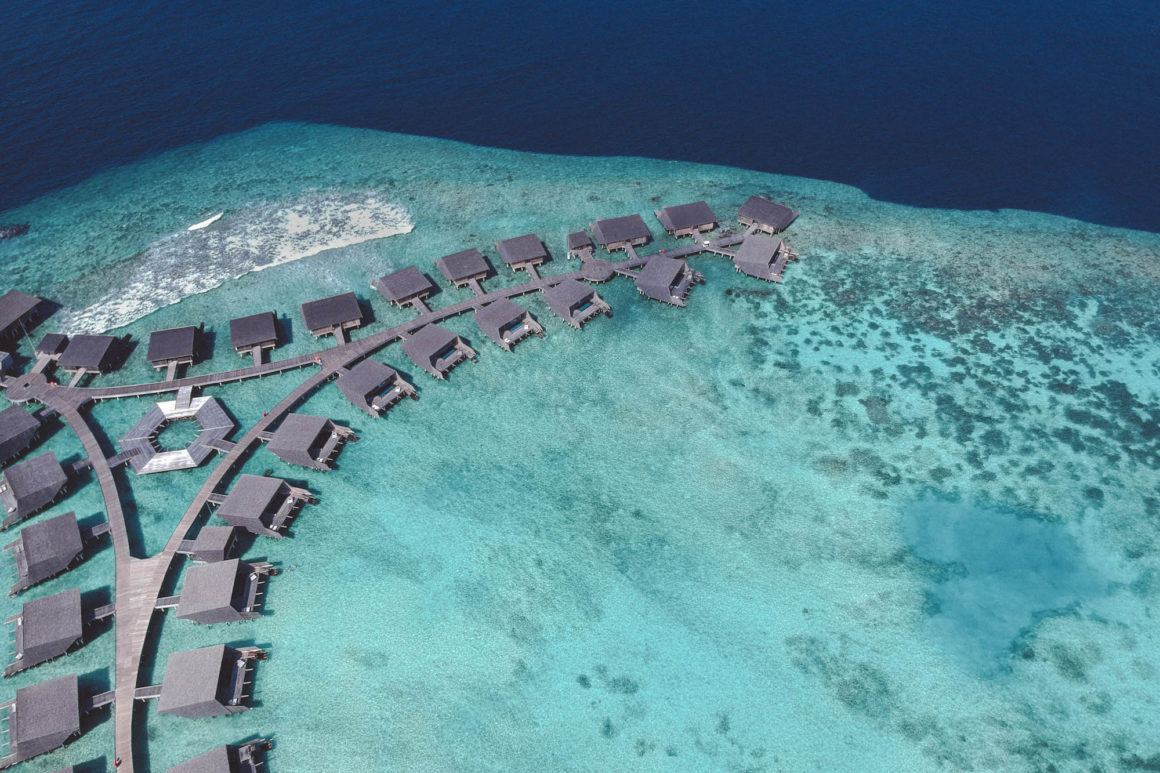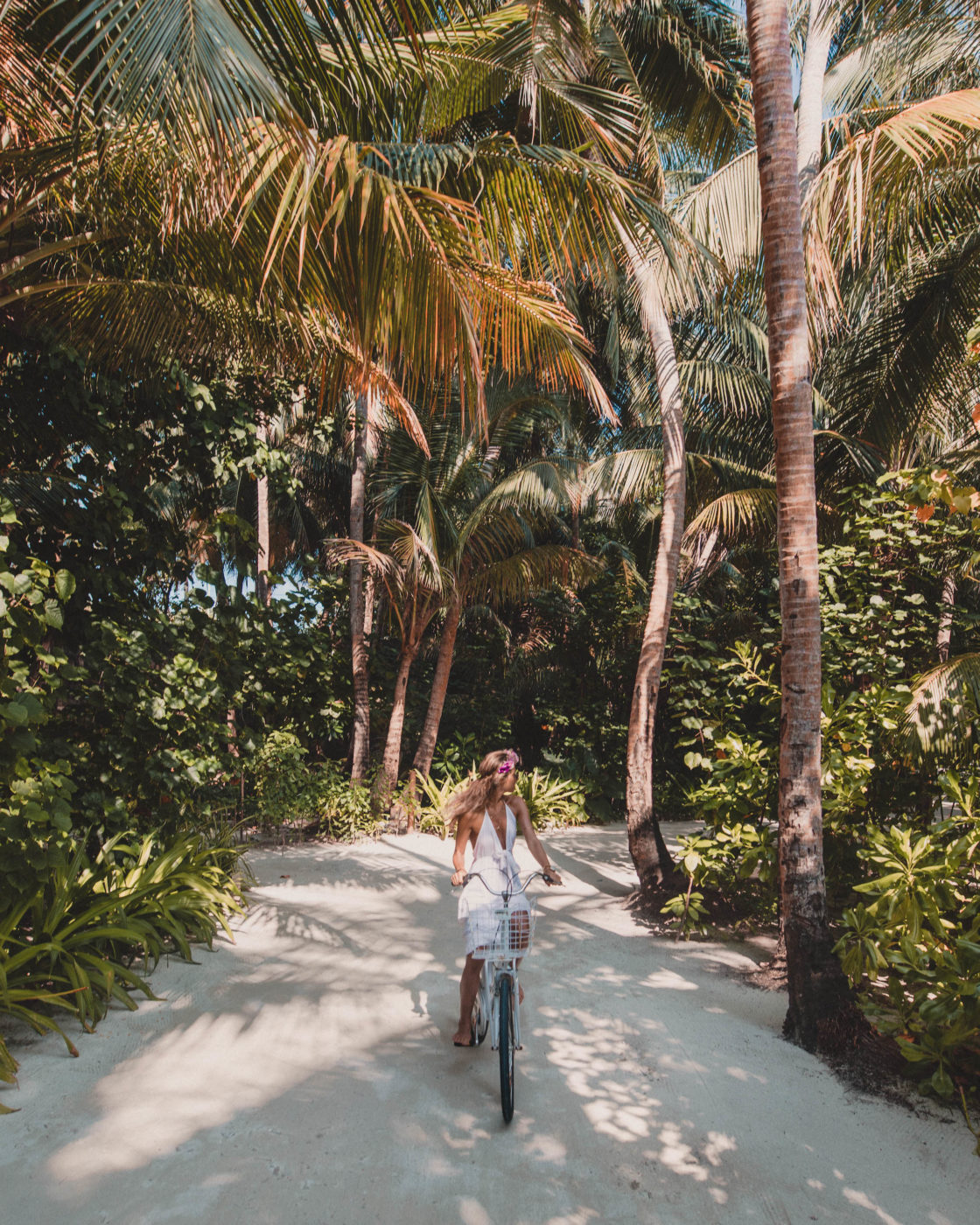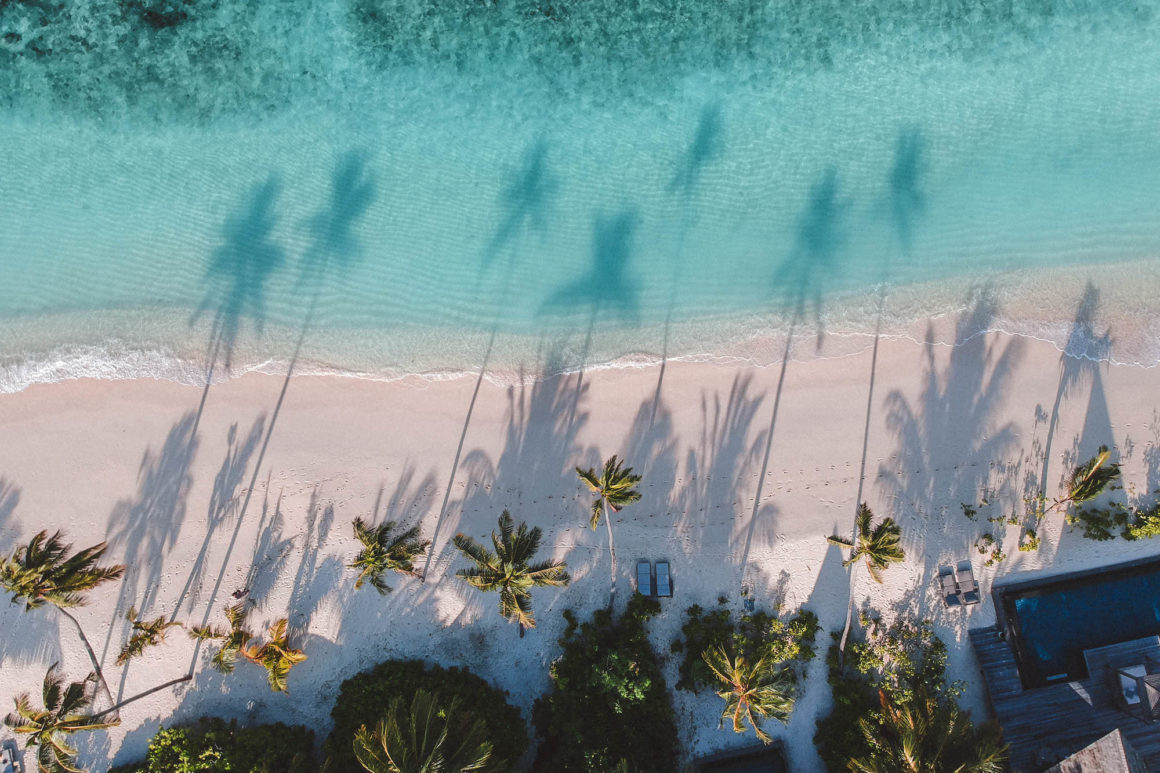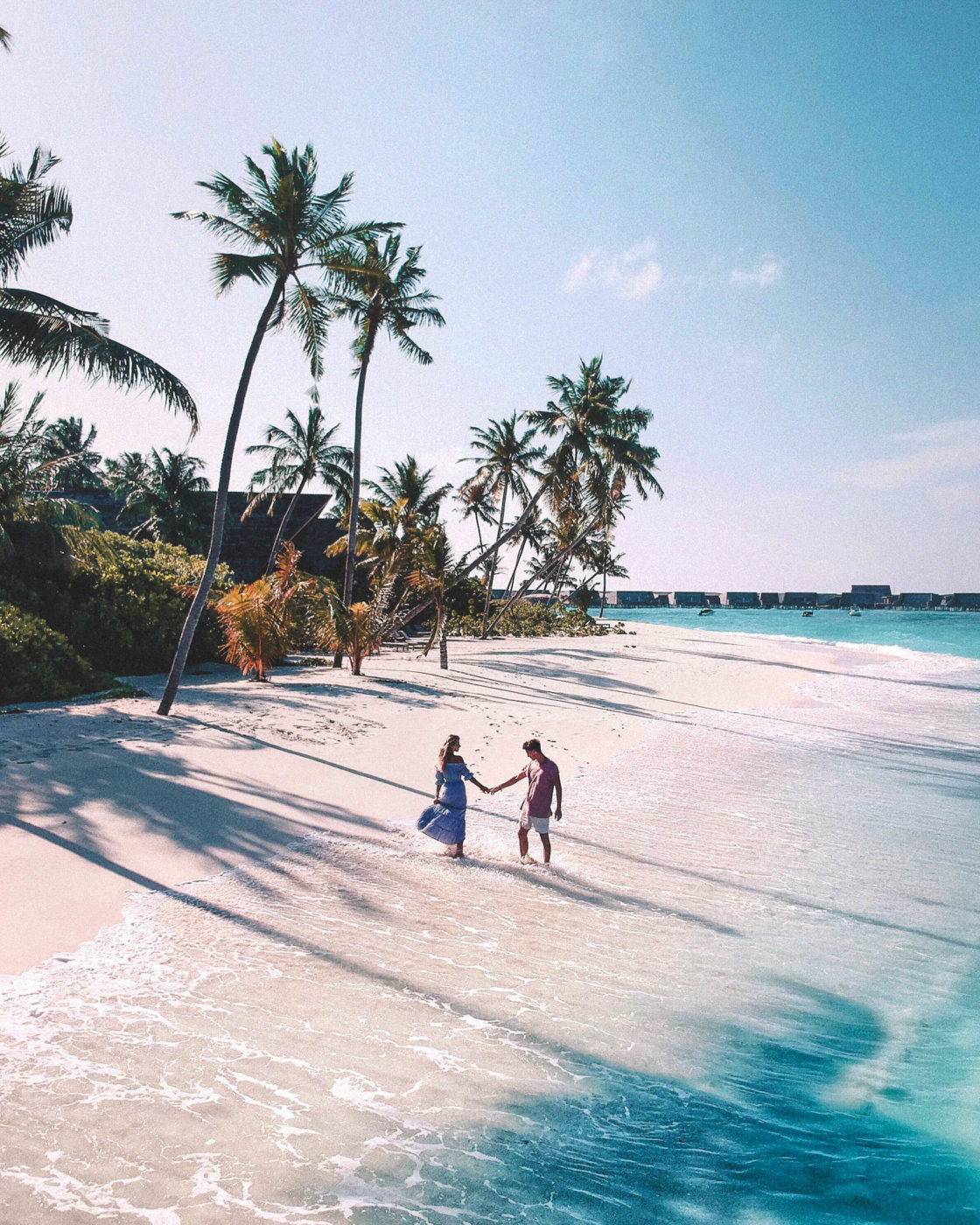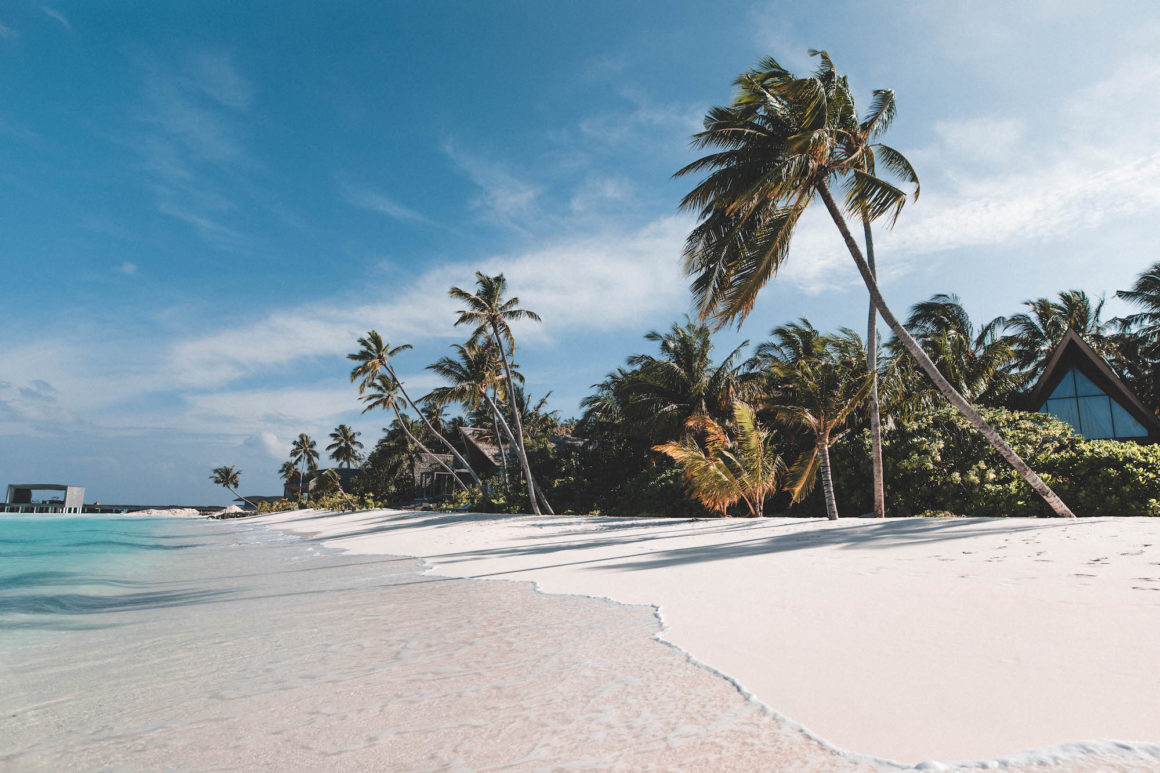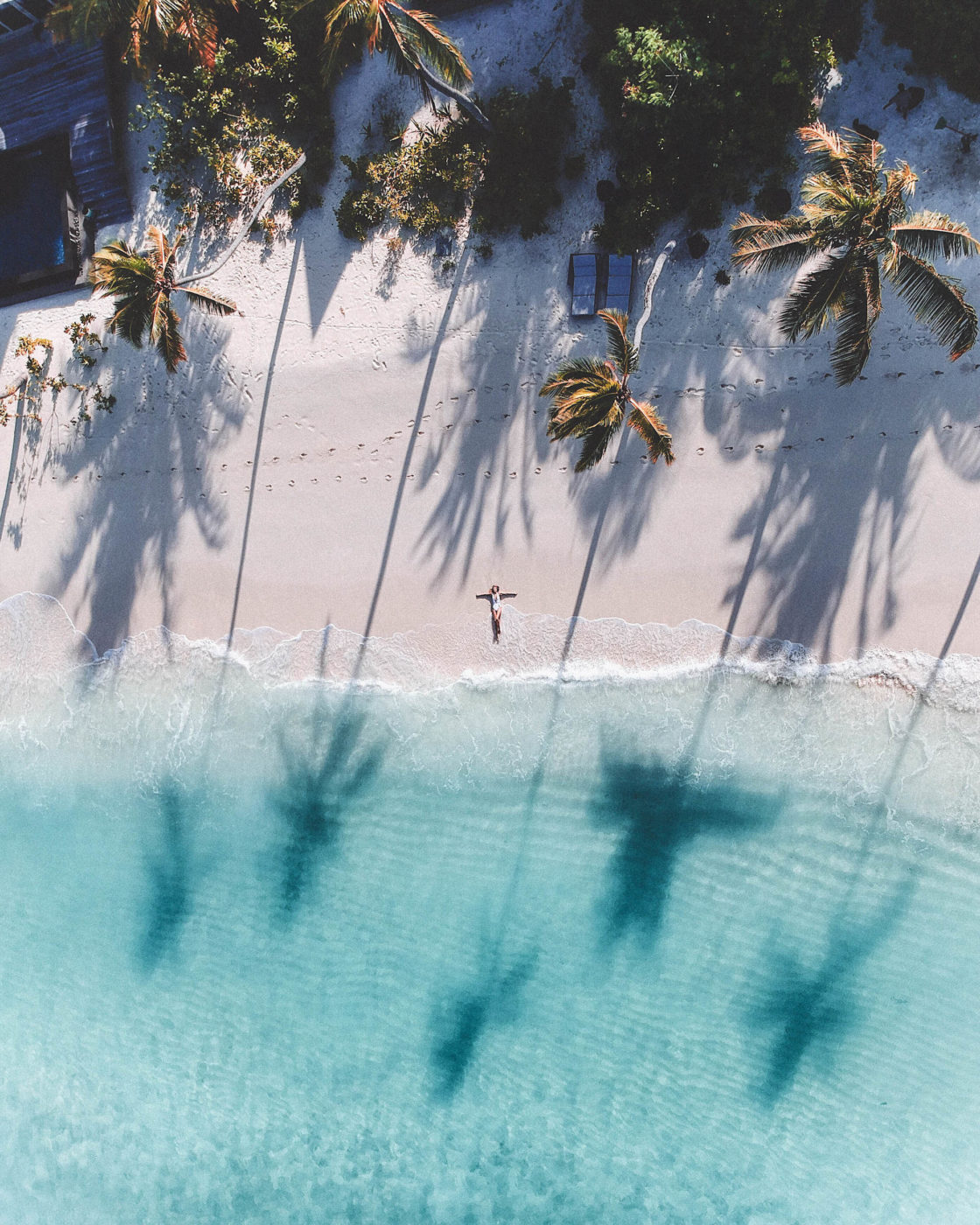 We started our third day – which unfortunately was our last day at the St. Regis Maldives Vommuli Island already – with a cozy breakfast under a deep blue sky at the ALBA Restaurant.
Auch den dritten – und leider schon letzten Tag im St. Regis Maldives Vommuli Island – haben wir mit einem gemütlichen Frühstück unter blauem Himmel im ALBA Restaurant begonnen.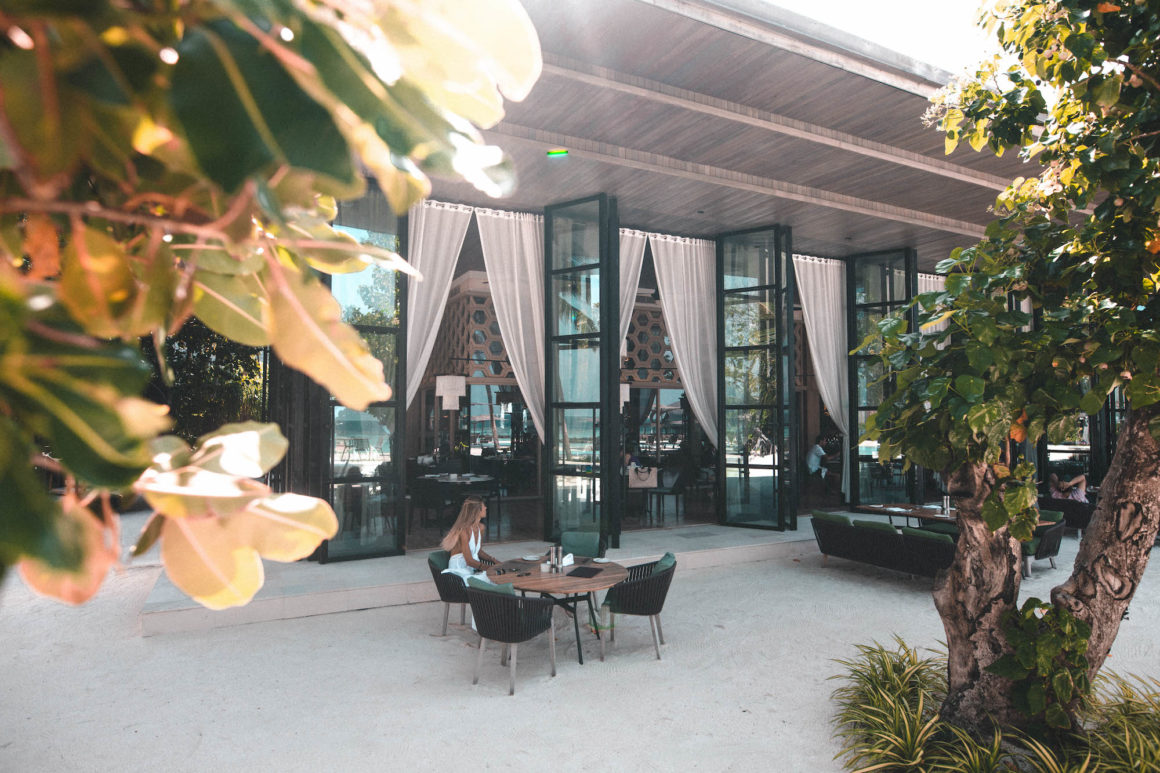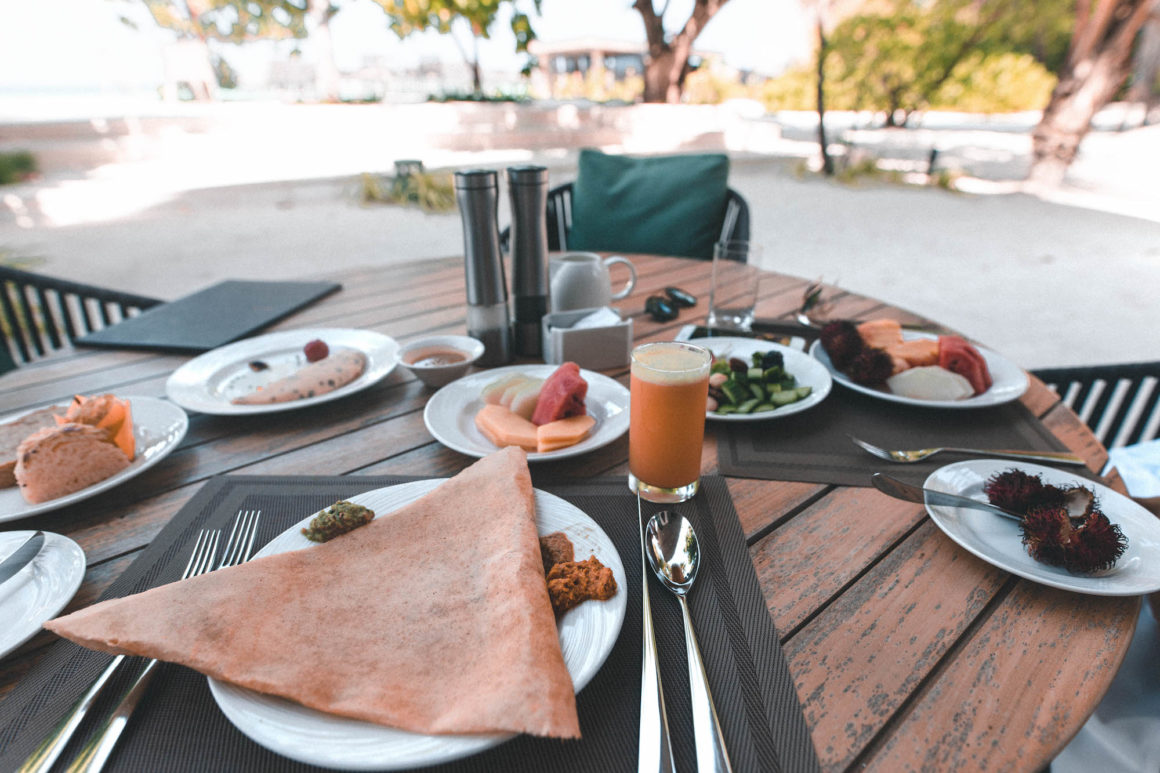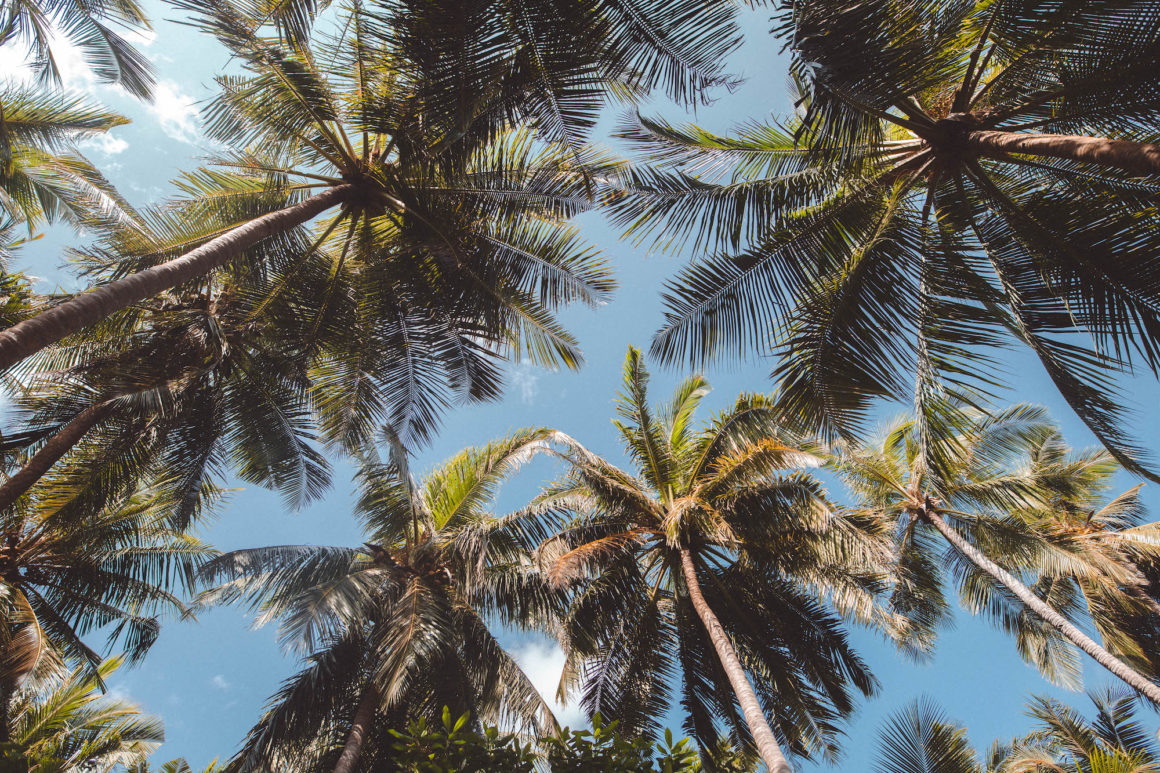 Actually we planned to go on a glass bottom kayak tour the day after which would have been suuuuper cool. But as we had to get our seaplane transfer very very early at about 6 am we had to cancel that activity – so we definitely need to come back and do it ;P So we finished our last day with a visit at the most beautiful Spa I have ever seen in my life. It's another overwater building in the shape of a giant lobster. We relaxed in the sauna for a while and moved to the "infinity whirlpool" at the end of the Iridium Spa for sunset 🙂 The whole setting is really hard to describe with other words than beautiful. That was definitely a great finale to our amazing stay.
Eigentlich wollten wir am nächsten Tag noch einen Ausflug mit dem Glas-Boden-Kayak machen, was sicher suuuuper cool gewesen wäre! Allerdings mussten wir unseren Seaplane Transfer am nächsten morgen um 6 Uhr in der Früh bekommen, sodass wir es leider canceln mussten – so haben wir aber definitiv einen weiteren, guten Grund um nochmal wieder zu kommen ;P Unseren letzten Tag also haben wir mit einem Besuch im schönsten Spa, dass ich je gesehen habe, abgeschlossen. Das Iridium Spa ist weiteres Überwasser-Gebäude in der From eines riesigen Hummers. Wir haben ein wenig in der Sauna entspannt und sind dann zum Sonnenuntergang in den kleinen "Infinity Whirlpool" umgezogen :)Das ganze Setting ist wirklich schwer mit anderen Worten als wunderschön zu beschreiben. Dies war definitiv ein perfektes Finale für unseren unvergesslichen Aufenthalt.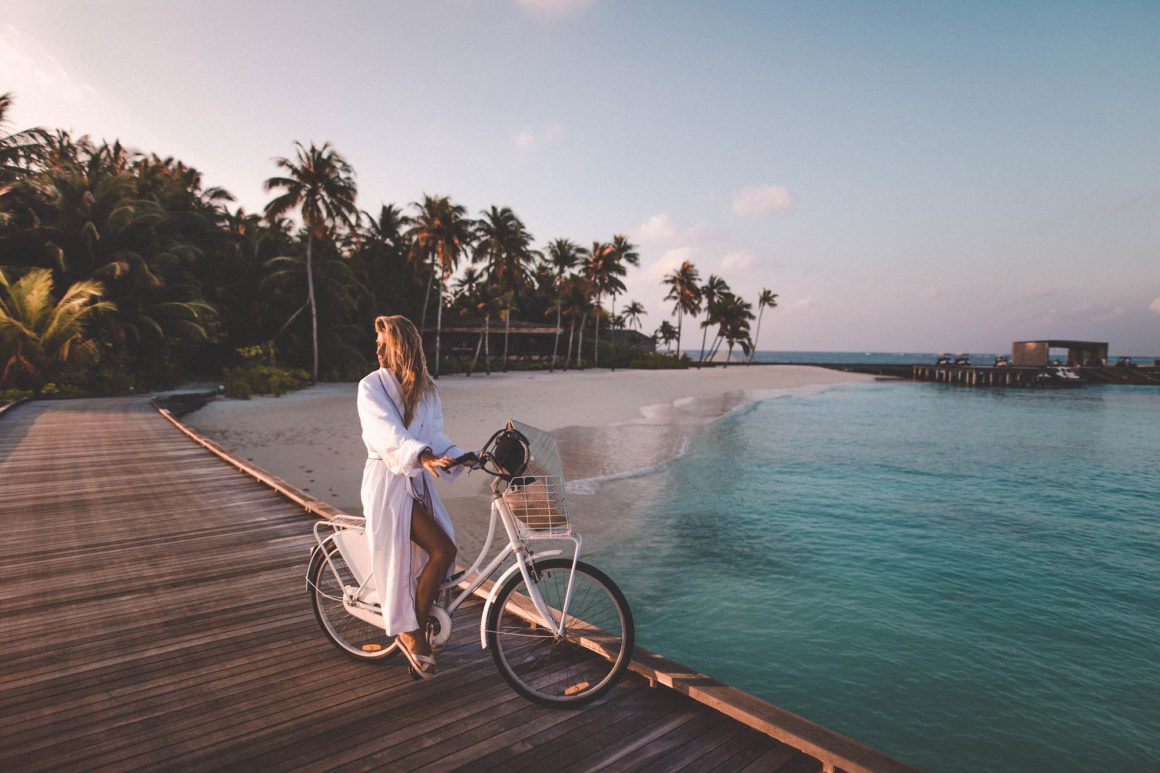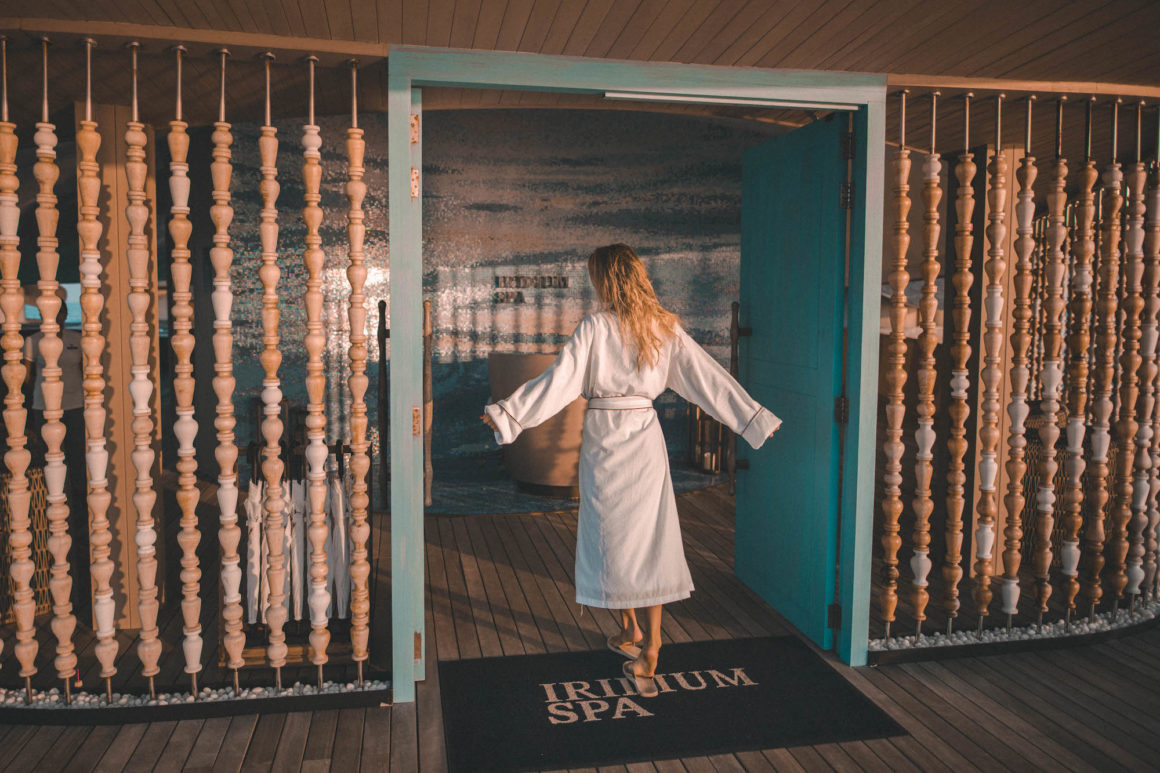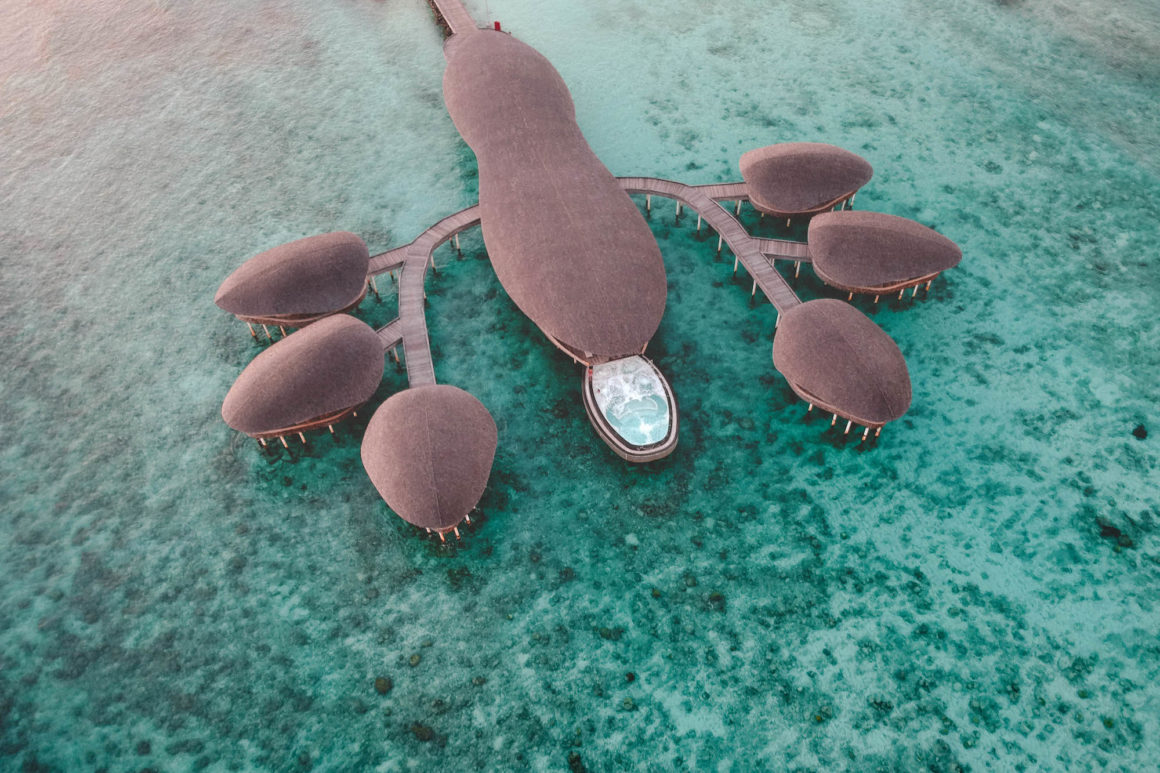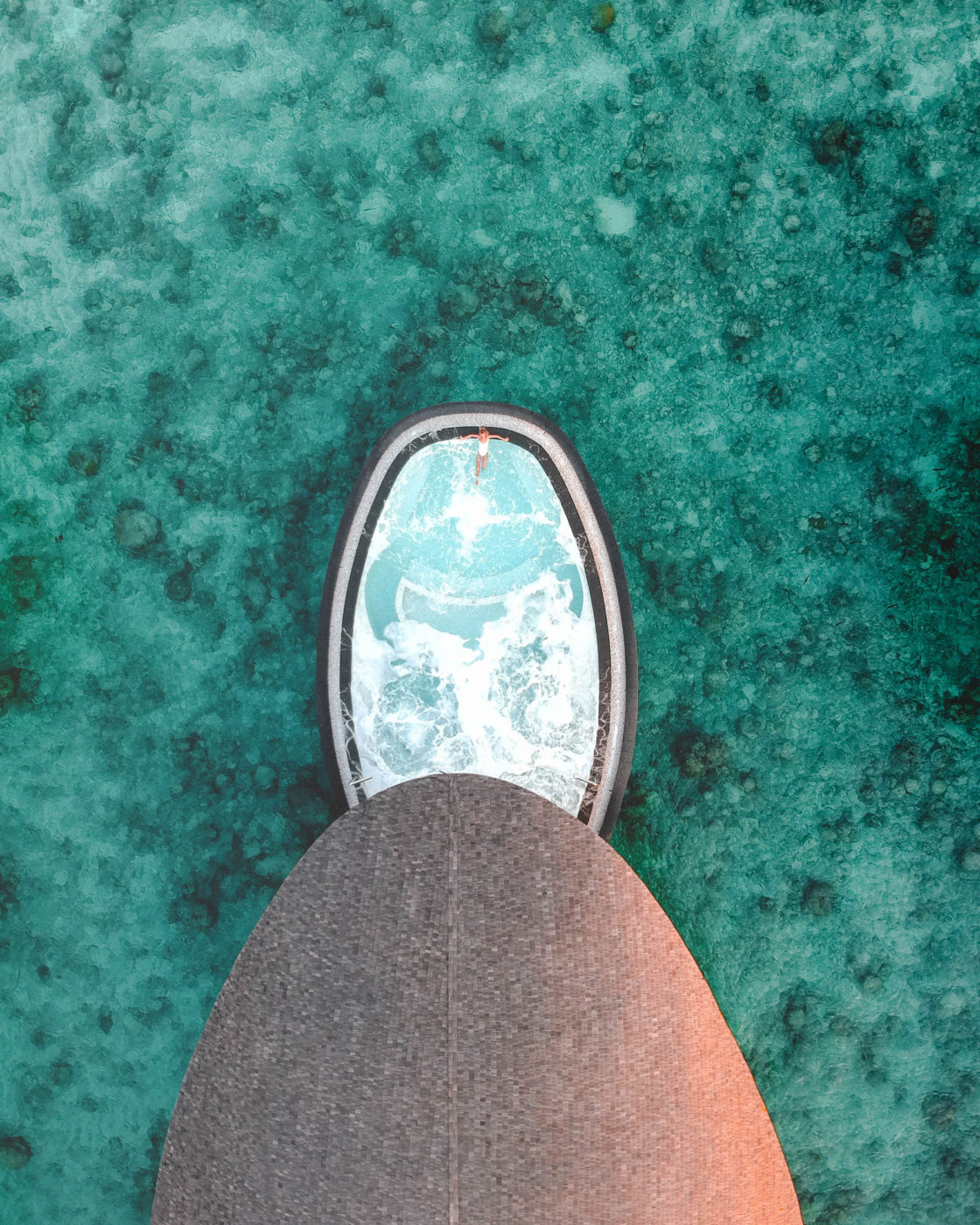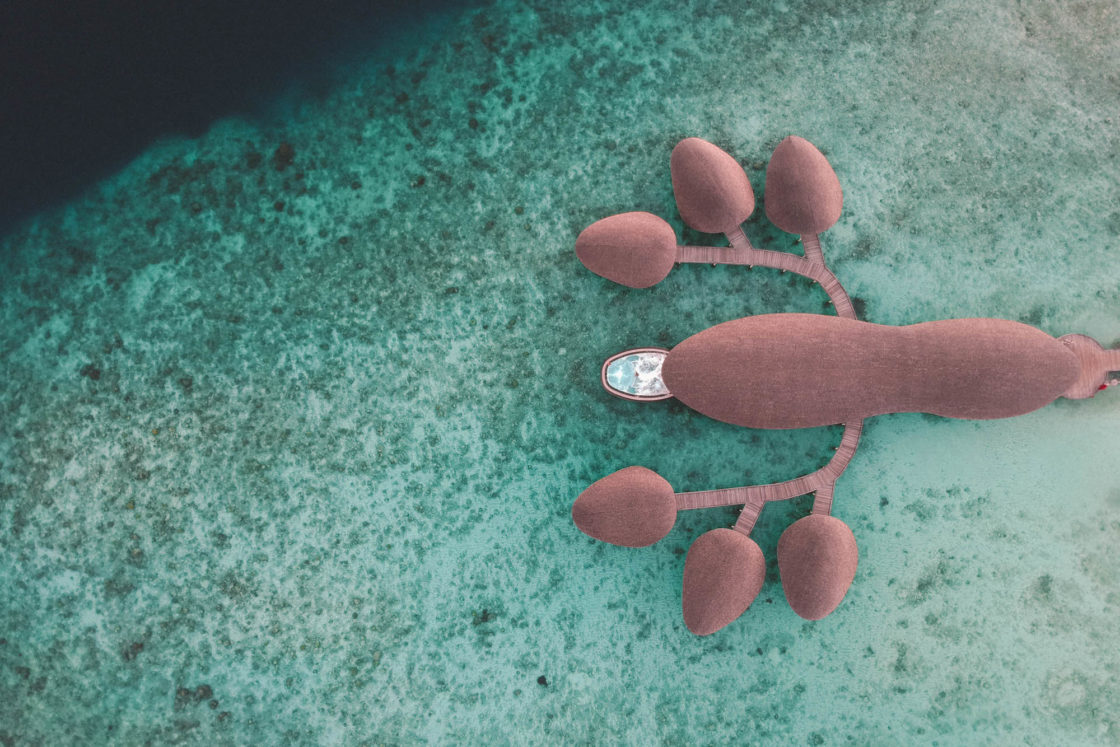 So next morning we got up around sunrise headed to the seaplane and had to say goodbye St. Regis Maldives Vommuli Island! It was a pleasure to stay at this beautiful piece of paradise in the middle of the ocean. We defintily hope to come back one day 🙂
Am nächsten Morgen hieß es also schon bei Sonnenaufgang raus aus den Federn, auf zum Wasserflugzeug und goodbye St. Regis Maldives Vommuli Island! Wir hatten eine wunderschöne Zeit an diesem kleinen Fleckchen Paradies mitten im Ozean. Hoffentlich kommen wir ganz bald nochmal dorthin zurück 🙂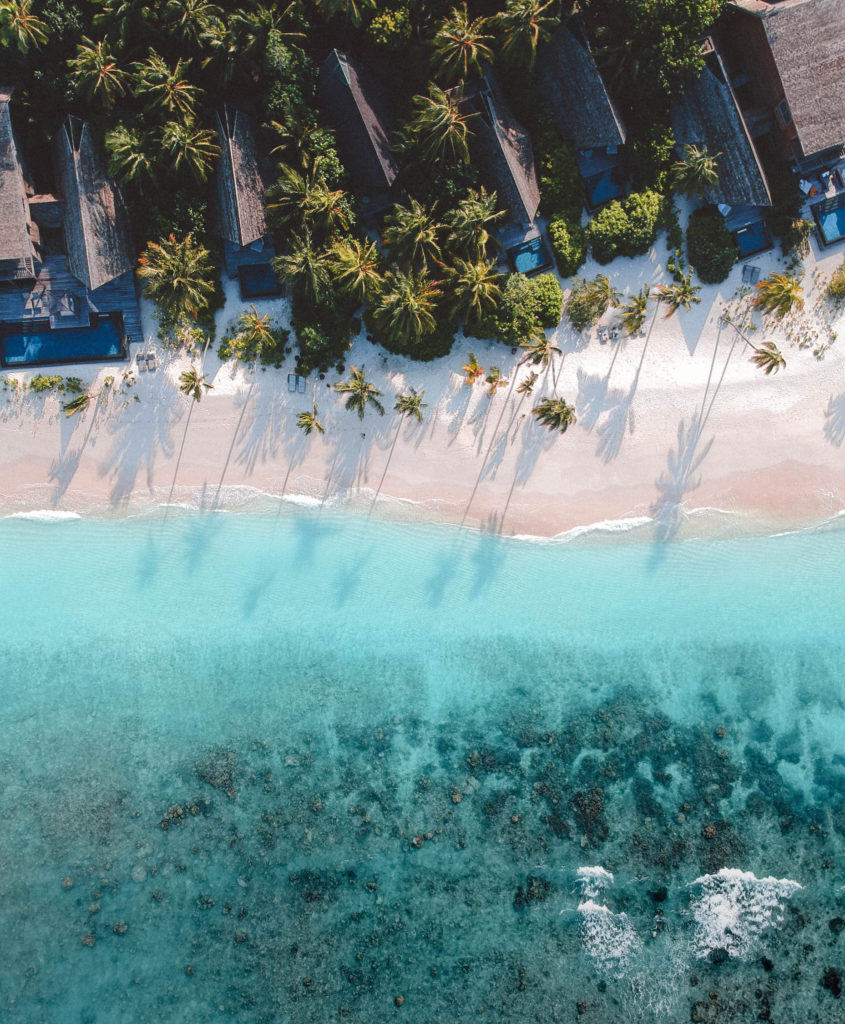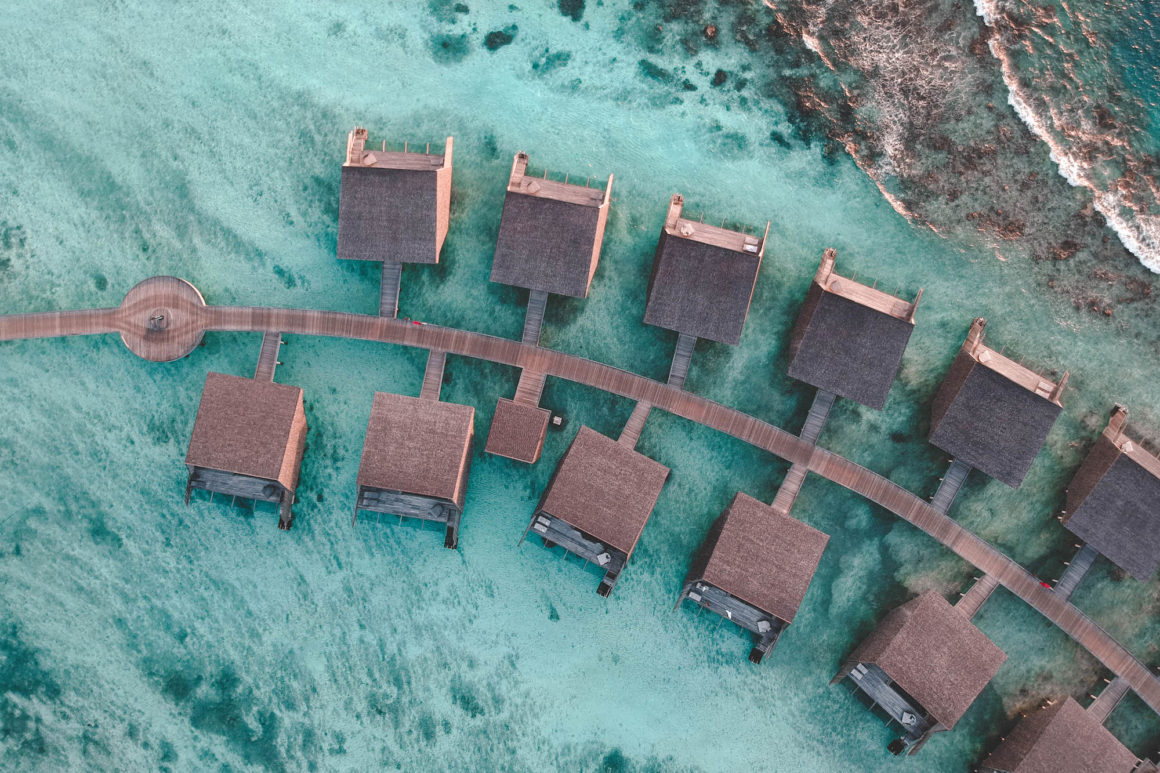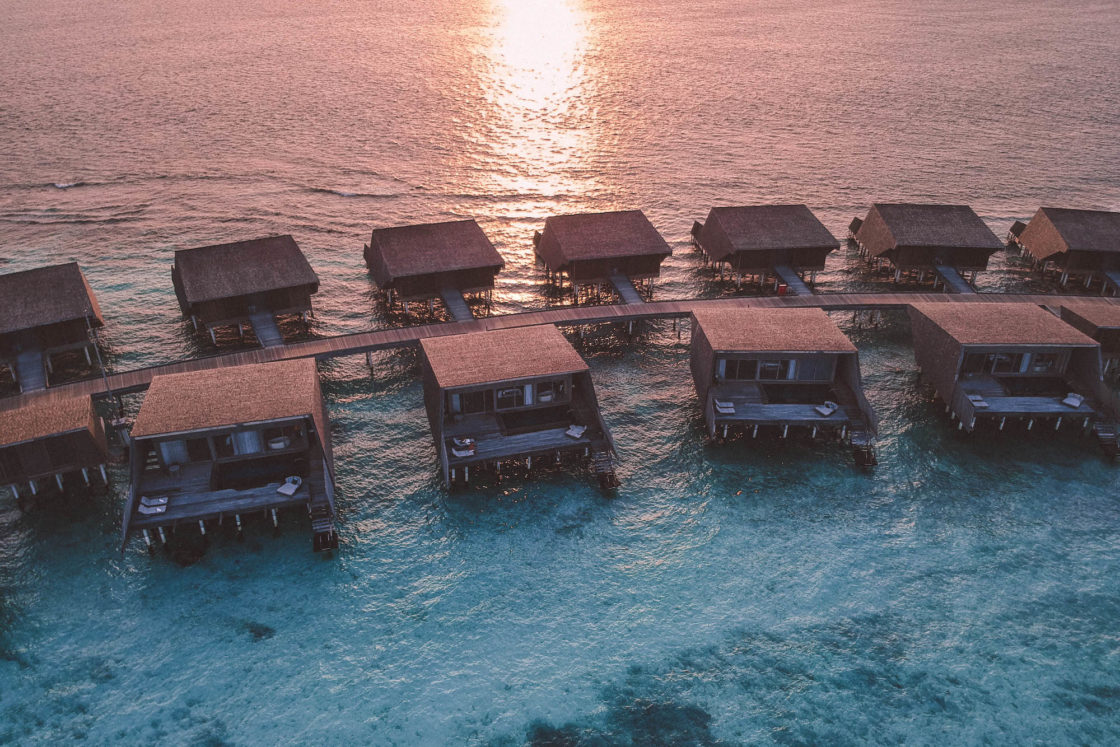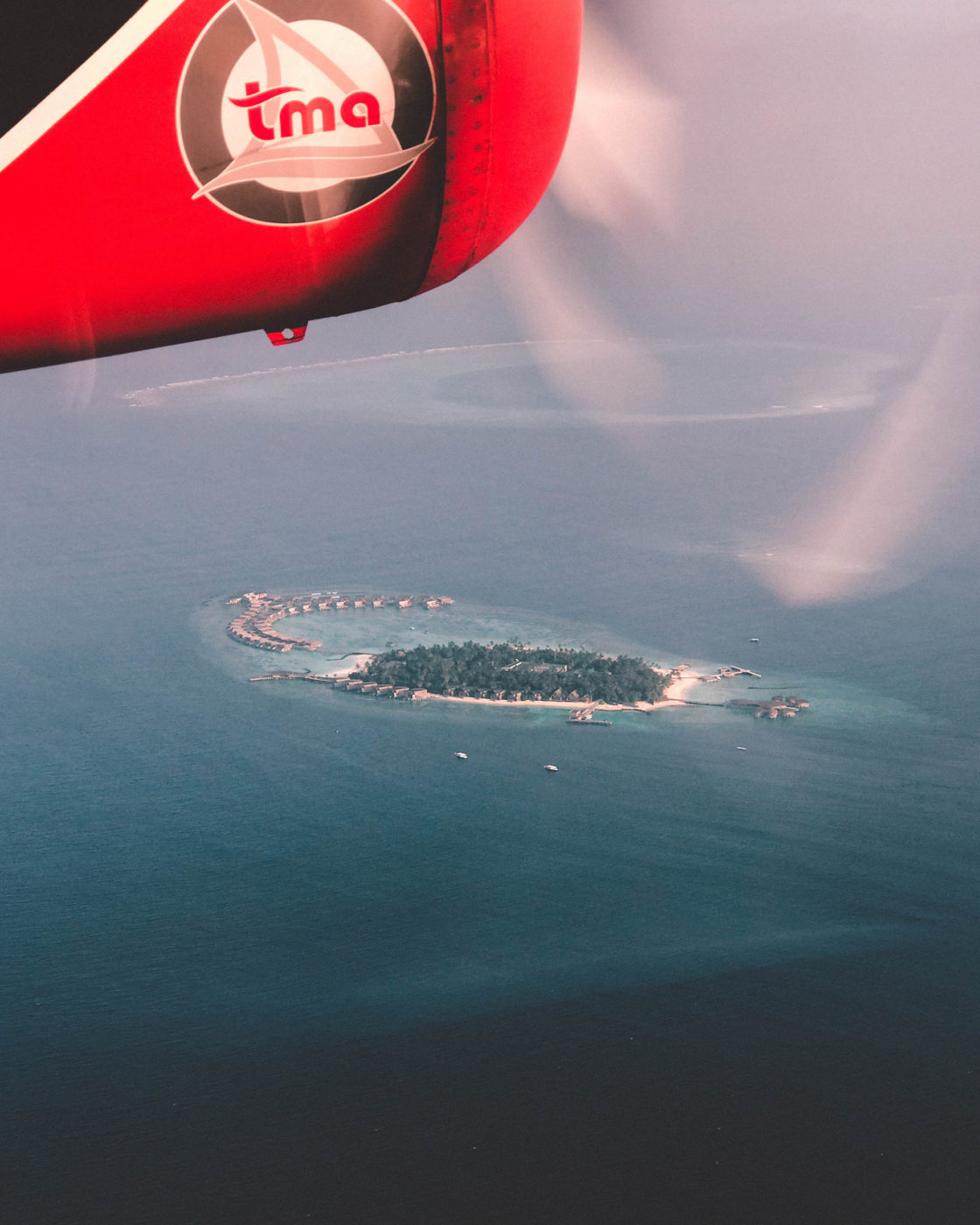 Luckily we weren't heading home yet but to another Maldivian island for a few more days. More about our whaleshark & ray adventures, another insane island and of course a ton of new pics in Part 2 of our Maldives Travel Diary. As always just let me know in the comments if you have any questions concerning this blog post 🙂
Für uns ging es aber zum Glück noch nicht nach Haus, sondern auf eine andere Insel, über die ich Euch im zweiten Teil unseres Travel Diarys berichten werde 🙂 – eine weitere unglaublich schöne Insel, neue Abenteuern mit Walhaien & Rochen und natürlich wieder vielen vielen Bildern! Falls ihr noch eine Frage zu unserem Aufenthalt habt, schreibt sie mir wie immer einfach in die Kommentare 🙂
xx Debi