Heyho, it's me again 🙂
sitting at home watching the snow flakes falling down outside made feel like it's time for a new summer travel recap from our trip to the Maldives! Be prepared for paradise summer vibes, insane landscapes, some underwater adventures and tons and tons of new pics 🙂
Heyho, ich bin's mal wieder 🙂
zu Hause sitzend und den Schneeflocken beim Fallen zuschauend habe ich mir gedacht, es ist definitiv Zeit für ein neues, sommerliches Travel Diary von unserem Trip auf die Malediven! Seid bereit for paradiesische Summer Vibes, unglaubliche Landschaften, Unterwasser-Abenteuer und viele viele neue Bilder 🙂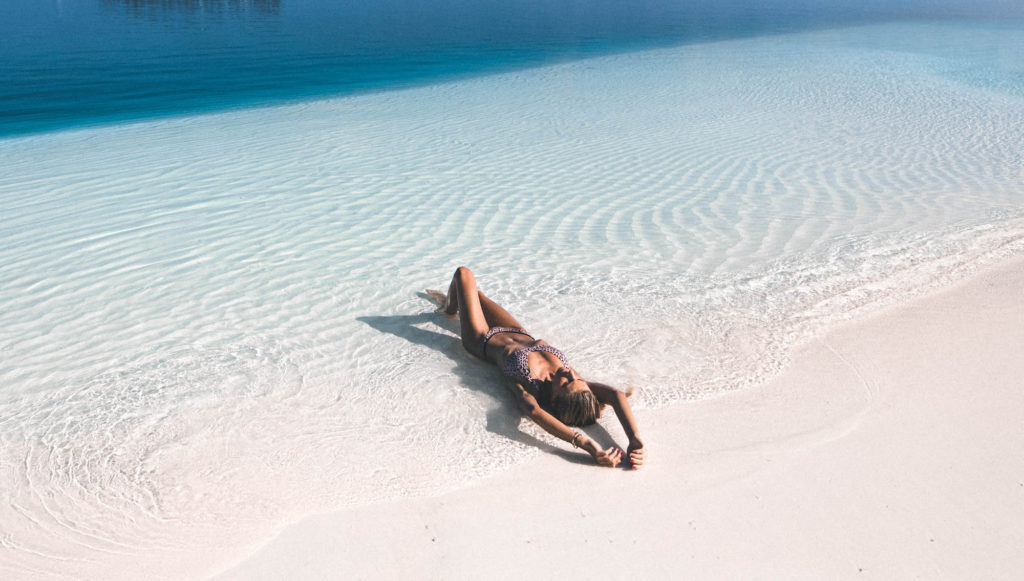 If you have already read Part 1 of our Maldives you know that we were heading to our new destination very very early in the morning. We knew the early alarm was so worth it when we enjoyed the incredible view of our new home for the next days out of the seaplane during this morning's sunrise: The Conrad Maldives Rangali Island *.* Actually the Hotel covers two islands connected by a long bridge – which later turned out to be the most beautiful running or walking path ever!
Falls ihr schon Part 1 meines Malediven Travel Diary's gelesen habt, dann wisst ihr ja, dass es super früh am morgen zu unserem neuen Ziel ging. Spätestens aber bei der unglaublichen Aussicht aus dem Flugzeug wussten wir "das war's Wert": The Conrad Maldives Rangali Island. Unser zu Hause für die nächsten Tage bei Sonnenaufgang *.* Wie ihr schon seht besteht Rangali Island aus 2 Inseln, die verbunden sind durch ein laaaange Brücke – die, wie sich hinterher herausstellen sollte, die perfekte Verbindung einer der schönsten Joggingstrecken ist, die ich je gelaufen bin!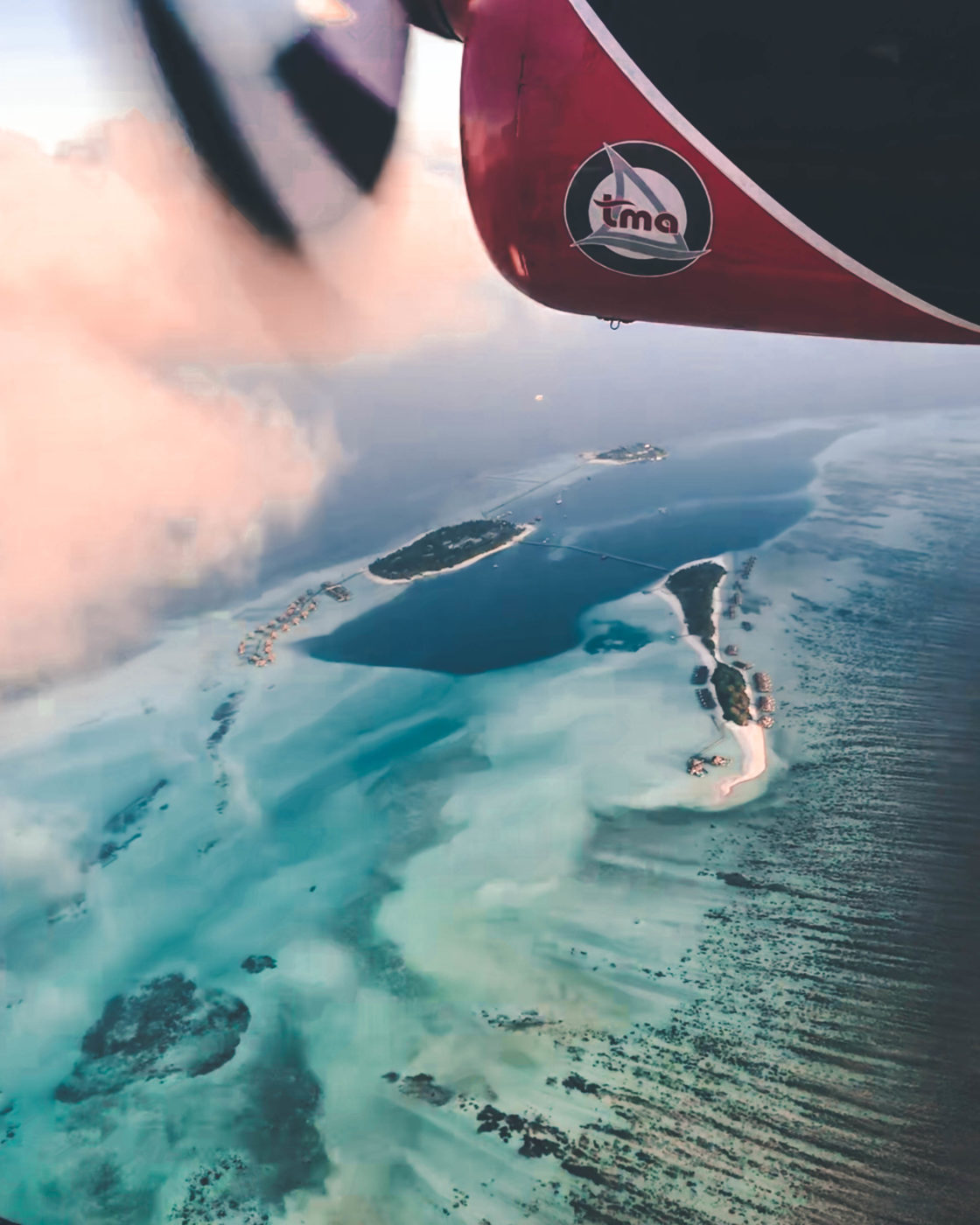 You guys probably know that I am using superlatives quite often so it will be hard to appropriately point out how beautiful these Islands are – They are by far the most beautiful islands we have ever been to in our entire lives. Every – I promise – every spot is beyond photogenic! I would say these Islands are #honeymoongoals! I really don't know where to start because there is so much to talk about *.* so let's just start with the beginning: The beach(es).
Ihr wisst, ich benutze häufig Superlative in meinen Reiseberichten, deshalb wird es schwierig angemessen zu beschreiben, wie schön diese beiden Inseln wirklich sind – es sind mit Abstand die schönsten Inseln, die wir in unserem Leben bisher gesehen haben. Jede, und ich meine wirklich jede Ecke ist mehr als nur fotogen – sie sind einfach nur #honeymoongoals! Ich weiß gar nicht wovon ich euch zuerst erzählen soll *.* also fange ich einfach vorne an: mit dem Strand.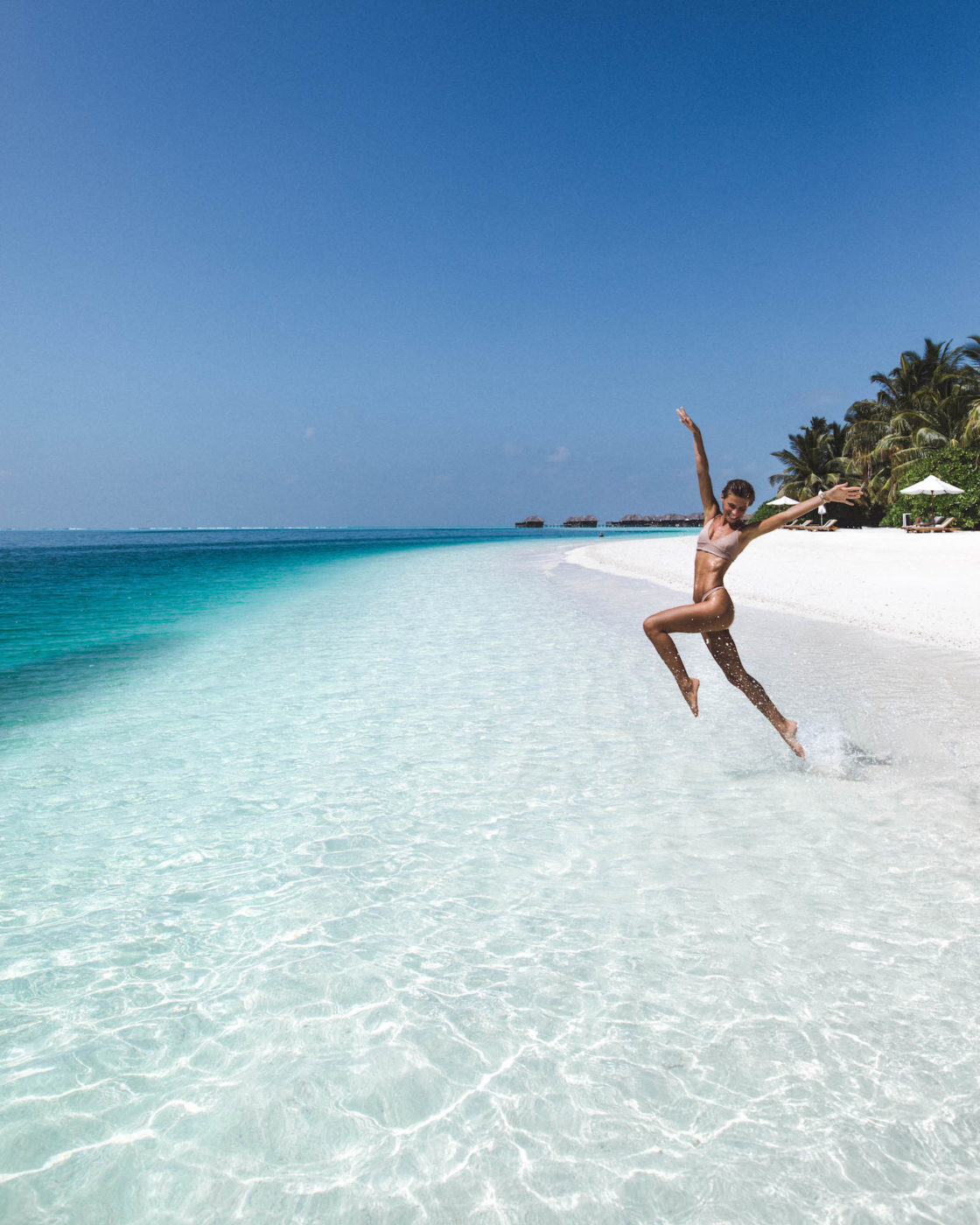 As we arrived very early in the morning we had to wait a little while for our room to be ready. So we decided to start exploring the first island – and were immediately thrilled by these incredible landscapes:
Da wir so früh angekommen sind, mussten wir etwas auf unser Zimmer warten. Daher sind wir schonmal los, um die erste Insel zu erkunden – und wir waren sofort begeistert von dieser unglaublichen Landschaft: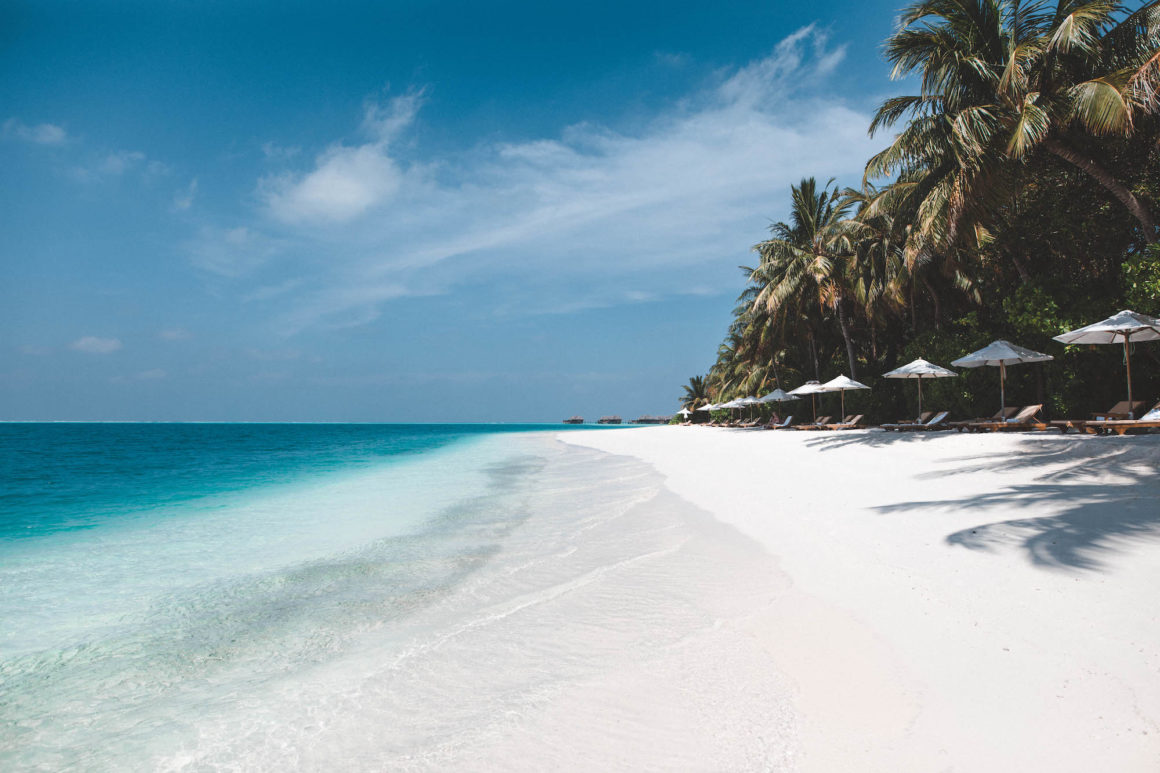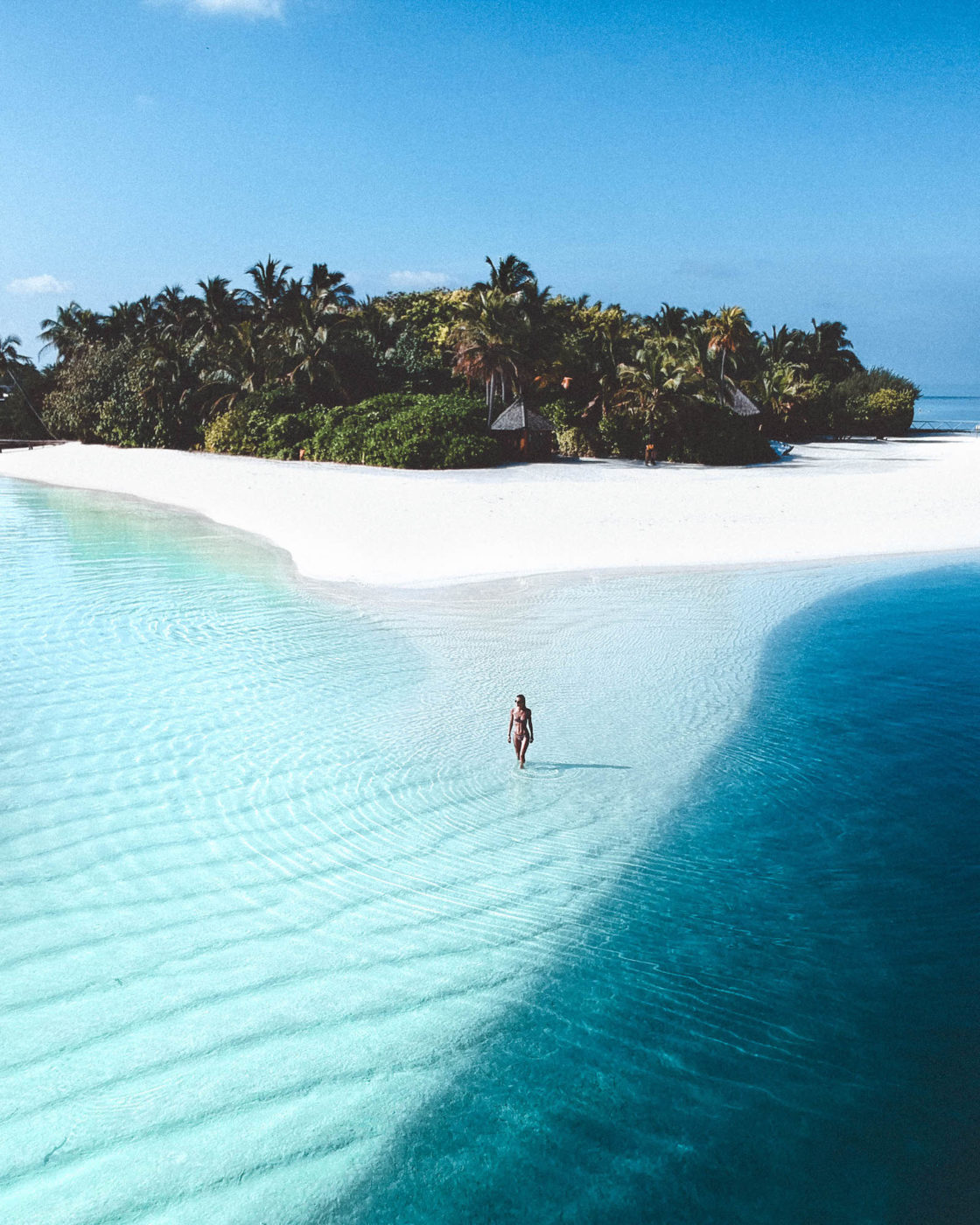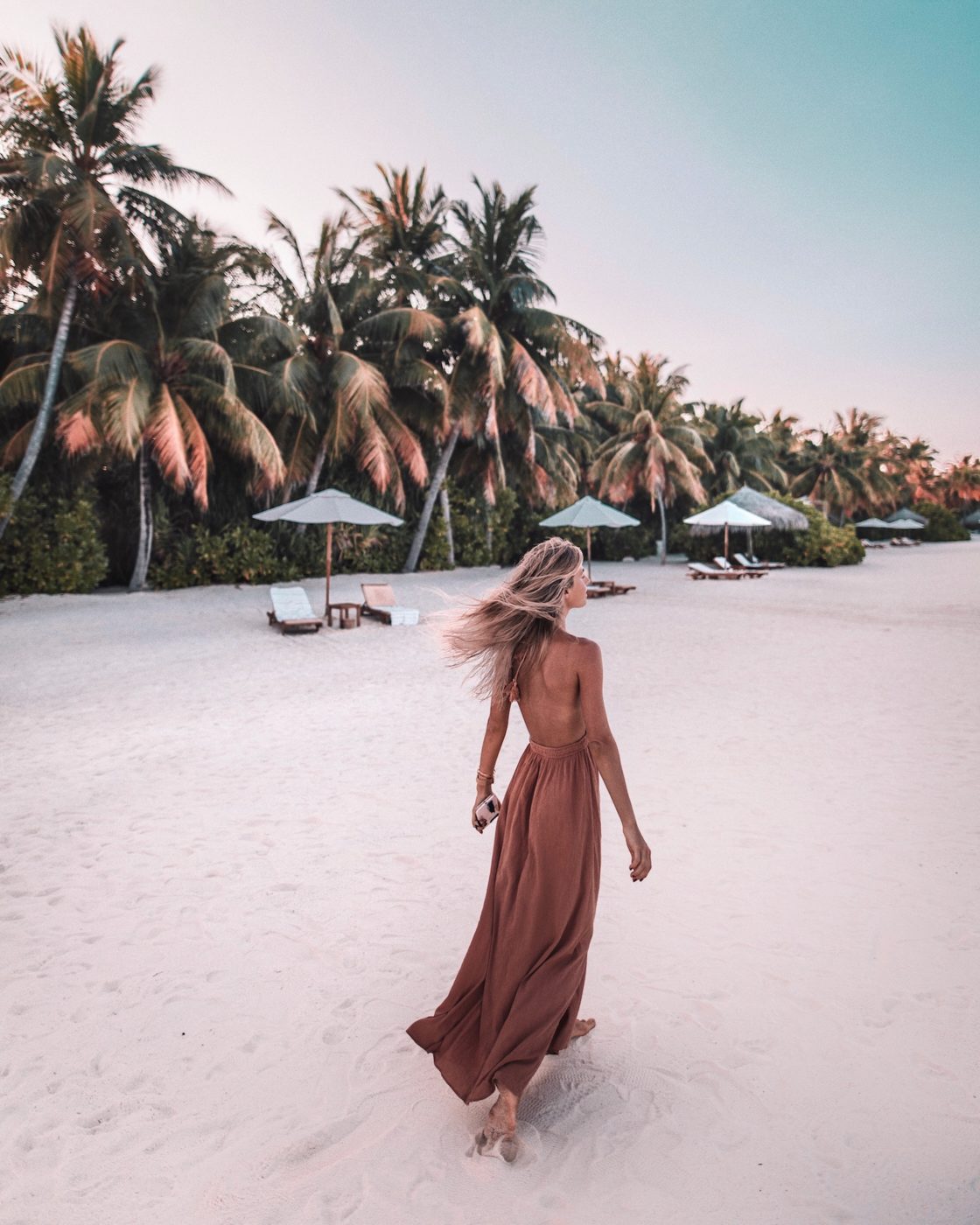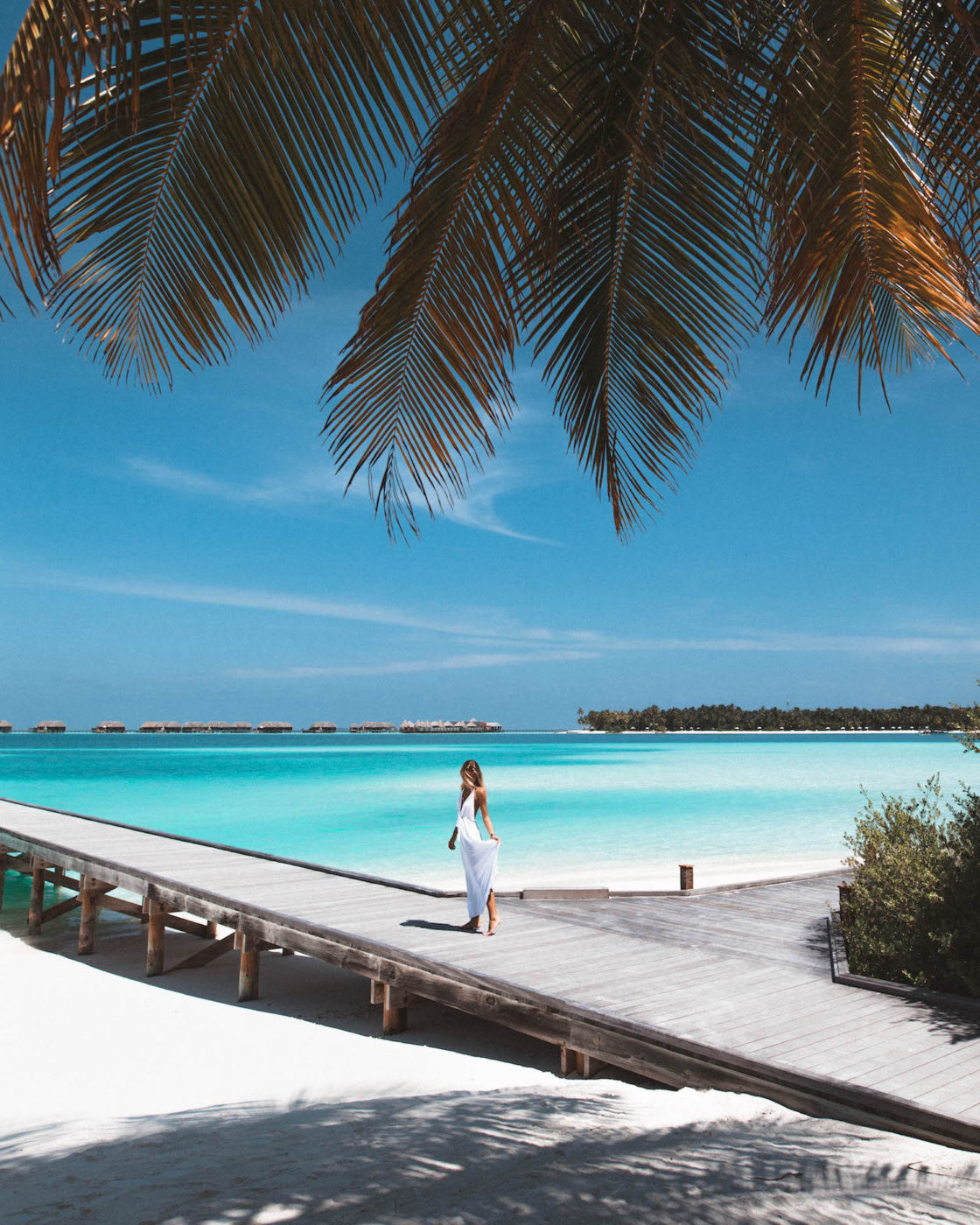 We spent the first 3 nights on the "main" island in a beach front villa with an open-air shower and jacuzzi – you guys know how much I love open-air showers ;P For me it's one of the best feelings ever to wake up and being directly at the beach and taking a quick morning dip before the day starts 🙂
Wir haben die ersten 3 Nächte auf der "Haupt"-Insel in einer Beach Front Villa mit Open-Air Dusche & Jacuzzi verbracht – und ich liiiiebe Open-Air Duschen ;P Für mich gibt es fast nichts schöneres als morgens früh nach dem aufstehen vor die Tür zu gehen, am Strand zu stehen und kurz ins Meer zu hüpfen bevor der Tag beginnt 🙂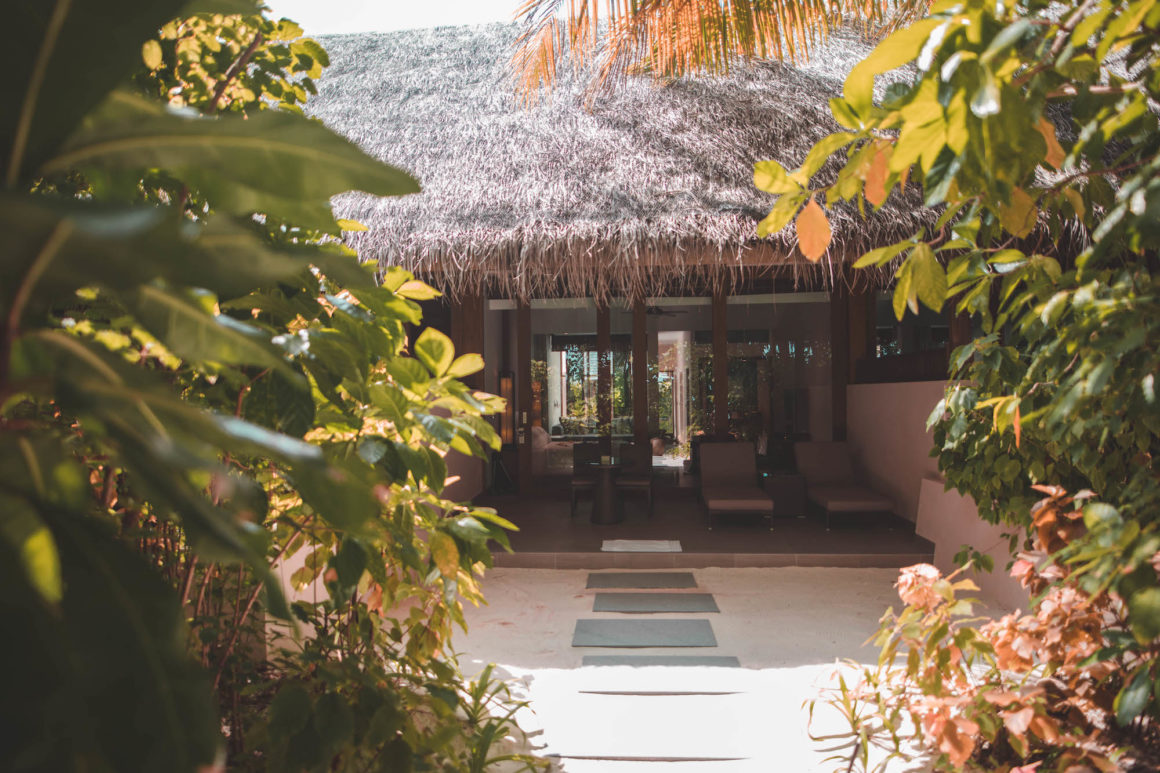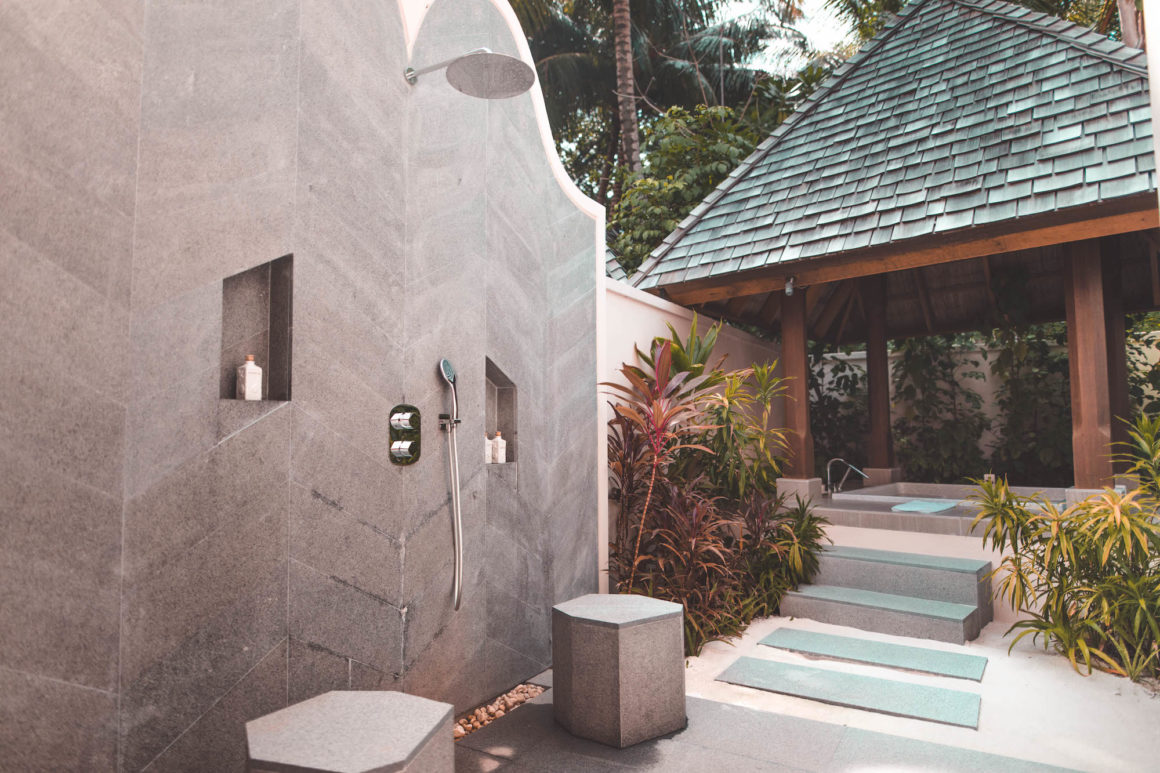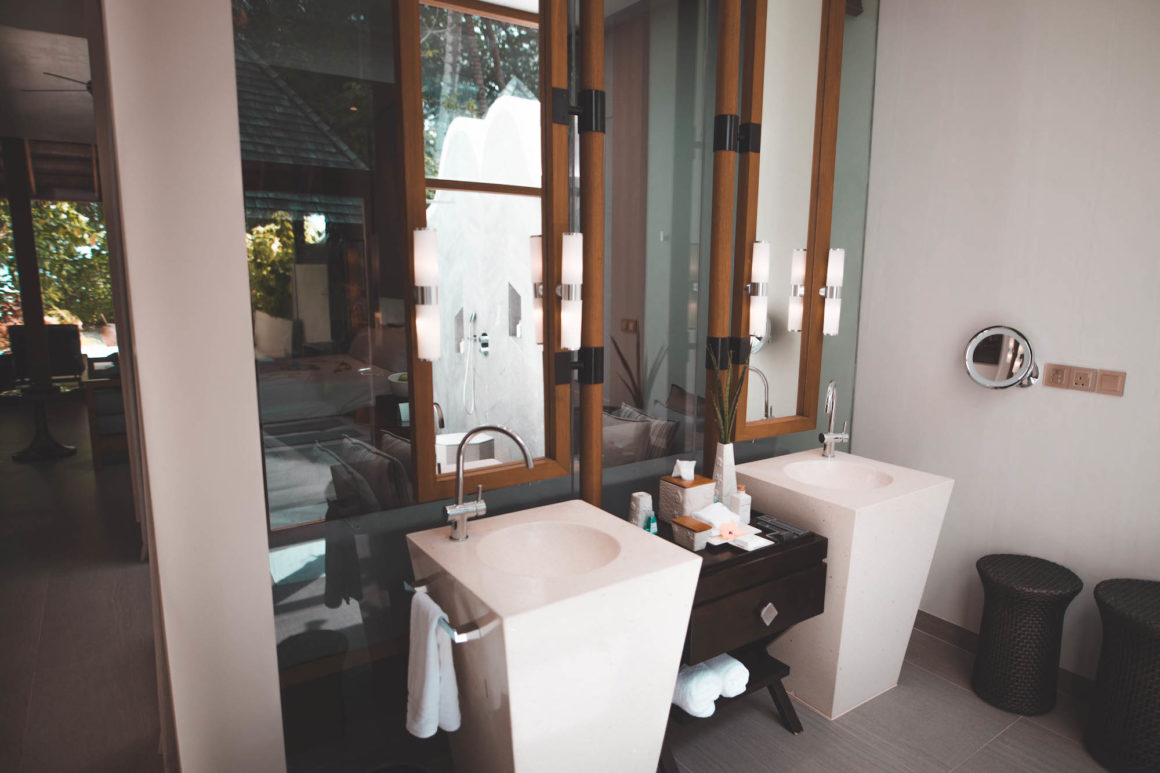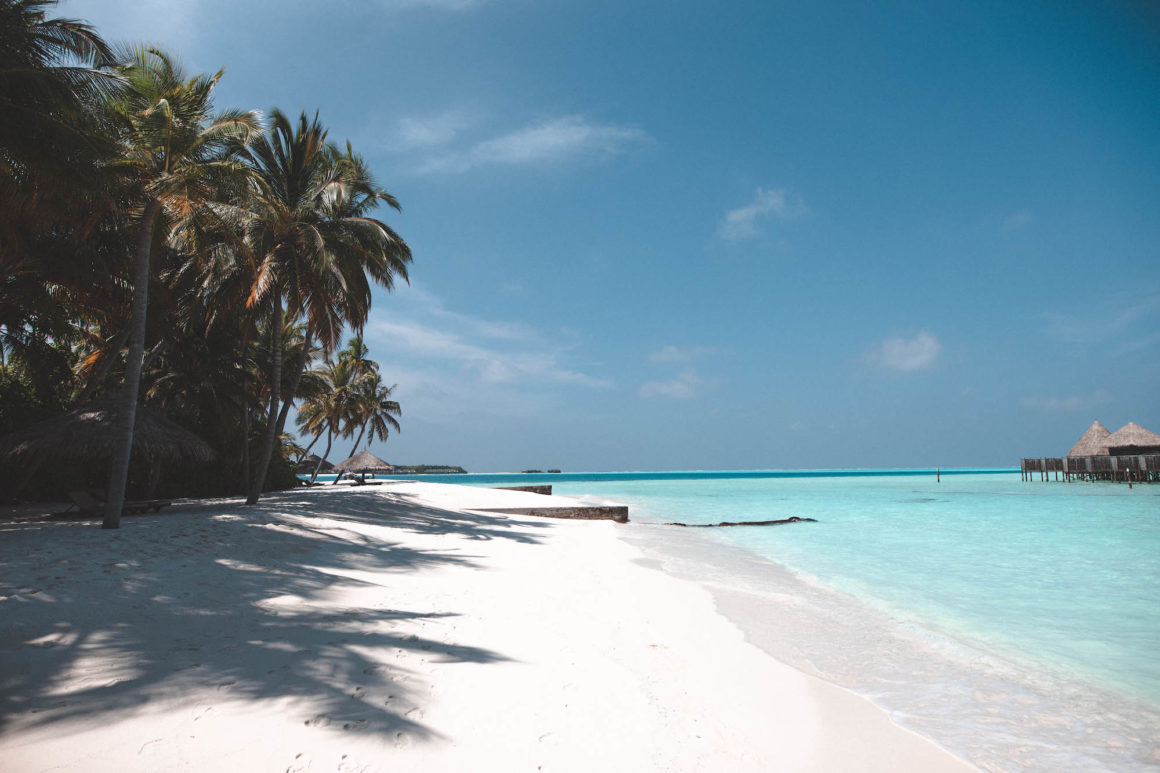 Some of you guys asked me if I got bored being one week on the same island(s) – I can tell you I DID NOT!! I just loved working around those crazily beautiful islands and second we  did so much fun stuff over there! On the second day already we jumped onto a boat and took a whale snorkeling tour! I was so excited because I am addicted to the underwater world and every animal living down there (I have seen every single documentation on National Geographic ;P).  Snorkeling with my boy was one of my favourite activity! We spotted sooo many colourful fishes, sharks, turtles and stingrays *.* And YES, we spotted 2 whale sharks and were even able to swim with them! I jumped into the water and forgot everything around me – I was super focused on this giant which was about 8-10 meters tall! OMG best experienced ever!!
Manche von Euch haben mich gefragt, ob mir bei einer Woche auf der selben Insel nicht langweilig wurde – und ich kann euch sagen NEIN! Mir reicht es schon ewig an diesen unglaublichen Stränden entlang zu spazieren und einfach zu genießen. Aaaaaber es gibt auch super viel zu unternehmen. Gleich am zweiten Tag zum Beispiel sind wir auf ein Boot gehüpft und mit auf eine Wal-Hai Schnorchel-Tour gefahren! Ich war so aufgeregt weil ich die Unterwasserwelt und all die Tiere, die in ihr leben suuuper interessant finde (Ich gucke ALLE National Geographic Dokus ;P ). Wir haben so viele bunte Fische, Schildkröten und Rochen entdeckt *.* und JA, auch 2 Wal-Haie mit denen wir sogar schwimmen konnten! Ich bin ins Wasser gesprungen und hab' alles um mich herum vergessen, nur fokussiert auf diesen Riesen unter mir, der irgendwas zwischen 8 und 10 Metern groß war! OMG das beste Erlebnis ever!!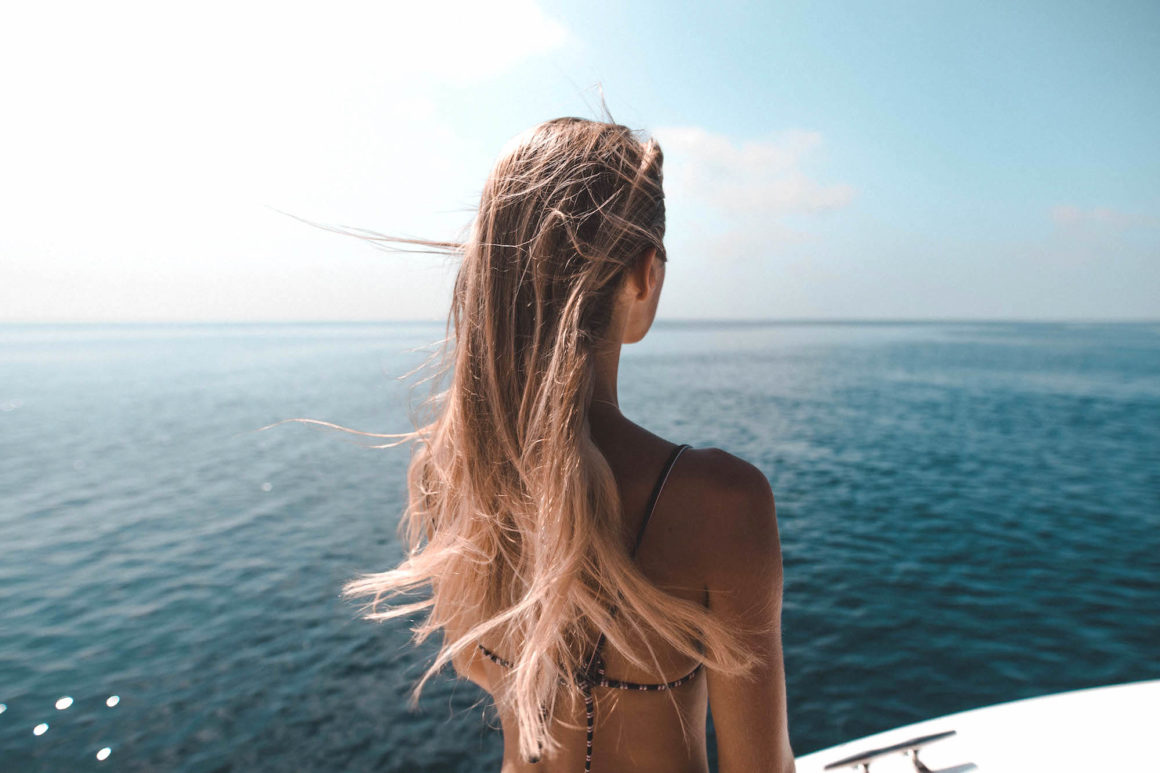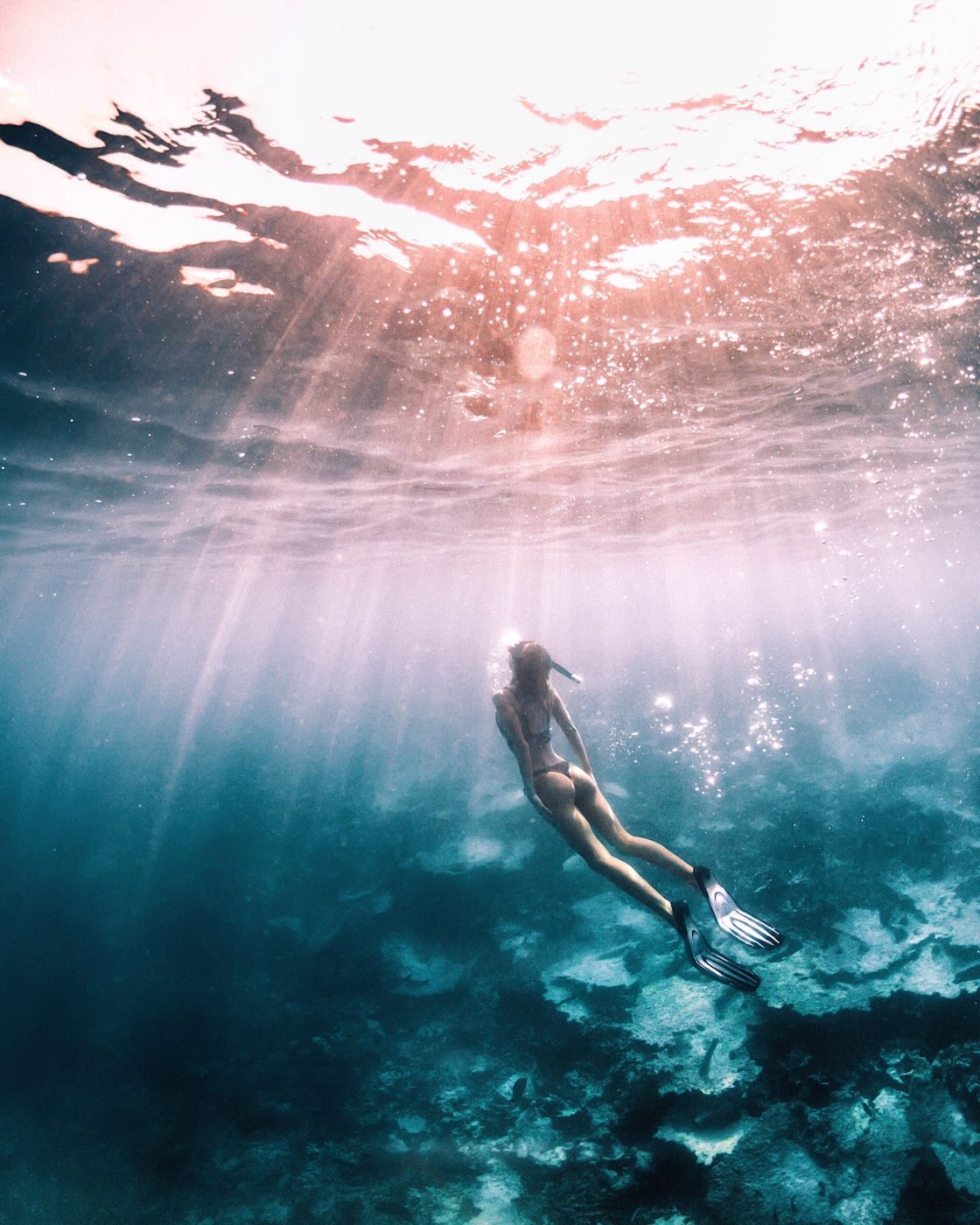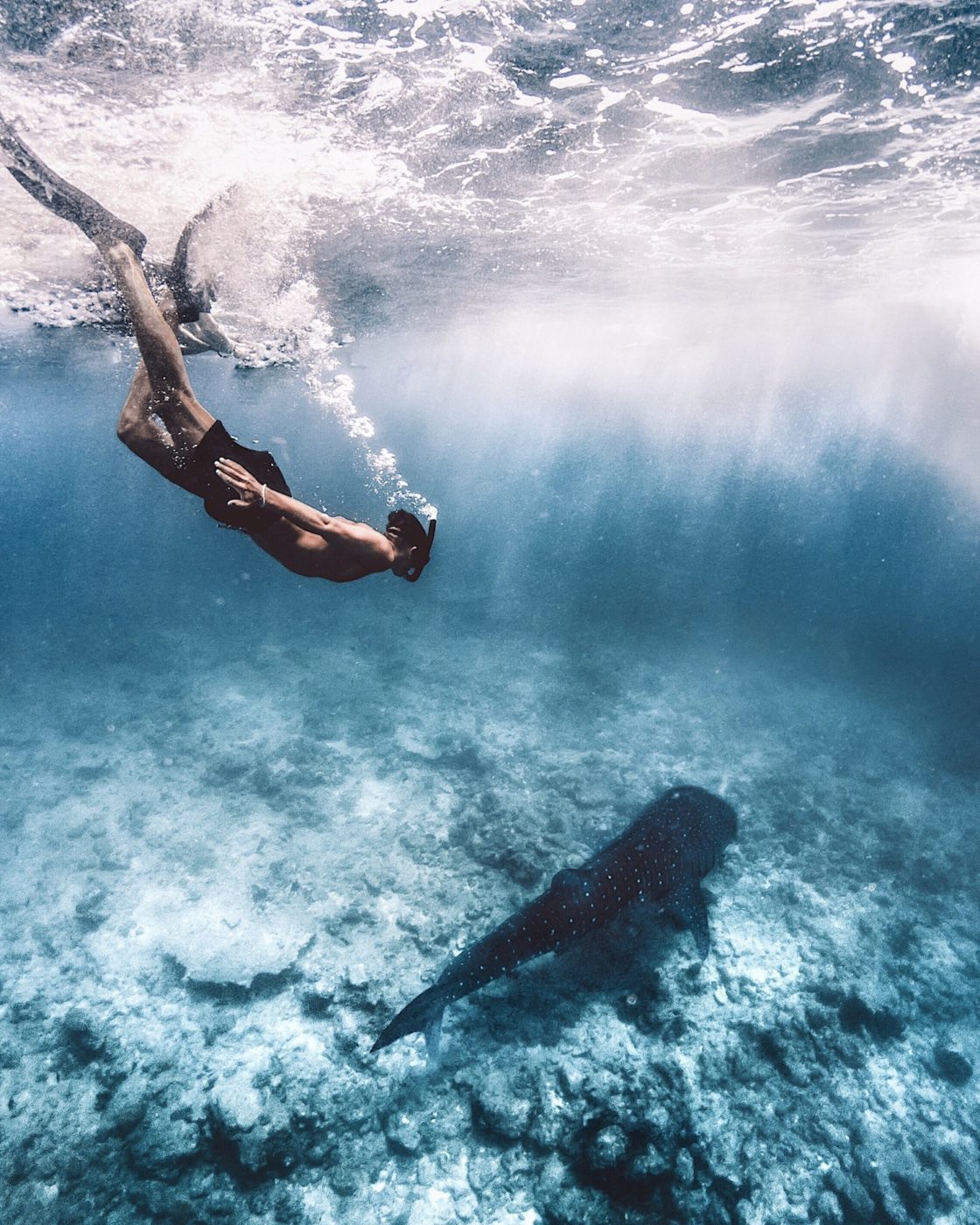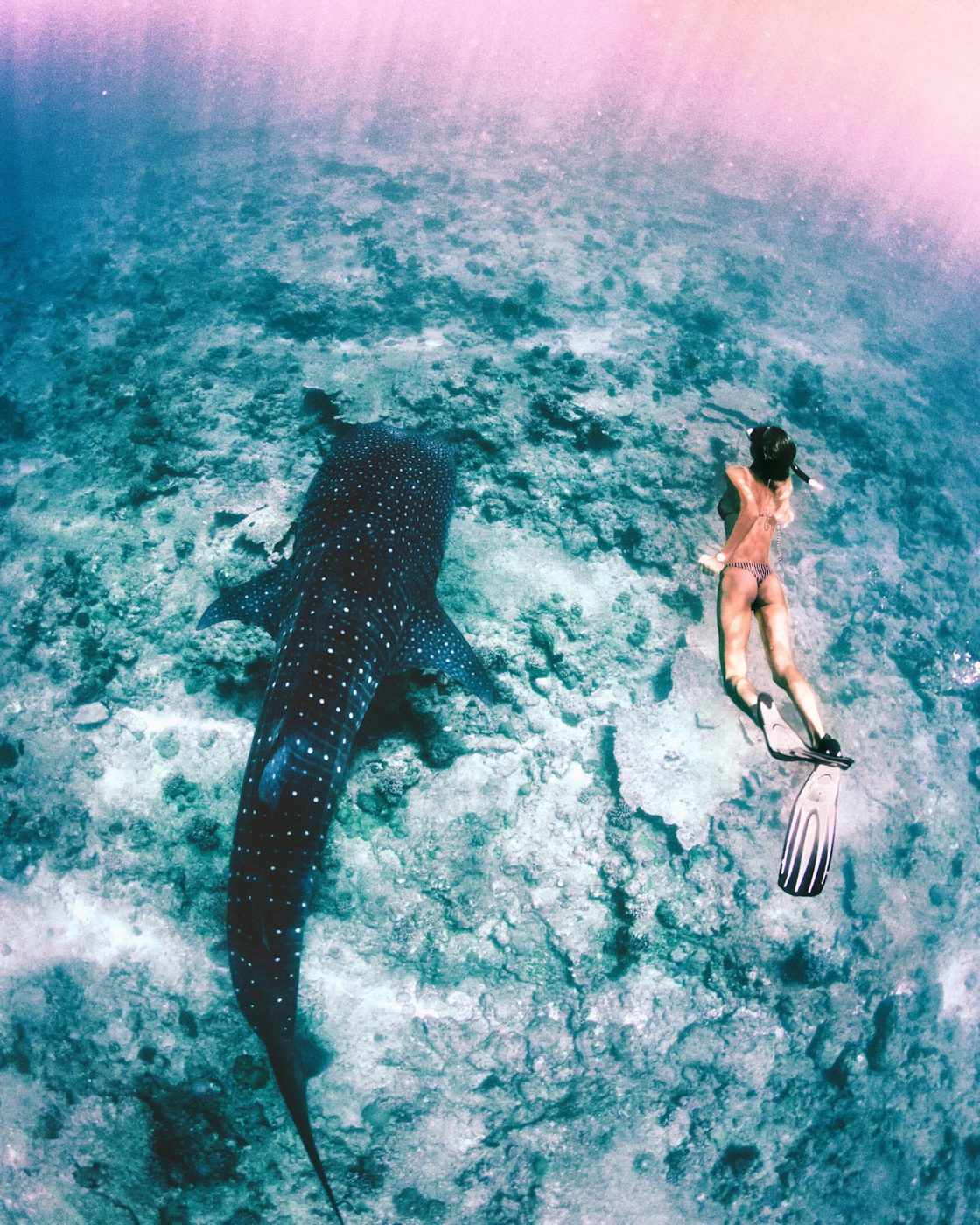 The next day I treated my self with a little Spa treatment. Again I was flashed by the beauty of this place – and I am only talking about the entrance 😀 The Treatment itself can't be described with words… it was just the ultimate relaxation…
Am Tag darauf habe ich mir ein Spa-Treatment gegönnt. Und wieder war ich total begeistert von der Schönheit von diesem Ort – und damit meine ich nur den Eingang 😀 Die Massage selbst ist schwer mit Worten zu beschreiben… es war einfach die pure Entspannung, perfekt…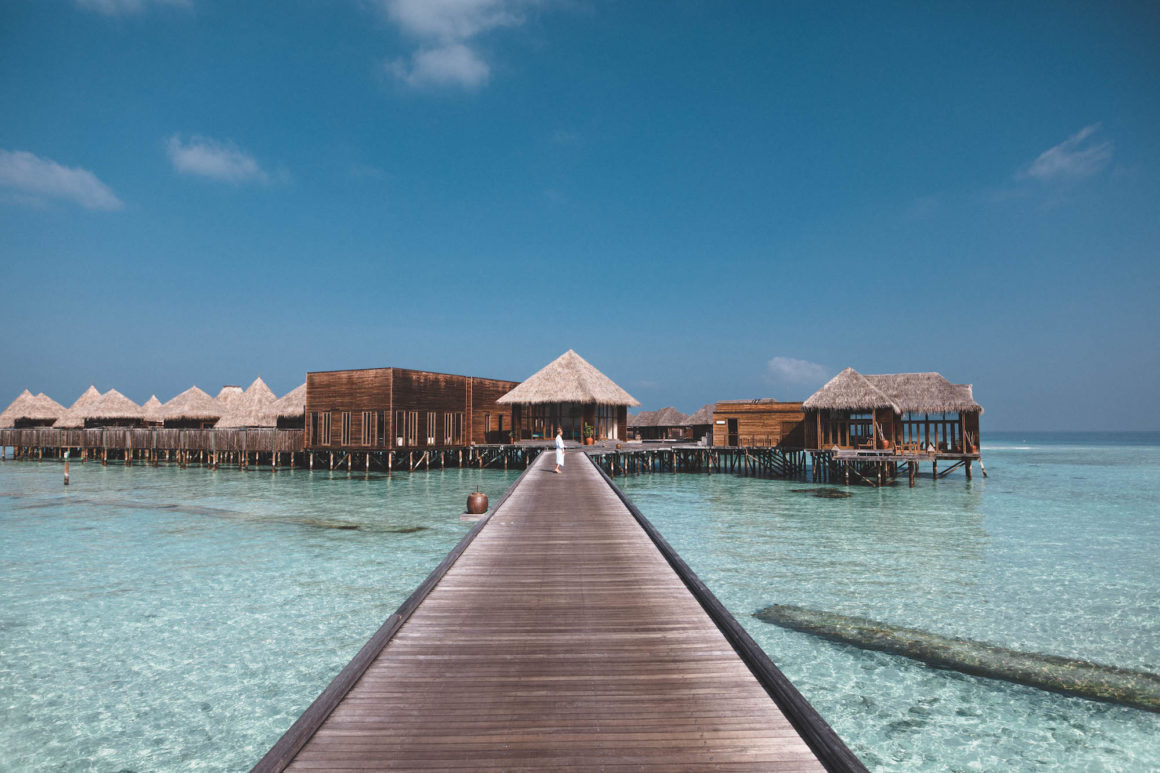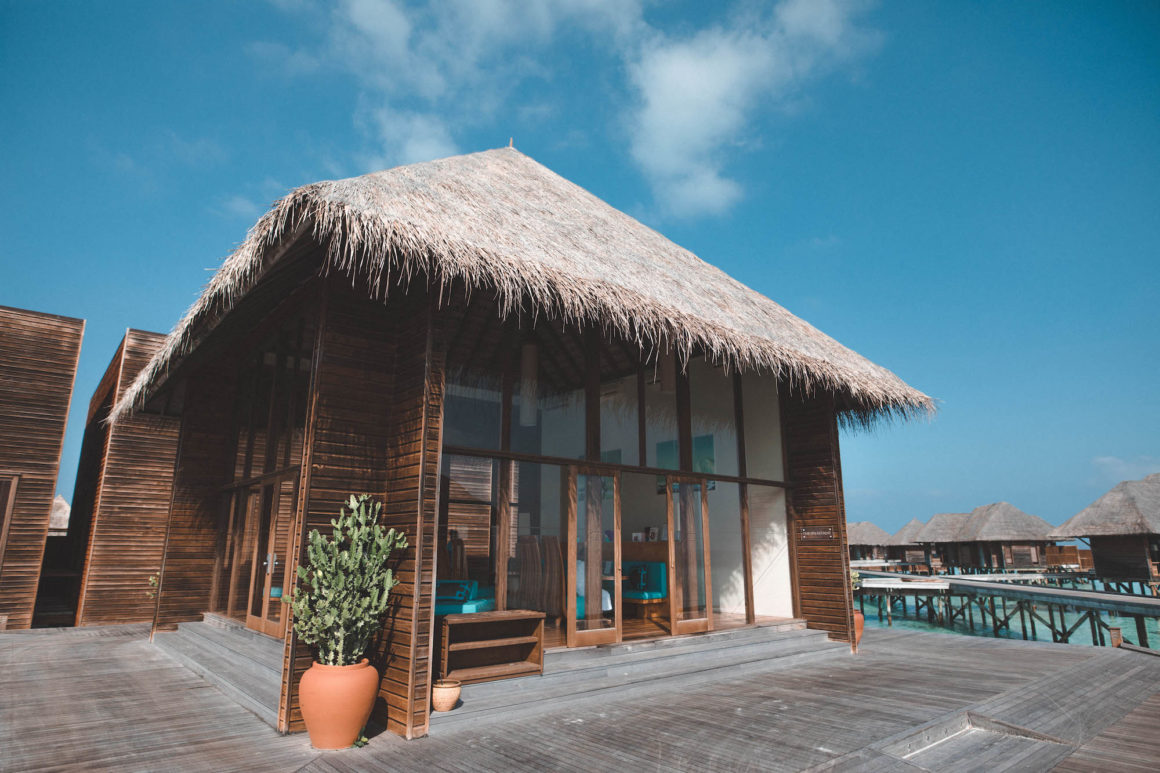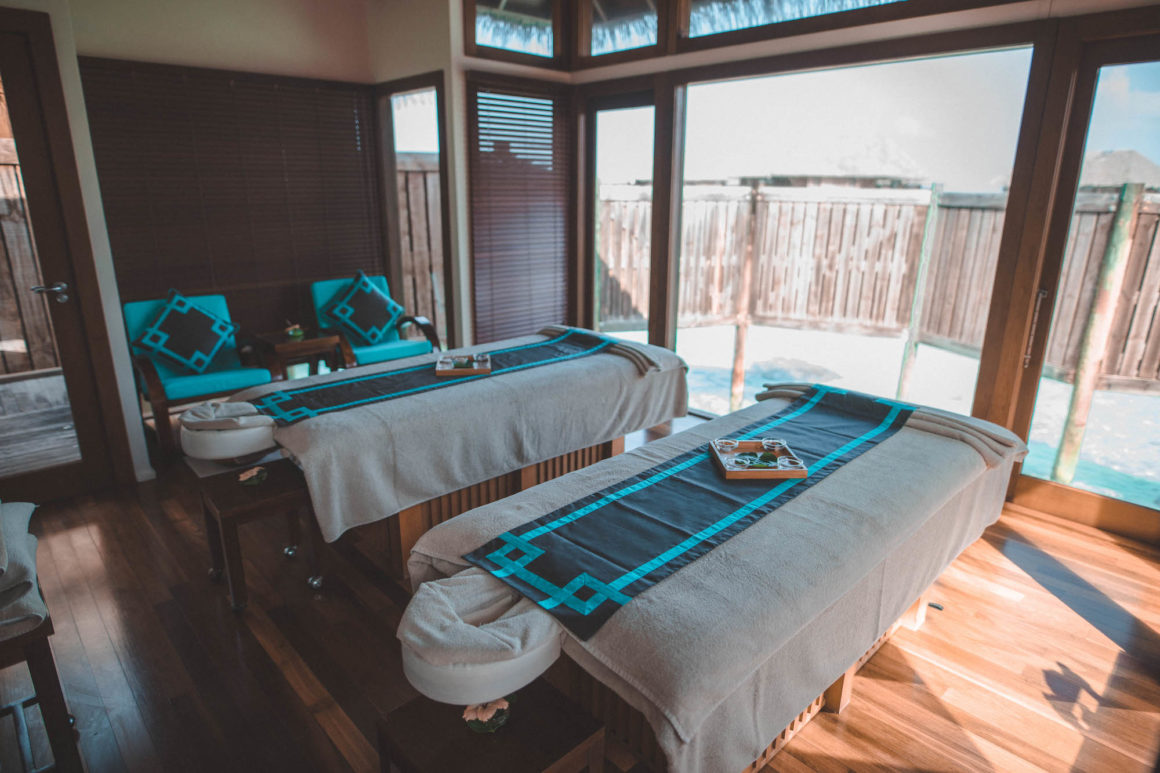 As Kev isn't a huge fan of massages he enjoyed the beach during my treatment when suddenly a group of rays appeared in the turquoise water at the shore *.* they just glided in the water and stayed for more than an hour so we were able to take some cool shots with those majestic animals 🙂
Da Kev nicht gerade ein Fan von Massagen ist, ist er schon eher zurück zum Strand. Dort hat schon eine kleine Gruppe Rochen direkt am Ufer im türkisen Wasser auf ihn gewartet *.* Sie sind einfach durch Wasser geglitten und haben die Aufmerksamkeit genossen 🙂 Und sie sind über eine Stunde lange dort geblieben, sodass wir zum Glück noch ein paar coole Bilder mit diesen majestätischen Tieren machen konnten 🙂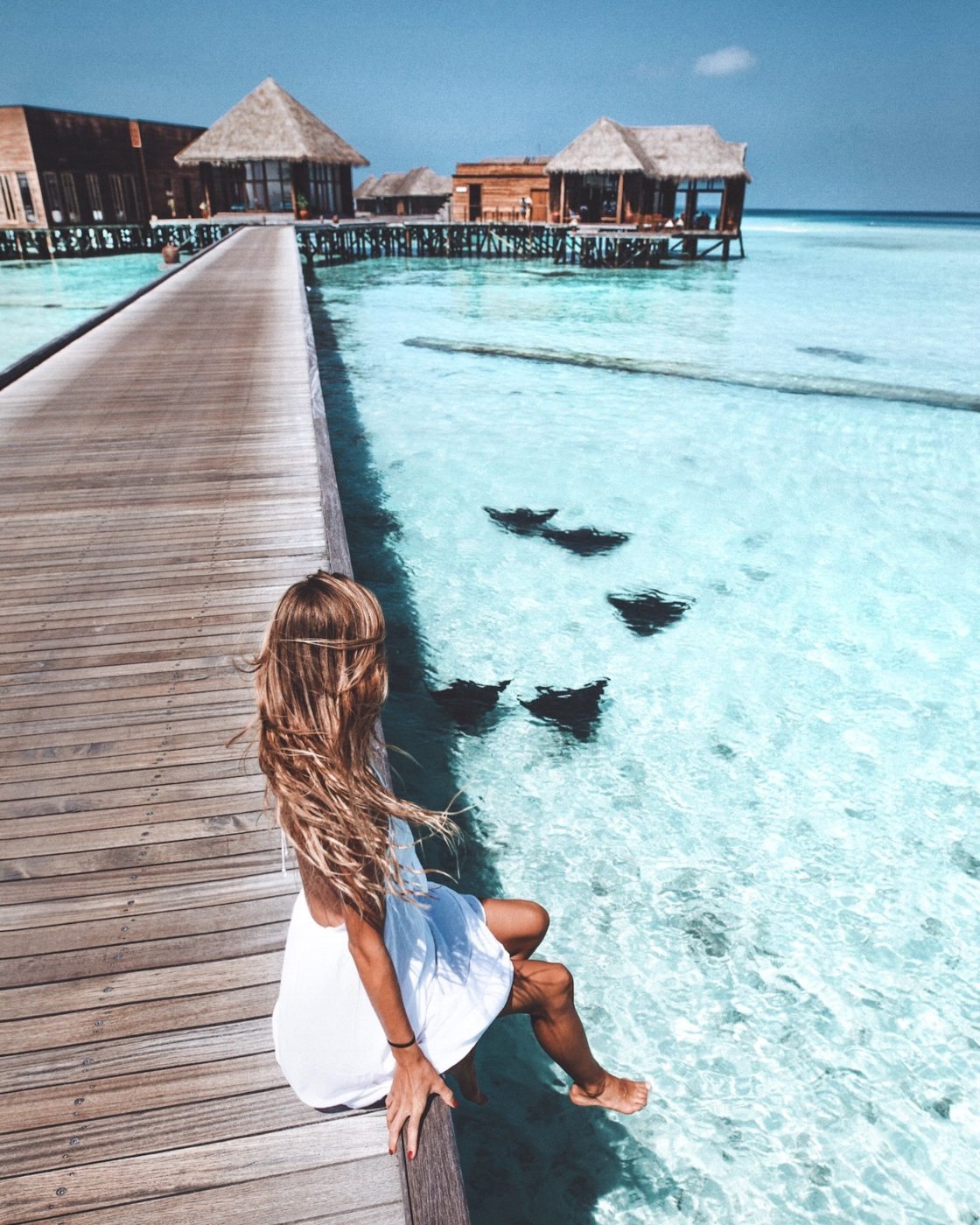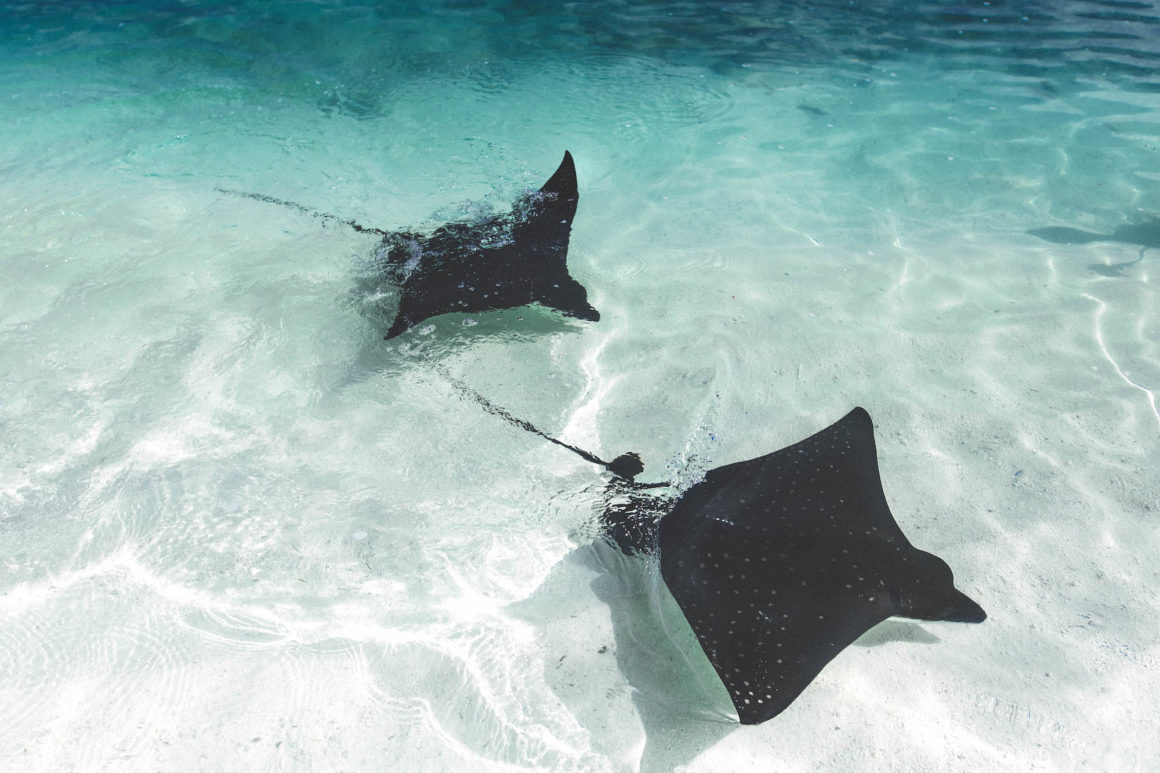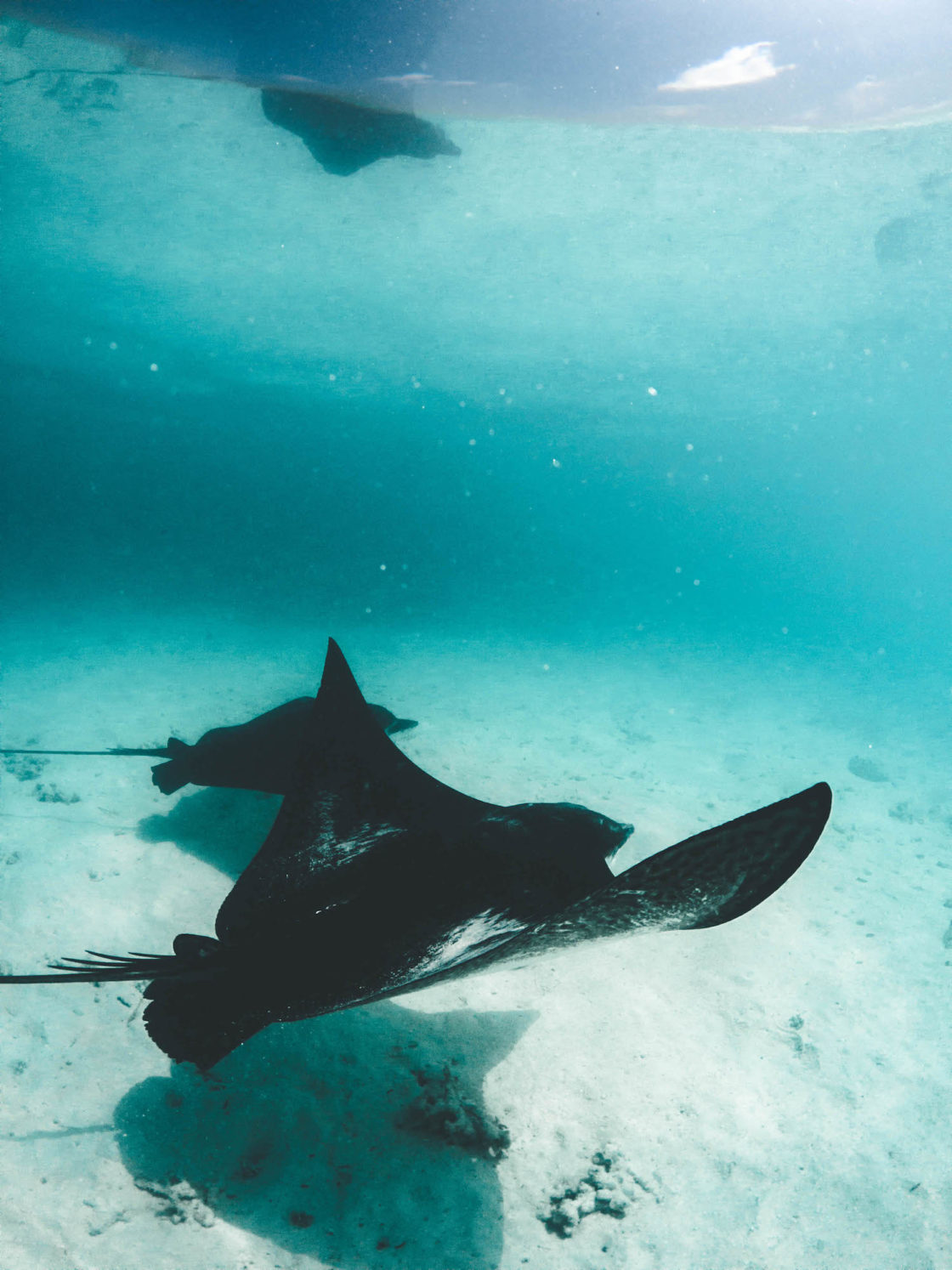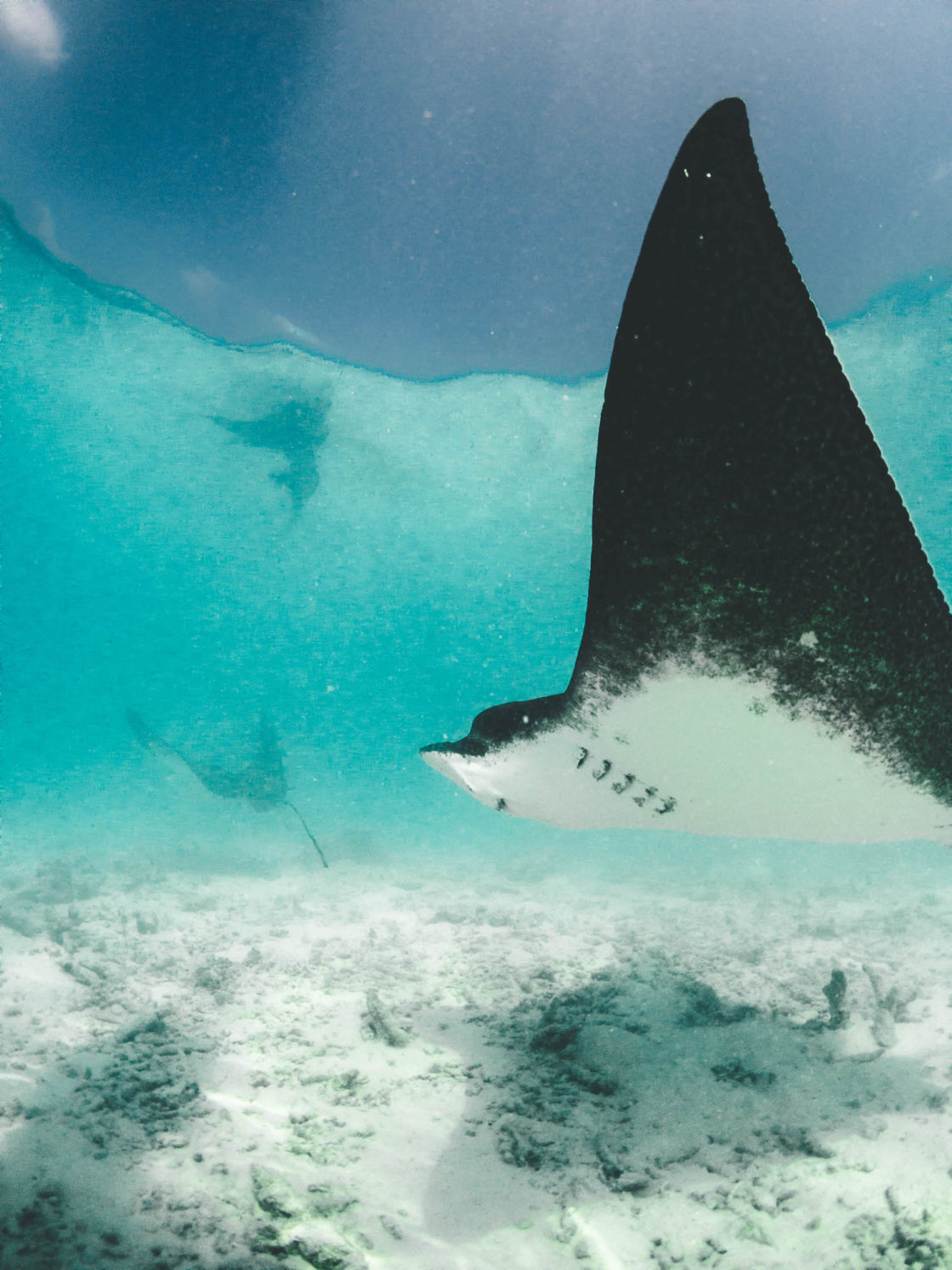 After a few days we changed our accommodation to an over water villa on the second island which is calmer and way more "wild". Instead of taking the bridge I told you about we jumped on the cute ferry which is connecting both islands as well leaving every 5-10 minutes 🙂 I can't really say which island I like more – both are incredible in it's on way. What I can say is that the sunset view on this side of the island was from another world *.*
Nach den ersten Tagen, sind wir dann auf die andere, etwas "wildere" und ruhigere Insel gewechselt und dort in eine Wasser-Villa gezogen. Anstatt über die schon erwähnte Brücke laufen zu müssen, konnten wir die Fähre nehmen, die alle 5-10 Minuten zwischen den Inseln hin und her fährt 🙂 Welche Insel mir mehr gefällt, kann ich gar nicht sagen, da beide eigen und wunderschön sind. Was ich aber sagen kann, ist, dass der Anblick auf den Sonnenuntergang auf dieser Seite der Insel aussah wie von einer anderen Welt, einfach unglaublich *.*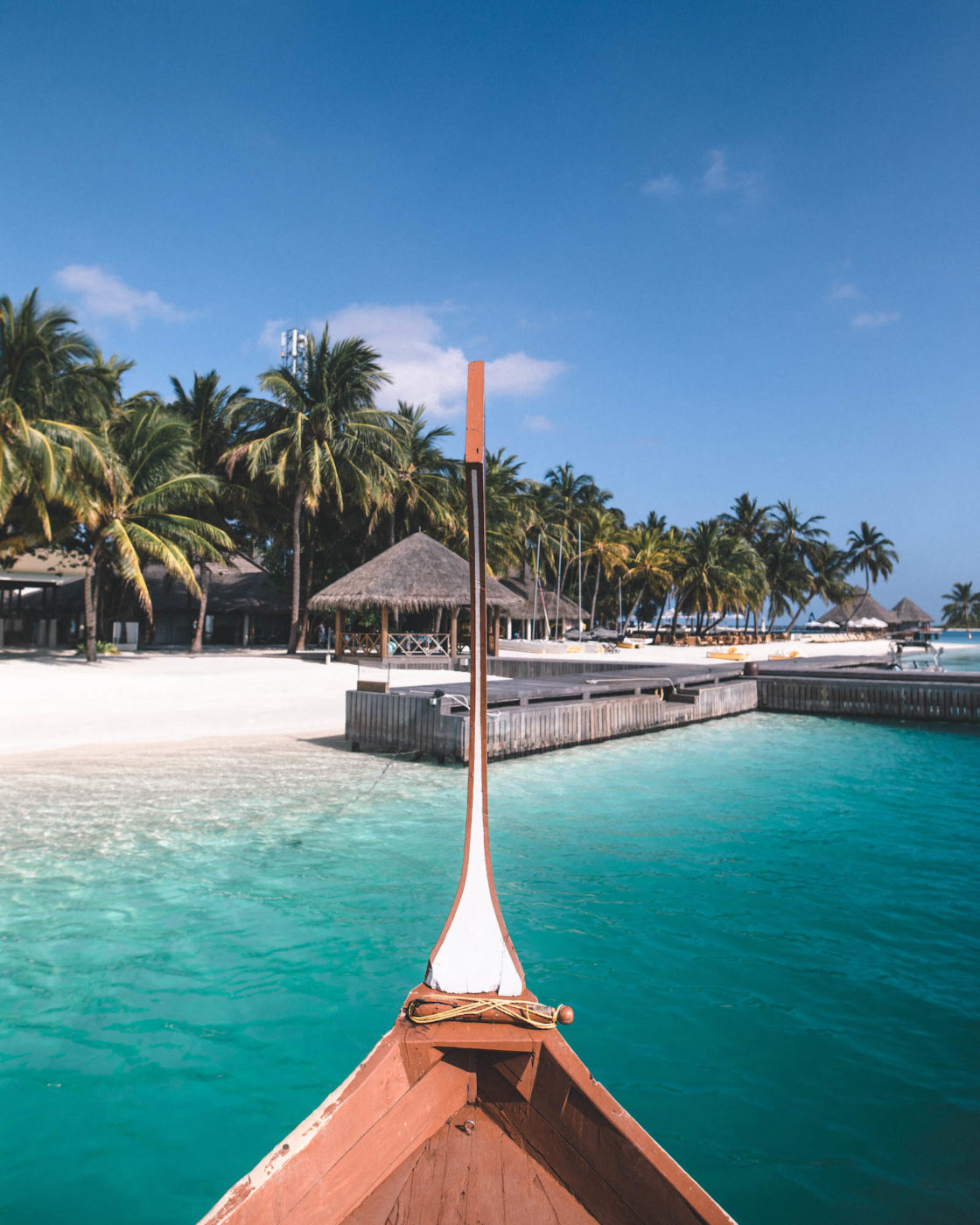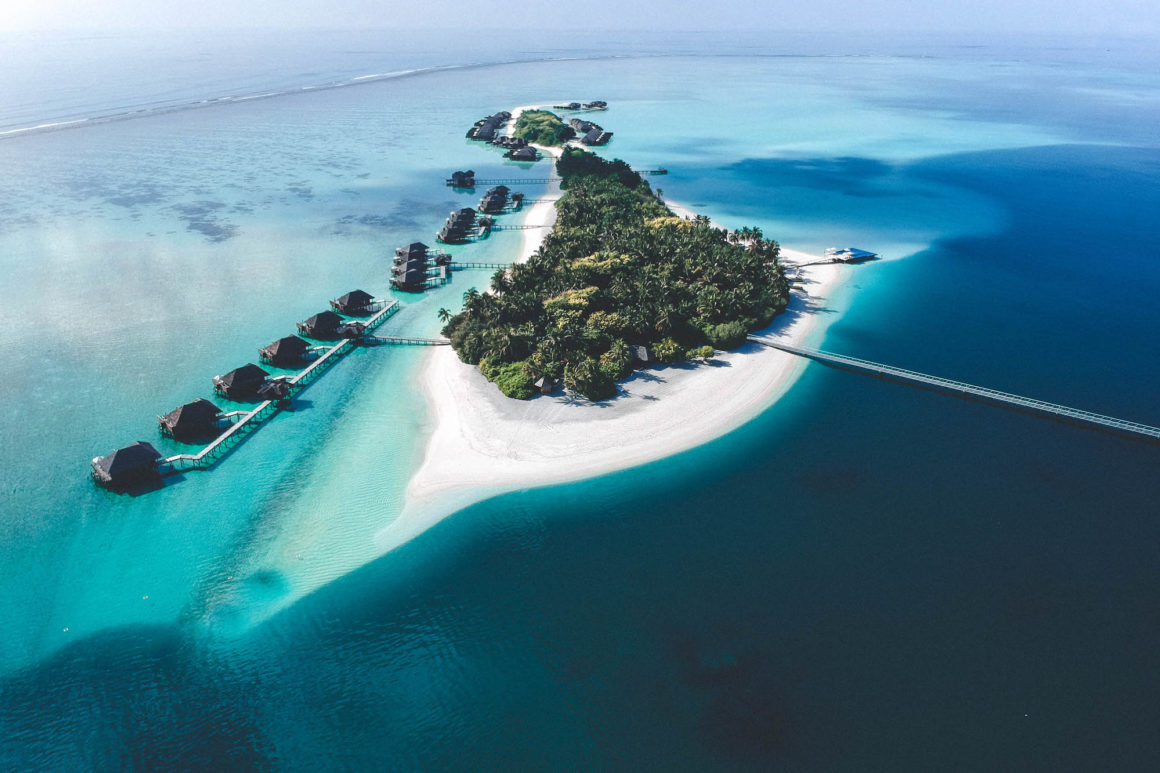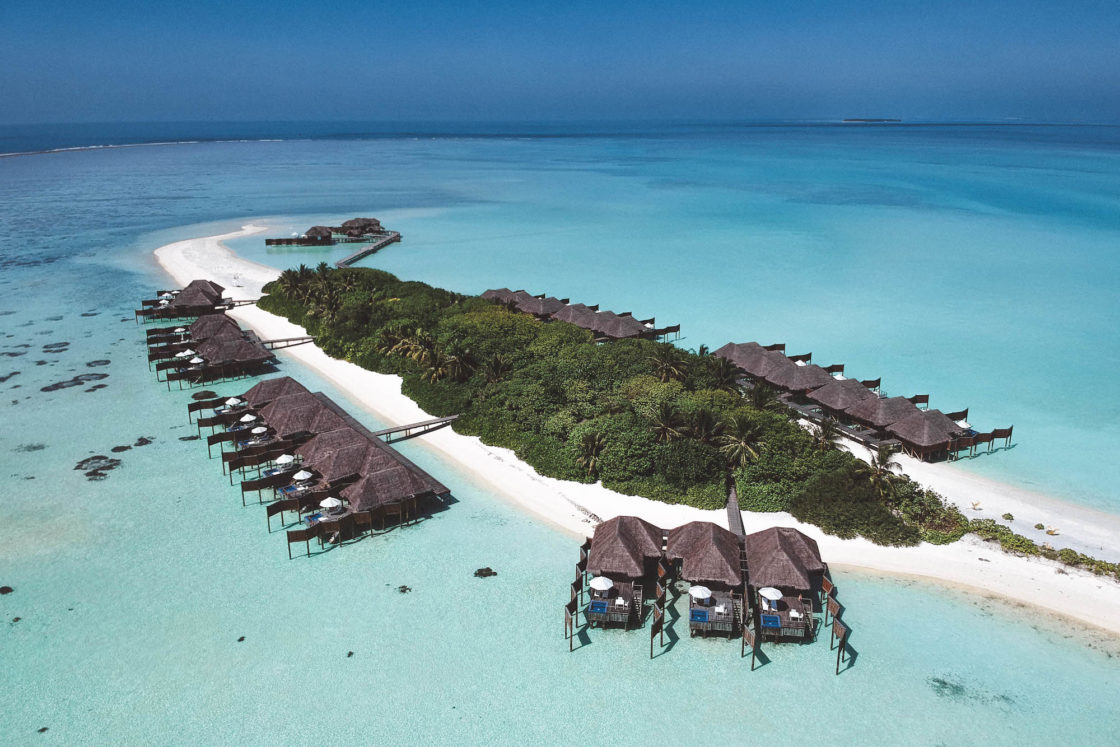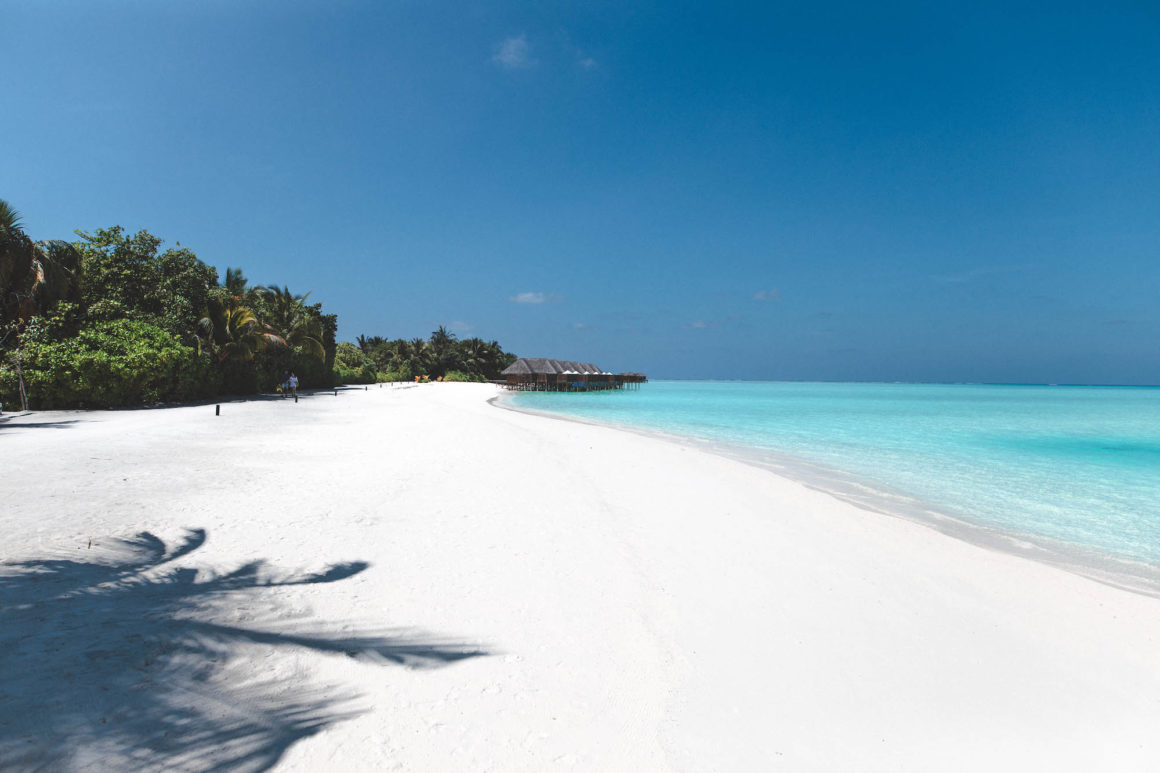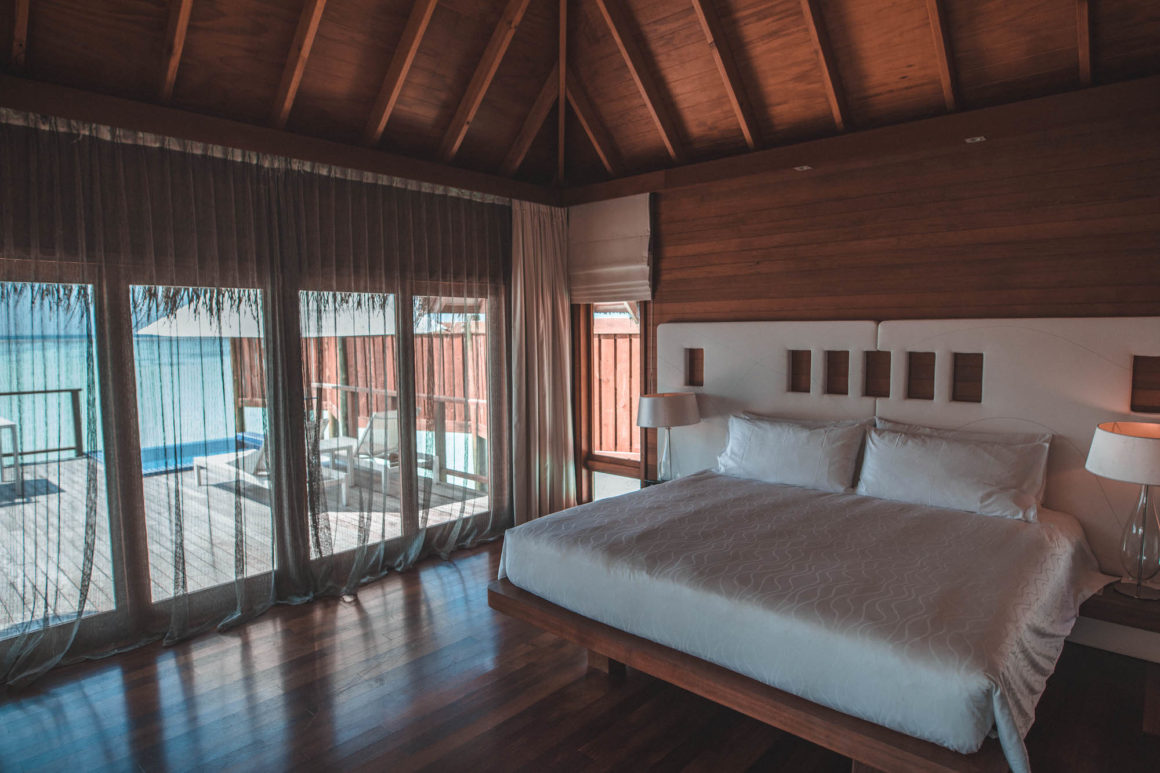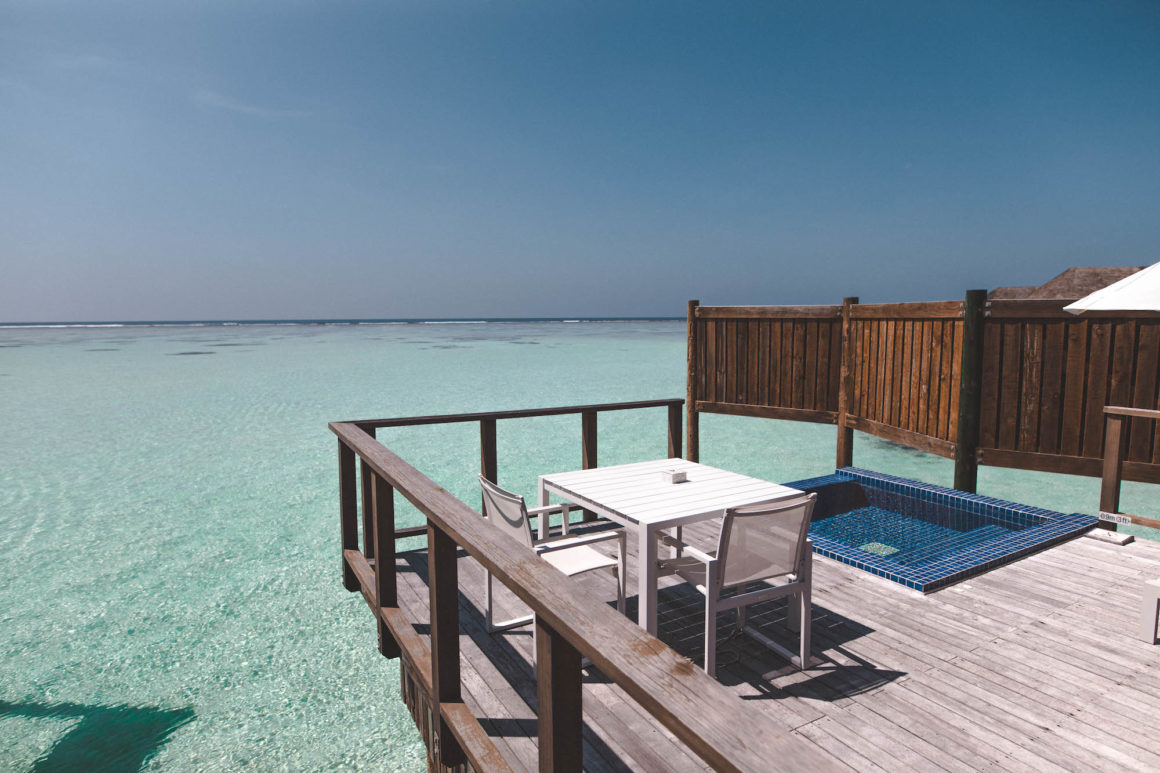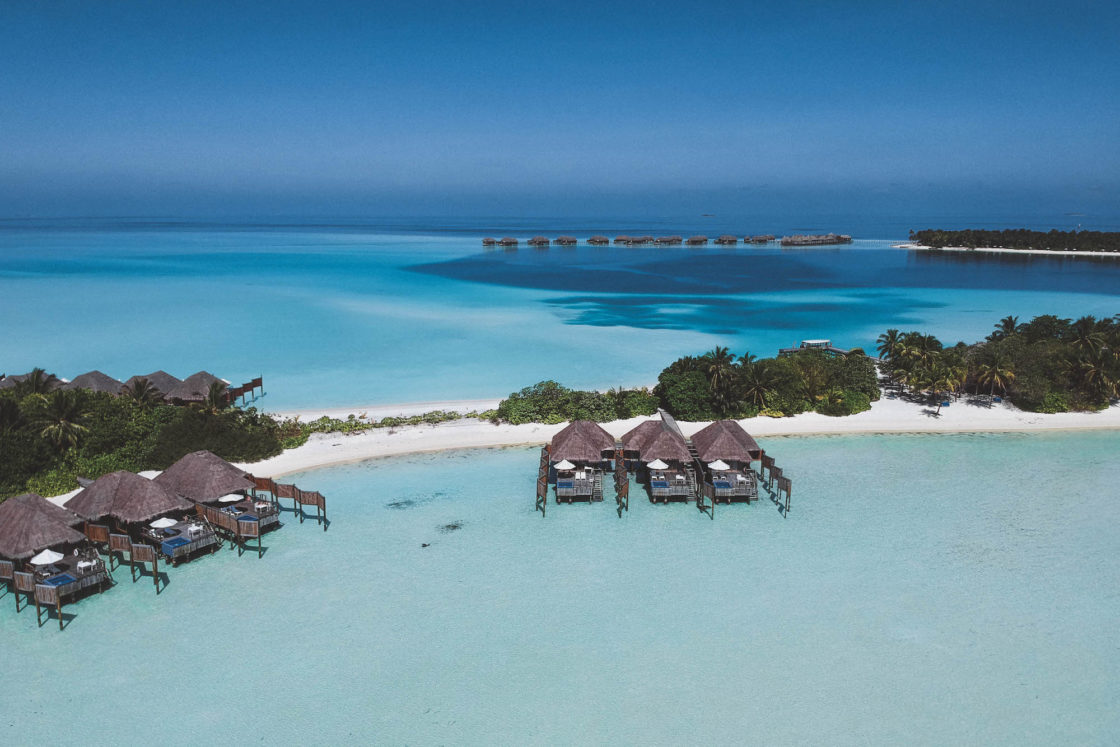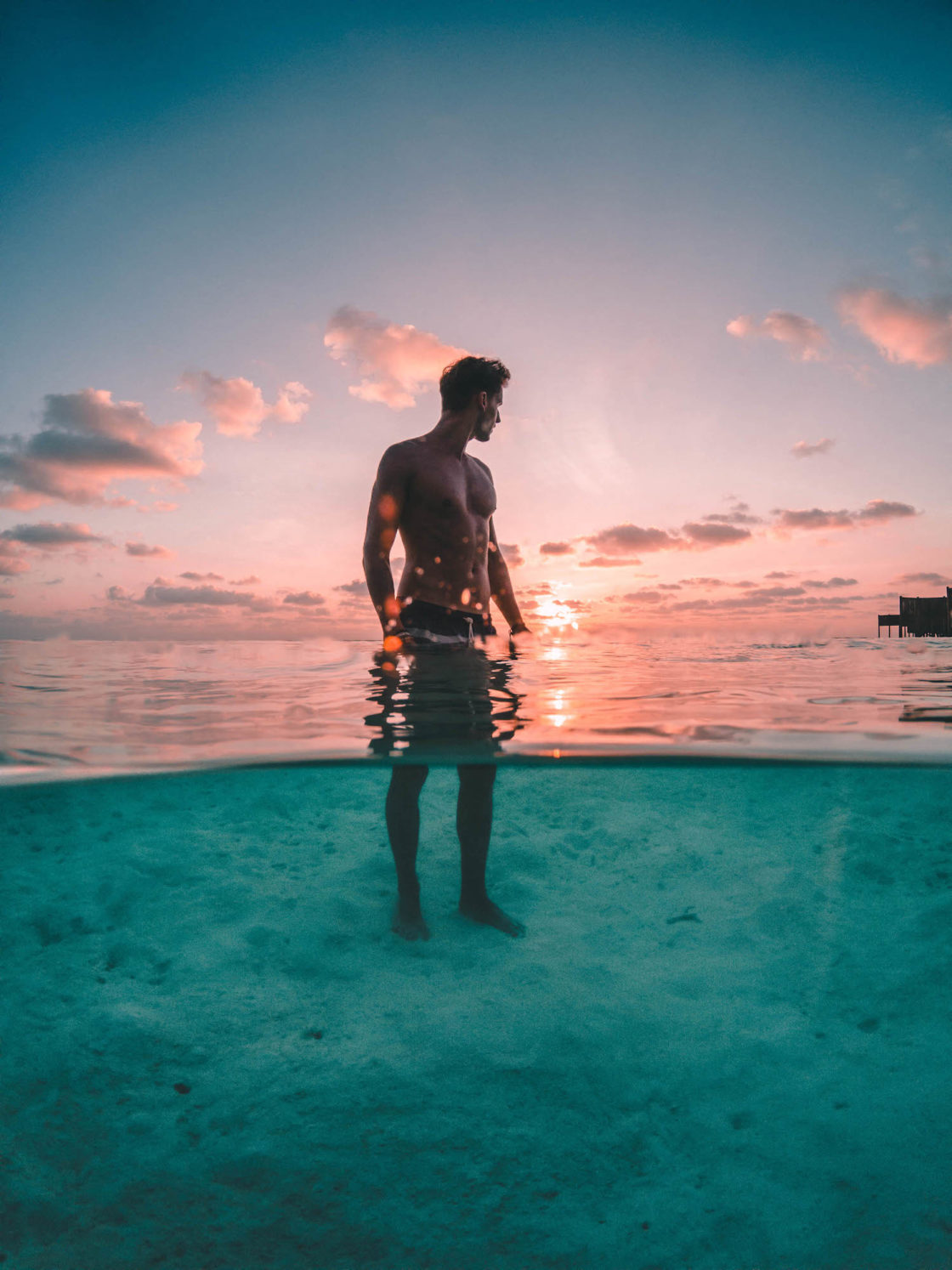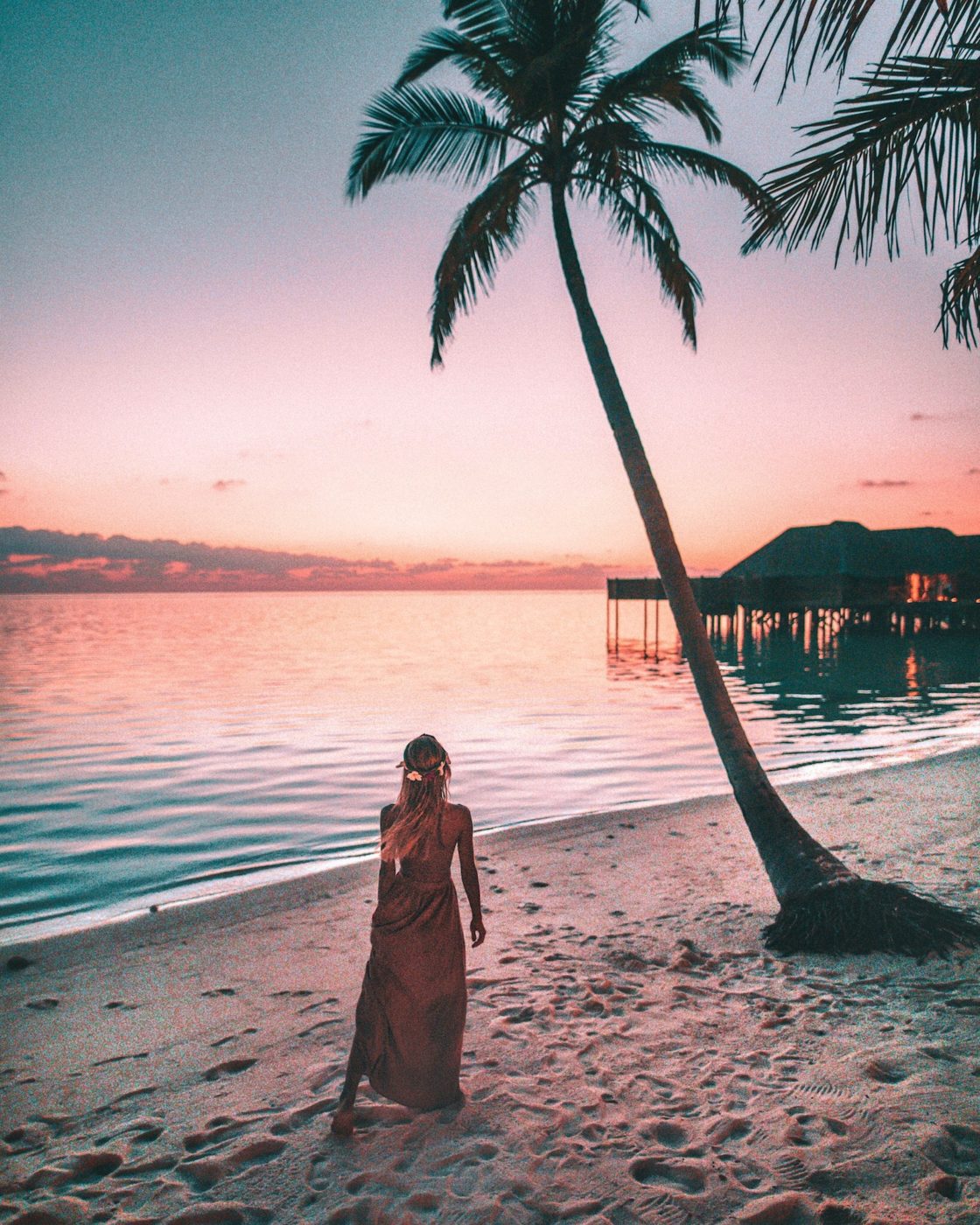 My favourite spot on the second island was the sandbank in the south east of the island. I've never seen so many and different shades of blue in the water. From light blue in the shallow water to a dark blue at the edge where the bottom of the sea suddenly disappears…
Mein liebster Spot auf der zweiten Insel war eine Sandbank im Süd-Osten der Insel. Ich habe noch nie so viele verschiedene Blau-Töne im Wasser gesehen. Von hell türkis im flachen bis hin zu tiefem, dunkel blauem Wasser, dort wo der Meeresboden plötzlich steil abfällt…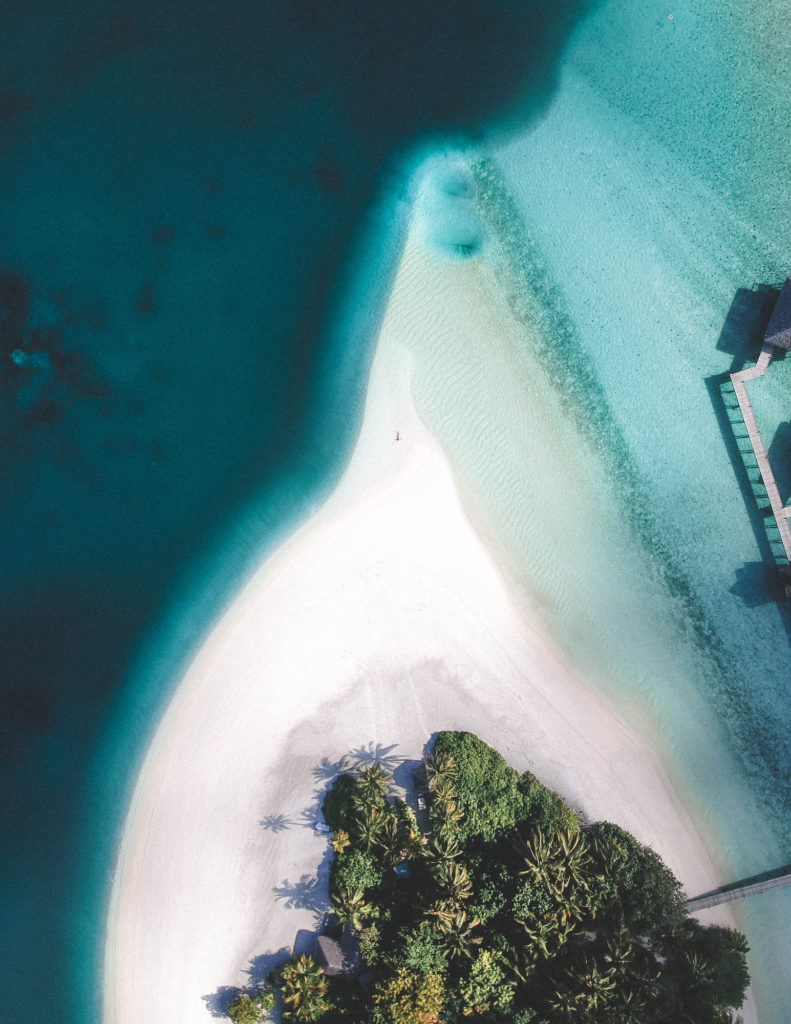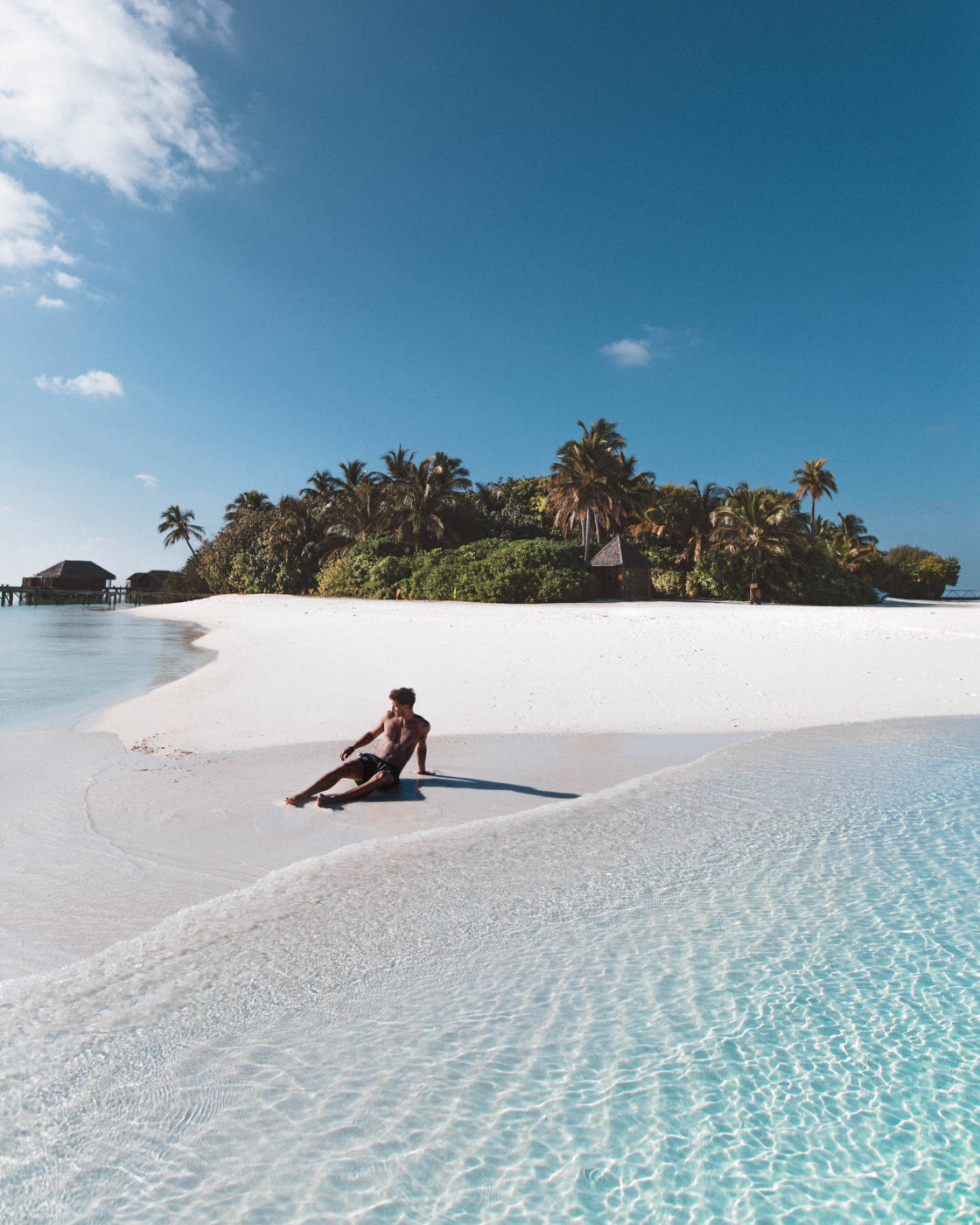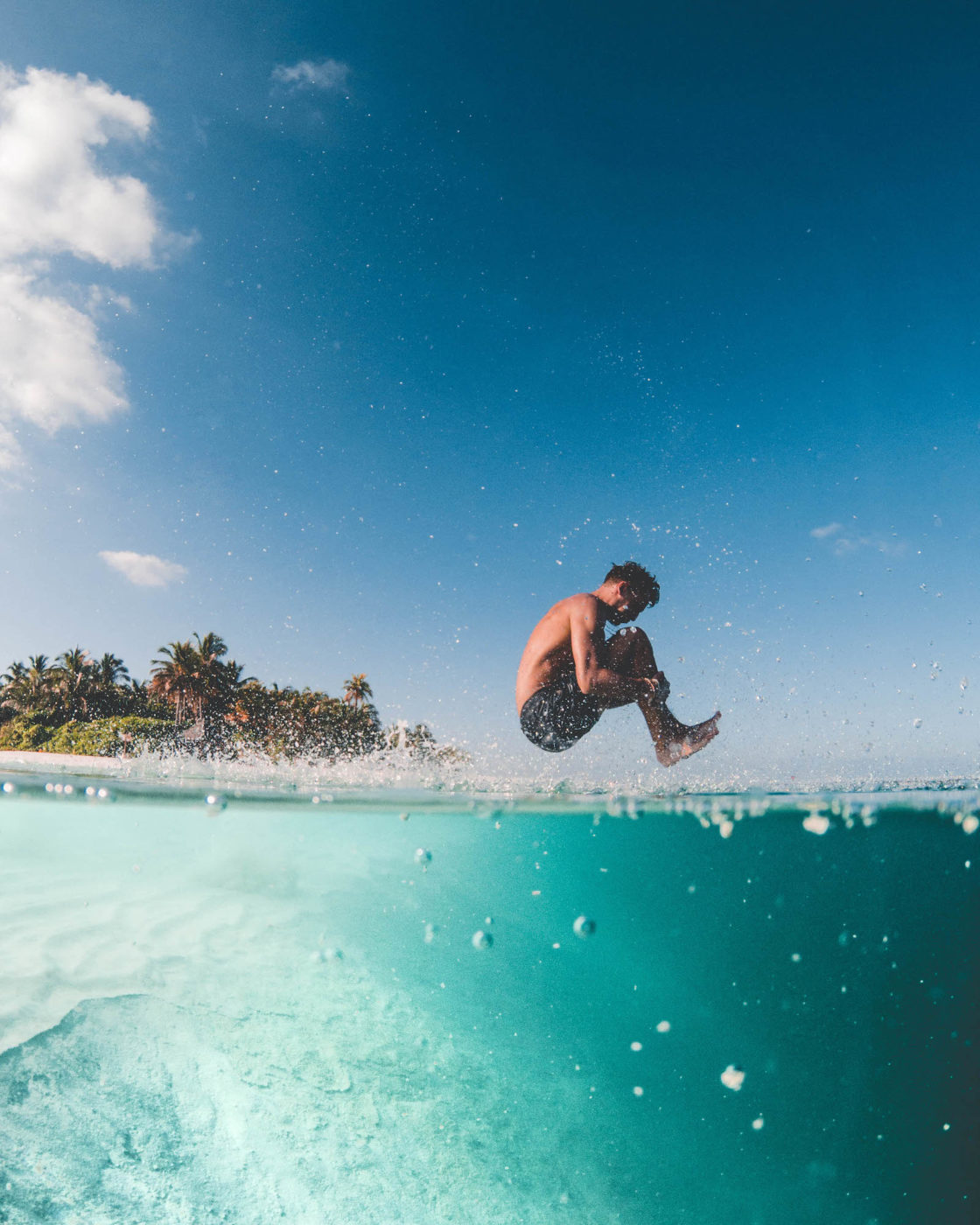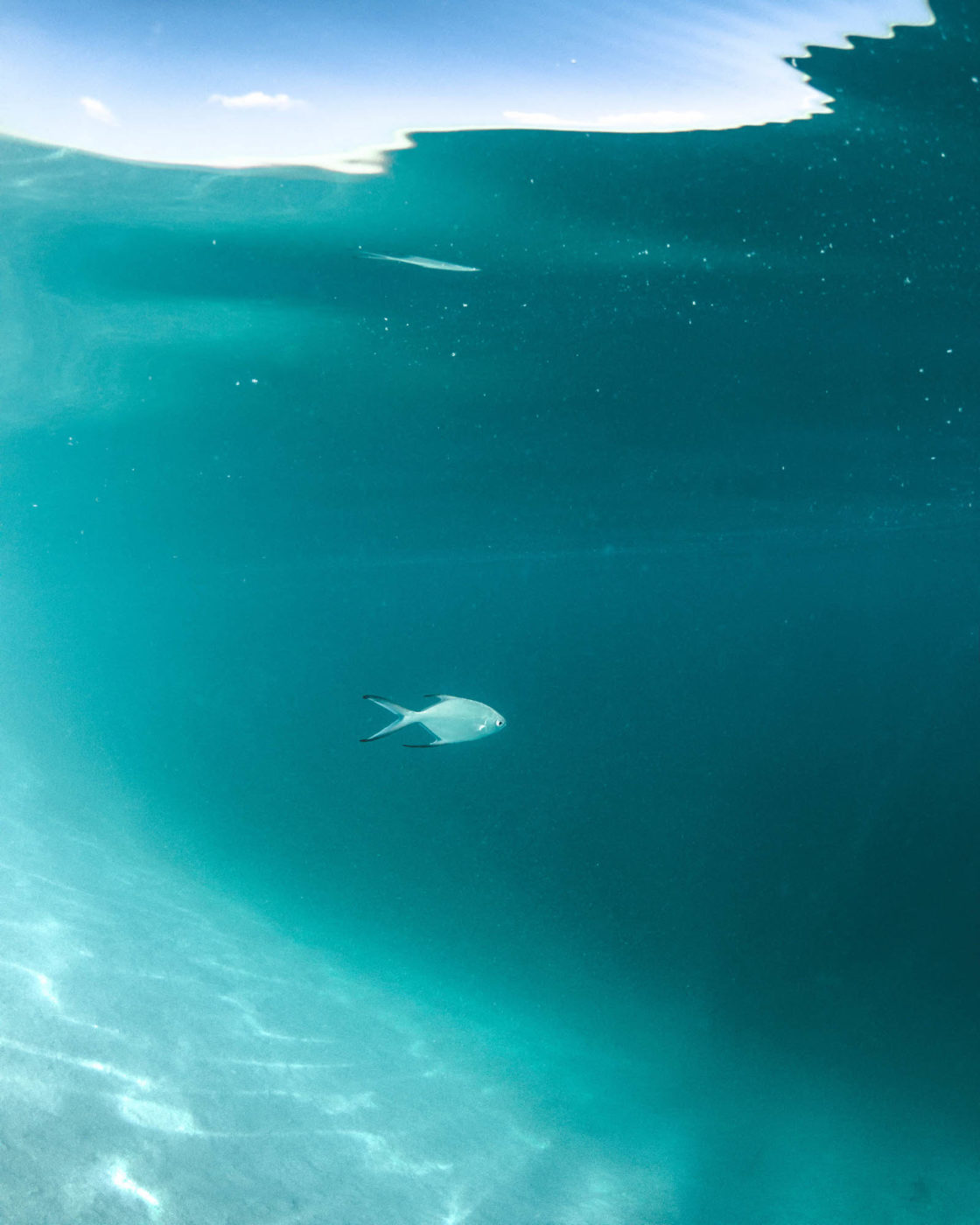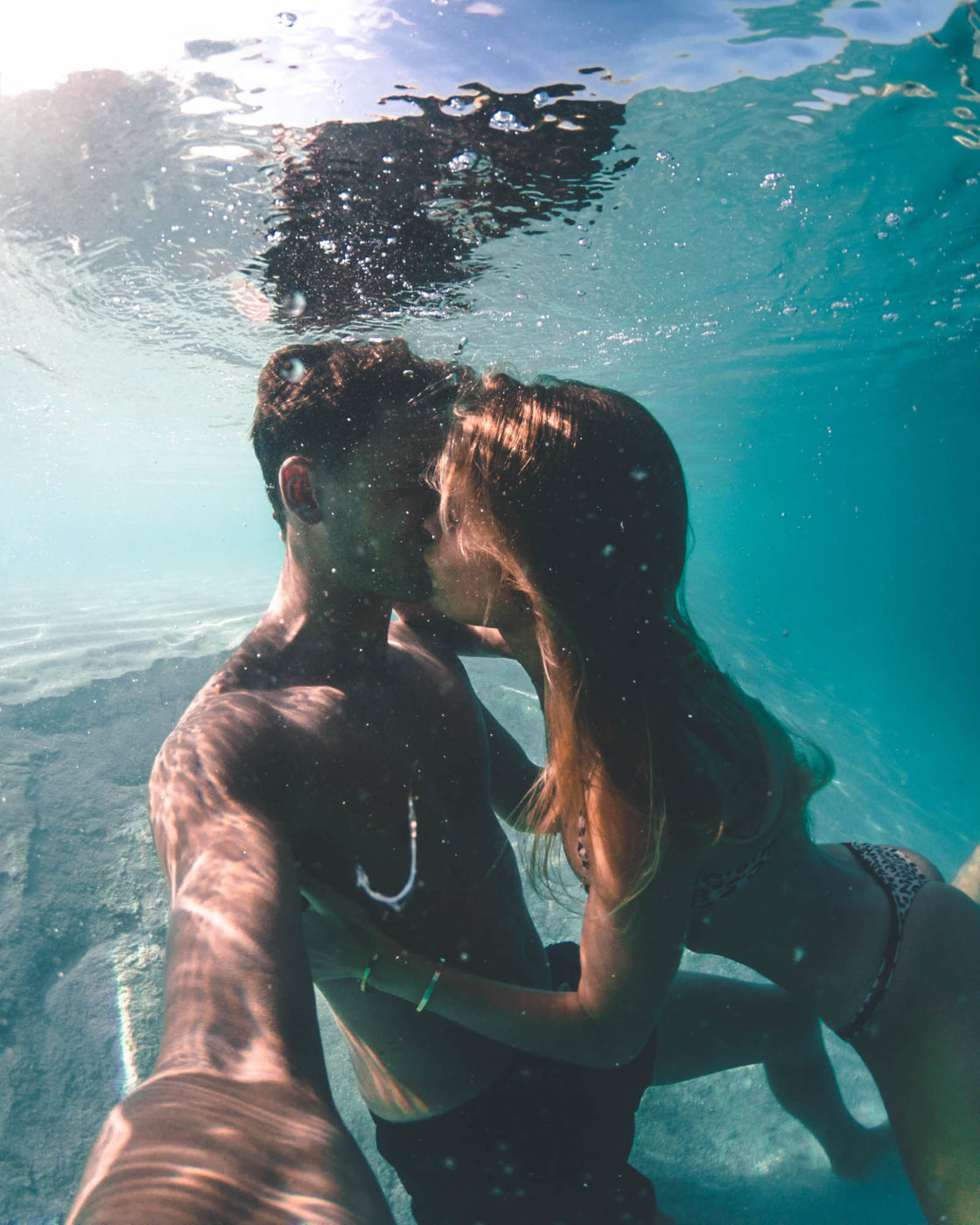 During our last evening we went on one last unforgettable sunset yacht cruise. After cruising around and just enjoying the moment and incredible scenery for a few minutes a family of dolphins crossed our way! *.* So this couldn't have been a better conclusion to our unforgettable visit!
An unserem letzten Abend sind wir noch auf eine Sunset Yacht Tour gegangen, um den Sonnenuntergang nochmal aus einer ganz anderen Perspektive zu erleben. Nach ein paar Minuten fahrt ist plötzlich eine Gruppe neugieriger Delphine an uns vorbeigeschwommen! *.* Einfach der perfekte Abschluss unseres letzten Abends!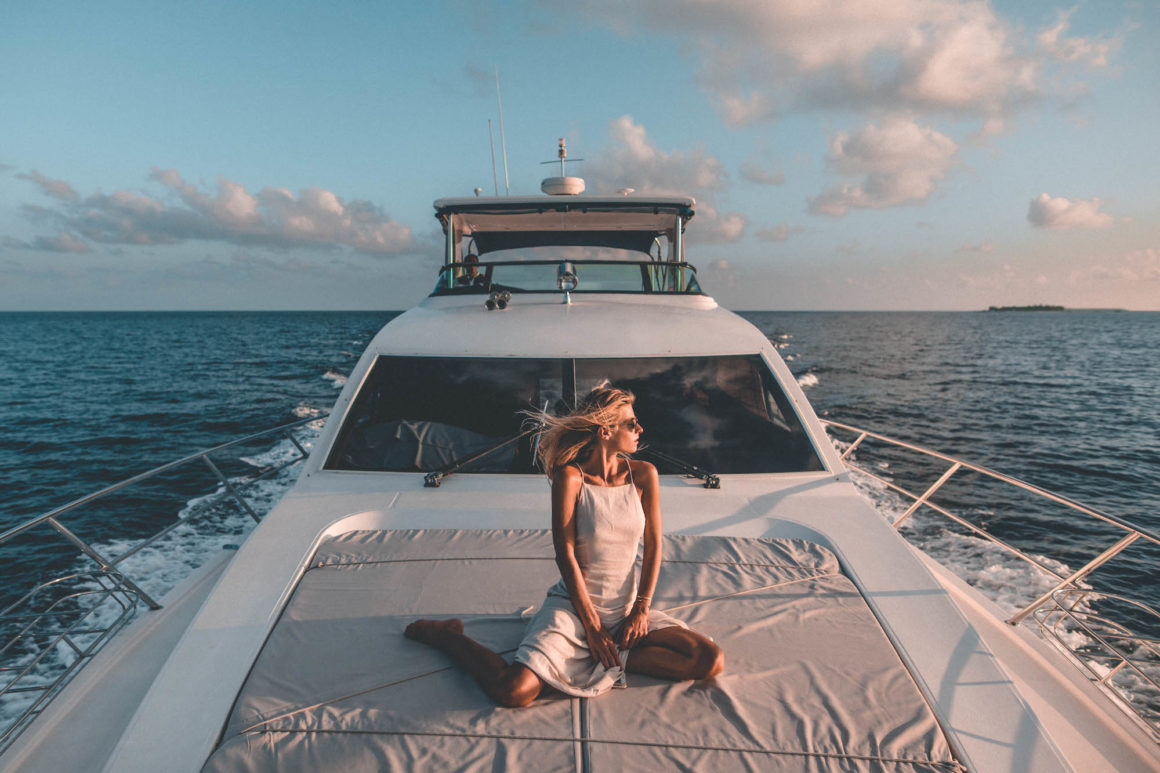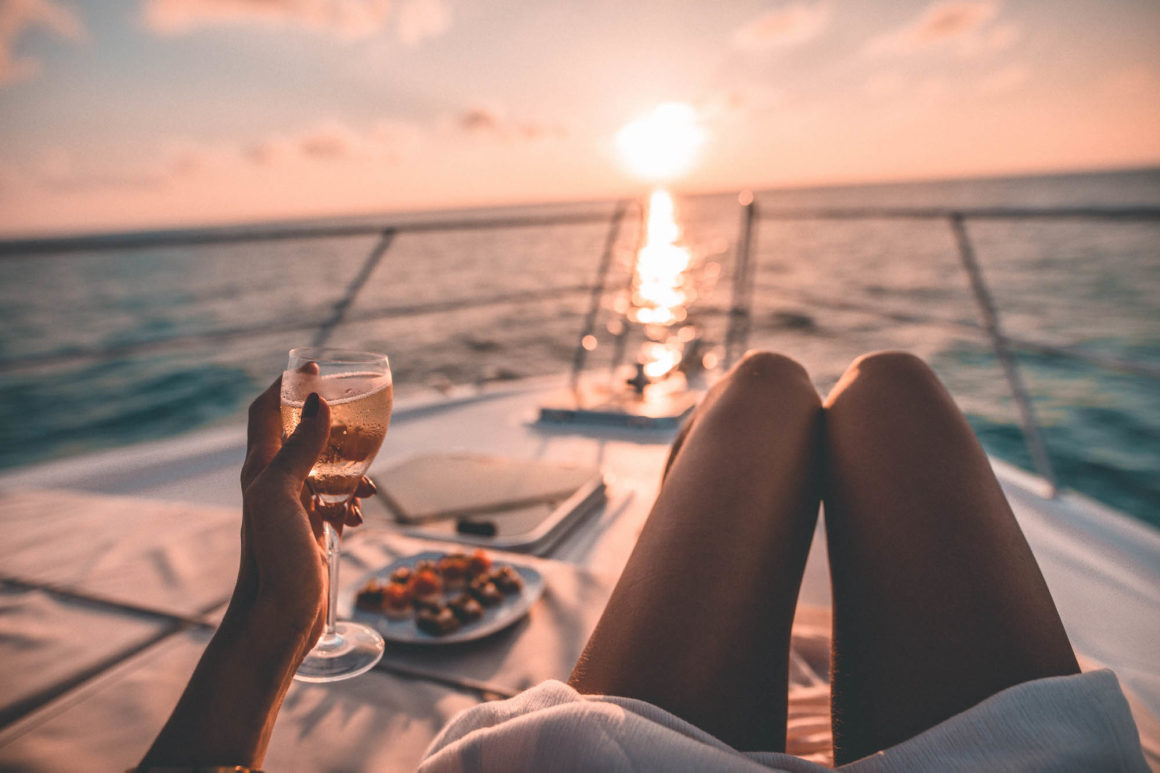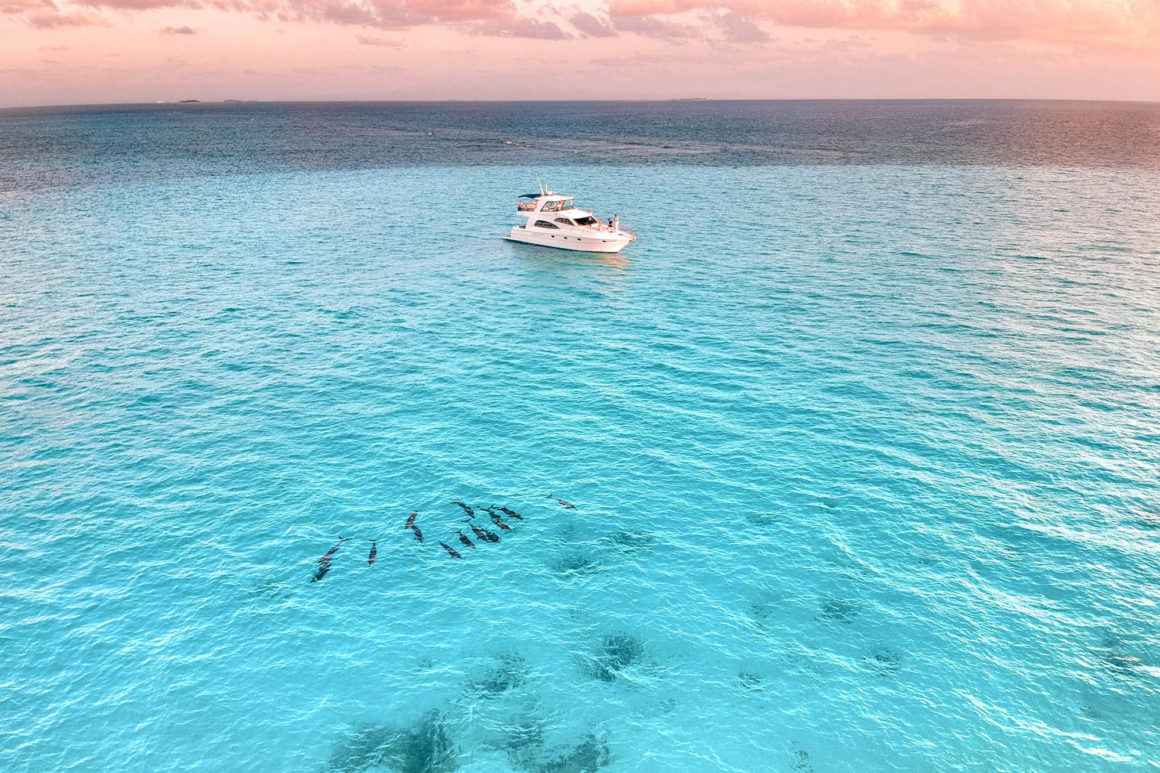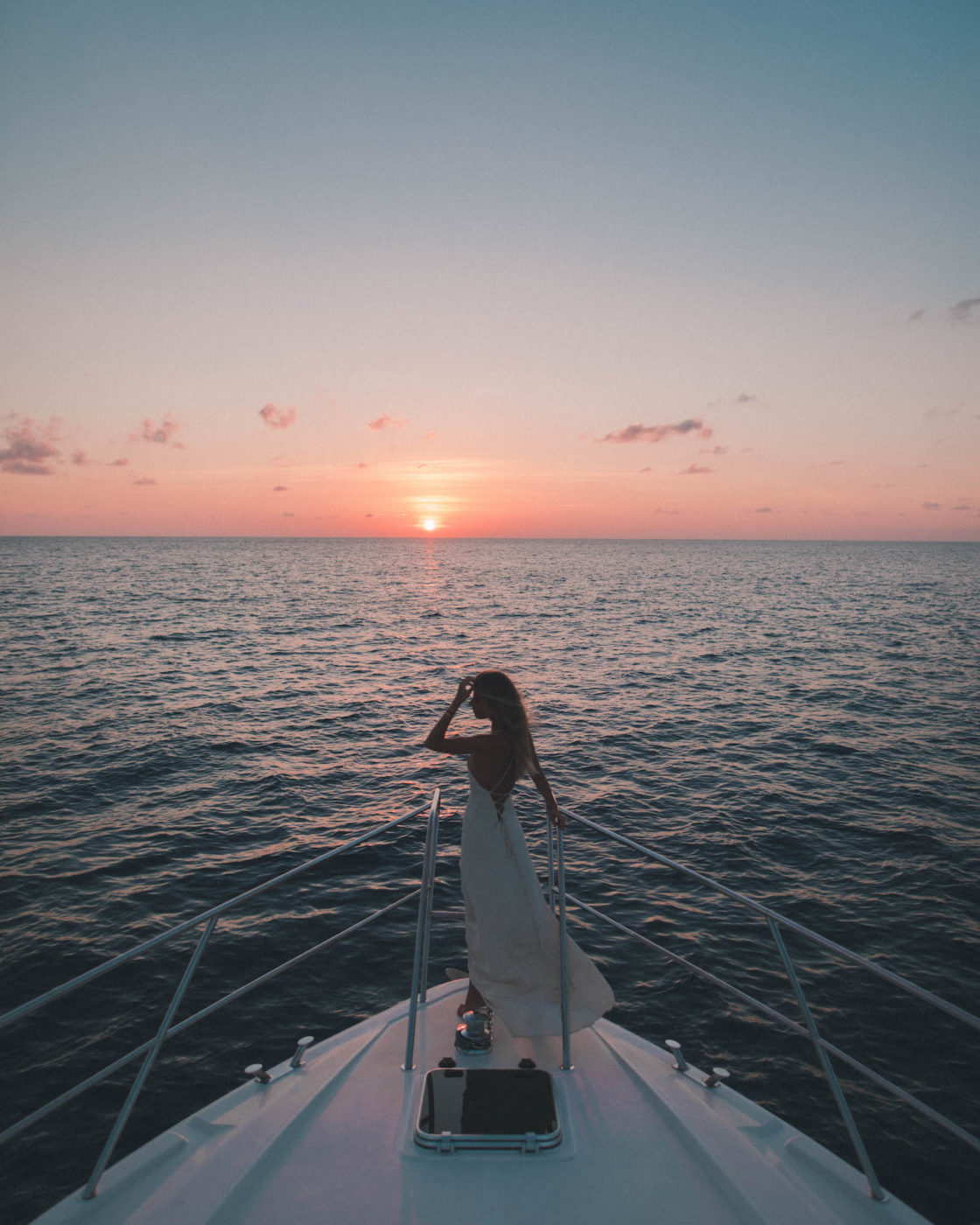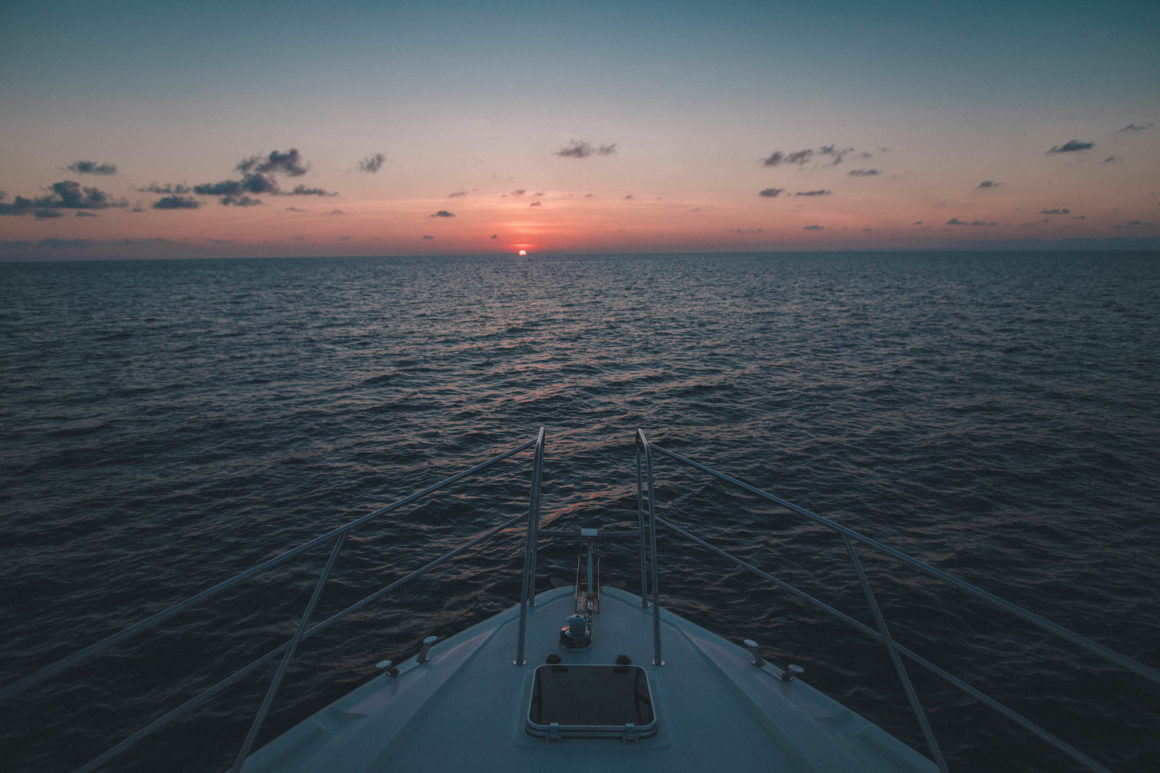 Speaking about sunsets you should know that the Conrad Maldives offers the most beautiful sunset-dinner locations. There are so many different restaurants that we had dinner in a different restaurant almost every evening 🙂 And all the restaurants on the islands are insane!  My favourite has been the "Itaah" restaurant as you could sit over or UNDER the water *.* – I loved watching the fishes  or even sharks dancing around by night.
Apropos Sonnenuntergang: Ihr müsst wissen, dass das Conrad Maldives bietet die beeindruckensten Locations für Dinner bei Sonnenuntergang. Es gibt dort so viele Restaurants, dass wir praktisch jeden Abend woanders essen konnten – und jedes Restaurant war schöner als das andere 🙂 Mein Lieblings-Restaurant war das "Itahh"-Restaurant, da man dort entweder über dem Wasser, oder aber UNTER dem Wasser sitzen konnte *.* Ein unglaublich er Anblick besonders bei Nacht.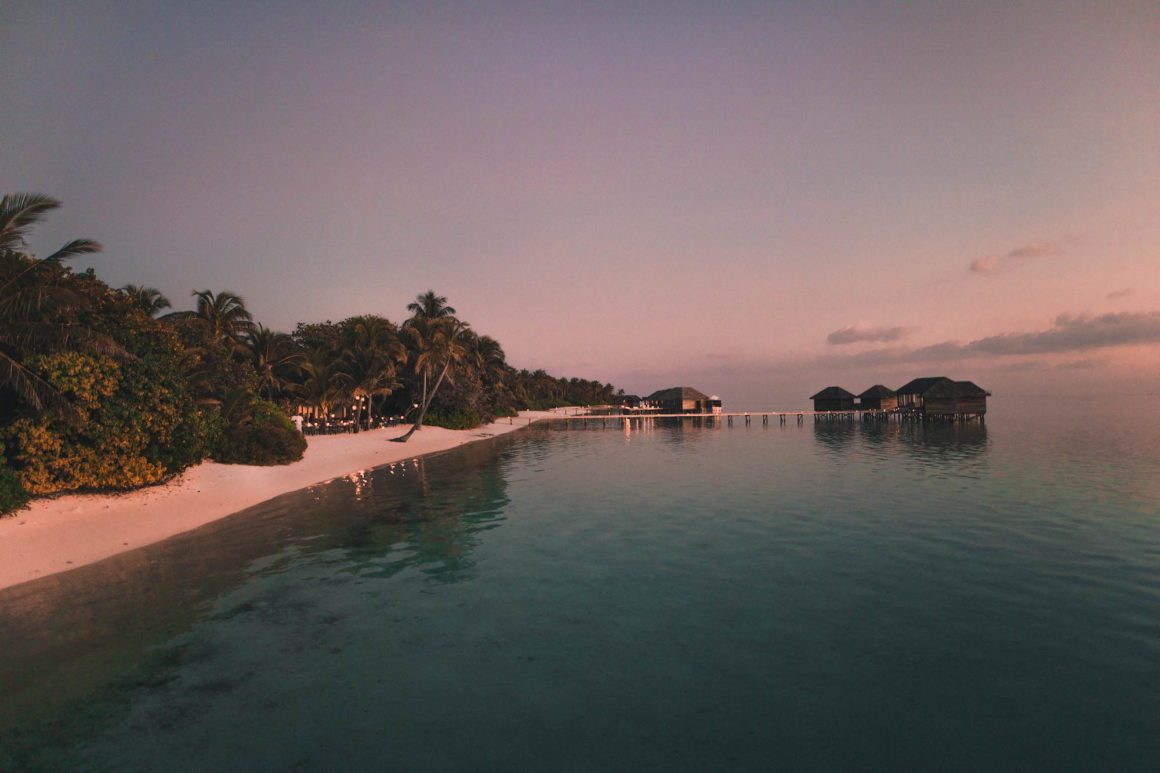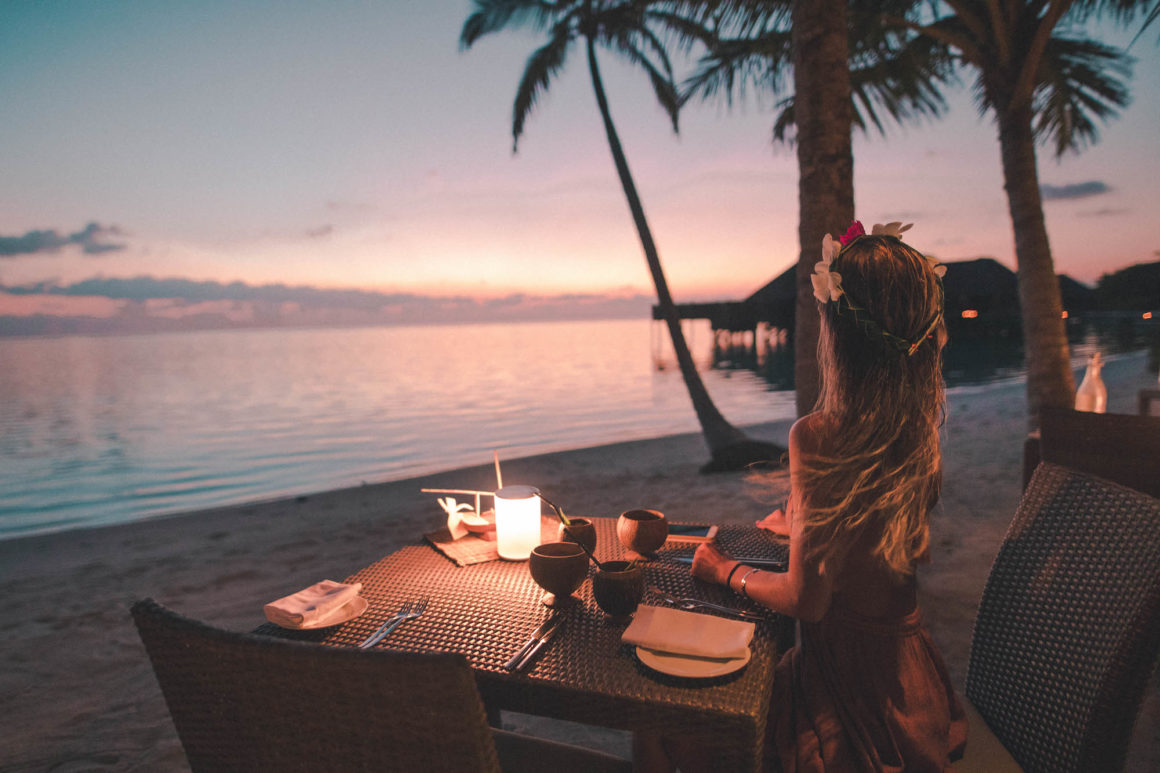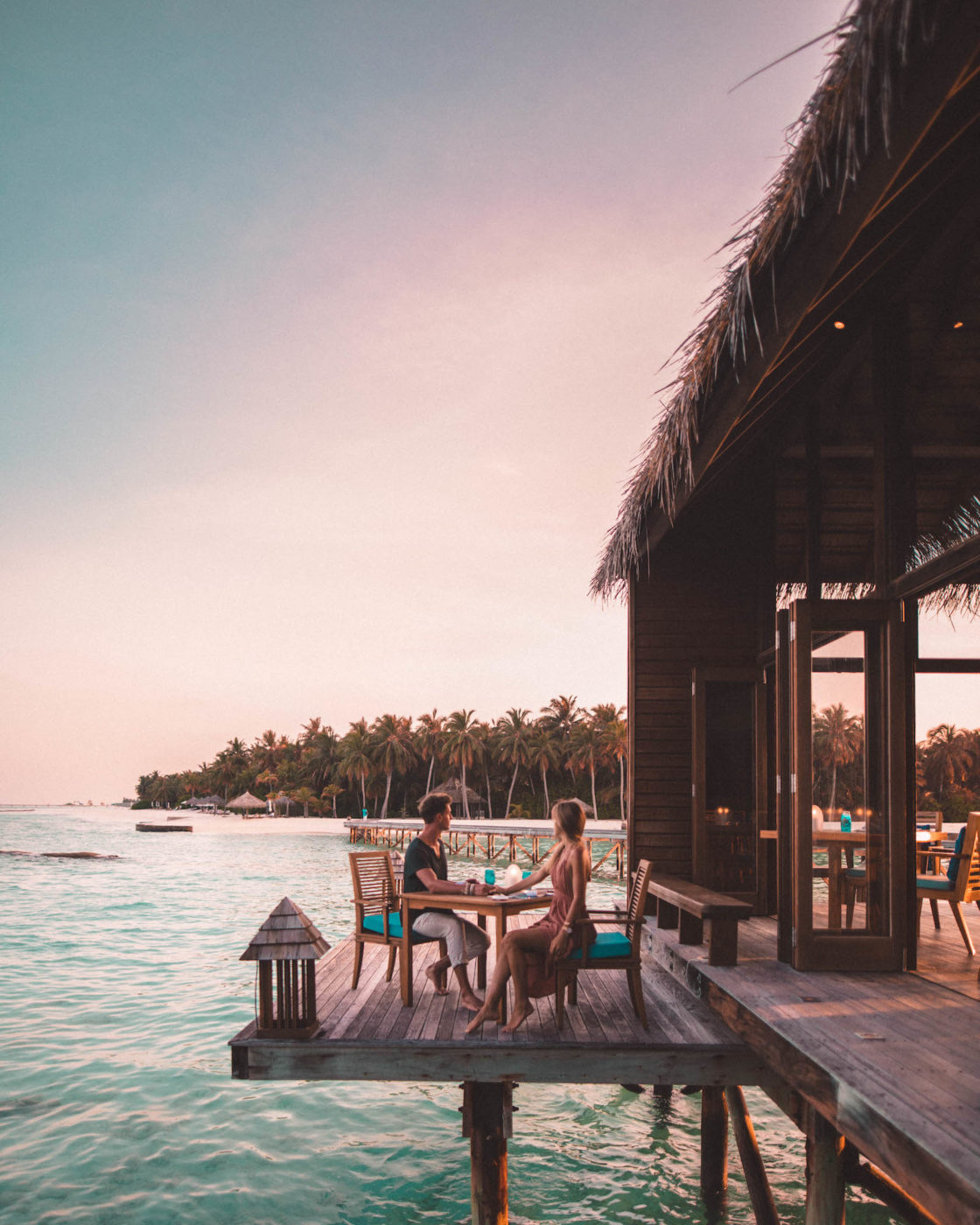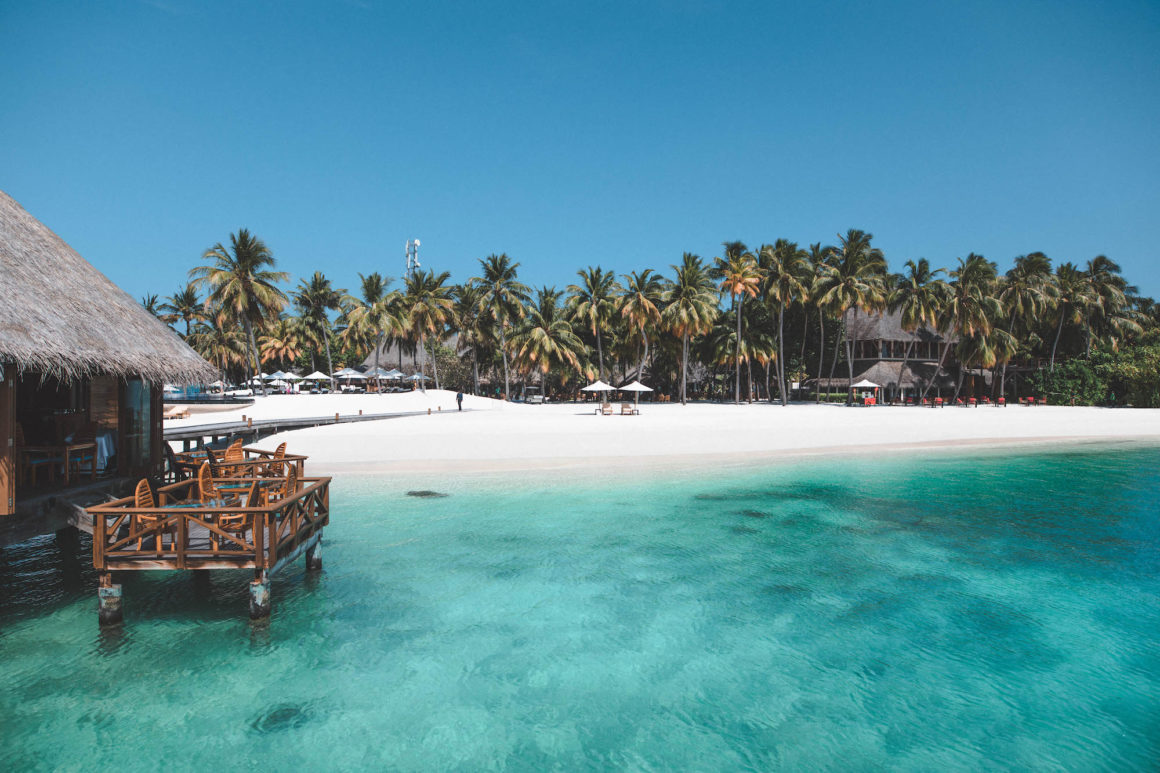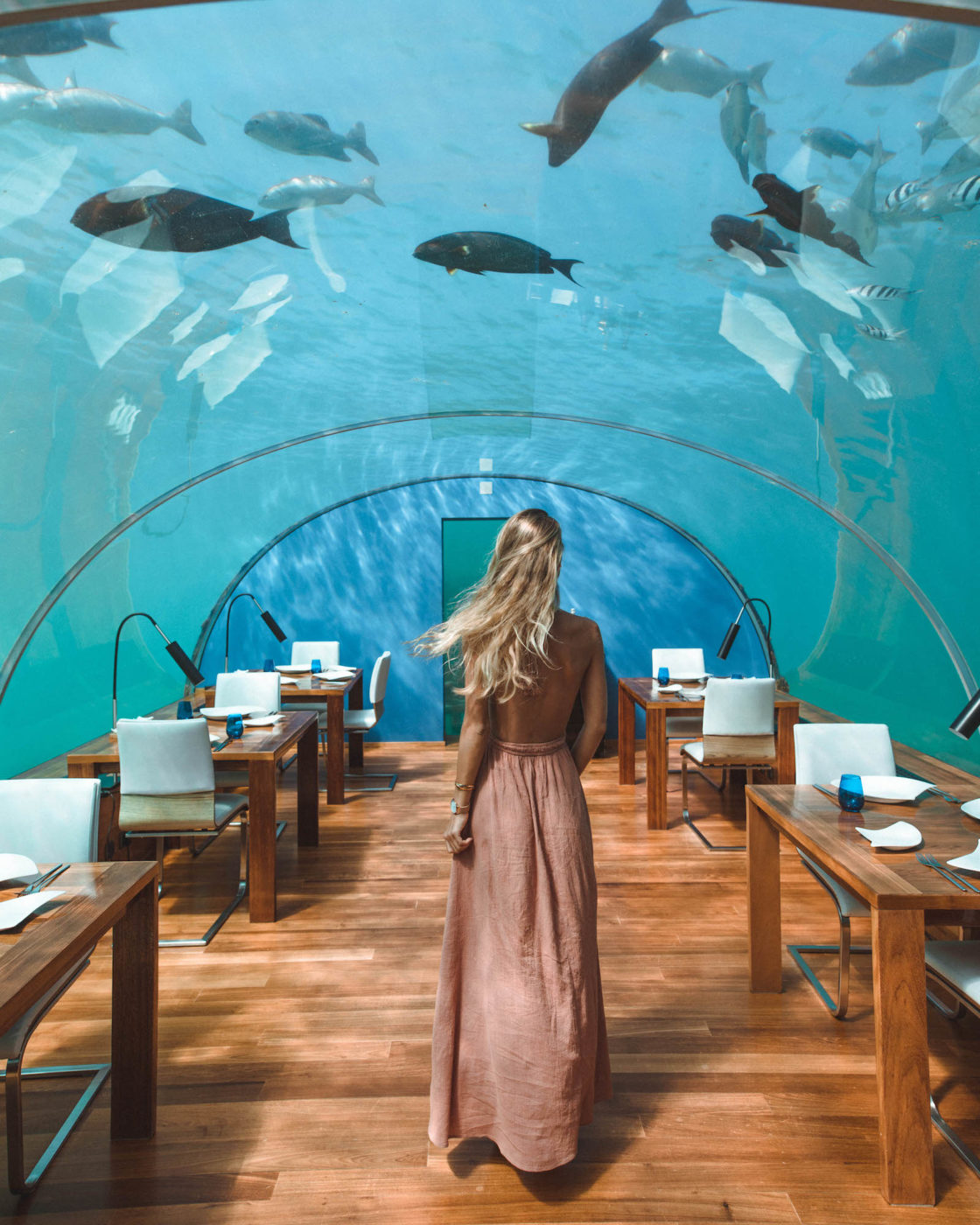 I hope that it became throughout the post already that this was the most amazing place I have ever been to so far – In terms of landscapes, in terms of experiences, in terms of beaches and last but not least in terms of Service. The whole staff felt like one big family and this family-atmosphere was carried on to us throughout every staff-member. It might sound strange but this  fact made our whole stay even more special. This is something I have never experienced before in any resort. That's why we'd like to say THANK YOU to every single one who took care of us at the Conrad Maldives Rangali Island. We'd be more than happy to come back to your incredibly beautiful property one day! 🙂
Ich hoffe ihr habt beim Lesen gemerkt, dass dieser Ort für mich wirklich der absolut Schönste war, den ich bisher besuchen durfte – In Sachen Landschaft, Erlebnissen, Strände aber auch (und das möchte ich noch einmal hervorheben) in Sachen Service. Wir hatten das Gefühl, alle Mitarbeiter waren wie eine Art eigene große Familie. Und genau dieses Gefühl hat jeder einzelne von ihnen ausgestrahlt 🙂 Das hört sich vielleicht komisch an, aber dieser Fakt hat hat den Aufenthalt noch besonderer gemacht. Dieses familiäre Miteinander haben wir bisher in noch keinem anderen Hotel erlebt. Ein großes DANKESCHÖN an jeden Einzelnen Mitarbeiter, der sich Vorort auf der Conrad Maldives Rangali Island so lieb um uns gekümmert hat. Wir hoffen bald wieder diesen unglaublich schönen Ort besuchen zu können.
xx Debi