Hi guys,
As promised: here comes the second part of my Travel Diary. As I already told you in part 1 we were about to go on a boat tour to some smaller islands around Exuma. Today I wanna share this amazing experience with you guys 🙂
Huhu,
Wie versprochen: hier kommt der zweite Teil meines Reisetagebuchs. Wie ich Euch ja im ersten Teil schon erzählt habe, haben wir uns gerade auf den Weg zu einer Bootstour gemacht, um die kleineren Inseln um Exuma herum zu erkunden. Heute möchte ich euch über dieses wundervolle Erlebnis berichten 🙂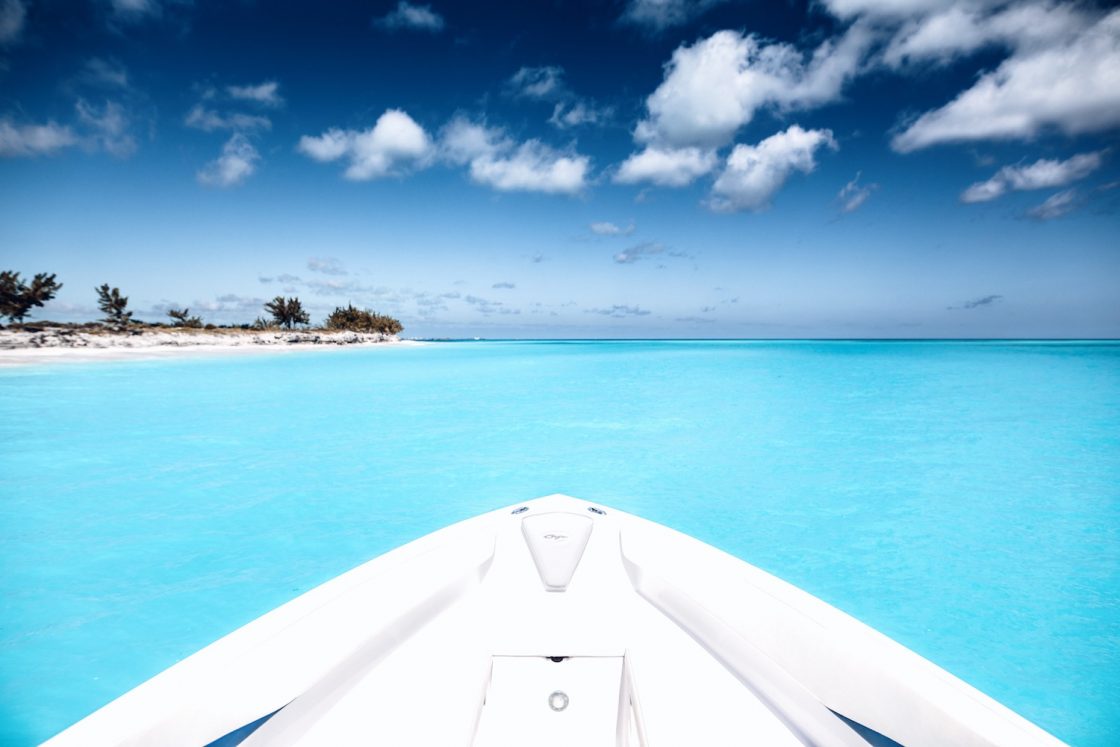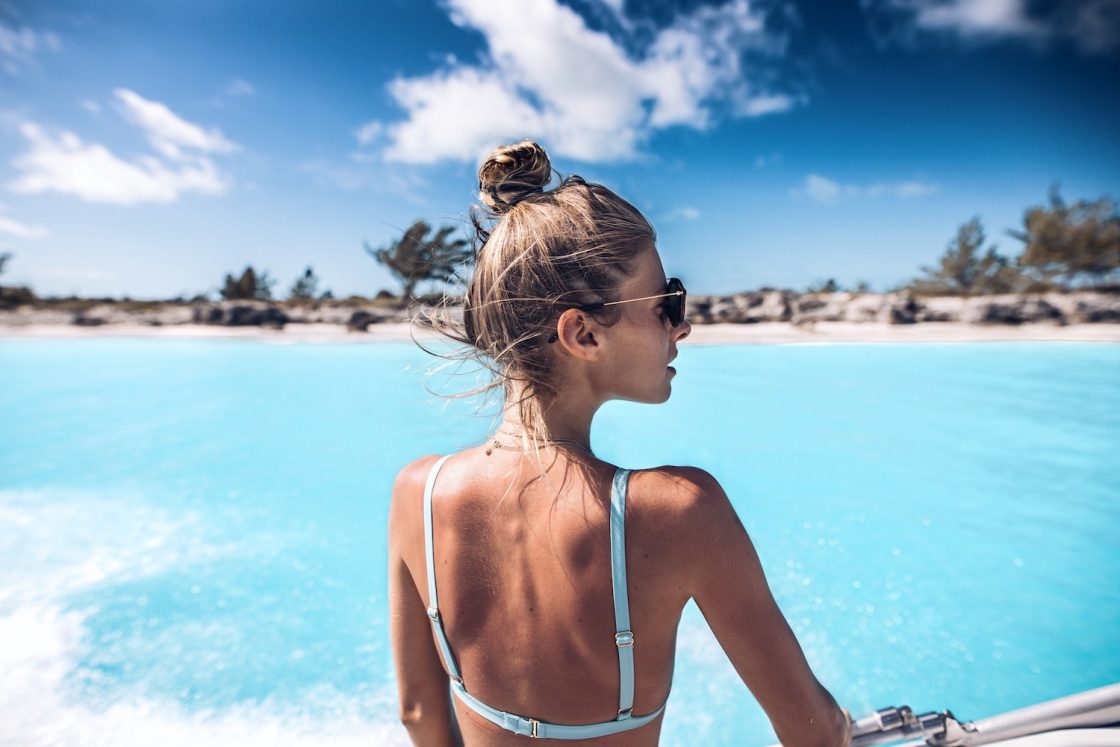 But first of all, so many of you asked me: what happened with the drone? After calling our bank in Germany we could finally get cash again, so that we were able to pay the deposit at the airport customs and pick up our baby drone! And it was so worth the effort, because without it we wouldn't have been able to shoot pics like these:
Aber bevor ich starte: viele von euch wollten wissen, wie die Story mit der Drohne ausgegangen ist. Nachdem wir wieder endlich wieder Geld abheben konnten, sind wir mit der Kaution im Gepäck schnell zurück zum Flughafen und durften unsere Drohne wieder mitnehmen! *.* Und ich kann Euch sagen, der Stress sie so schnell wie möglich wieder zu bekommen hat sich gelohnt. Denn ohne Drohne hätten wir Bilder wie diese nicht schießen können: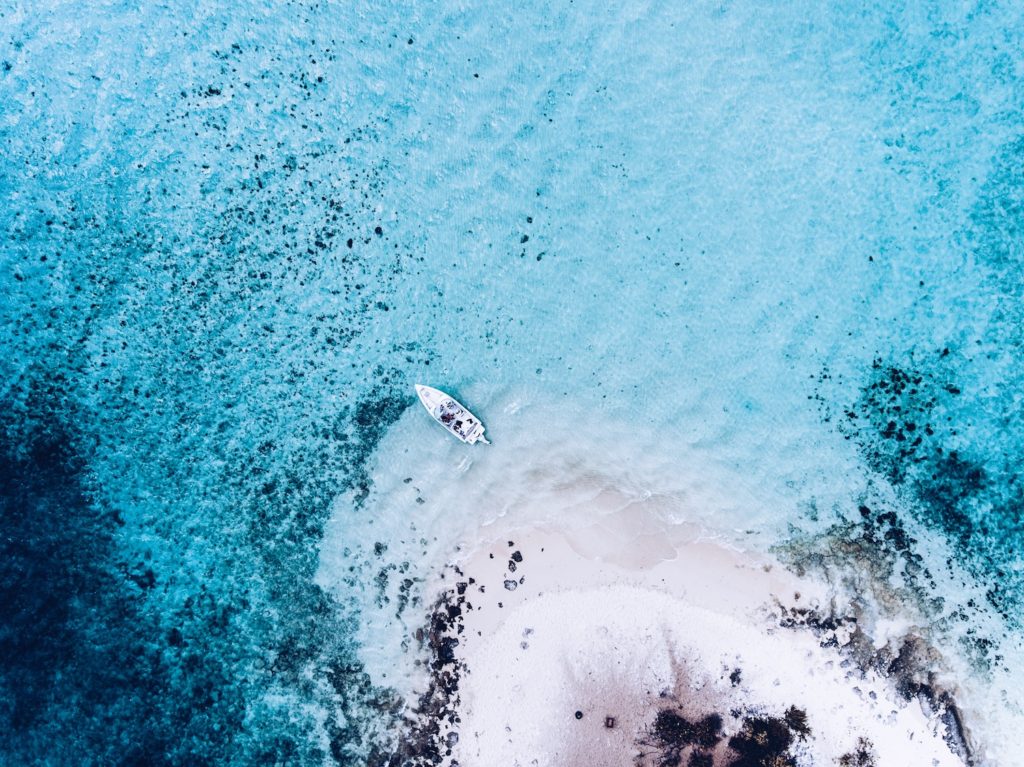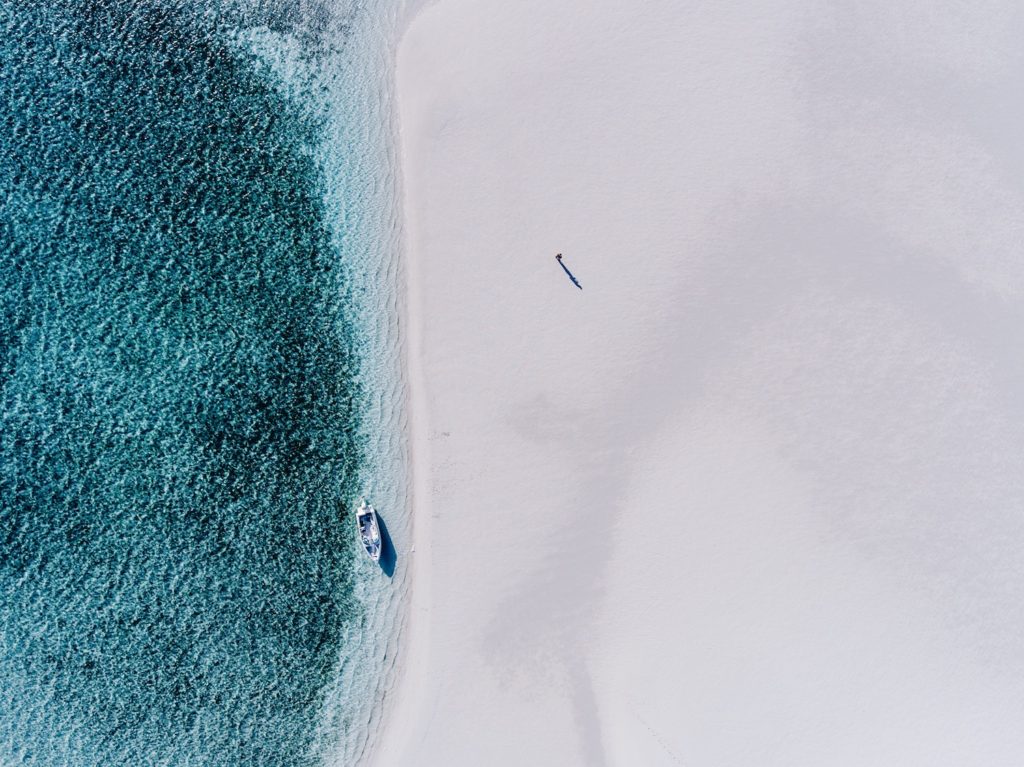 Okay let's go! Around 9 am we got picked up at the beach of our hotel by Levi, our Captain for the day. First stop: a beautiful bay with many many turtles. They were so curious and swam with us. One of them bit in my toe – maybe it thought it's something to eat 😀 But it was not half as bad 😉 Seeing those cute animals in their natural habitat was an amazing experience I never want to miss.
Okay los gehts! Gegen 9 Uhr wurden wir am Strand unseres Hotels von Levi abgeholt. Er war unser Kapitän für den Tag. Der 1. Stop war eine wunderschöne Bucht mit super vielen Schildkröten. Sie waren so neugierig und sind sogar mit uns geschwommen. Eine kleine Schildkröte hat mir in meinen Zeh gebissen, gerade mir, da ich ja sowieso schon ein kleiner Schisser im Meer bin 😀 Aber war nur halb so schlimm 😉  Schildkröten in ihrem natürlichen Lebensraum zu sehen und mit ihnen zu schwimmen war einfach super beeindruckend und ein Erlebnis, das ich niemals missen möchte.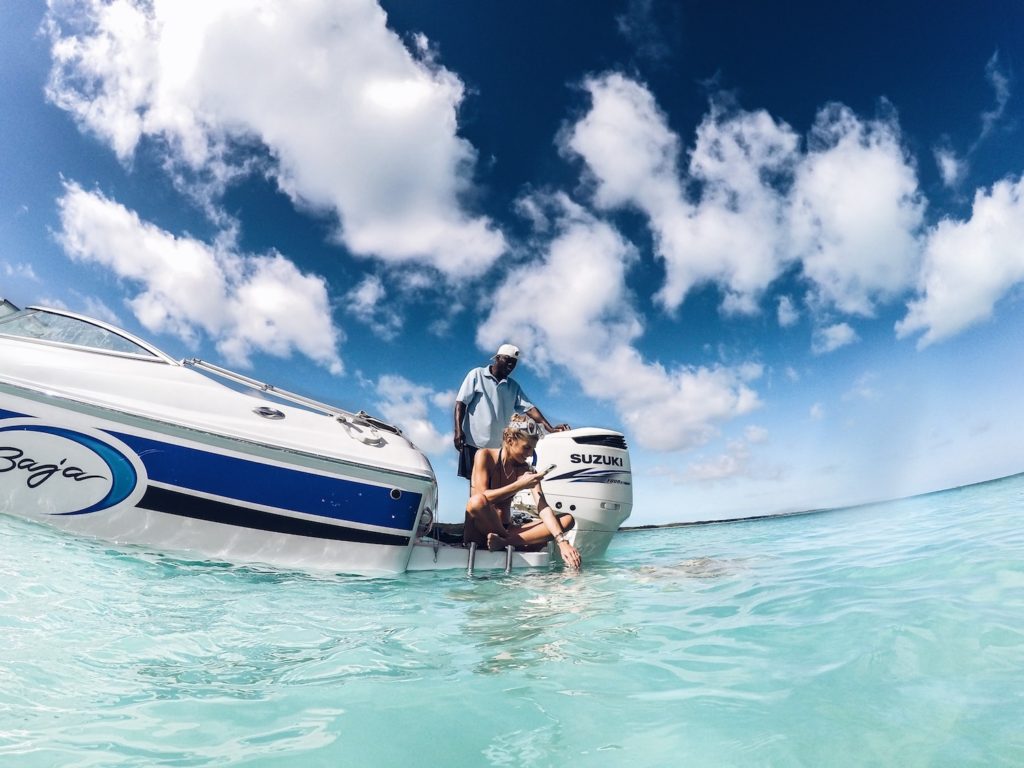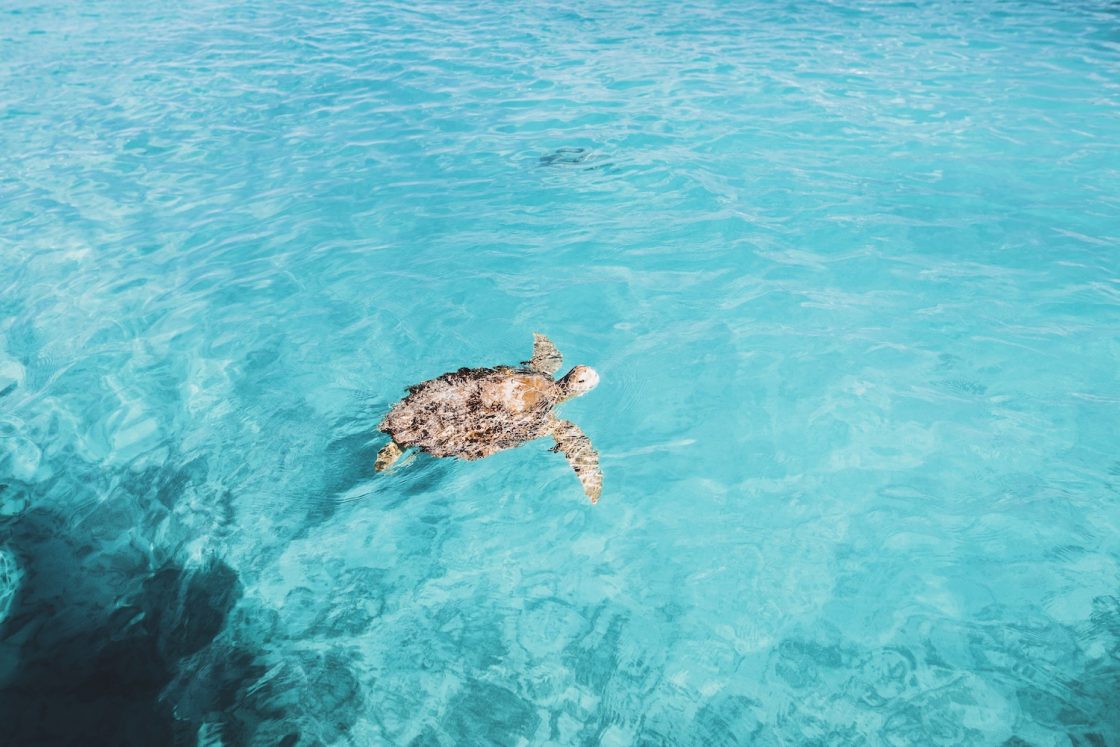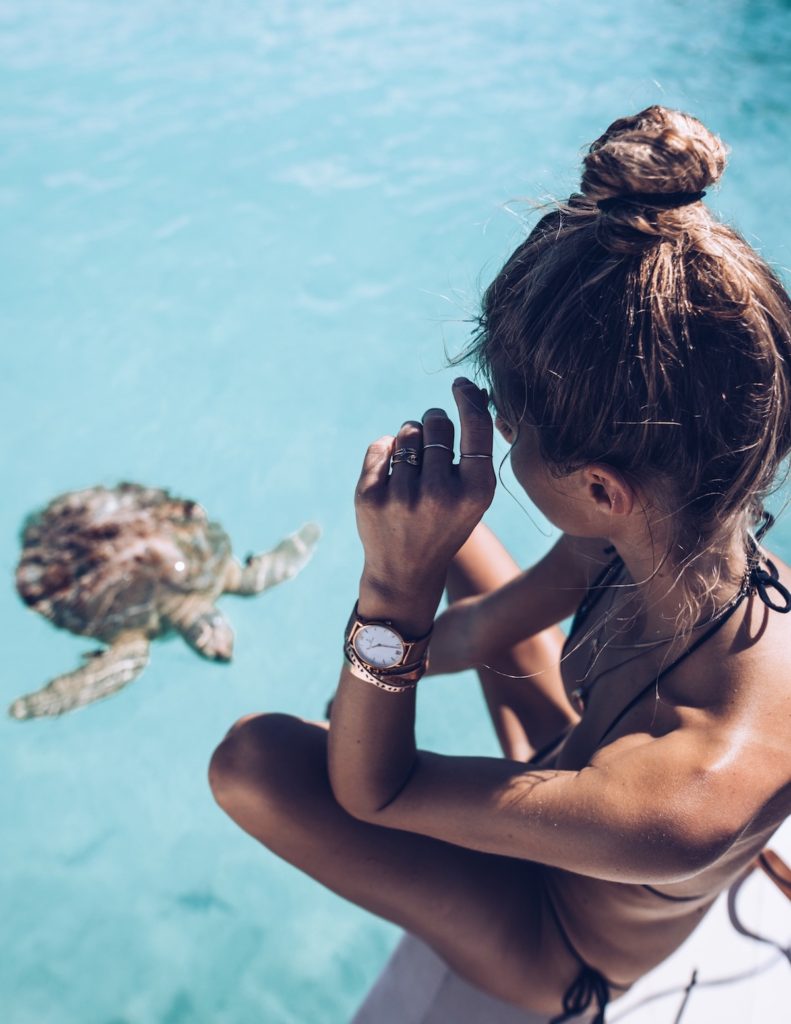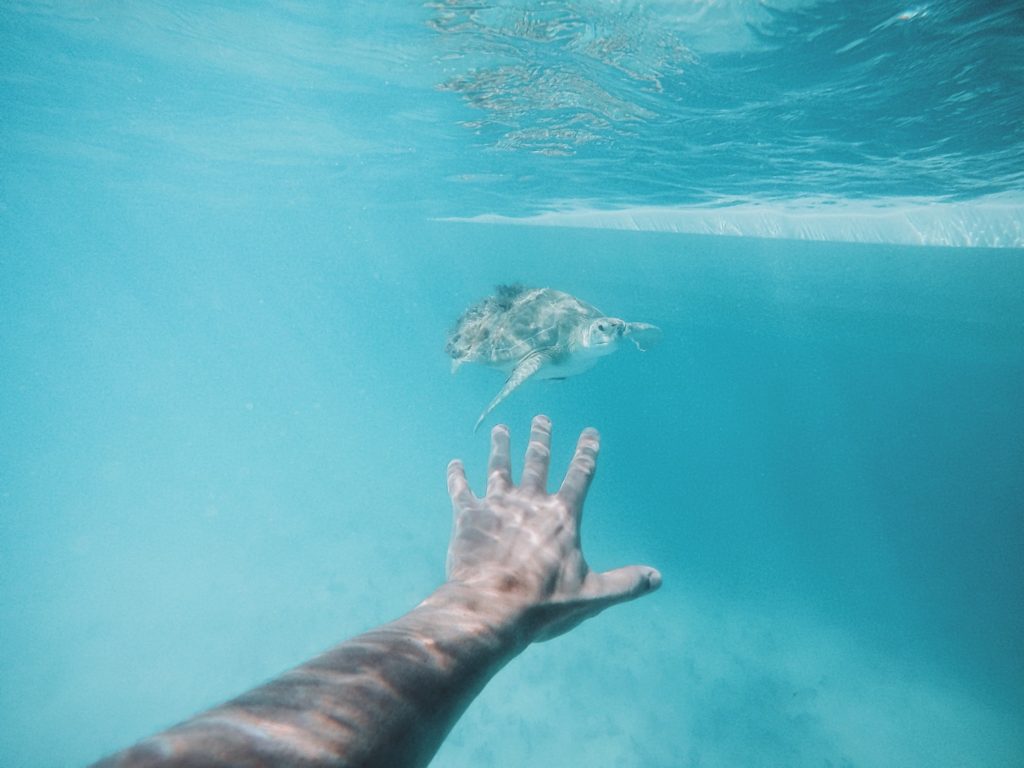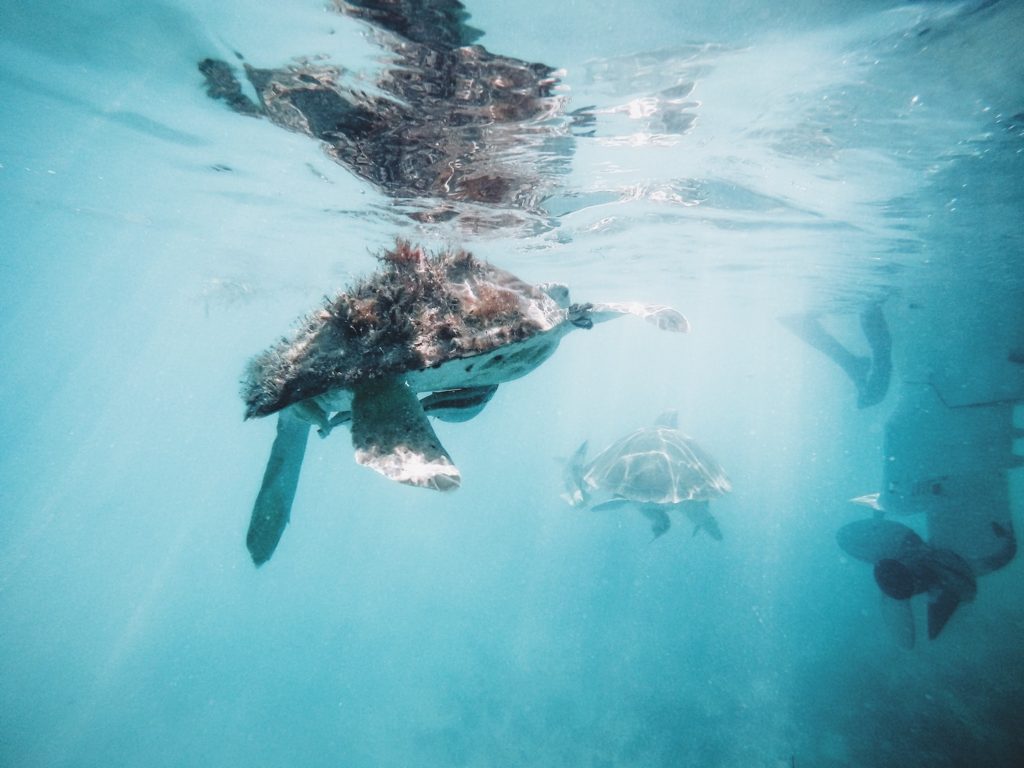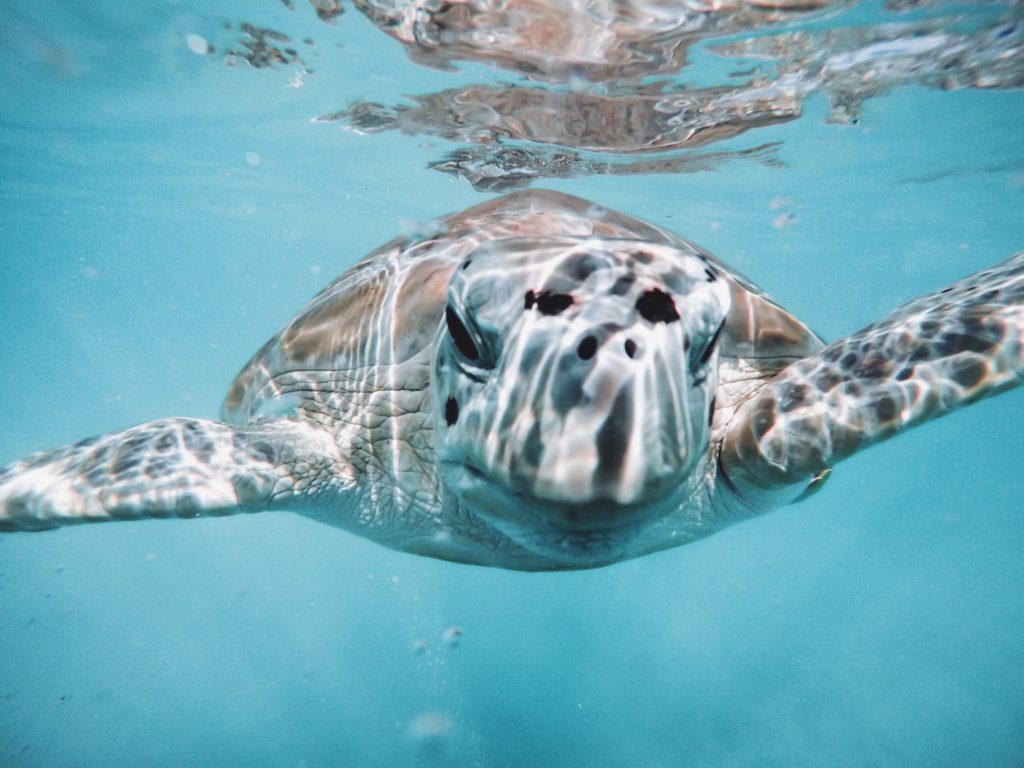 You can imagine how excited I got when Levi revealed our next stop: from that bay we headed to famous "Pig Island" *.* We were lucky that there wasn't even one tourist boat when we arrived at this cute little island 🙂 All of the pigs were sleeping in the shades of the bushes. Levi made some strange noises and suddenly 3 of them came to the beach. They were sooo huge 😀 😀 And a few moments later one of the little baby pigs followed its mom down to the beach… believe me, this was one of the cutest things I have ever seen!!! Later that day Kev told me that I was like "oooooohhhhh" and "hiiihiiihii" for almost half an hour 😀 – I just had to smile all the time 🙂
Ihr könnt Euch vielleicht vorstellen, wie aufgeregt ich war, als Levi unseren nächsten Halt angekündigt hat: von der Turtle-Bay ging's weiter nach "Pig Island" *.* Wir hatten wirklich Glück, dass nicht ein einziges Touristen-Boot vor Ort war, als wir an dieser süßen, kleinen Insel ankamen 🙂 Alle Schweinchen waren versteckt im Schatten der Büsche am entspannen. Levi fing irgendwann an seltsame Geräusche zu machen, woraufhin 3 von den größten Schweinen, die ich je gesehen habe zum Strand gewatschelt kamen 😀 Nur ein paar Augenblicke später folgte eines der kleinen Bebi-Schweinchen seiner Mutter an den Strand… glaubt mir, dass war eins der süßesten Dinge, die ich je gesehen habe!!! Kev hat mir hinterher erzählt, dass ich für eine halbe Stunde fast keine anderen Laute als "ooooohhhhh" und "hihihiiiii" von mir gegeben habe 😀 – Ich konnte gar nicht anders, als die ganze Zeit zu lächeln 🙂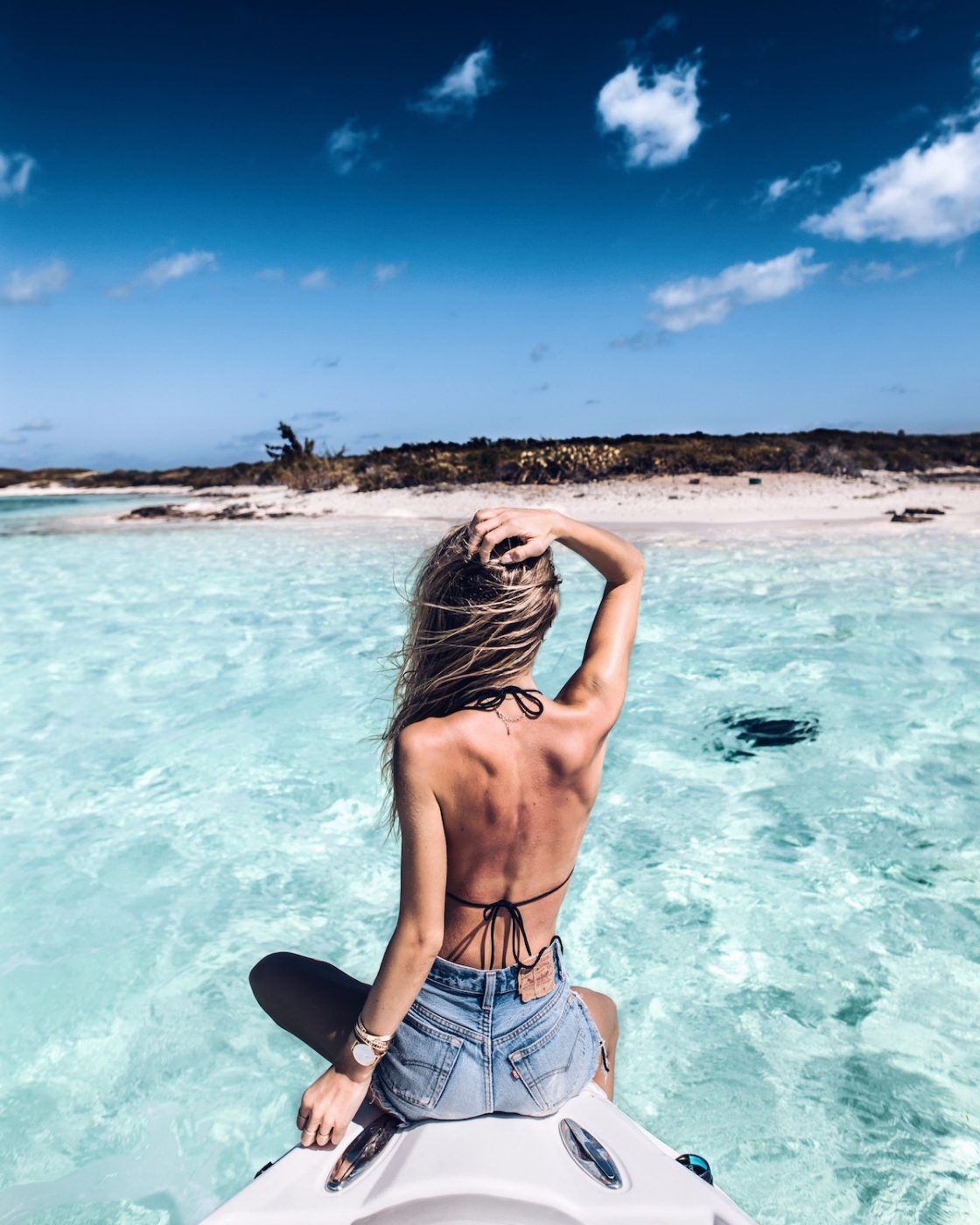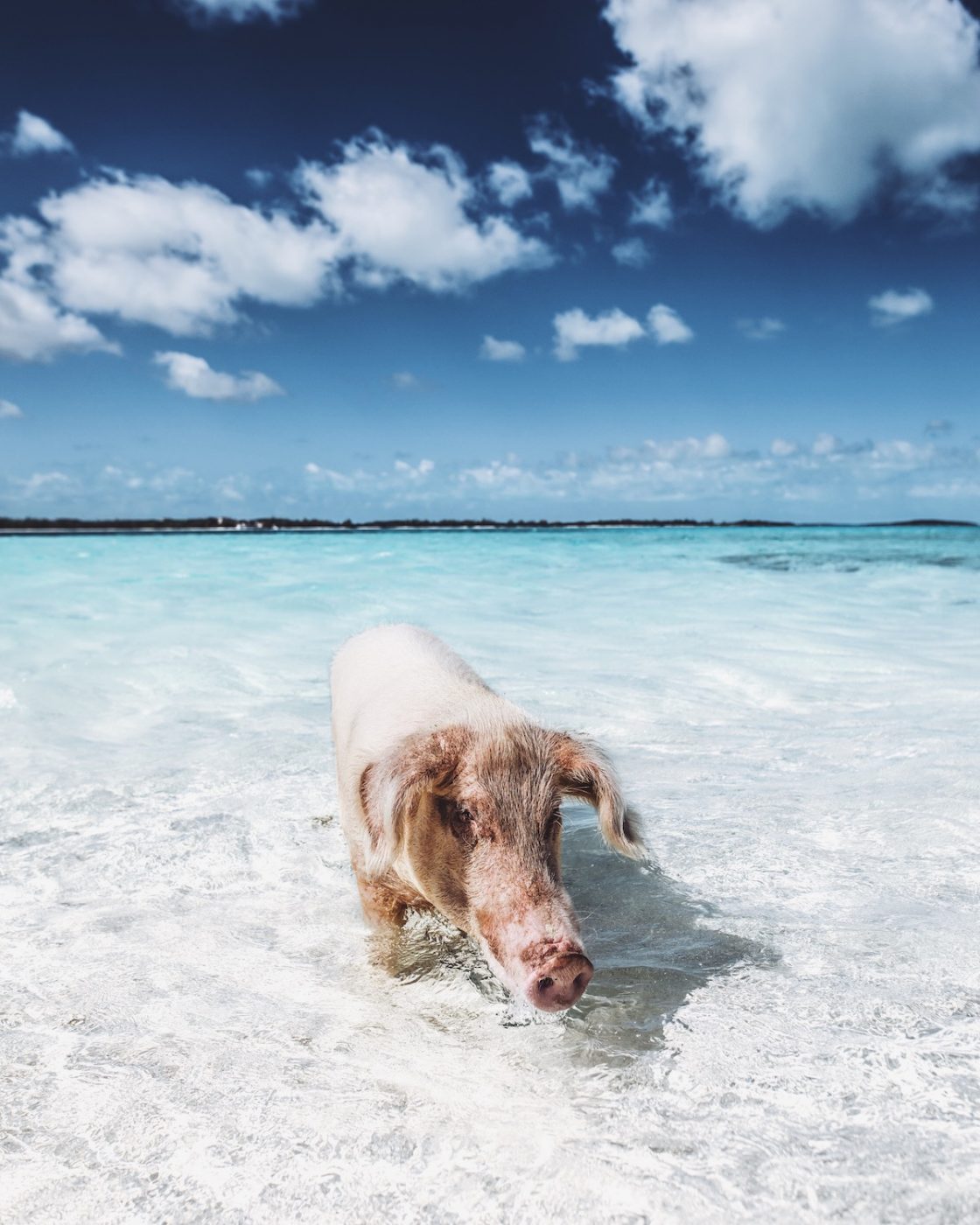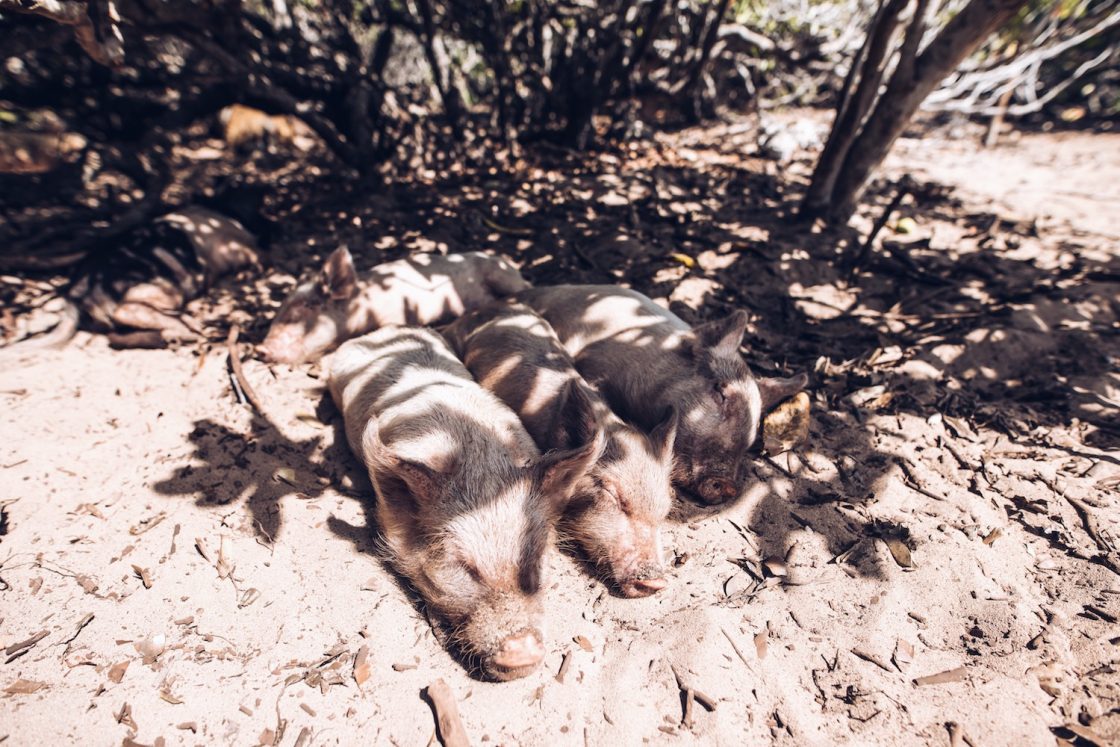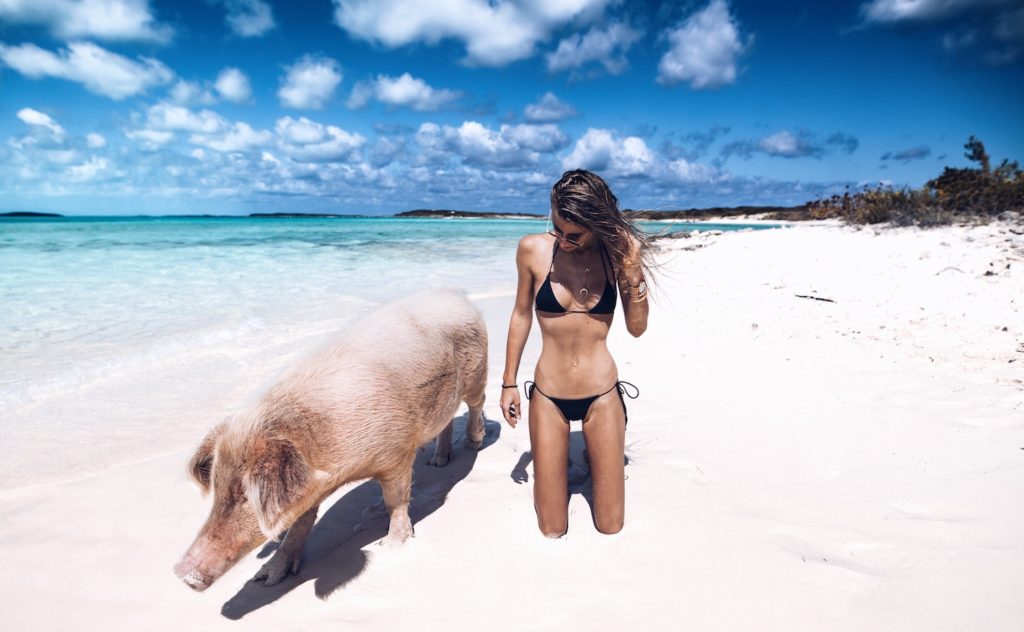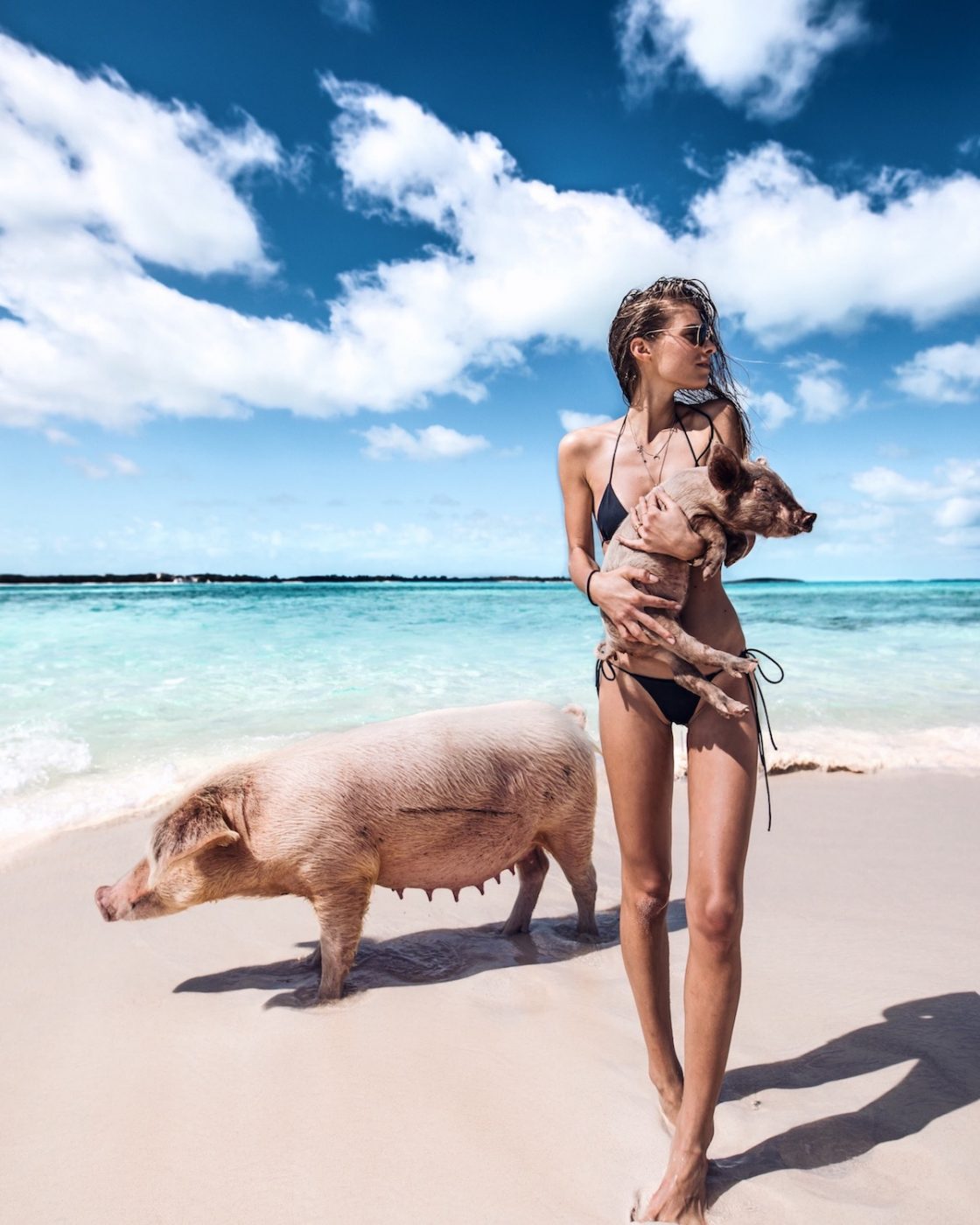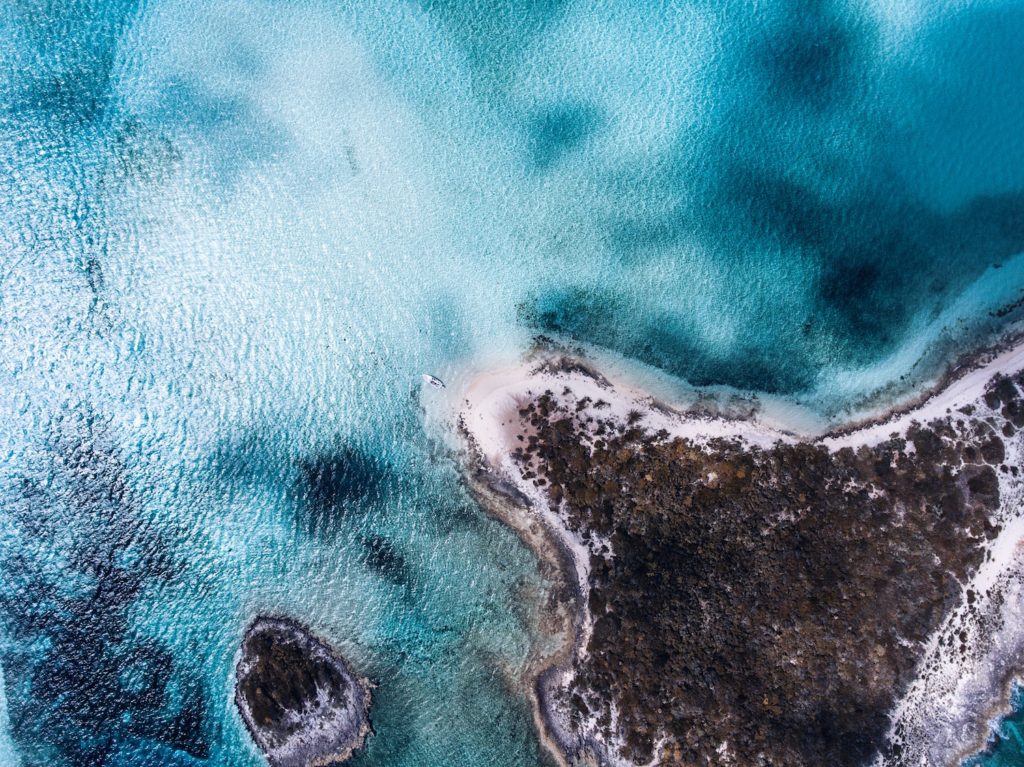 And last but not least we visited Iguana-Island. Another small and beautiful piece of land in the middle of turquoise water – populated by hundreds of lizards! Again we were lucky to be the only visitors 🙂 It was so funny to see them all relaxing at the beach and enjoying the sun. Using the drone again we could see that they have their very own and private lake on this island right behind the bushes – how cool is that?!
Last but no least haben wir noch Iguana-Island besucht. Eine weiteres, wunderschönes und kleines Fleckchen Land mitten im türkisen Meer – bevölkert von hunderten Echsen! Wieder hatten wir Glück, dass wir die einzigen Besucher waren 🙂 Es sah wirklich lustig aus die ganzen Echsen am Strand liegen und die Sonne genießen zu sehen. Als wir nocheinmal die Drohne gestartet haben, konnten wir sehen, dass die Insel sogar ihren eigenen, kleinen, privaten See für die Echsen hat, gleich hinter den Büschen am Strand – wie cool ist das denn?!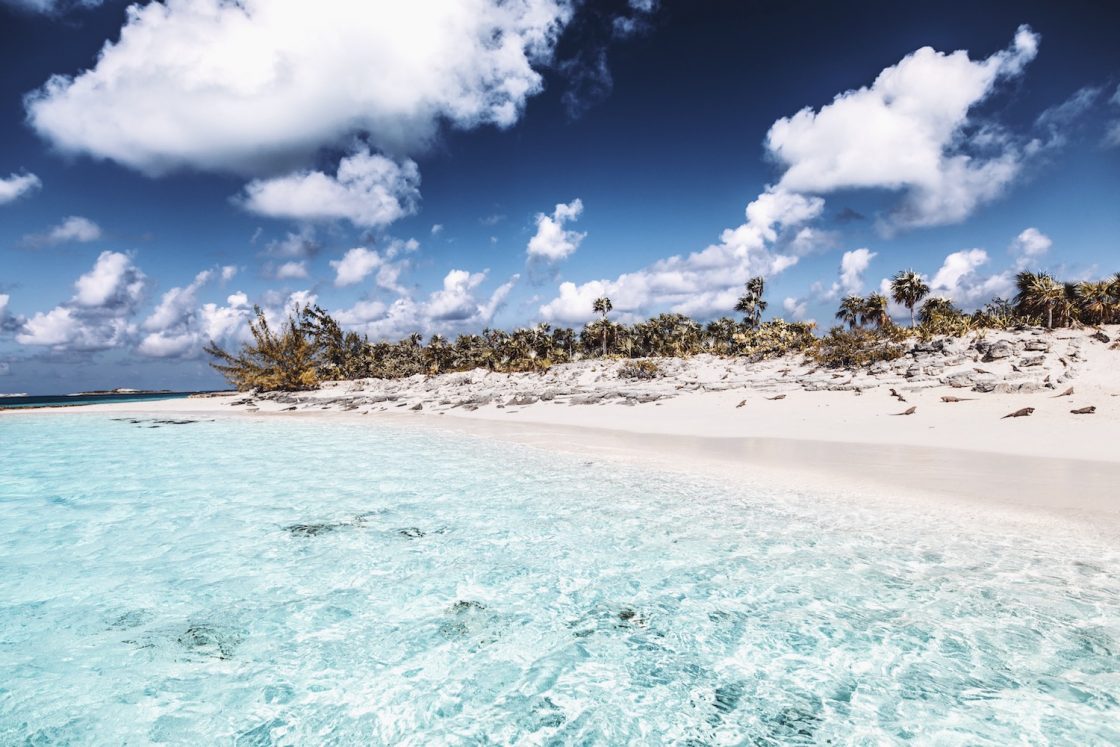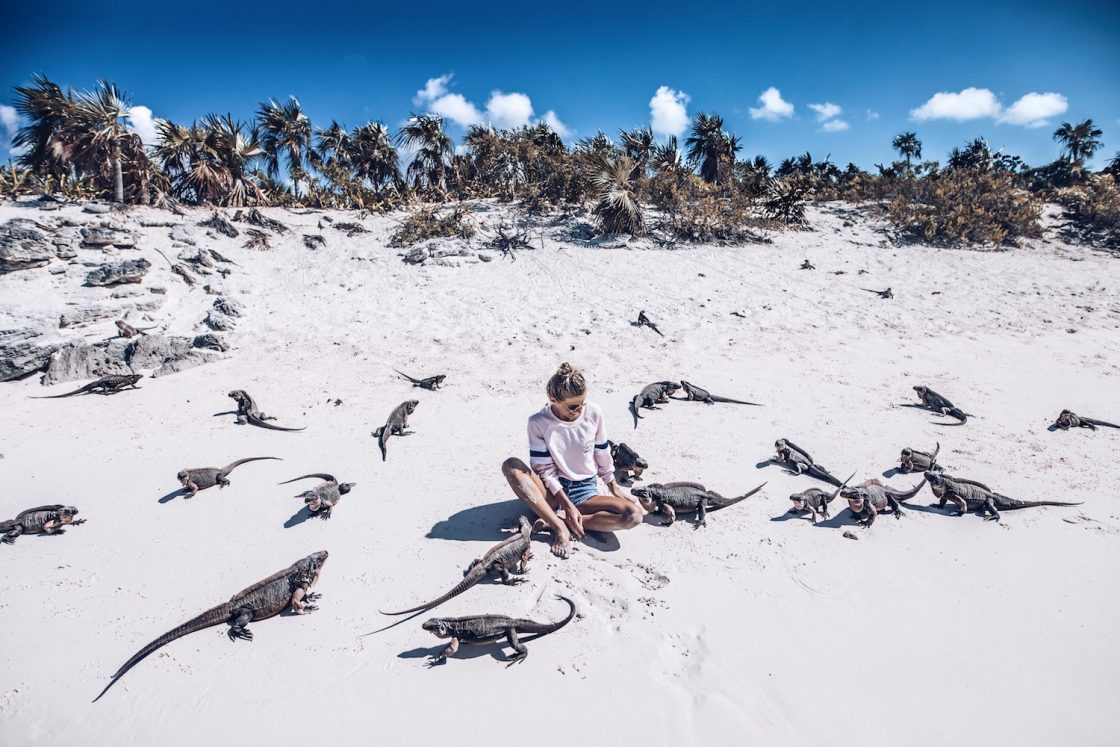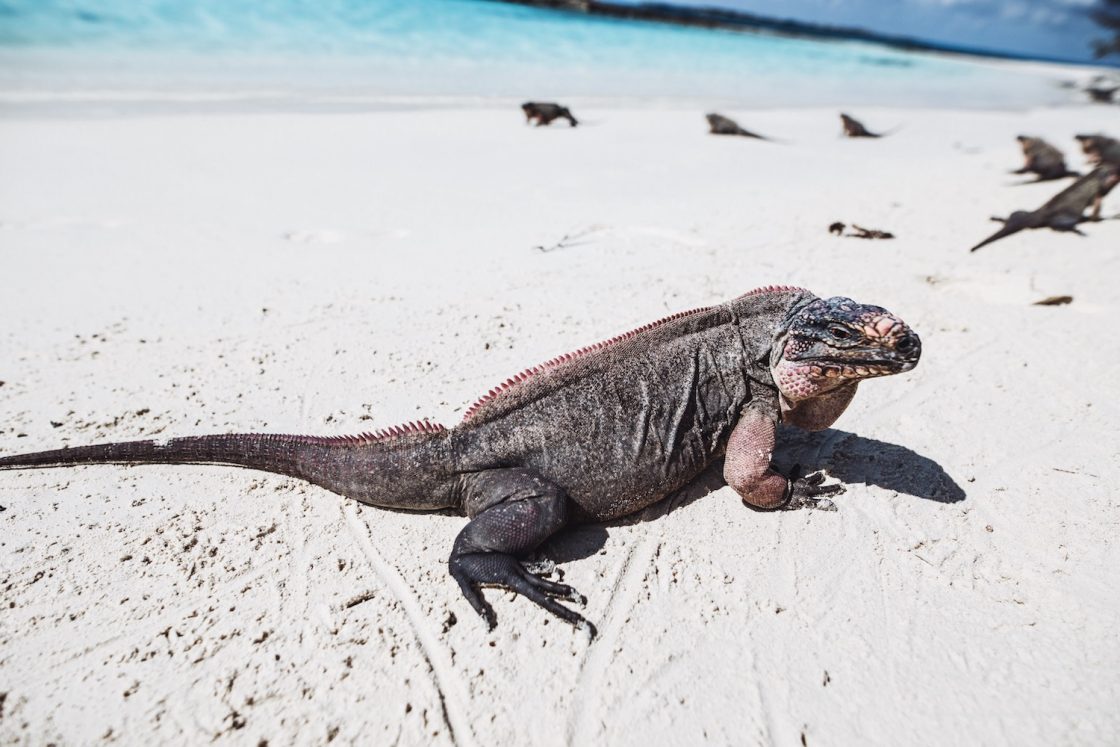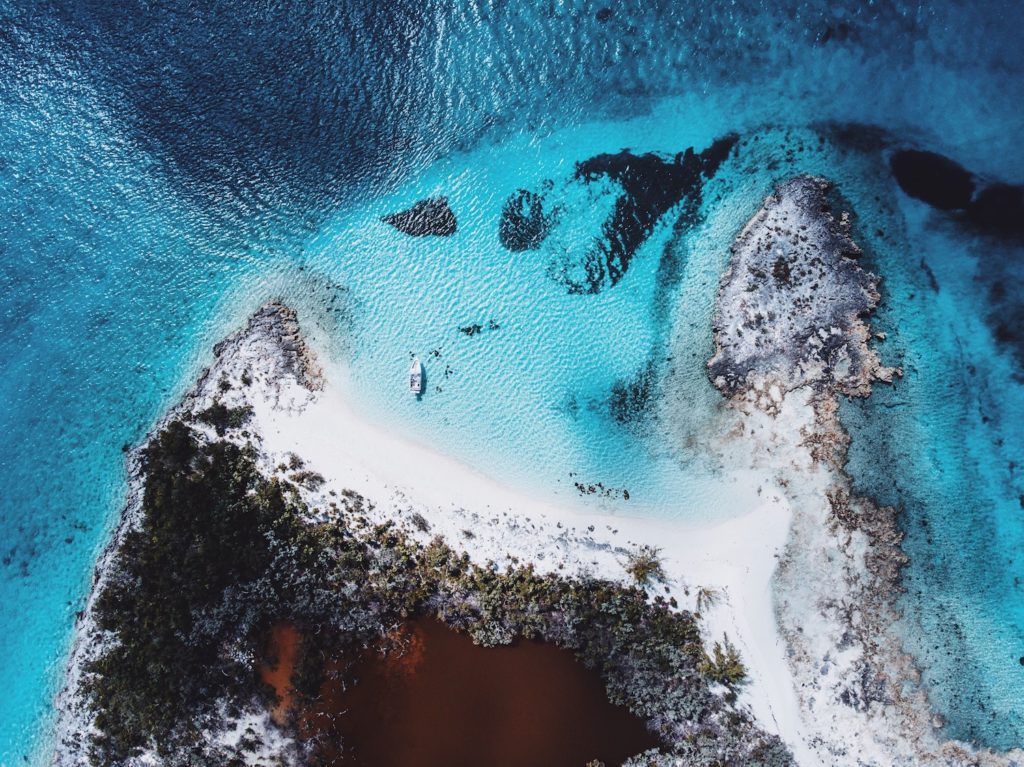 After a long and suuuuuper cool day we made our way home in the evening – and I was sure to have very very sweet dreams 🙂
Nach einem langen und suuuuper schönen Tag haben wir uns am Abend wieder auf den Weg nach Haus gemacht – und ich war mir sicher, dass ich die Nacht schön träumen werde 🙂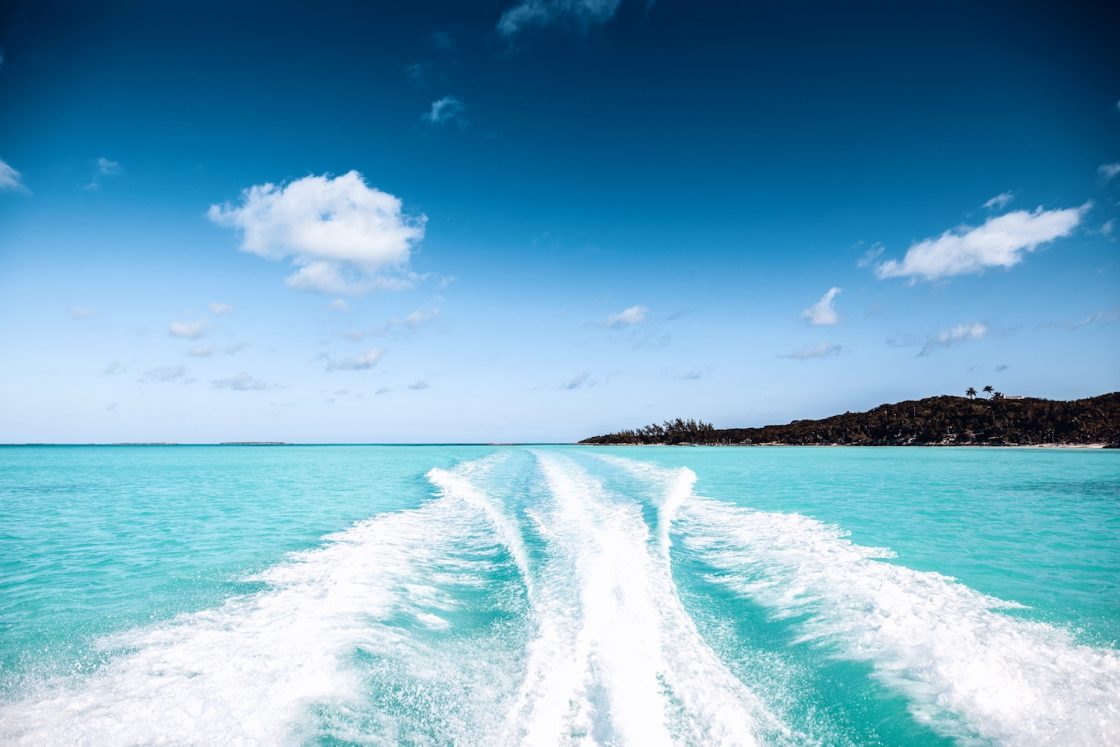 I really hope you guys enjoyed this post and could get an idea of what we experienced this day!  If you have any questions just let me know in the comments below 🙂 …aaand yees, of course there will be a part 3 of my Travel Diary in the next days because our time on the bahamas is still not over yet – and if you love dolphins as much as I do, you should definitely stay tuned for part 3!!! 😉
I hoffe Euch hat dieser Post gefallen und ihr könnt ich vorstellen, wie spannend dieser Tag für uns war! Falls ihr Fragen haben solltet, schreibt sie mir einfach in die Kommentare weiter unten 🙂 …uuund jaa, natürlich wird es noch einen Part 3 meines Reisetagebuchs geben, da unsere Zeit hier auf den Bahamas noch nicht ganz vorüber ist – und gerade wenn ihr Delfine genau so sehr mögt wie ich, dürft ihr Part 3 auf keinen Fall verpassen!!! 😉
xx Debi
CHECK OUT PART 1 OVER HERE: