Hi guys,
As you might know – we are currently on Mauritius 🙂 As always I am going to take you with me and write a Travel Diary about our stay – so here comes part 1! Today I wanna tell you how the first week has been like and of course I will show you many many pictures. Here we go 🙂
Hi ihr Lieben,
wie ihr vielleicht schon wisst sind wir momentan auf Mauritius 🙂 Wie eigentlich immer nehme ich Euch auch auf diese Reise mit und schreibe ein Travel Diary – also hier kommt Part 1! Heute möchte ich euch erzählen, wie die erste Woche auf Mauritius war, was wir erlebt haben und Euch wieder einige Bilder zeigen, los geht's 🙂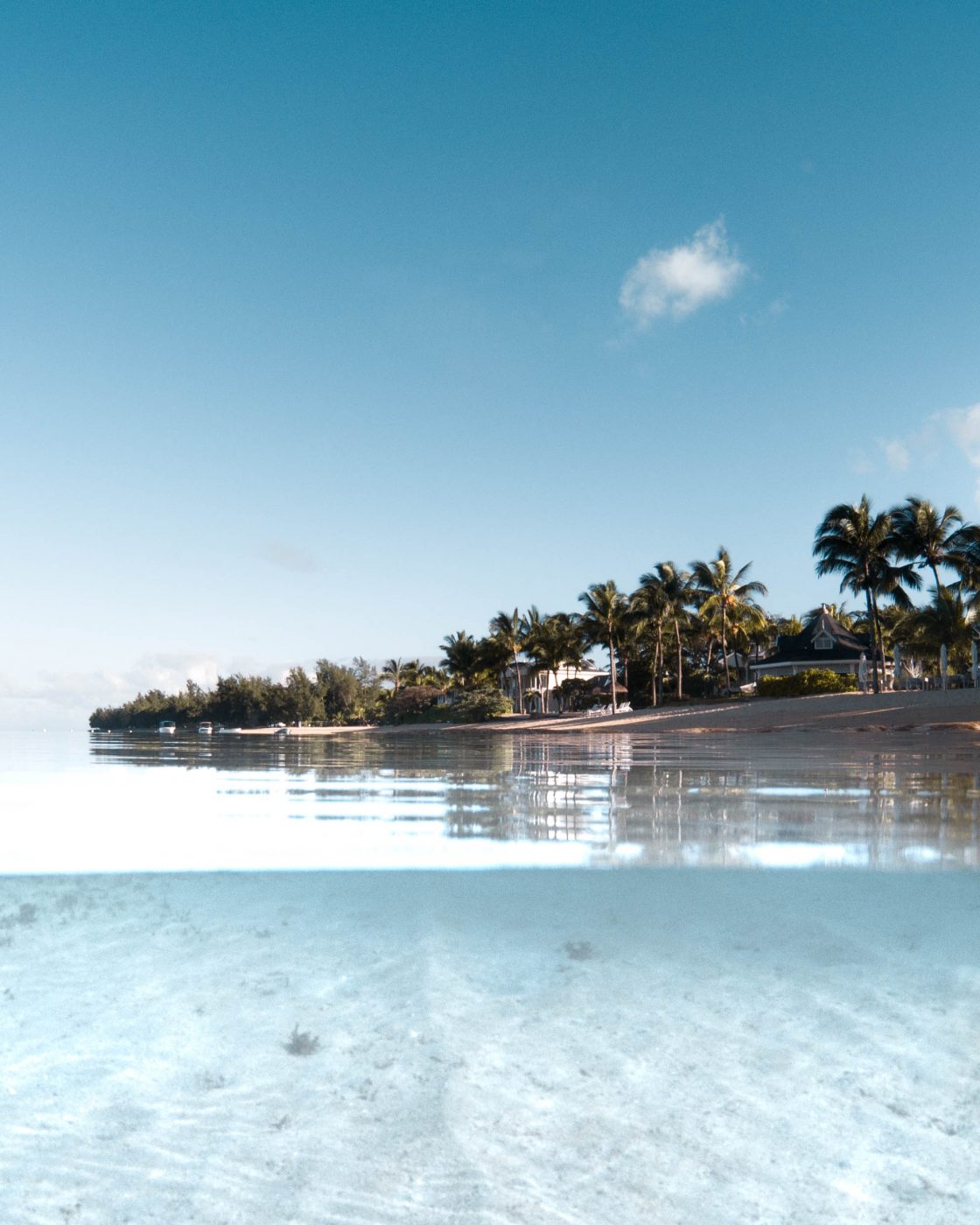 The flight was obviously pretty long as Mauritius is located almost on the other side of the world 😛 After a 12 hours flight from Cologne we finally arrived in the early morning hours. For all of you who know my Travel Diaries will already know the following: as always we booked a rental car via Check24 some days before so did not have to wait for a transfer 🙂 Haha as clumsy as I am I booked the smallest car ever – a Suzuki Alto (google it!!!) Haha we had to put in two large suitcases and 2 small ones – I really don't know how but it worked 😀 Good to know: on Mauritius you have to drive on the left side 😉 So off to the hotel – the first week we stayed at The Heritage Le Telfair Resort which is located about 40 mins from the airport.
Natürlich war der Flug echt lang, da Mauritius gefühlt auf der anderen Seite der Welt liegt 😛 Nach 12 Stunden Flug aus Köln aber, war es dann endlich so weit: am frühen Morgen sind wir auf Mauritius gelandet. Für alle, die meine Travel Diaries immer fleißig lesen, wird das Folgende nichts Neues sein: wie immer haben wir uns im Internet über Check24 einen Mietwagen gebucht. So verpeilt wie ich bin, habe ich das kleinste Mietauto EVER gebucht – einen Suzuki Alto (googelt es!!!). Ich hatte echt Bange, dass wir unsere 2 riesen Koffer + 2 Handgepäckskoffer nicht in die kleine Kiste bekommen. Ich weiß nicht wie Kev es hinbekommen hat – aber es hat irgendwie gepasst. Viel zu überladen und total eingequetscht ging's dann zum Hotel. Gut zu wissen: Auf Mauritius wird links gefahren. Die erste Woche haben wir im The Heritage Le Telfair Resort übernachtet. vom Flughafen zum Hotel haben wir ca 40 Minuten gebraucht.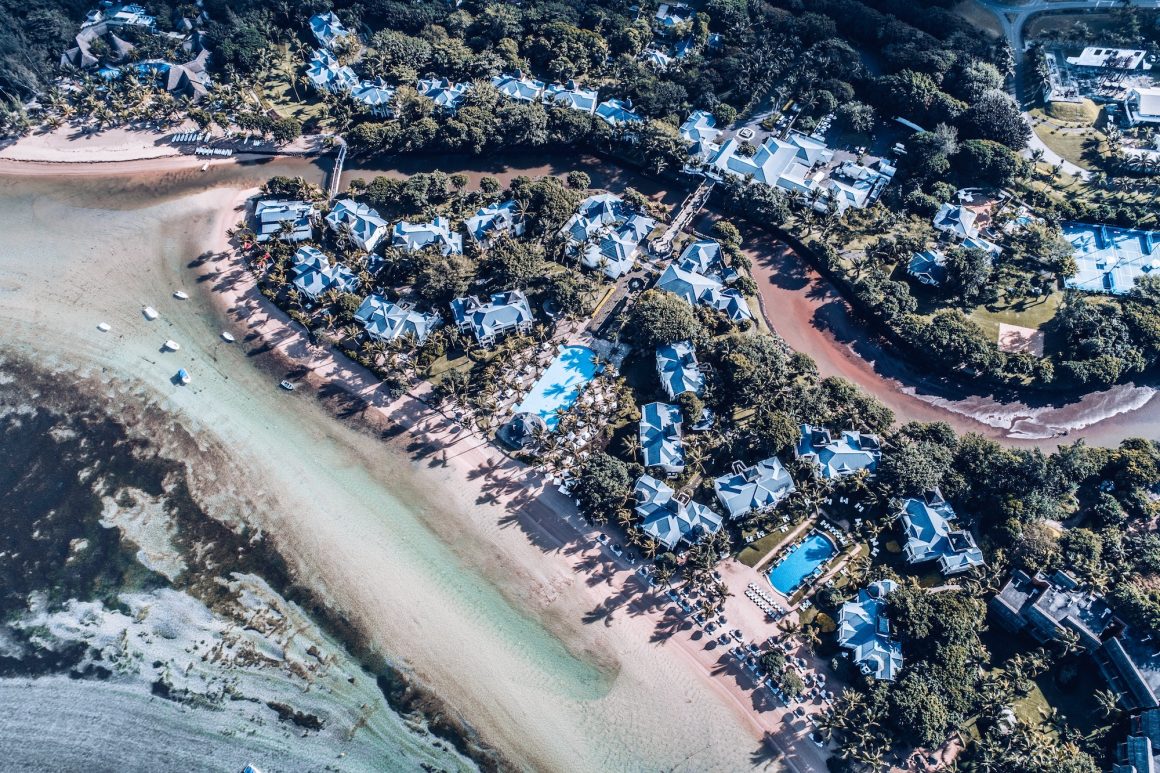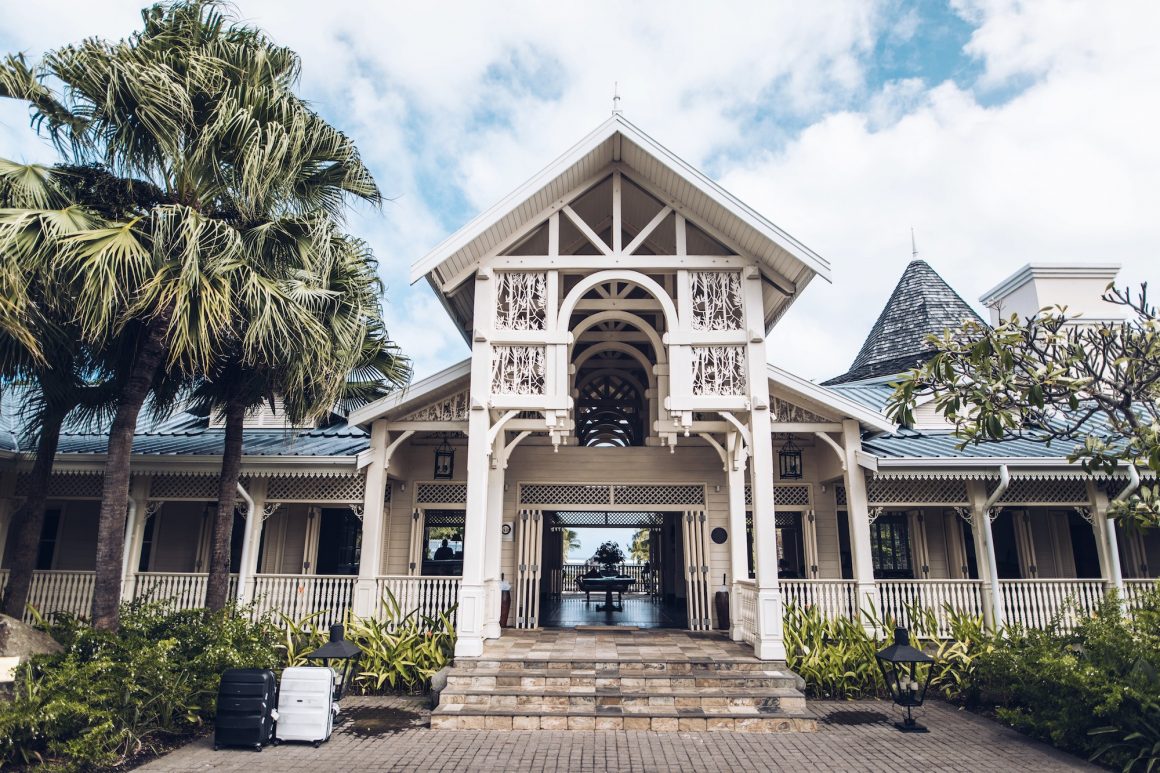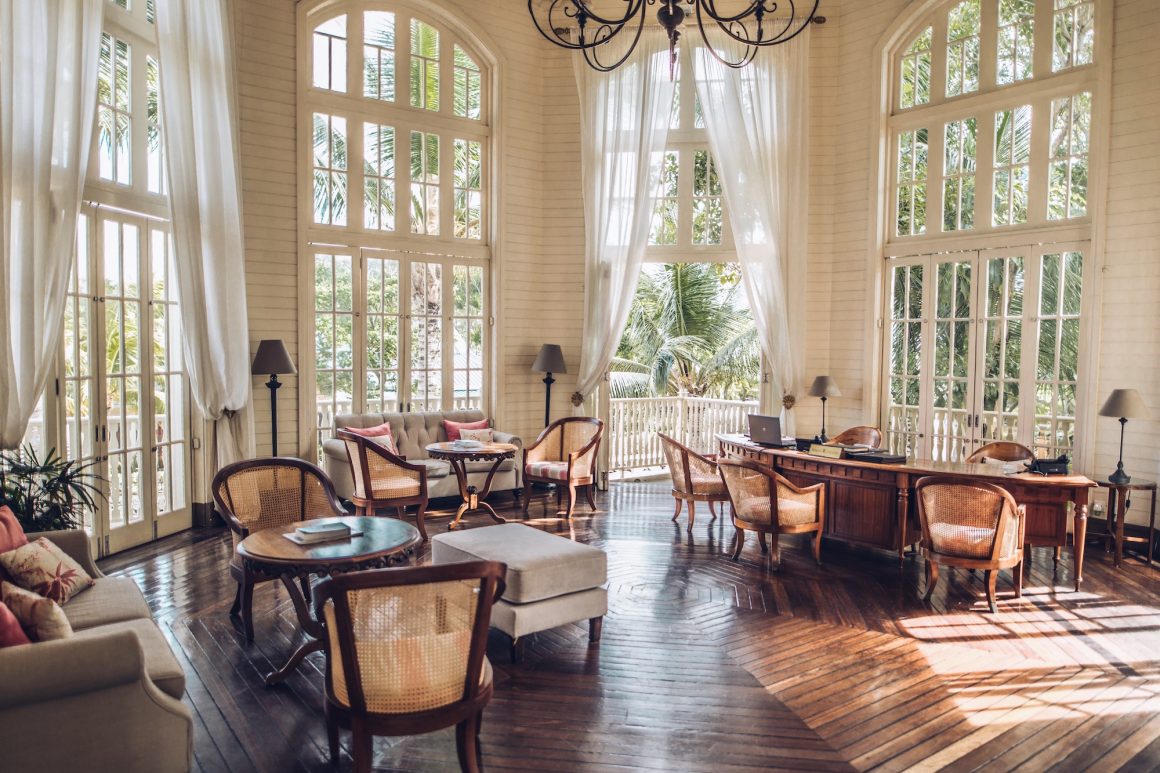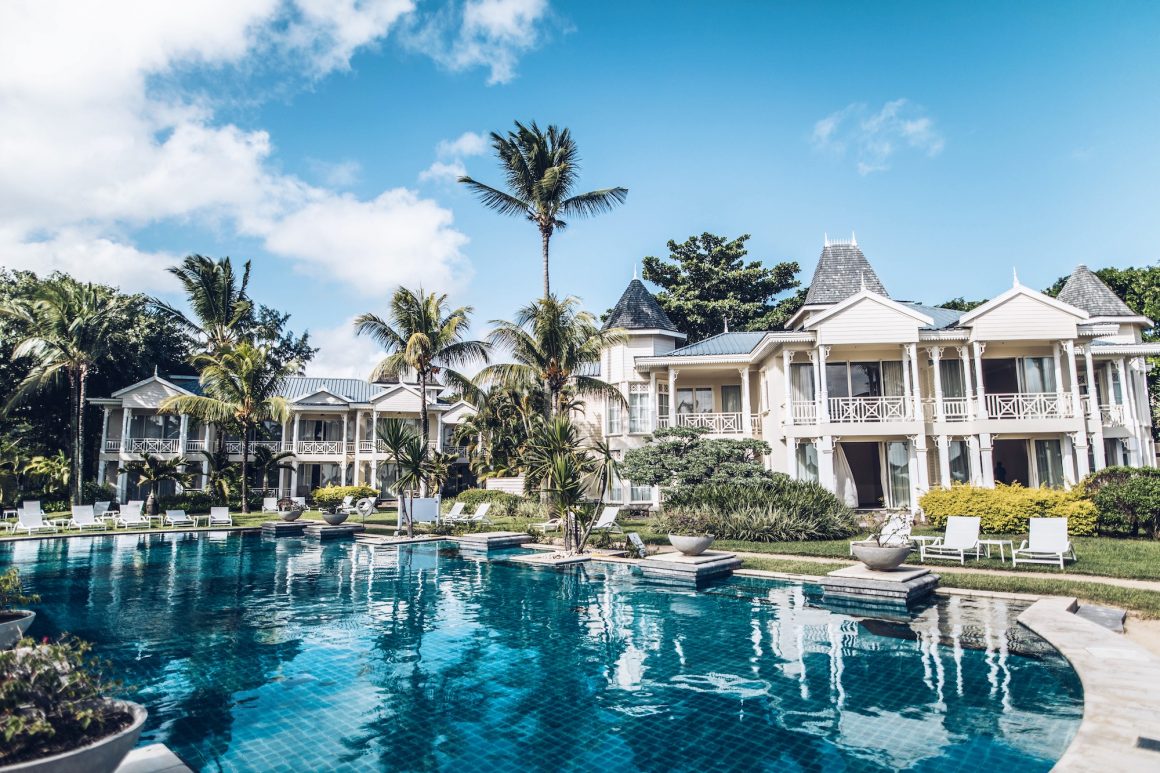 Once arrived we were welcomed very warmly and were directly guided to our room which was sooo close to the sea *.*  amazing! Waking up with a view like that and the noise of the waves – a priceless feeling! I have spent many hours on our patio just working or reading, it was so relaxing ?
Kaum angekommen, wurden wir sehr freundlich in Empfang genommen und direkt zu unserem Raum gebracht, welcher direkt am Meer lag *.* Morgens mit so einem View aufzuwachen und von dem entspannenden Rauschen der Wellen geweckt zu werden ist für mich einfach unbezahlbar! Ich habe viele Stunden auf unserer Terrasse verbracht und einfach gelesen oder gearbeitet, super entspannend.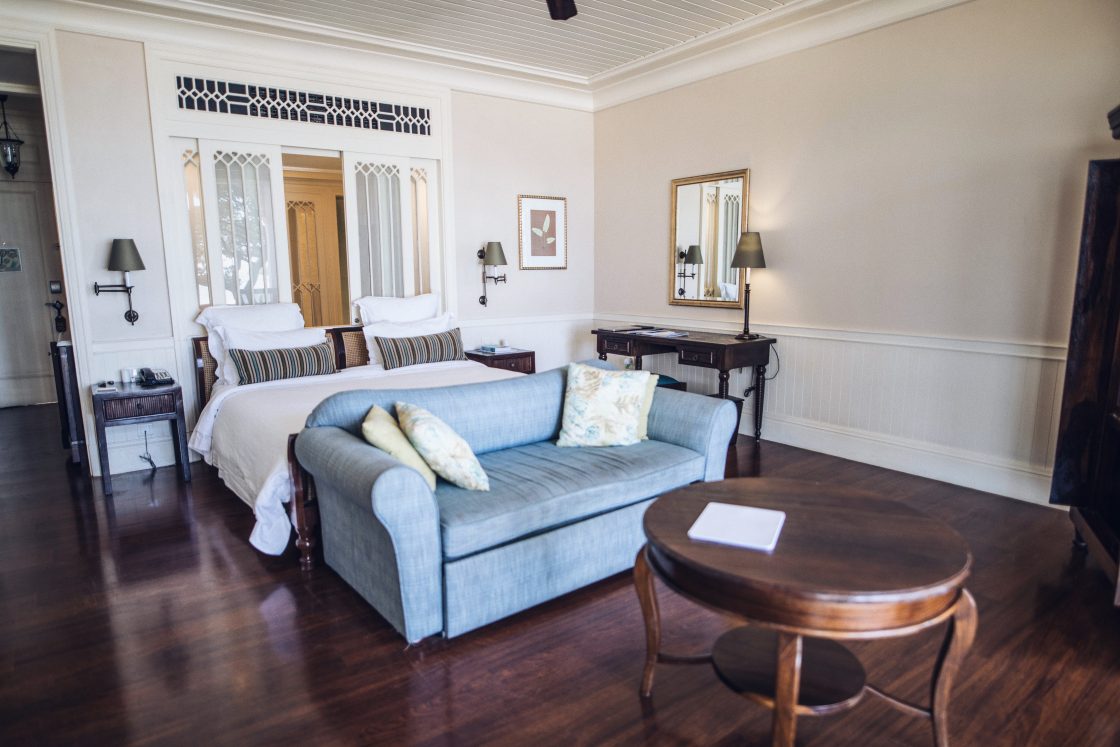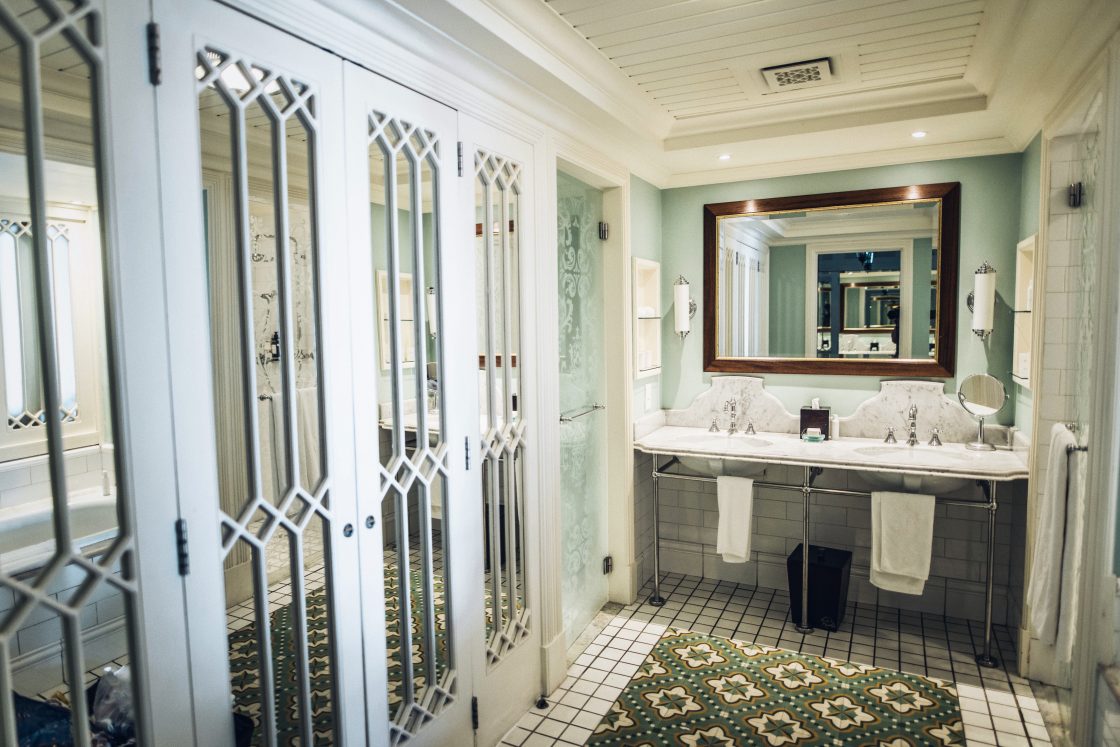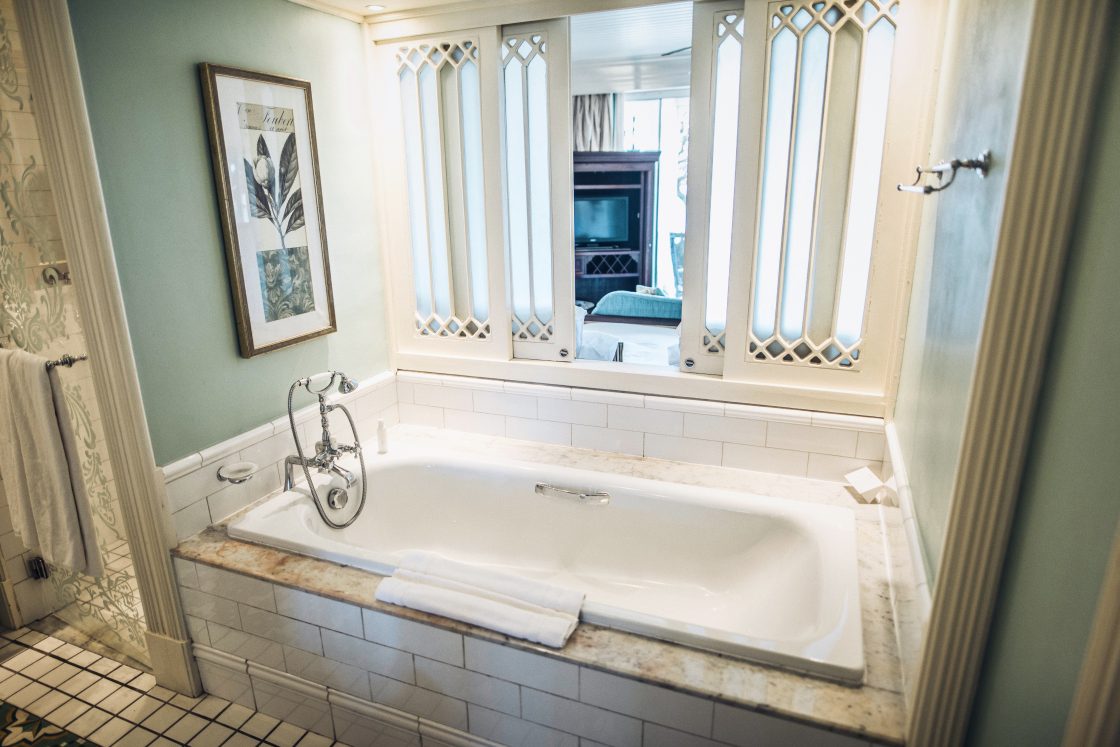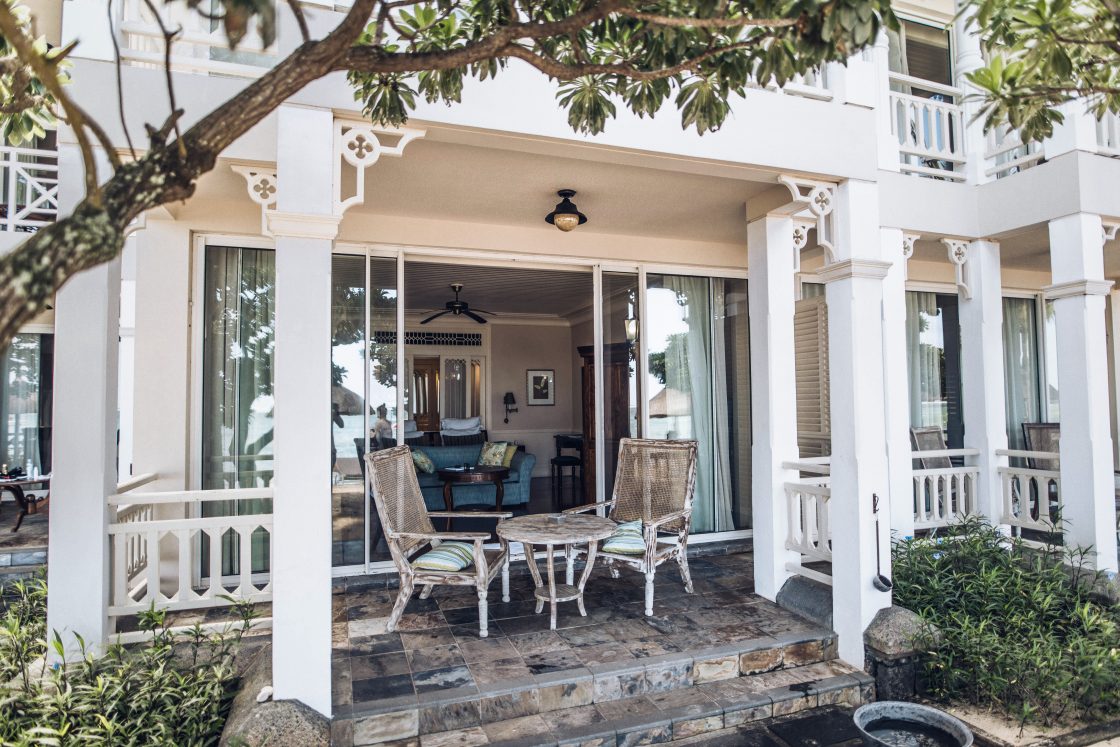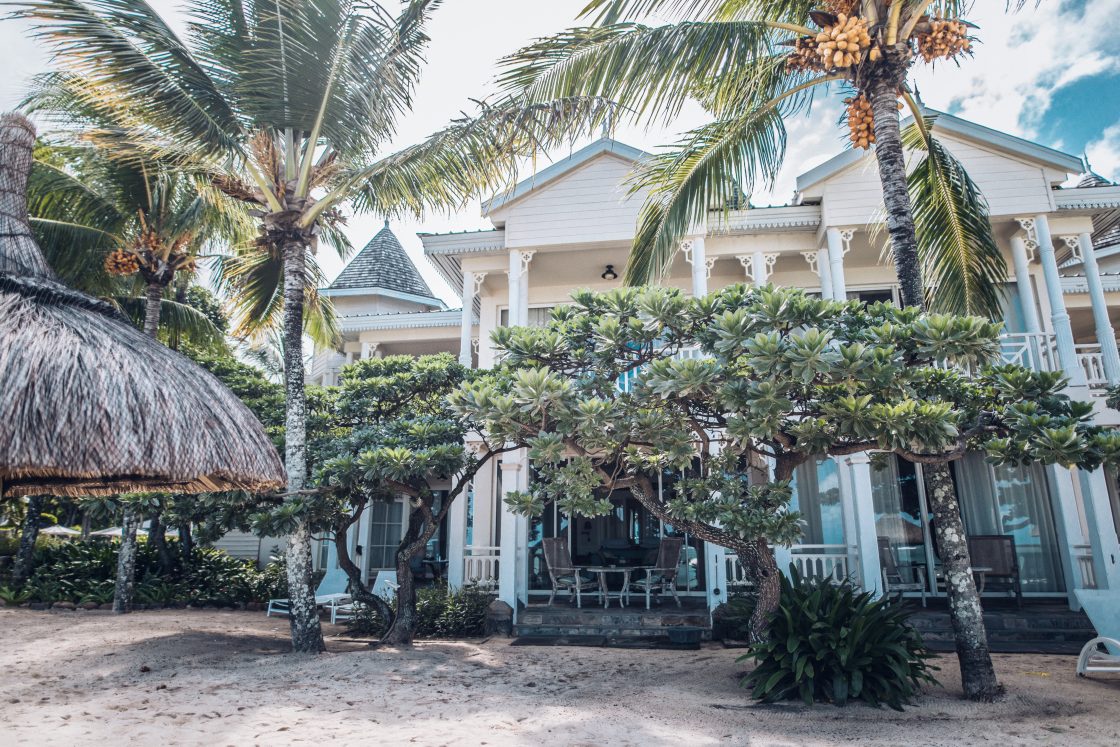 When talking about Mauritius the first thing coming to my mind is a beach with crystal clear water – and the second thing is having a meal at that beach 🙂 So after exploring the resort we were finally able to have an amazing lunch at the beach, in the sea… wait, in the sea? I was wondering as well when I heard that 😀 But yes, our table was placed in the sea so that we had lunch, sitting in the sun with our feet under water 🙂 It was so amazing – the hotel staff was so friendly and every single dish a dream!
Wenn man über Mauritius redet, denke ich als erstes an weiße Strände und klares Wasser – und als zweites an ein Essen direkt am Meer 🙂 Nachdem wir uns das wirklich große Resort angeschaut haben (wir wussten garnicht, wo wir zuerst hin sollten, da es so viele verschiedene Bereiche, Ecken und Aktivitäten zu entdecken gibt. Ob mit dem Kayak die schönen Riffe um das Hotel zu erkunden, Surfen gehen, Golfen oder es sich im Spa gut gehen zu lassen – für JEDEN etwas dabei), gab es für uns also ein Mittagessen im Meer… moment, im Meer? Ich dachte im ersten Moment auch ich habe mich verhört 😀 Aber ja, unser Tisch Stand wirklich im Wasser, sodass wir zusammen mit den Füßen unter Wasser bei strahlendem Sonnenschein gegessen und getrunken haben 🙂 Das Service Team war so freundlich und jeder einzelne Gang war ein Traum. Sehr sehr lecker!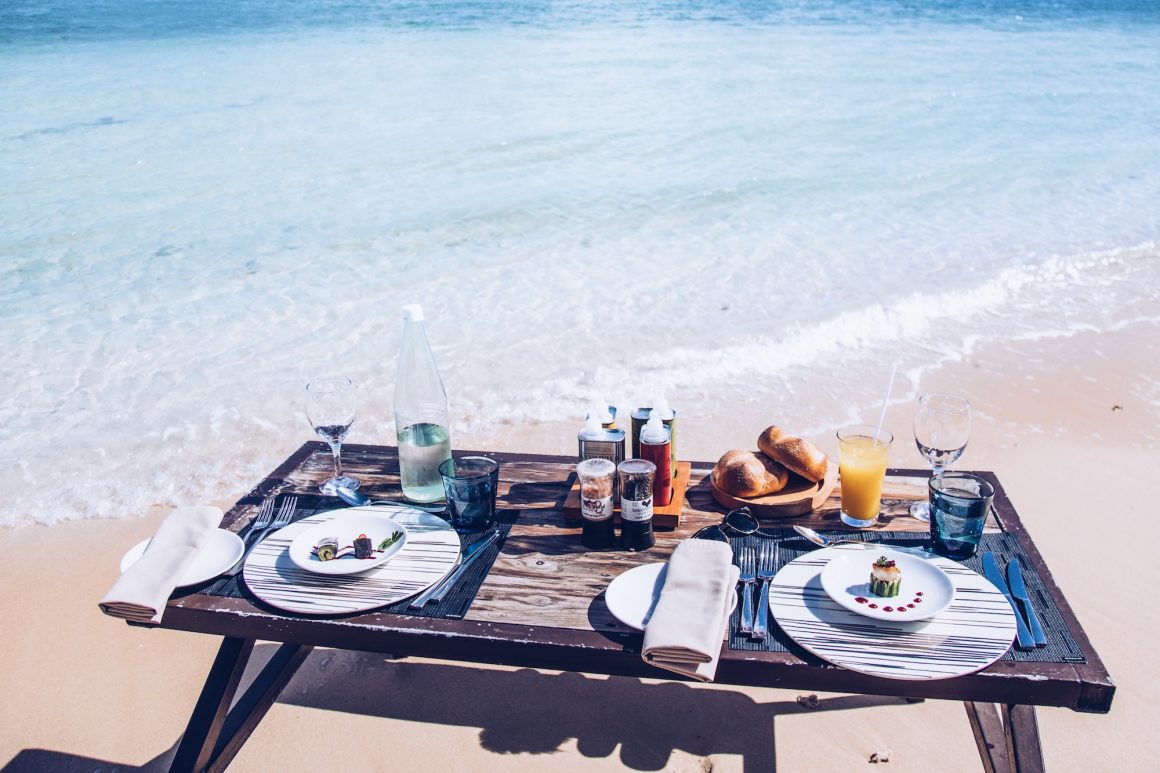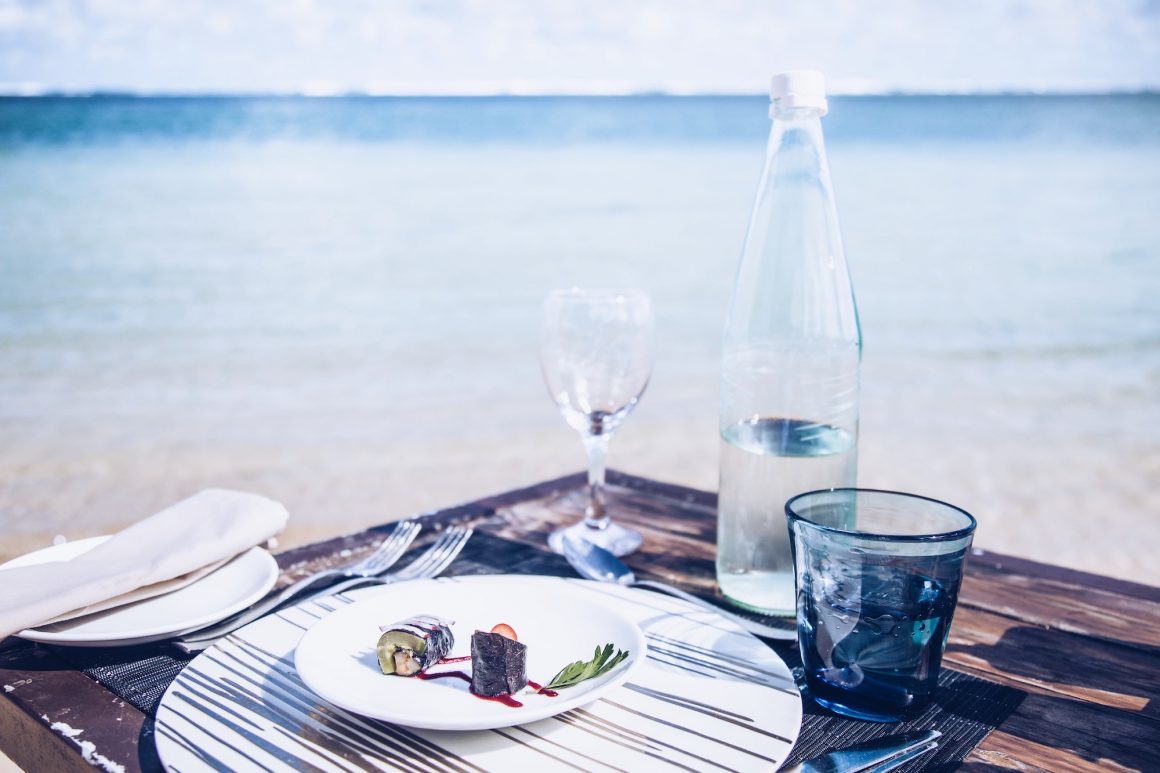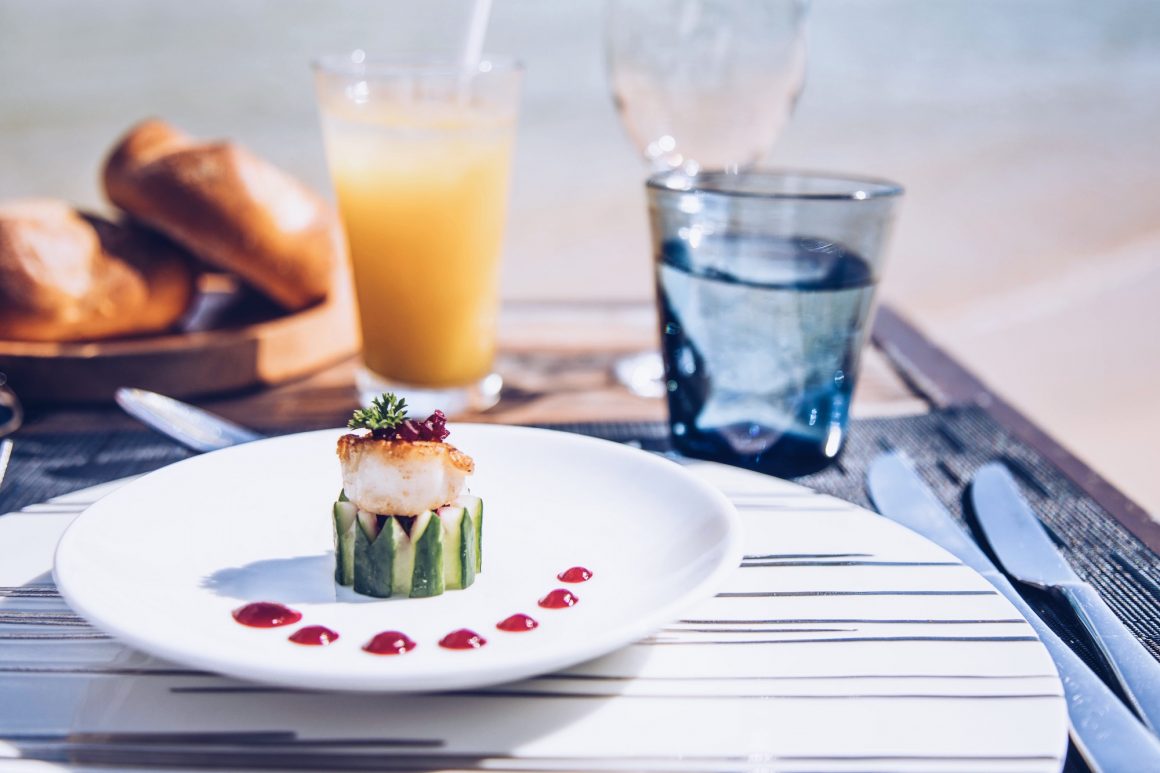 And yes, the water was as clear and blue as I always imagined. But from up above it looks just insane with all its different colours and textures formed by currents – no words…
Und ja, das Wasser war so klar und blau wie ich es mir immer vorgestellt habe. Von oben allerdings, sieht es noch einmal ganz besonders schön aus, mit all seinen farben und Mustern, die durch die Strömungen geformt wurden – ohne Worte…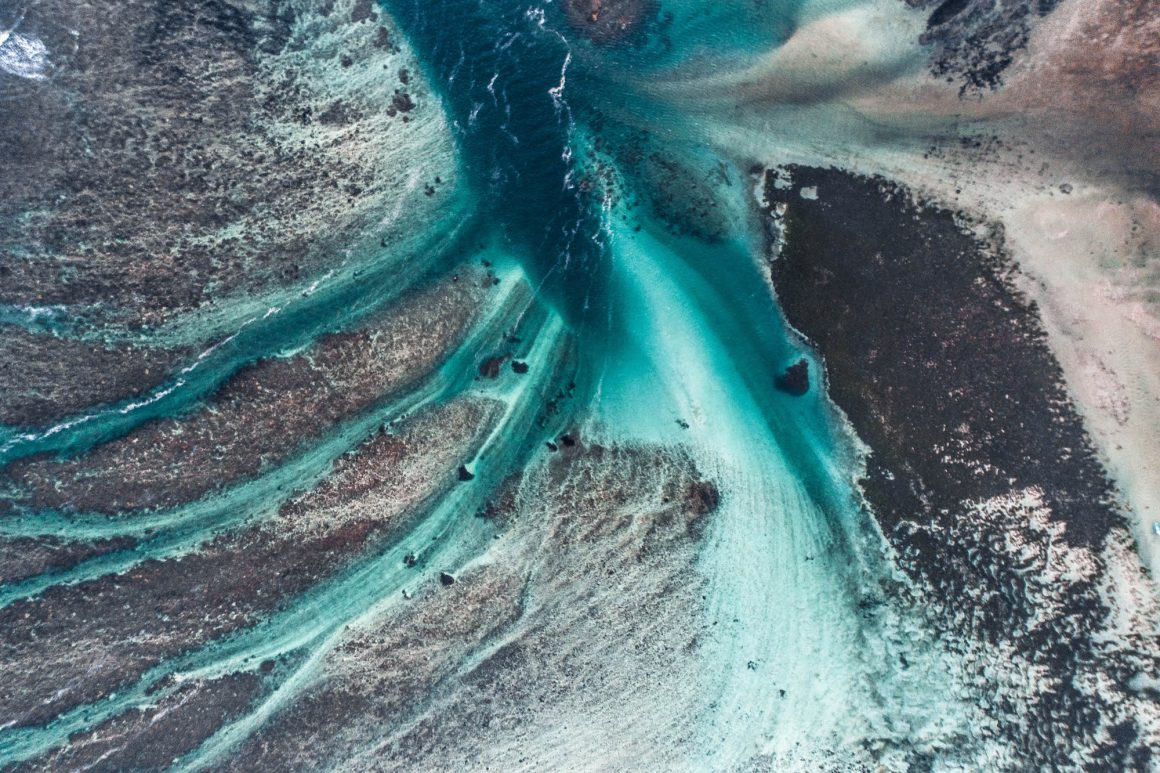 If you are up to something more adventurous Mairitus offers plenty opportunities! One morning we decided to explore the mauritian jungle. We are always totally up for waterfalls and exploring as much as possible. We went to the Frédérica Nature Reserve. The way there was already awesome. The landscape over here is sooo impressive!!! GREEN OVERLOAD!
We spotted some dears with their small babies which might be only a few days old – sooo cute! Getting deeper into the reserve we finally passed some waterfalls – take a look at the pics below. *.* Unfortunately the rain during last days was too strong so it was too dangerous to take a swim by the waterfall. If you will ever be there just ask some natives before you go on the jungle trip how the weather was like during the last days – they will let you know if it's possible to have a safe swim over there 🙂 After the jungle tour our feet were covered with mud. We totally forgot to change our shoes before going to the jungle so – NO GOOD IDEA GOING THERE IN FLIPFLOPS 😀
Wenn es etwas abenteuerlicher sein darf, bietet Mauritius zum Glück auch einige Möglichkeiten! Einen morgen sind wir mit einem Buggy in den Dschungel gefahren. Wir entdecken immer am liebsten so viel wie möglich und haben uns dazu ziemlich spontan entschlossen. 🙂 Also sind wir auf ins Frédérica Nature Reserve. Allein der Weg dorthin war schon suuuuper schön!! Die Landschaft ist einfach atemberaubend! GRÜN OVERLOAD!
Unterwegs haben wir eine Reh-Herde mit ihren kleinen Babys gesehen, die vielleicht gerade ein Paar Tage alt waren. Sie waren so süß und neugierig 🙂 Etwas tiefer im Reserve haben wir dann auch endlich einige Wasserfälle entdeckt – schaut einfach selbst *.* Da es in den letzten tagen leider ziemlich oft geregnet hat, war es zu gefährlich am Wasserfall schwimmen zu gehen. Falls ihr also mal nach Mauritius kommt und einen Wasserfall besuchen wollt, fragt einfach ein Paar Einheimische bevor ihr in den Dschungel wollt, wie das Wetter in den letzten Tagen war – sie werden euch sagen ob es sicher ist dort zu schwimmen oder nicht 🙂 Nach der Tour durch den Dschungel sahen unsere Füße aus wie Sau! Sie waren vollkommen bedeckt mit Matsche 😀 Wir haben nämlich total vergessen feste Schuhe anzuziehen – KEINE GUTE IDEE MIT FLIPFLOPS DURCH DEN DSCHUNGEL zu tapern ;P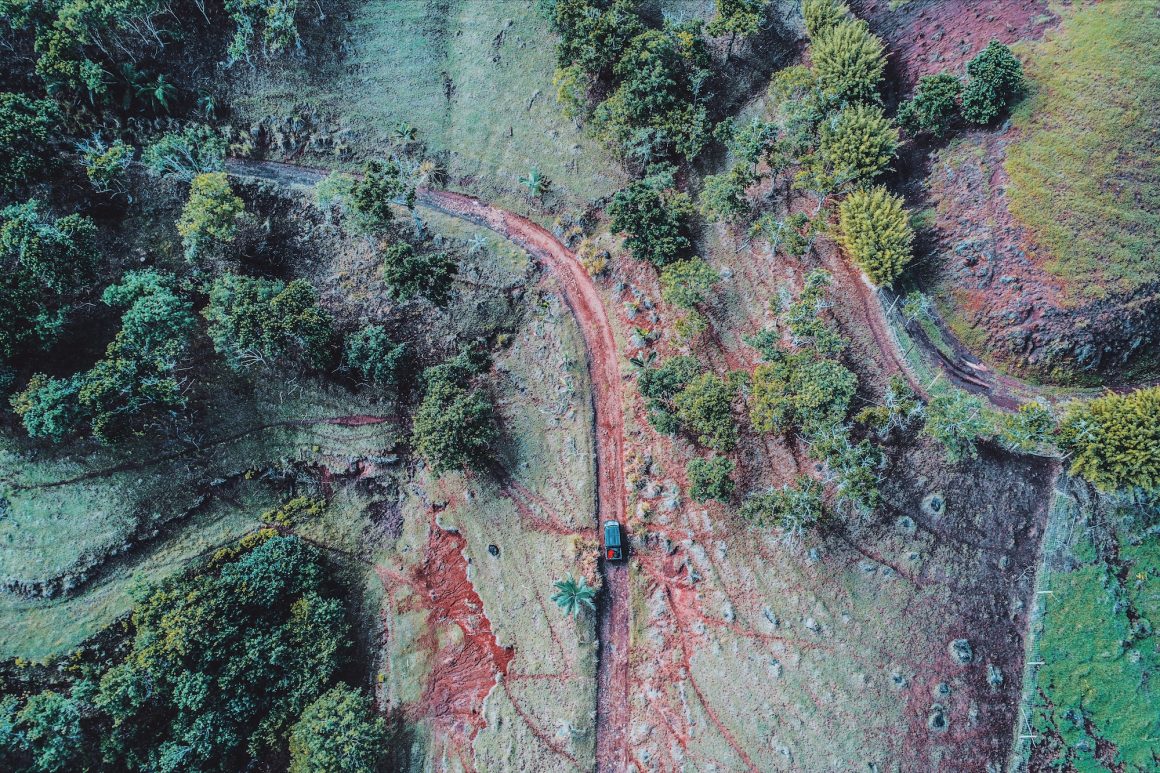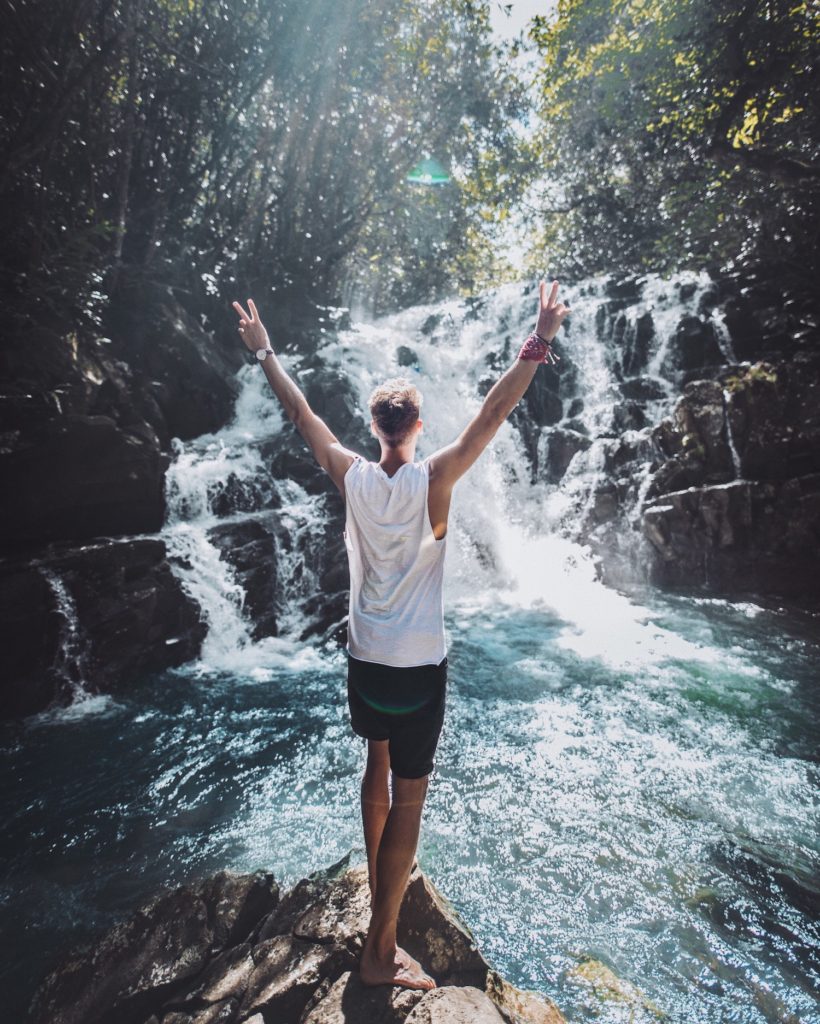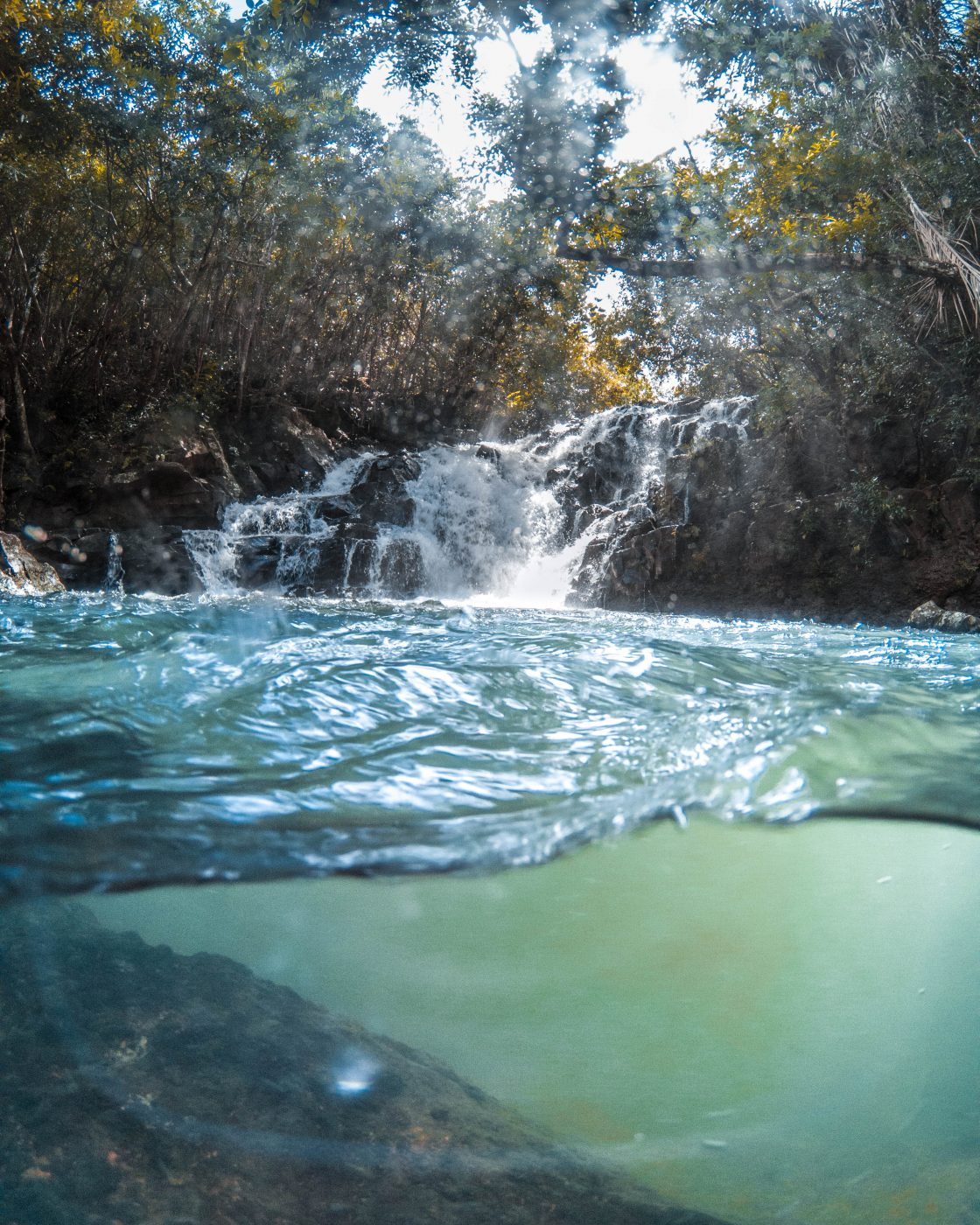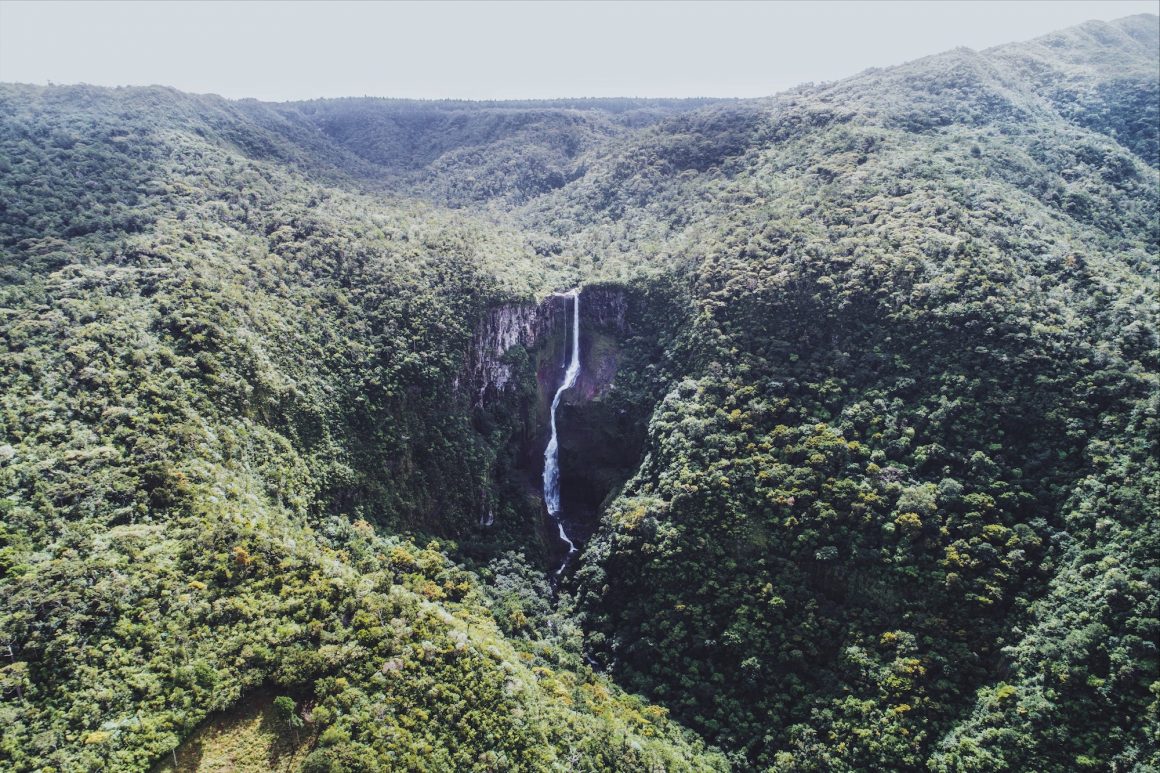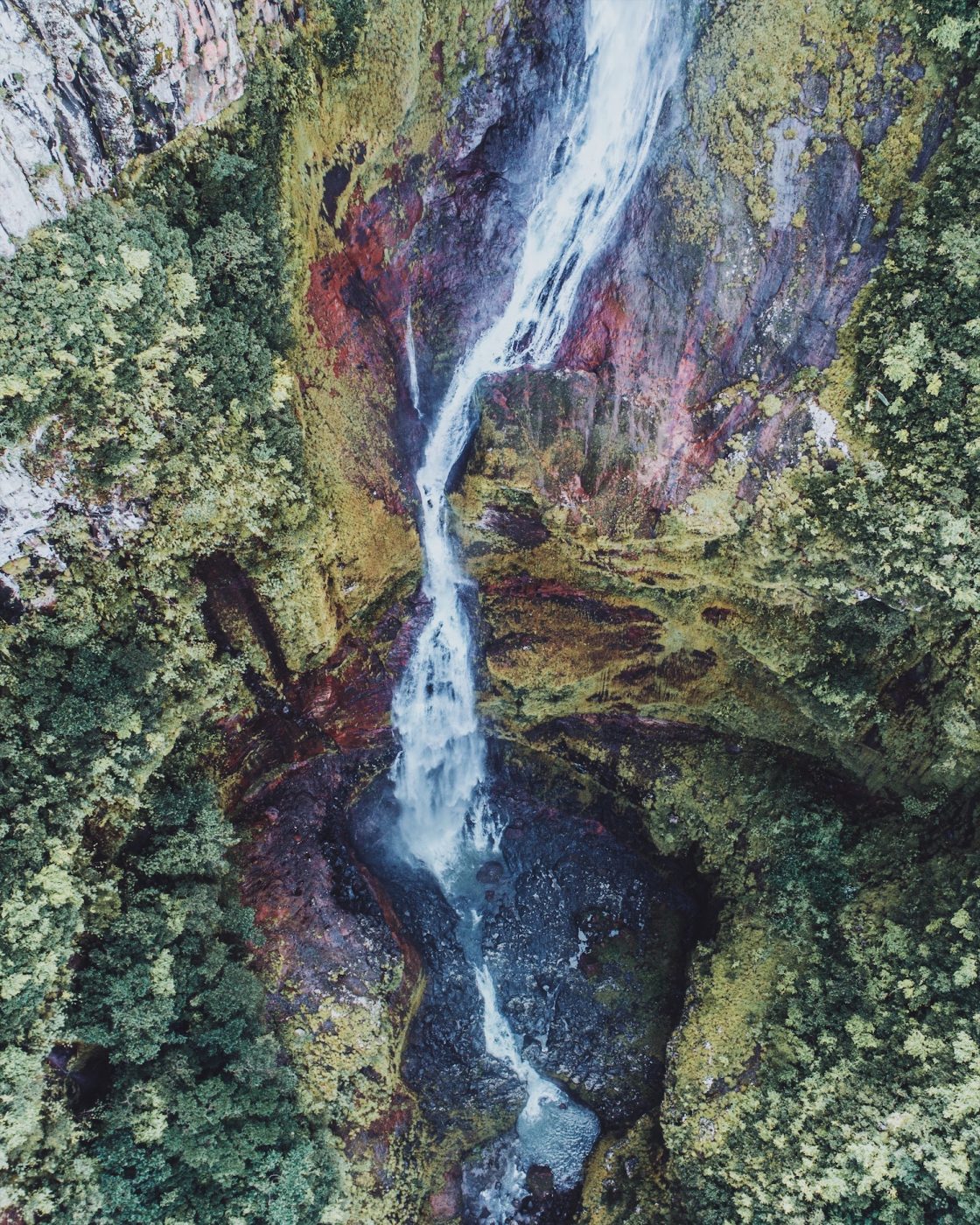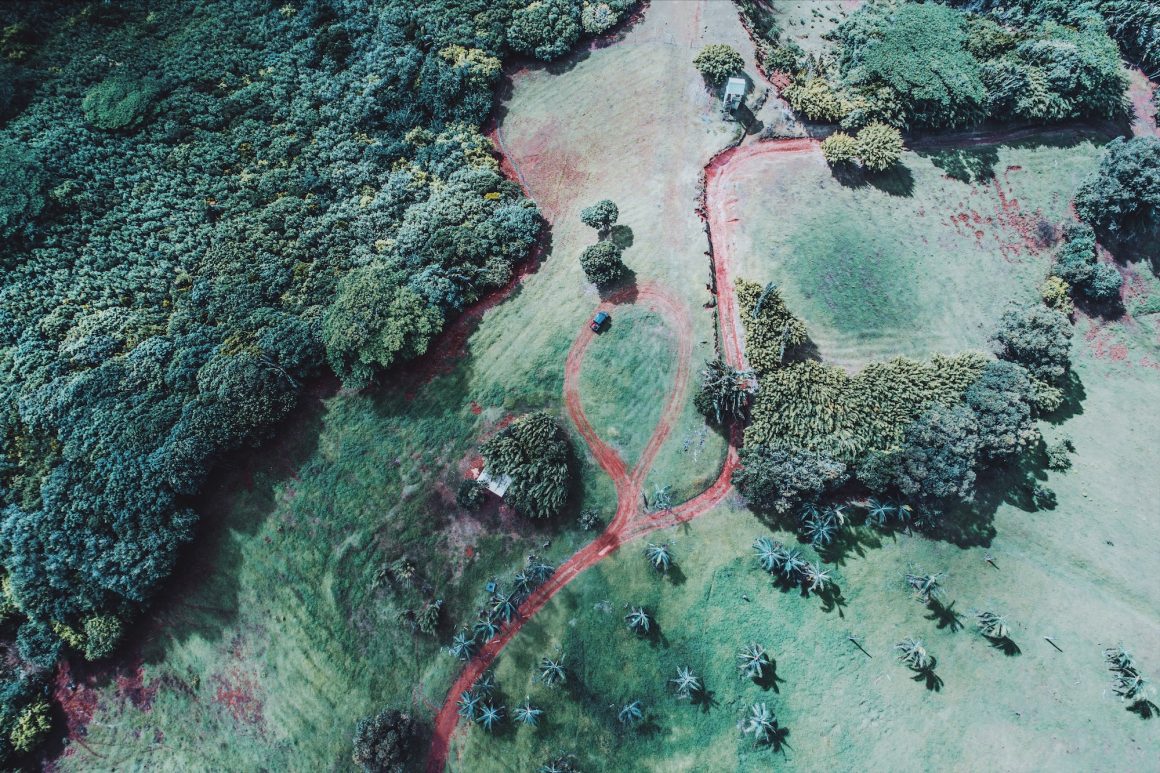 I got asked very often: which destination has the most beautiful sunsets? Pretty hard decision .. LA was awesome, Sri Lanka too (very orange/red) but well, the sunsets on MAURITIUS are insane! We always try not to work during sunset just to enjoy this magical moment *.* Are you a sunrise or sunset person?
Ich werde ziemlich oft von Euch gefragt an welcher Destination bisher der schönste Sonnenuntergang war. Super schwer zu beantworten!! LA war super schön, Sri Lanka auch besonders, die Farben waren SOOO kräftig… aber ich muss sagen die Sonnenuntergänge auf Mauritius sind unfassbar *.* Wir versuchen immer während den Sonnenuntergang nicht zu arbeiten und diesen magischen Moment einfach zu geniessen. *.* Schaut ihr euch lieber den Sonnenaufgang oder Sonnenuntergang an?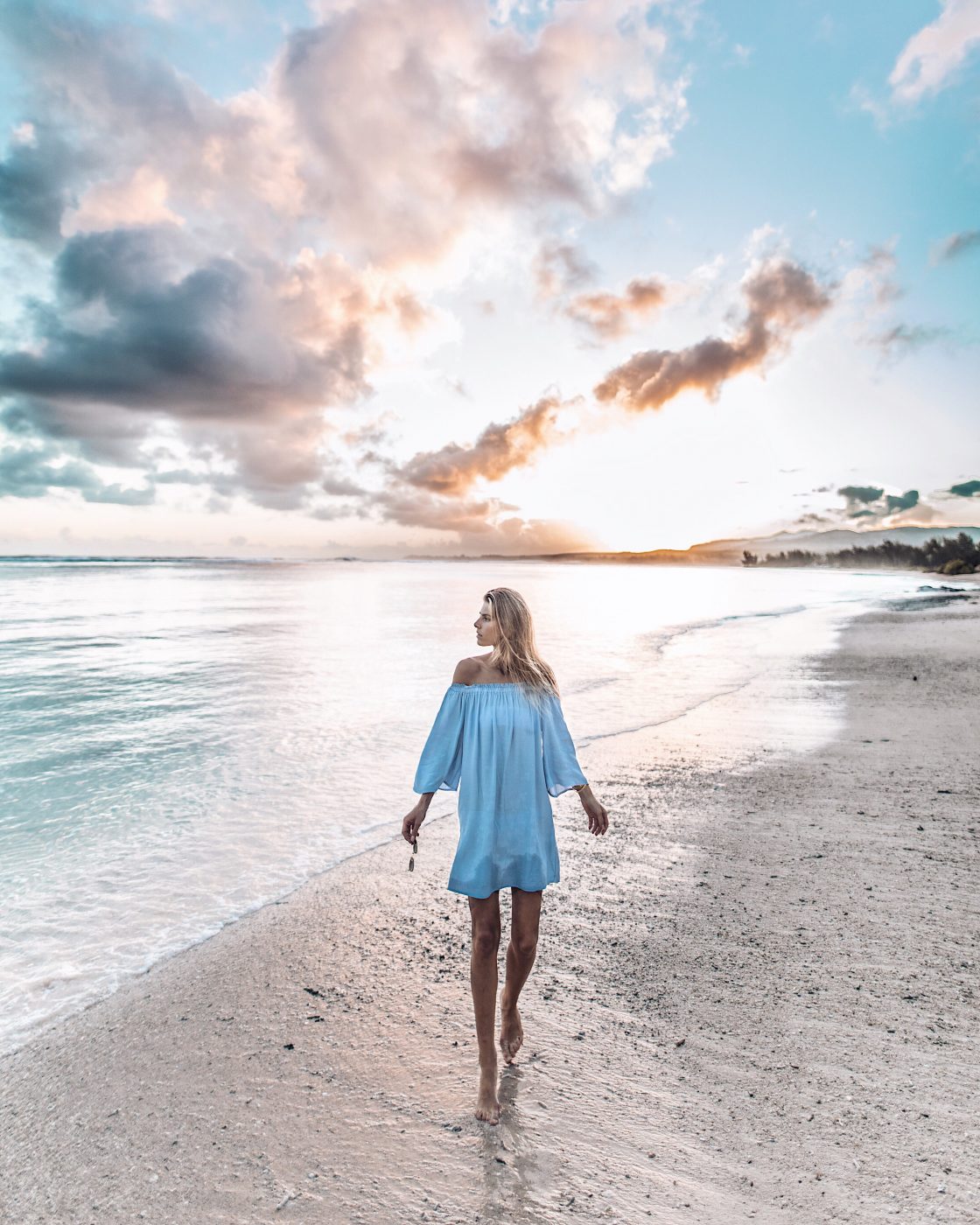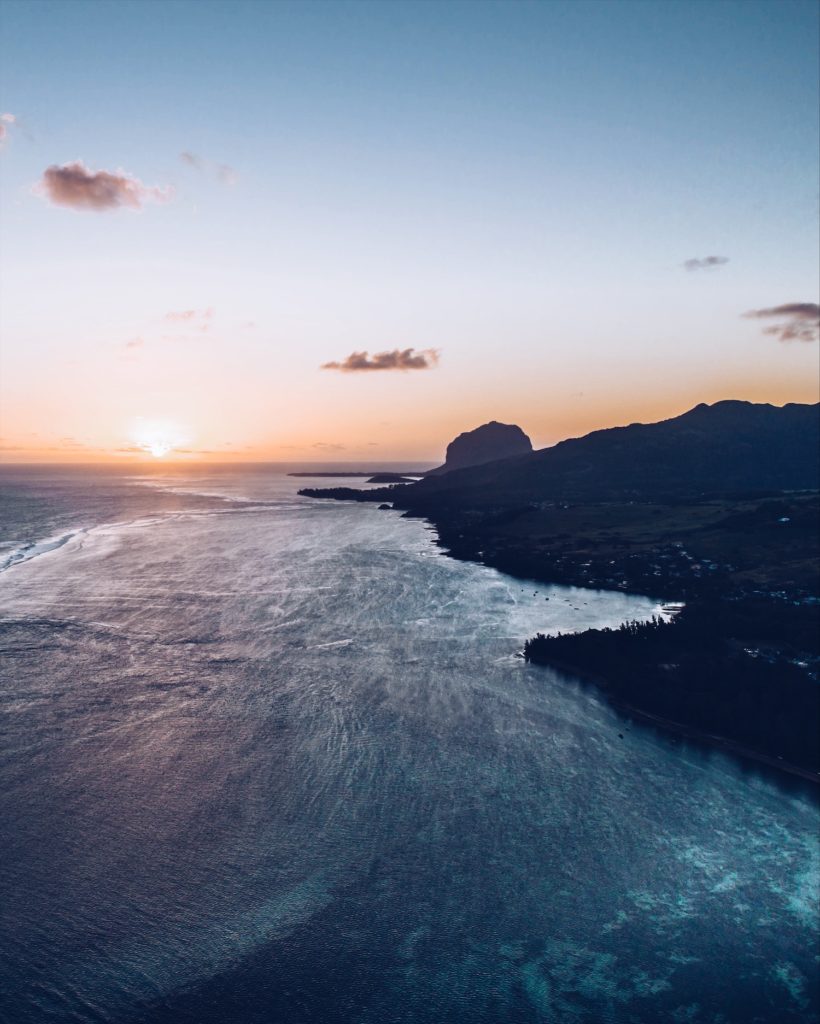 One day we wanted to drive to the next small fruit market (I always wanna go to local fruit markets) unfortunately Kev forgot to turn off the light the evening before so the battery of our small "car" was down 😀 So what now? Luckily there is a beach-bar in the Hotel called "Coco Shack" which offers coconuts only *.* – believe me: this was my personal paradise! 😀 LUCKY ME! So I had minimum one per day 🙂
Einen Nachmittag wollte ich unbedingt auf einen kleinen Obst-Markt. (Ich möchte eigentlich IMMER auf lokale Obst-Märkte :D) Leider hatte Kev den Tag zuvor vergessen das Licht von unserem kleinen Auto auszuschalten… also, Batterie leer, Auto springt nicht an, kein Obst-Markt für Debi. Was nun?! Zum Glück gibt es im Hotel aber eine Beach-Bar, die NUR Kokosnüsse and bietet *.* – Glaubt mir: das war mein persönliches Paradies! 😀 Also gab es jeden Tag minimum eine Coco für mich, hihi 🙂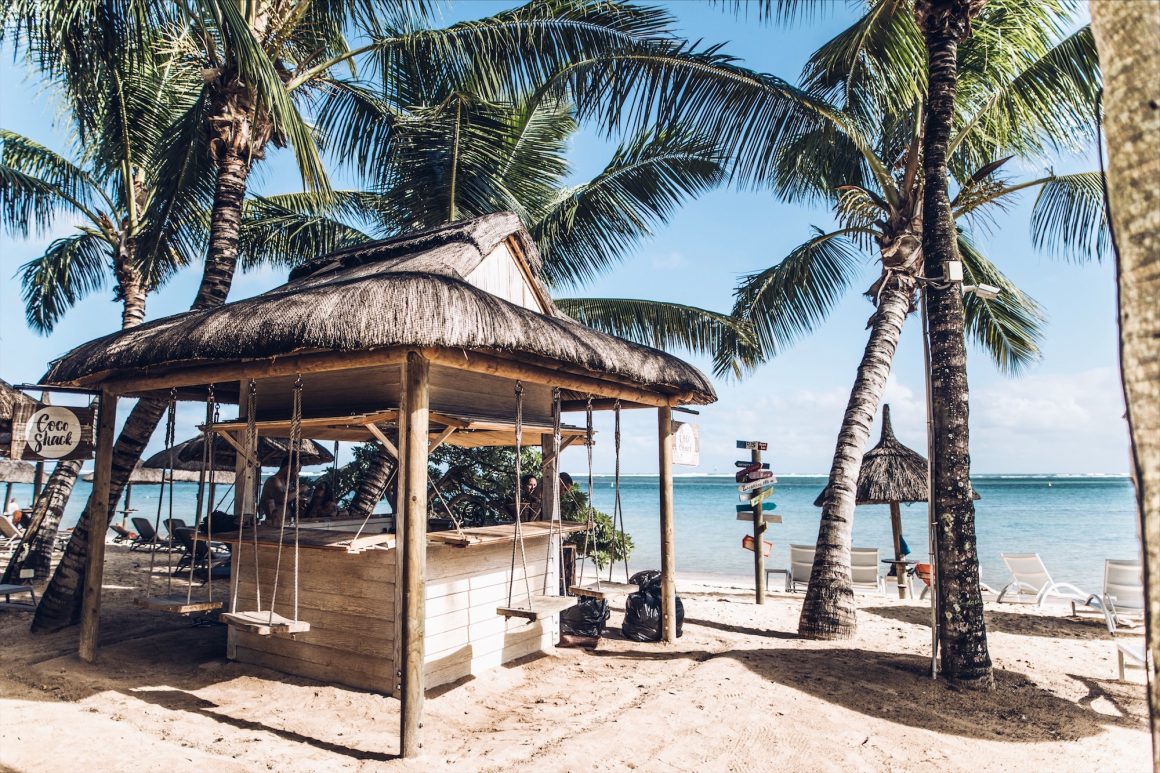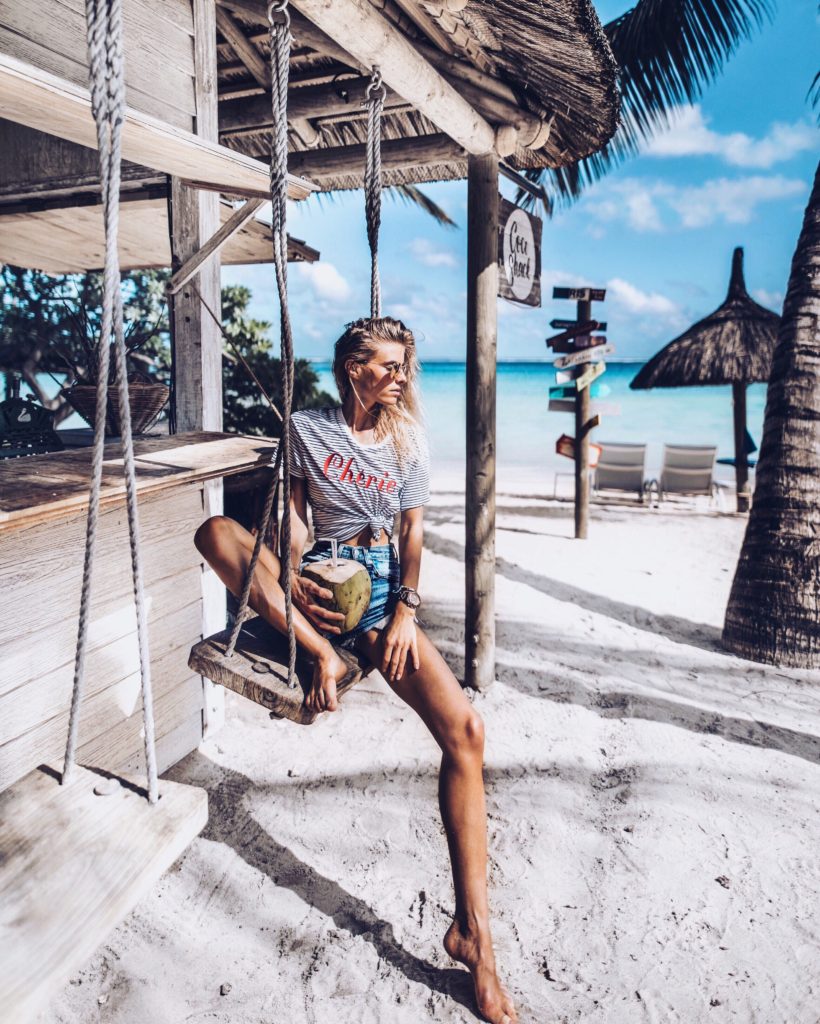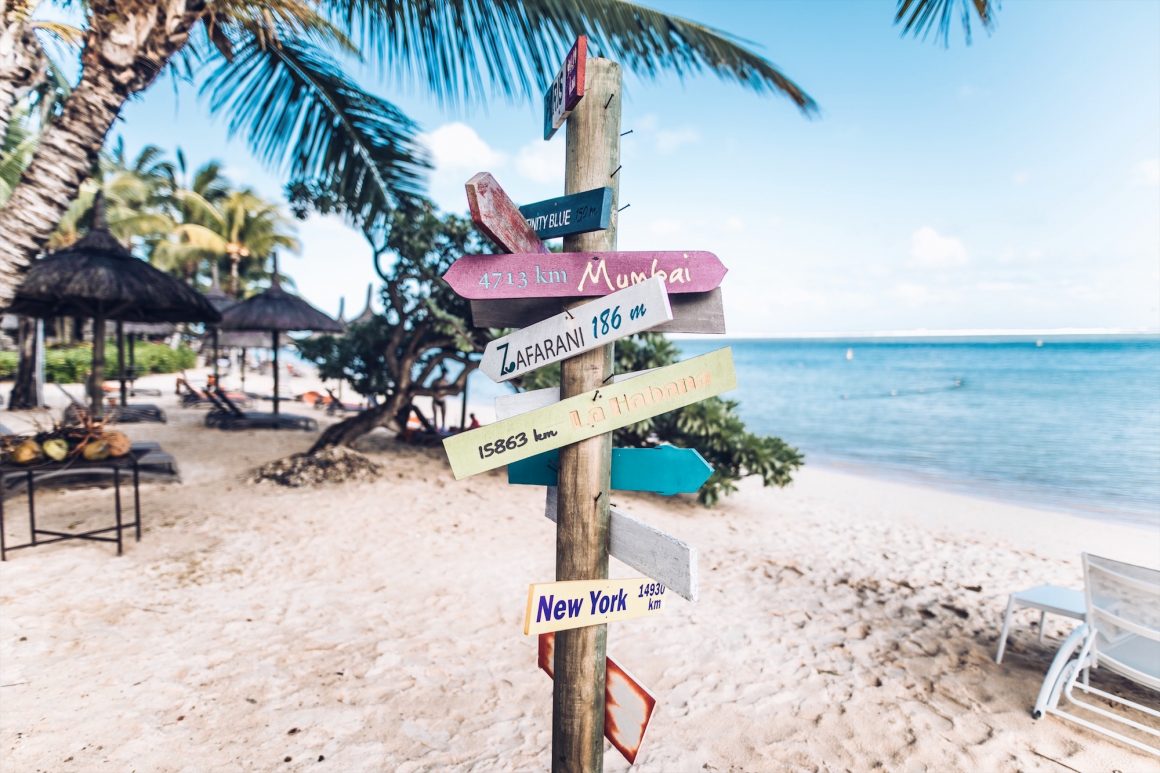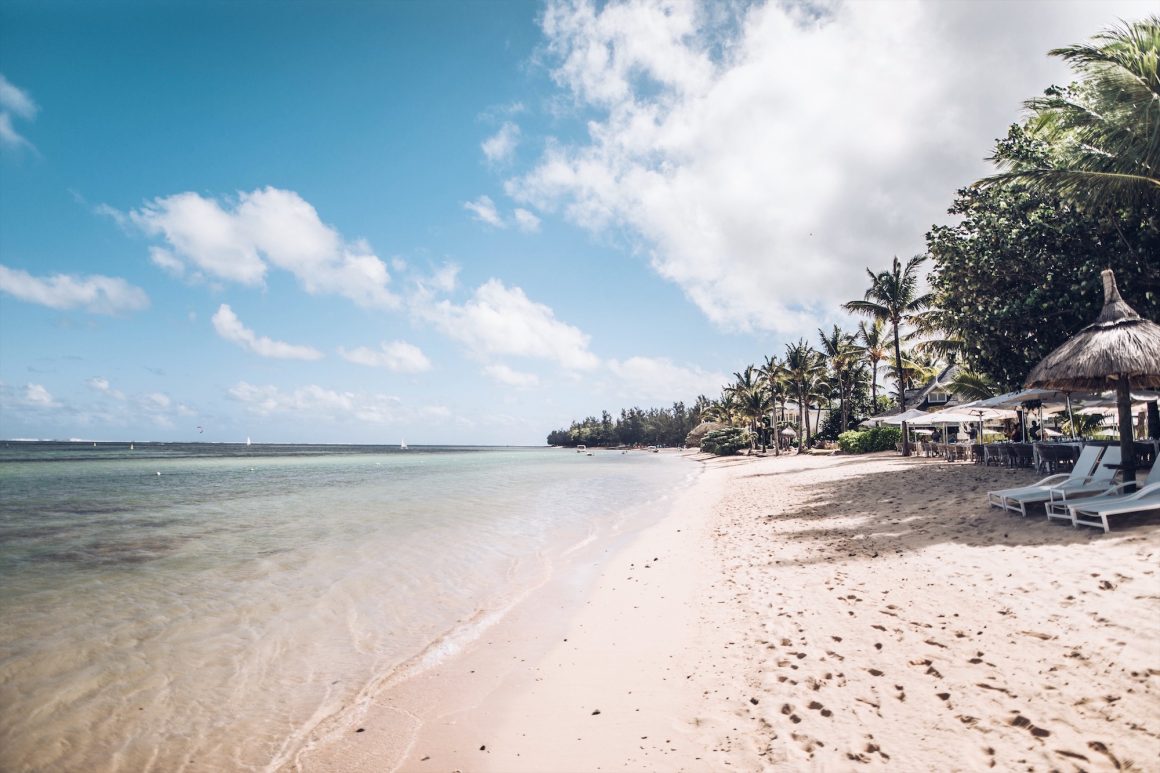 We really enjoyed our stay!! So we'd like to thank  The Heritage Le Telfair for having us! After a few days we left the hotel to explore another part of Mauritius – a part with the most incredible landscape I have ever seen. I will tell you all about it in the second part of my Mauritius Travel. Just click on the pic below and read on! 🙂
Unsere Zeit im Heritage Le Telfair Resort war wunderschön!! Daher nochmal ein großes Danke! Nach ein Paar Tagen aber, haben wir das Hotel verlassen, um eine andere Ecke von Mauritius zu entdecken – eine Ecke mit einer der wahrscheinlich unglaublichsten Landschaften, die ich je gesehen habe. Darüber erfahrt ihr alles im zweiten Teil meines Mauritius Travel Diary's 🙂 Klickt einfach auf das Bild unten und schon geht's weiter!
xx Debi