Hi again 🙂
I know it took me quite a while to finish Part 2 of my Mauritius Travel Diary. Lot's of spontaneous trips stopped me finishing this one. Sorry for that! But here it finally comes 🙂
Hi ihr Lieben,
Ich weiß, es hat eine ganze Weile gedauert, bis ich Part 2 meines Mauritius Travel Diary's fertig gestellt habe. Viele spontane Trips sind mir in die Quere gekommen, sodass ich kaum Zeit für irgendwas hatte. Aber TADAAA ich hab's endlich geschafft, hier ist er 🙂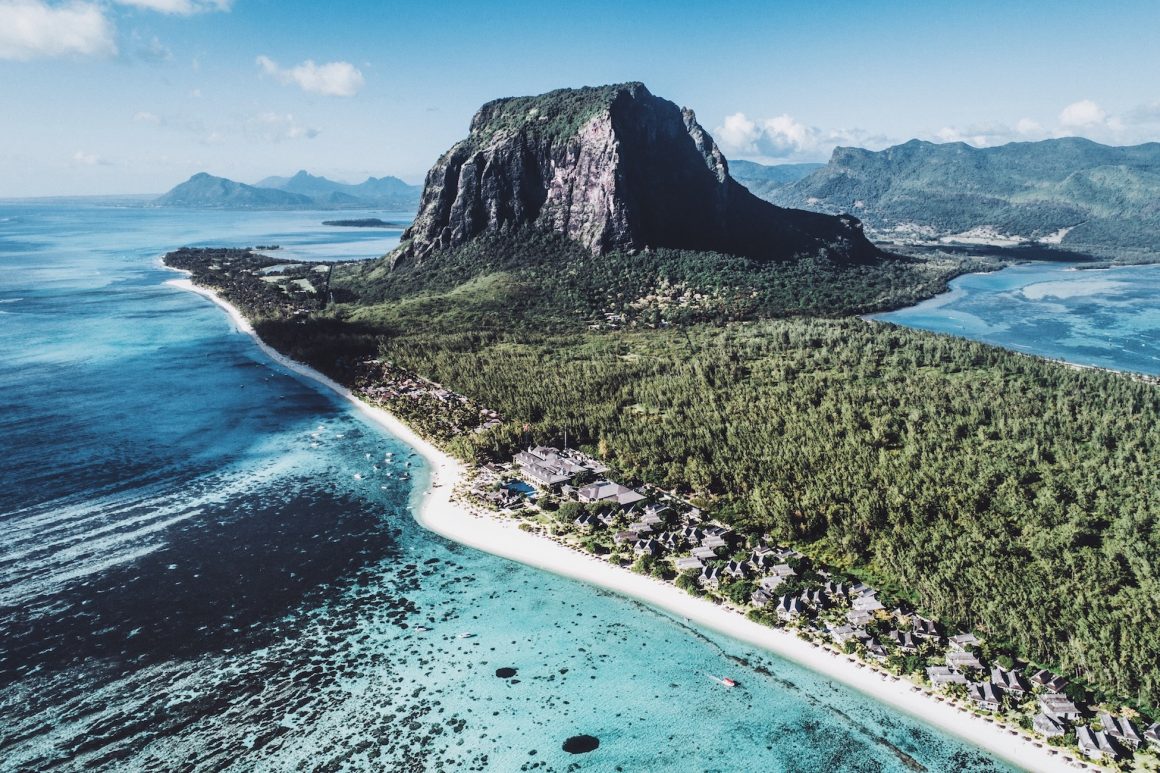 After an exciting first week (read everything about it over here in Part 1) we moved on to visit the island's west coast – and the St. Regis Mauritius Resort. You need to know that there is a small peninsular named Le Morne in the west of the island with a huuuuge mountain on it. (When we saw that mountain Kev and I knew immediately: we are going to hike that thing! … but more on this later :P) Right behind that mountain located at one of the most beautiful ever we found the St Regis 🙂 After a short stop at our room to drop of our luggage – we got a suite with ocean view *.* – a first surprise was already waiting for us…
Nach einer spannenden ersten Woche (alles darüber findet ihr wie immer hier in Part 1) ging es für uns weiter in den Westen der Insel – in's The St.Regis Mauritius Resort. Ihr müsst wissen ganz im Westen des Landes gibt es eine Art kleine Halbinsel names Le Morne, mit einem riiiiesigen Felsen in der Mitte. (Als wir diesen Berg zum ersten Mal sahen, wussten Kev und ich sofort: das Ding klettern wir hoch! …später mehr dazu 😛 ) Gleich dahinter, an einem der schönsten Strände überhaupt, wartete das St. Regis auf uns. Kurz ging's auf's Zimmer, um unser Gepäck abzulegen – wir hatten eine Suite mit Blick auf's Meer *.* – und schon wartete die erste Überraschung auf uns…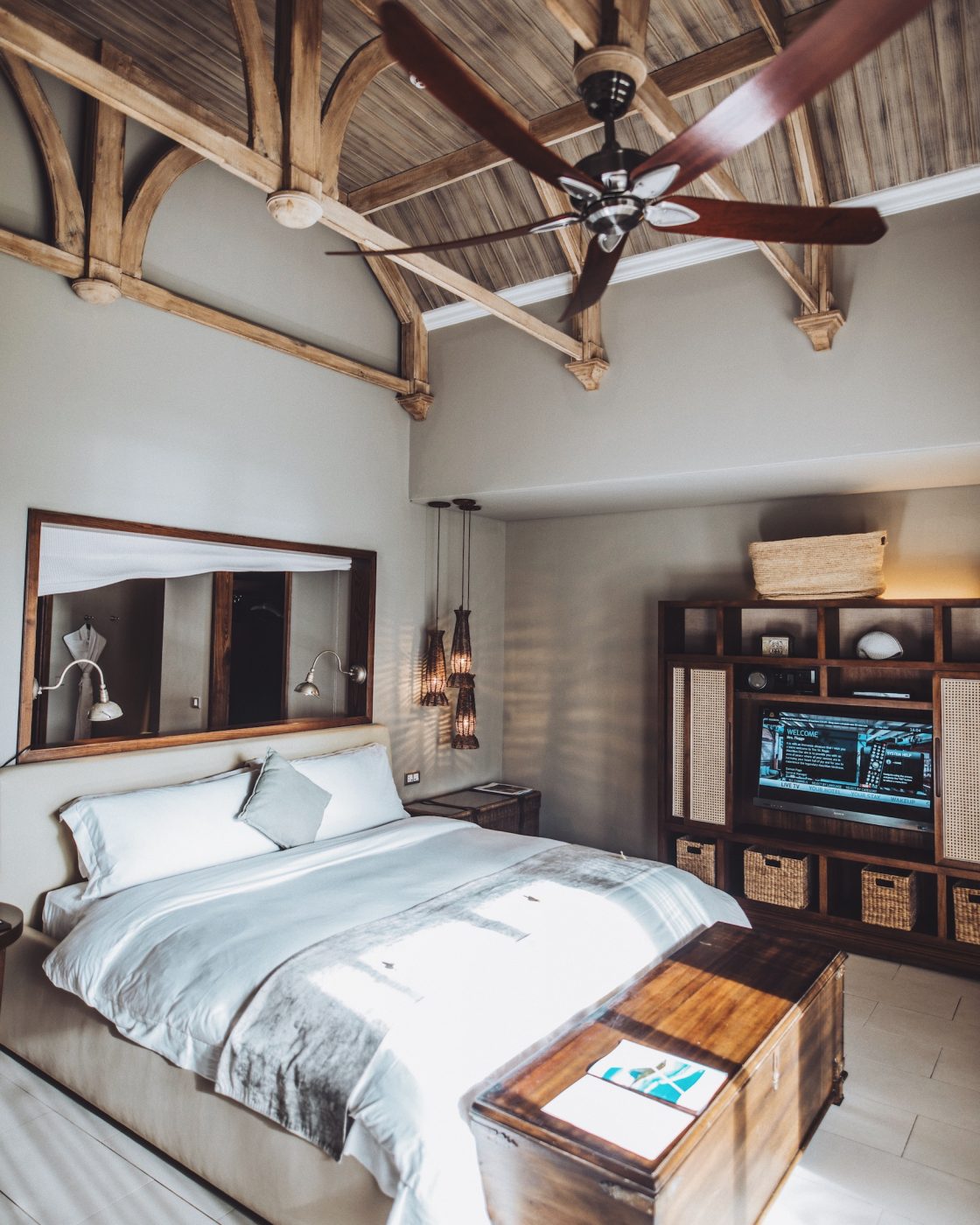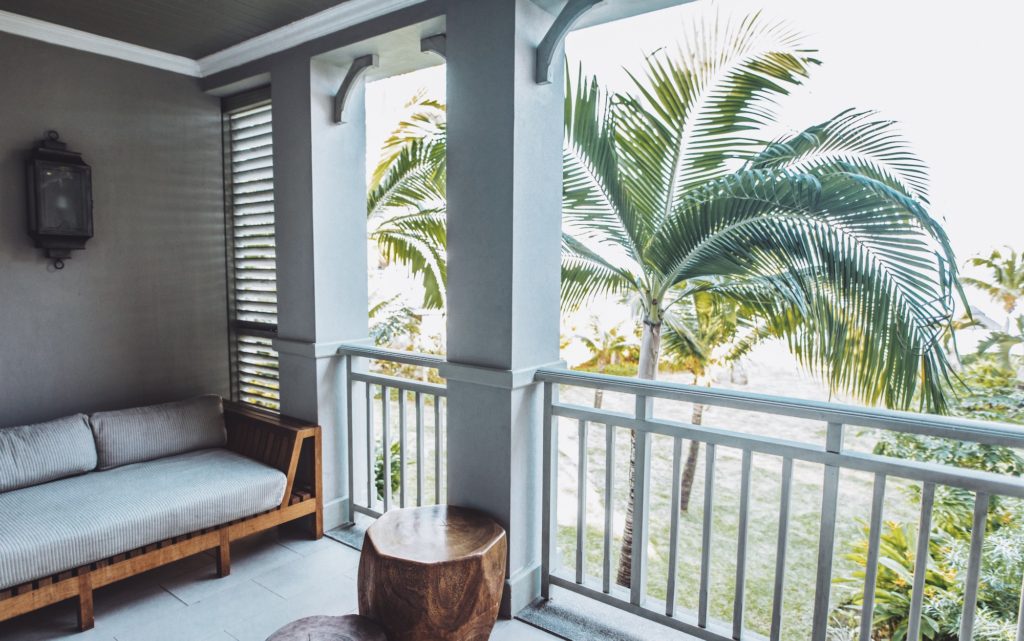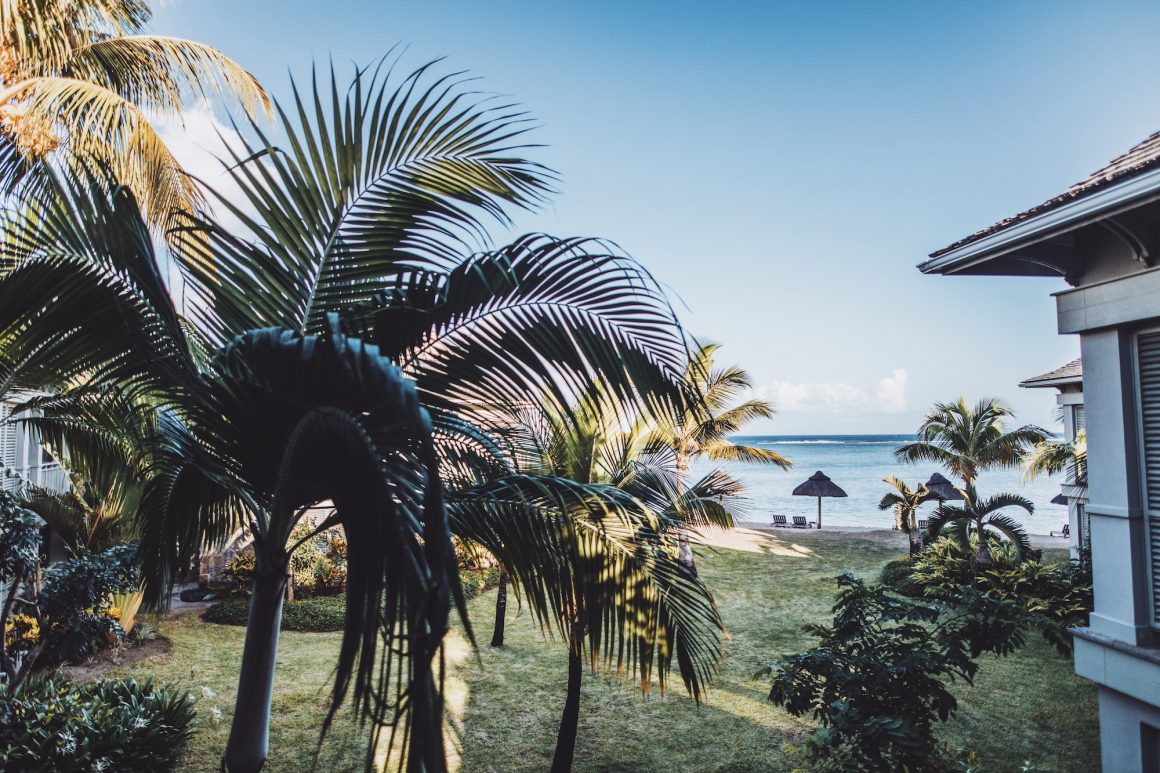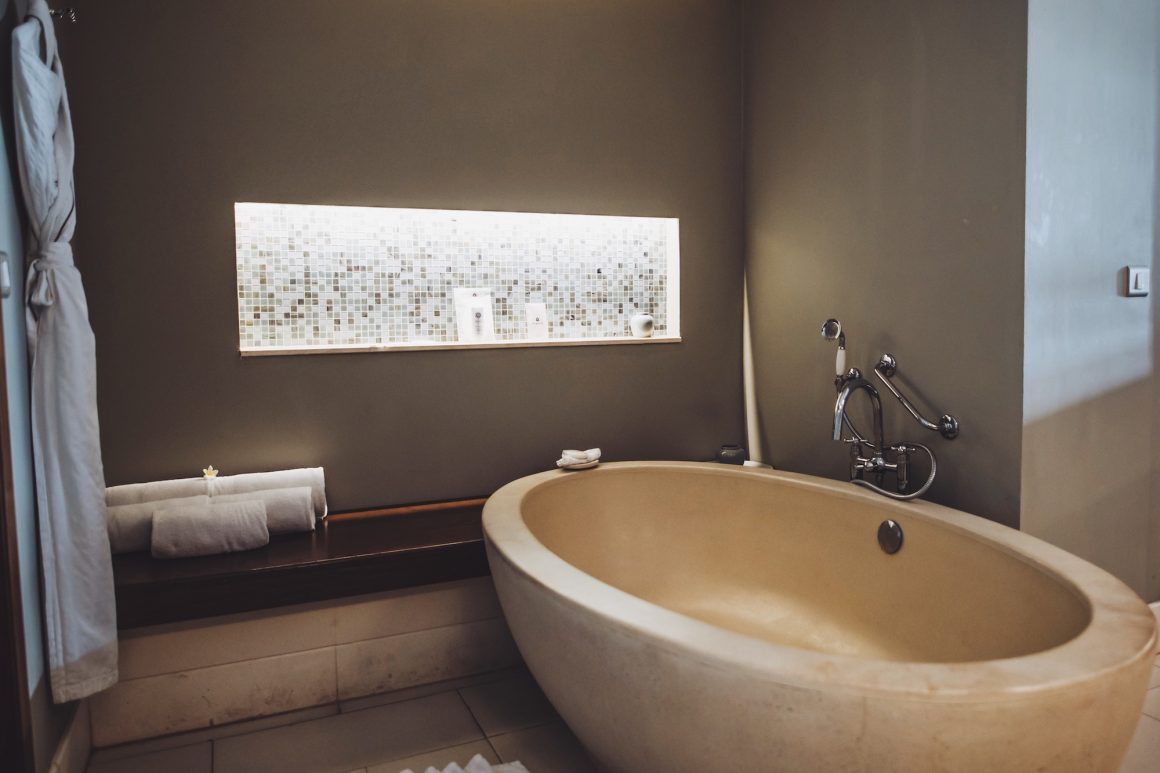 A few moments later we found ourselves in a cute boat together with the hotel's sales team and headed towards the sunset. So far we didn't had the time to take a second and check the amazing landscape. But in that moment on the boat we realized how incredible this place really is. On all our trips we have never seen something comparable 🙂 The Le Morne mountain illumunated by the light of sunset is just unique! Have a look:
Denn nur wenige Augenblicke später saßen wir zusammen mit dem Sales Team des Hotels in einem Böötchen auf dem Wasser und sind dem Sonnenuntergang entgegengefahren. Bis dahin hatten wir noch kaum Zeit gehabt, uns die ganze Landschaft einmal genauer anzugucken. Die Kulisse war einfach unbeschreiblich, etwas vergleichbares haben wir auf all unseren Trips noch nicht gesehen 🙂 Der Le Morne Berg wurde so schön angestrahlt!! Schaut selbst: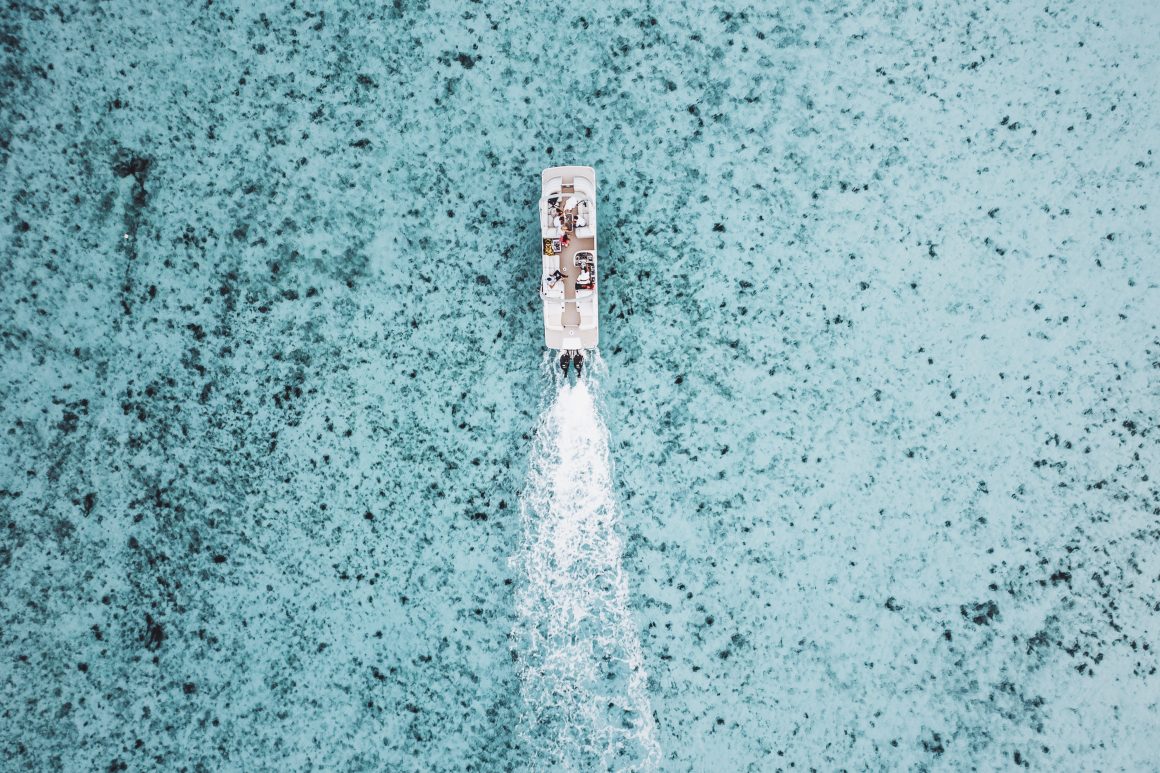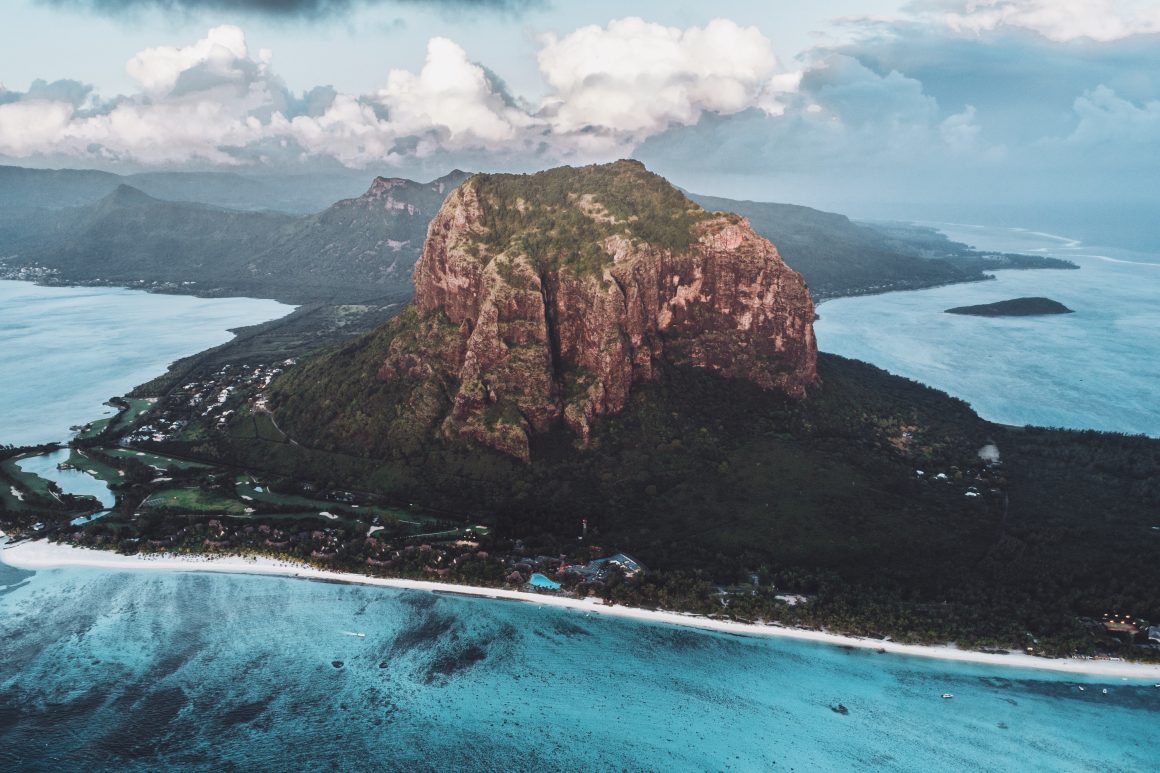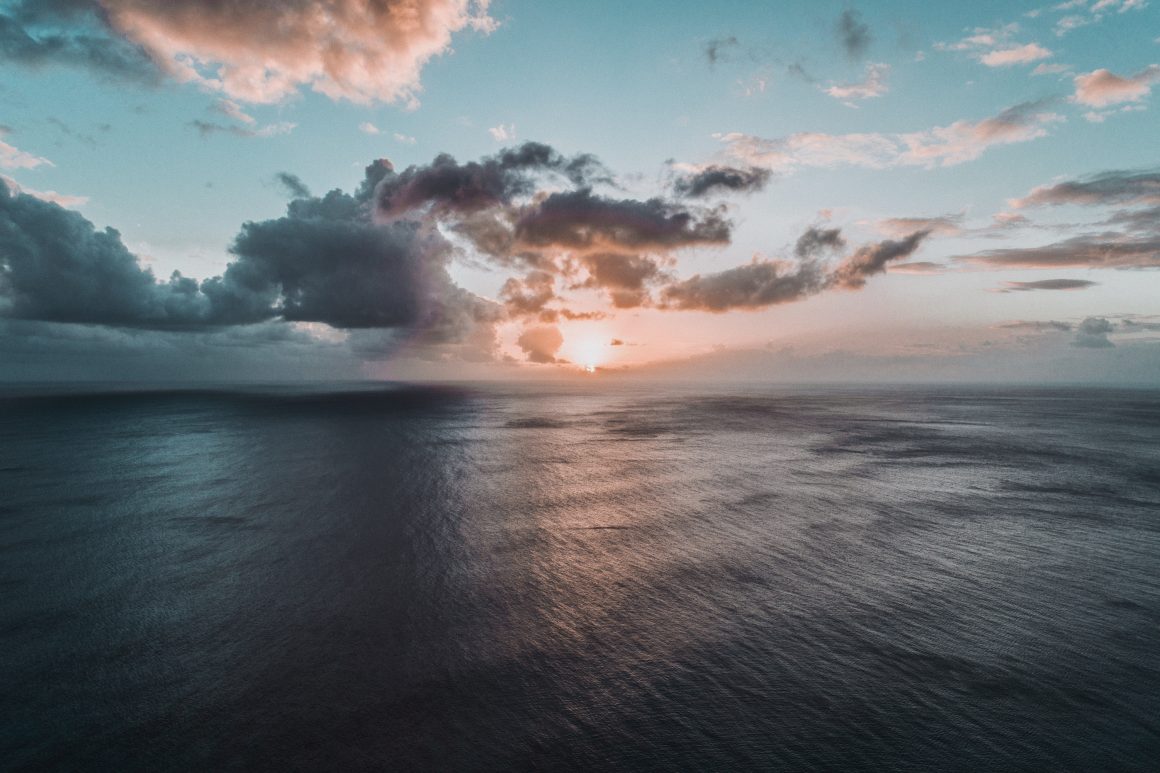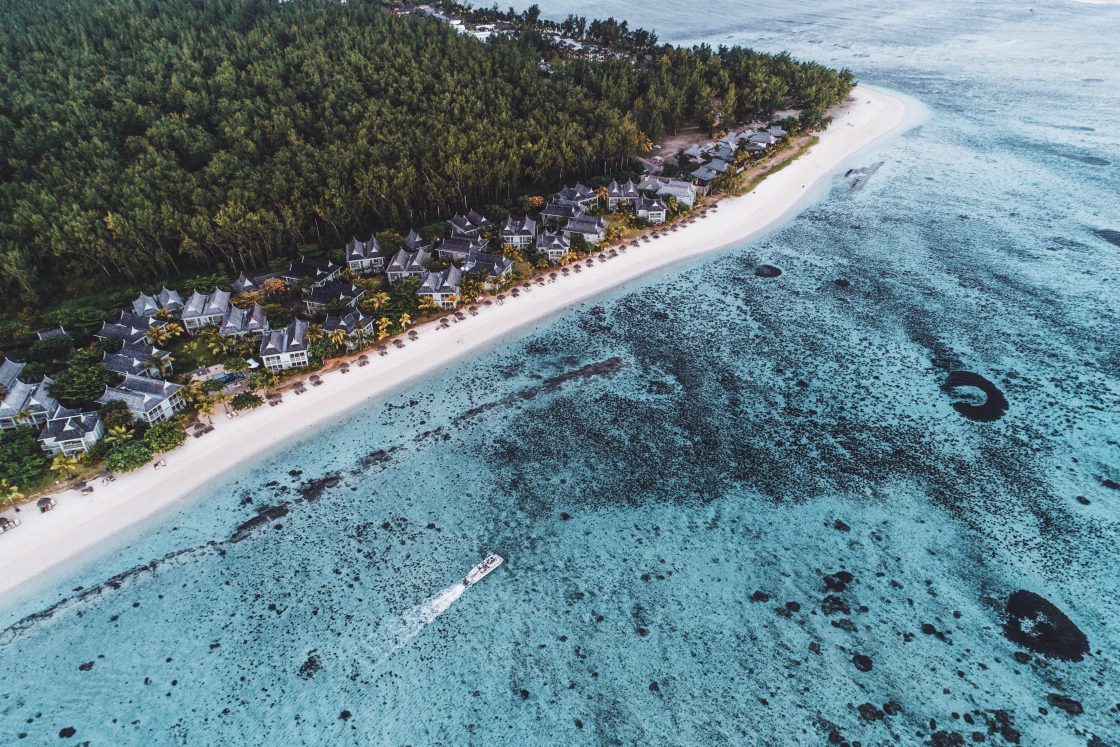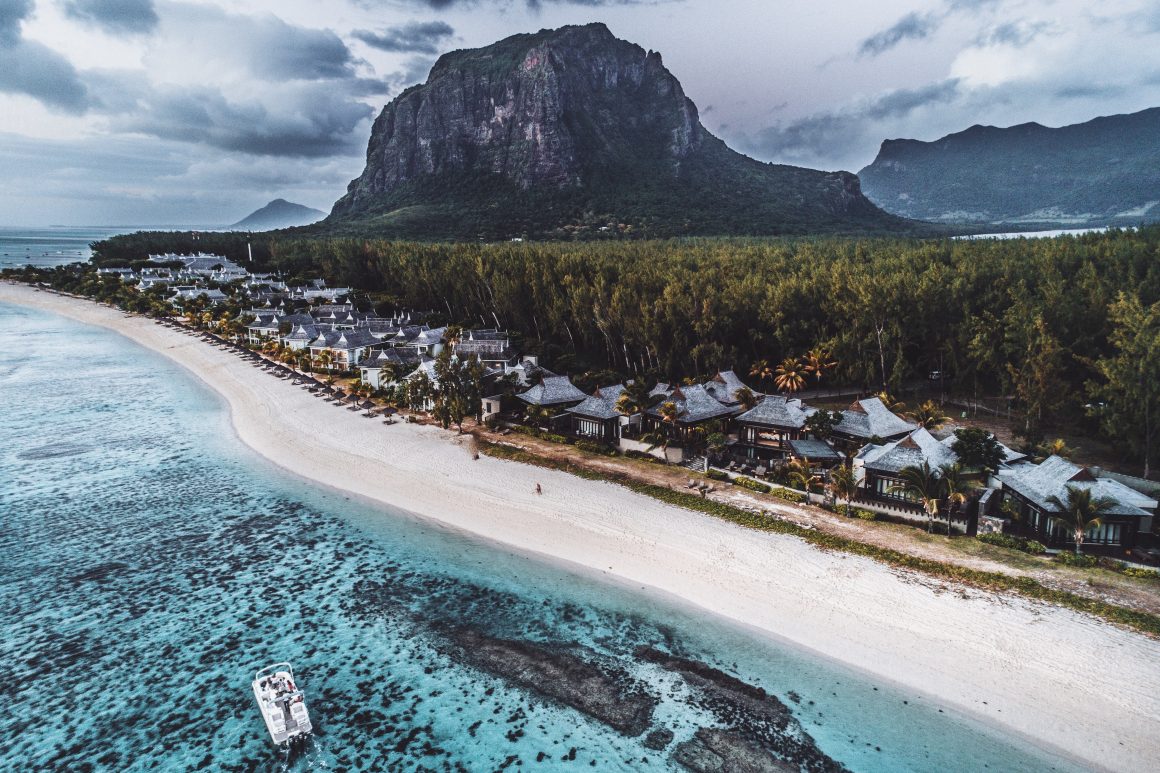 In the next morning we wanted to start exploring the beach as early as possible. But first: breakfast! When on Mauritius you just have to have breakfast over the sea. So the hotel set up a special table on the jetty just for us 🙂 One word for this? Romantic *.*
Am nächsten morgen wollten wir so früh wie möglich los, um den Strand zu erkunden. But first: Frühstück! Ich glaube, wenn man schon auf Mauritius ist muss man einfach ein Frühstück über dem Meer haben oder? Das Hotel hat uns deshalb einen Tisch nur für uns beide auf dem Steg vorbereitet 🙂 Ein Wort dafür? Roooomantisch *.*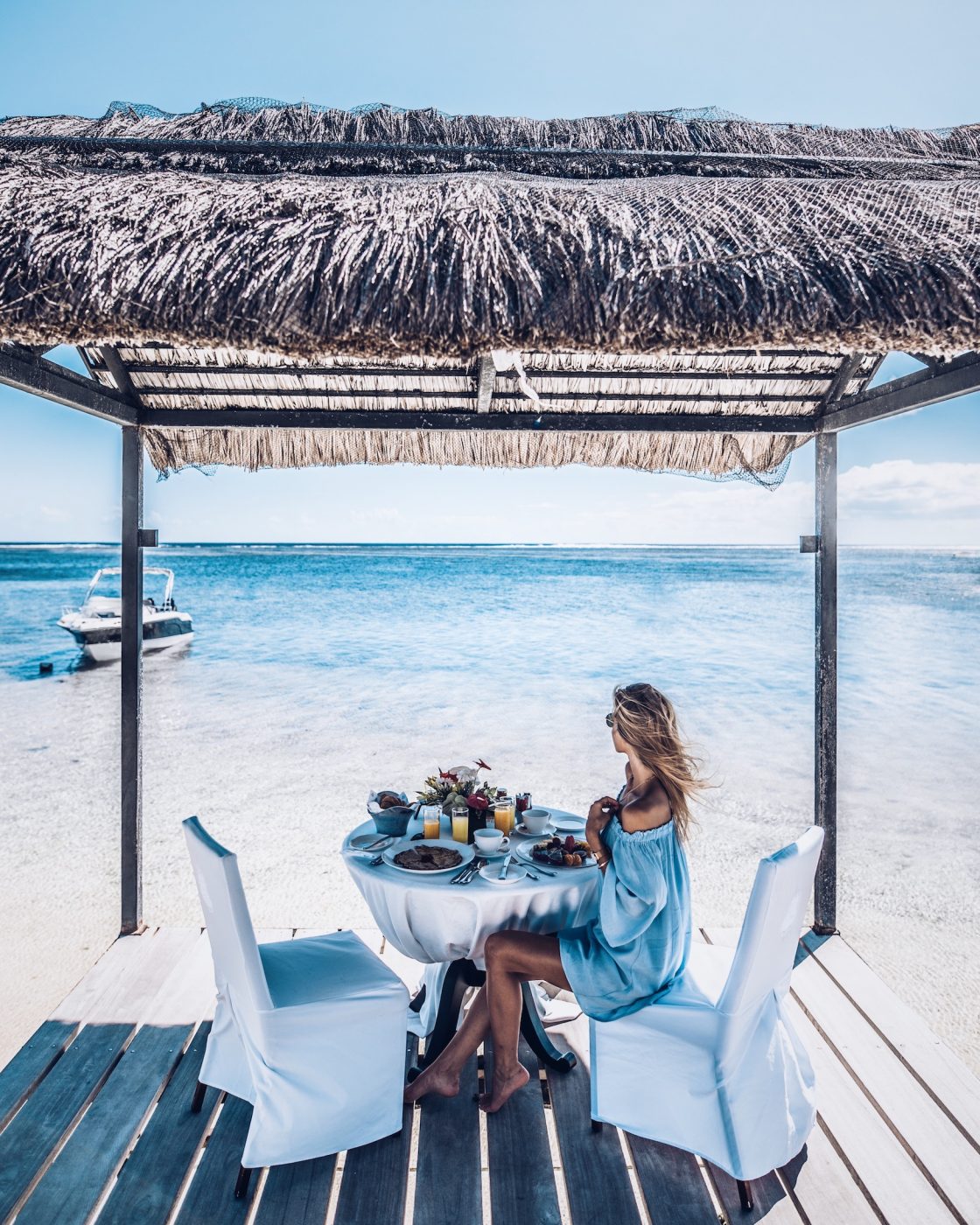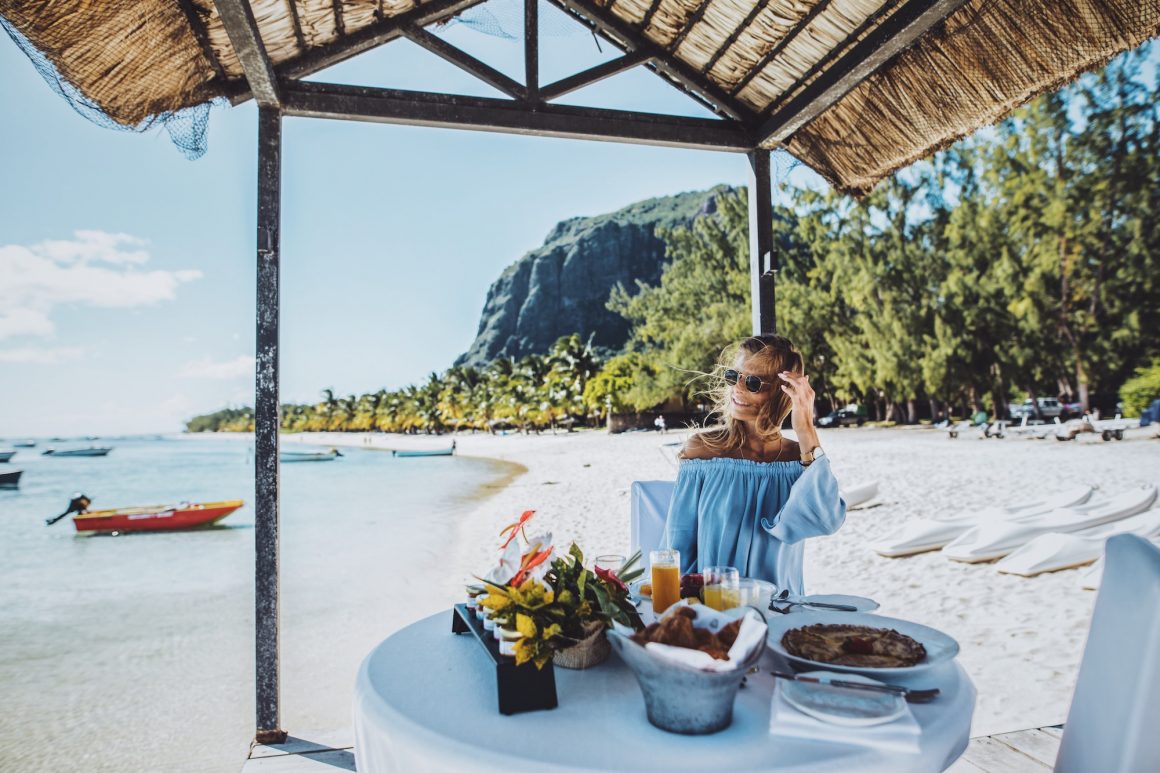 Luckily the beach wasn't that far from the jetty 😛 I fell in love with those colours immediately! 🙂 White sand, green palms, a dark blue sky and crystal clear water – paradise.
Von dort aus war es zum Glück nicht mehr weit bis zum Strand 😛 Ich war von der ersten Sekunde an verliebt in diese Farben! 🙂 Weißer Sand, grüne Palmen, der Himmel tiefblau und das Wasser glasklar – das Paradies.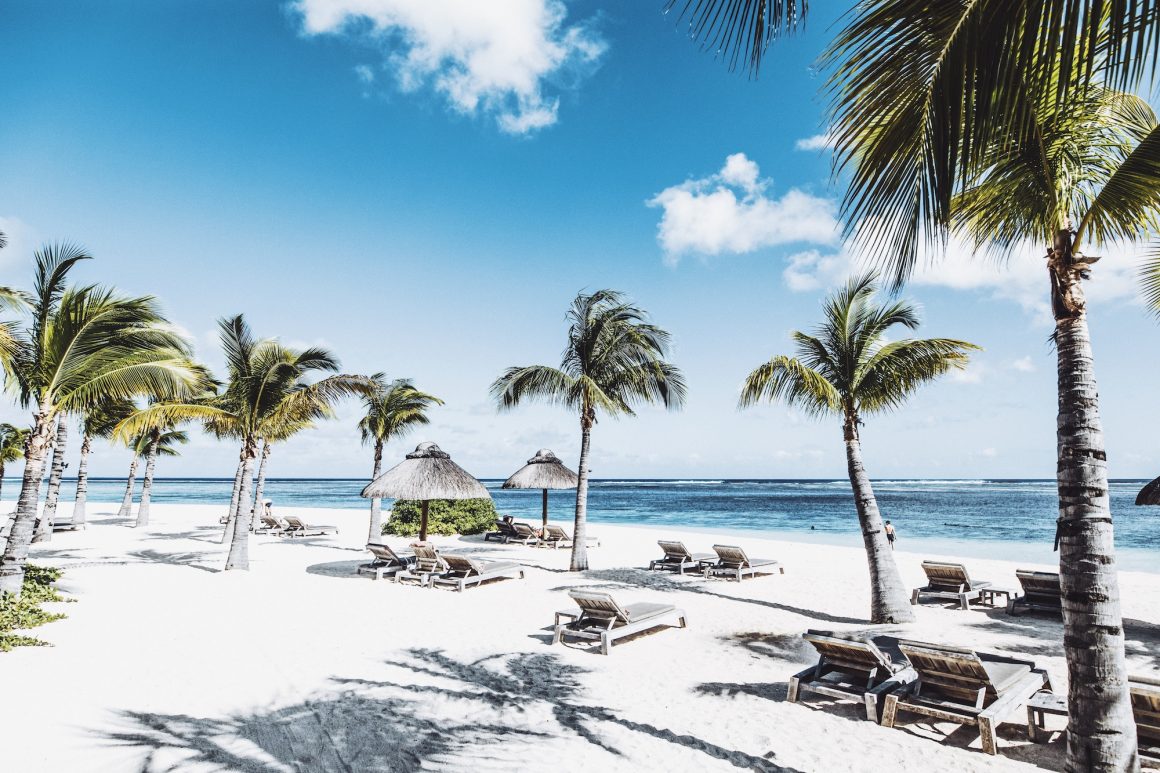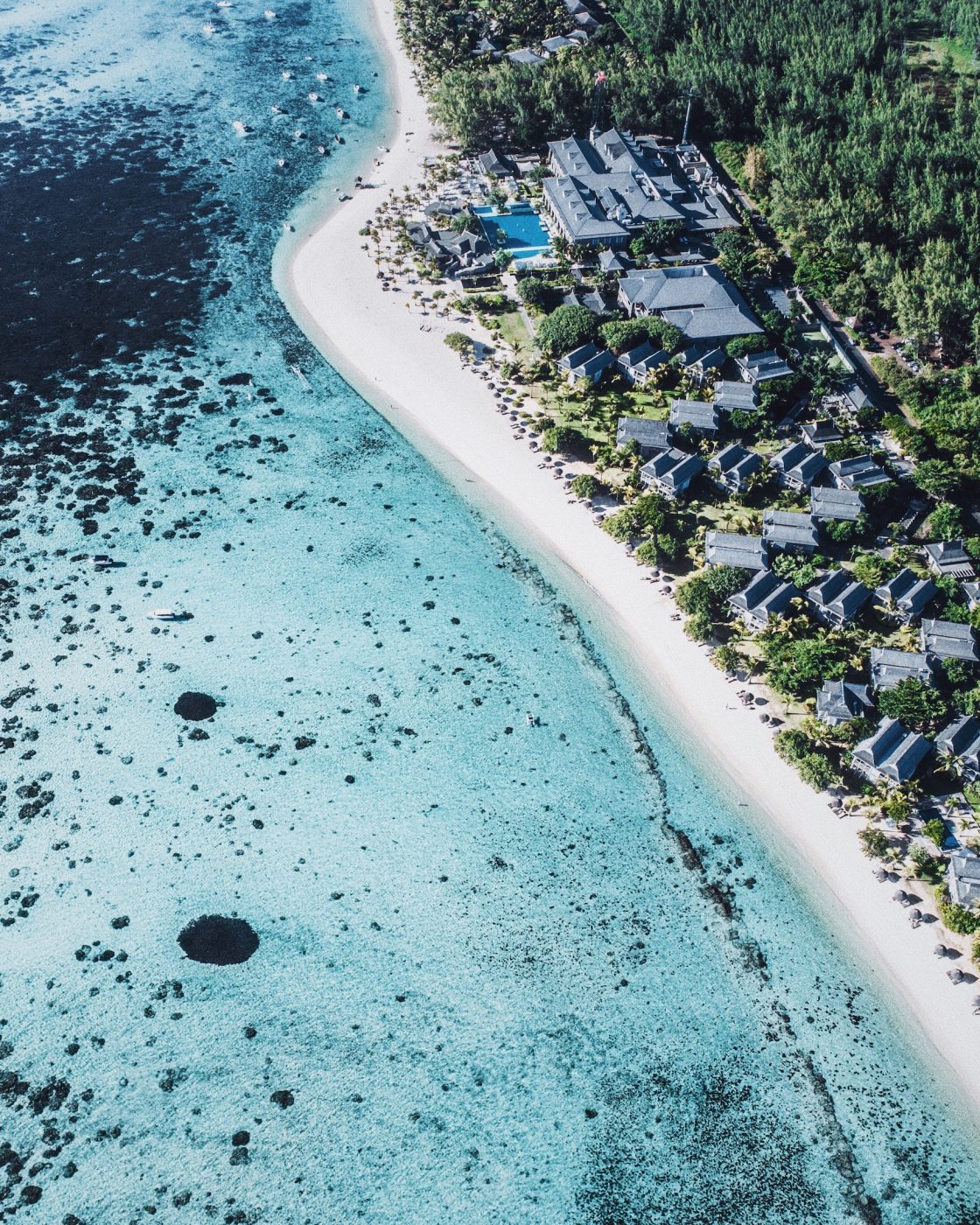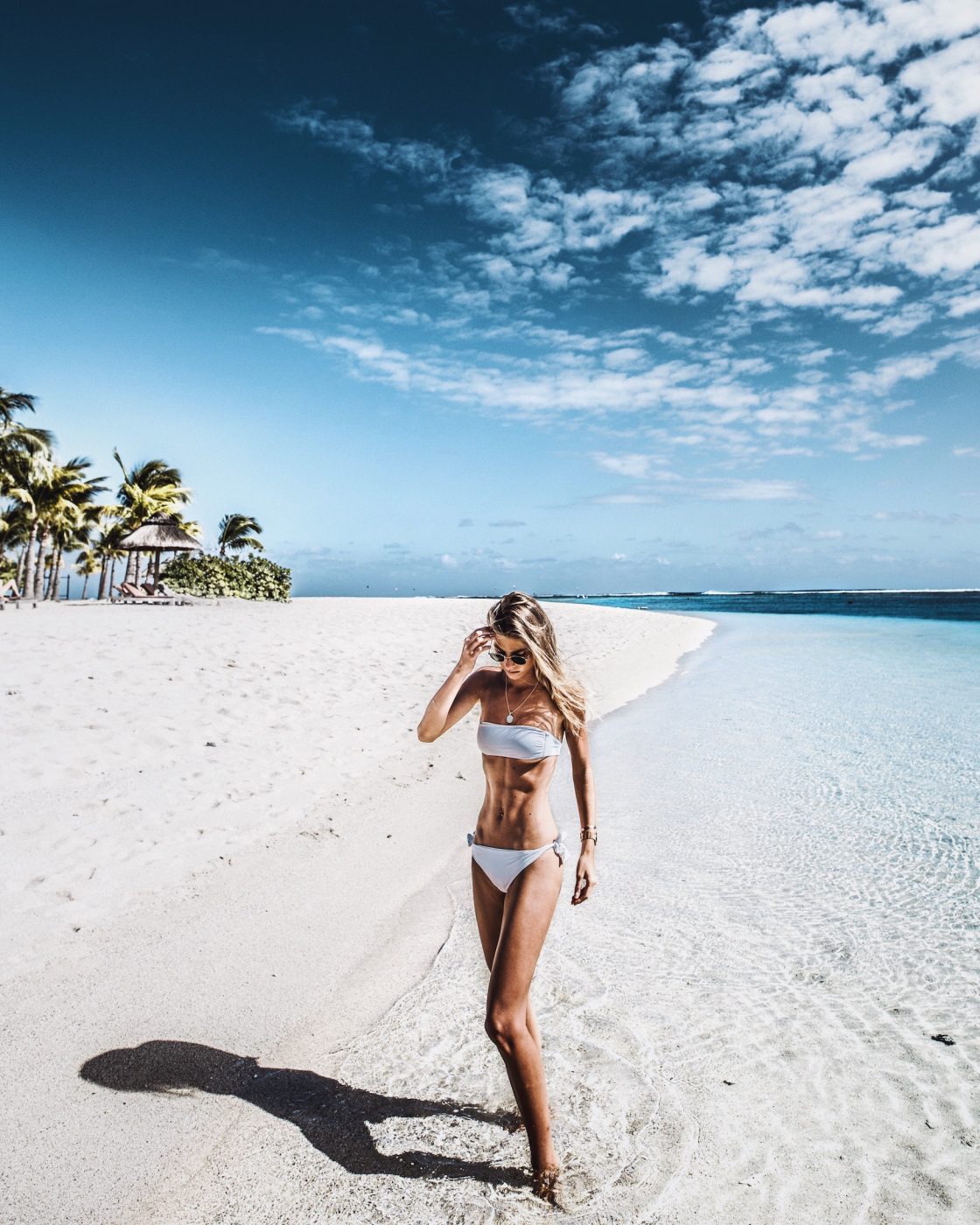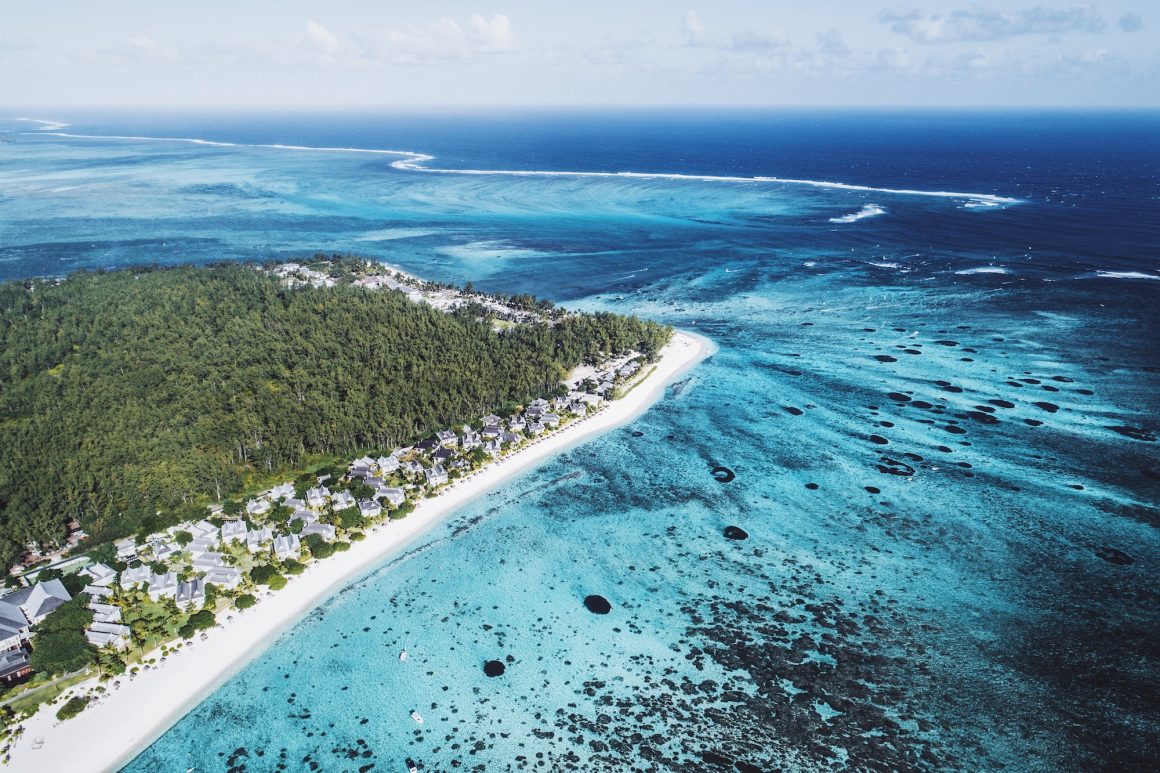 My highlight: the Hotel is renting stand up paddles for free! Until that day I never tried it before but I always wanted to. So finally my time had come 😛 It was soooooo much fun standing on that surfboard paddling around the island enjoying a view like this and  the sun on my skin. This is so worth a try!
Mein Highlight: das Hotel verleiht kostenlos Stehpaddel! Bis zu diesem Tag habe ich es noch nie ausprobiert, wollte es aber schon immer. Also endlich war meine Zeit gekommen 😛 Und es hat sooooo viel Spaß gemacht auf diesem Surfbrett zu stehen, um die Insel herum zu paddeln und dabei die Aussicht und die Sonne auf meiner Haut zu genießen 🙂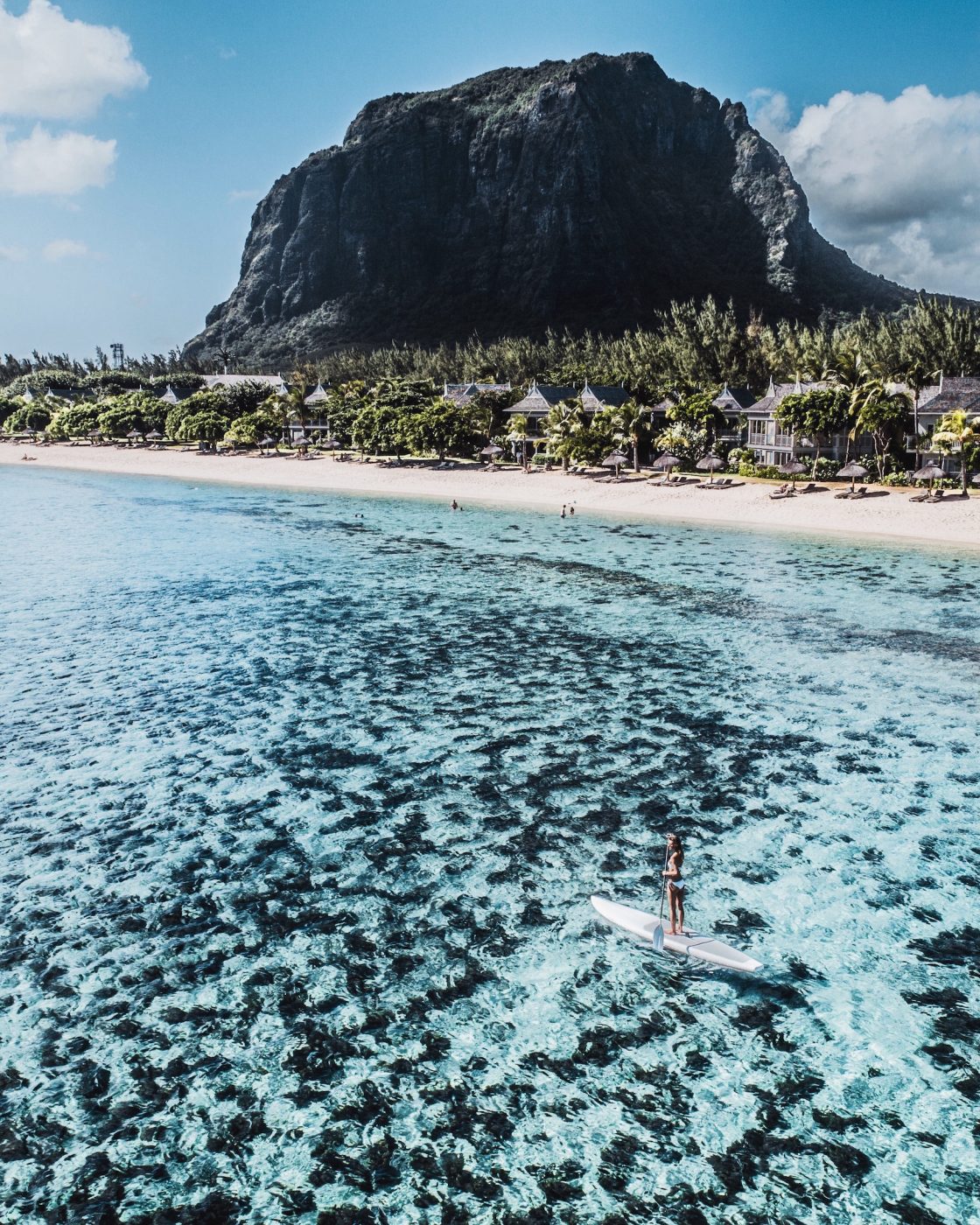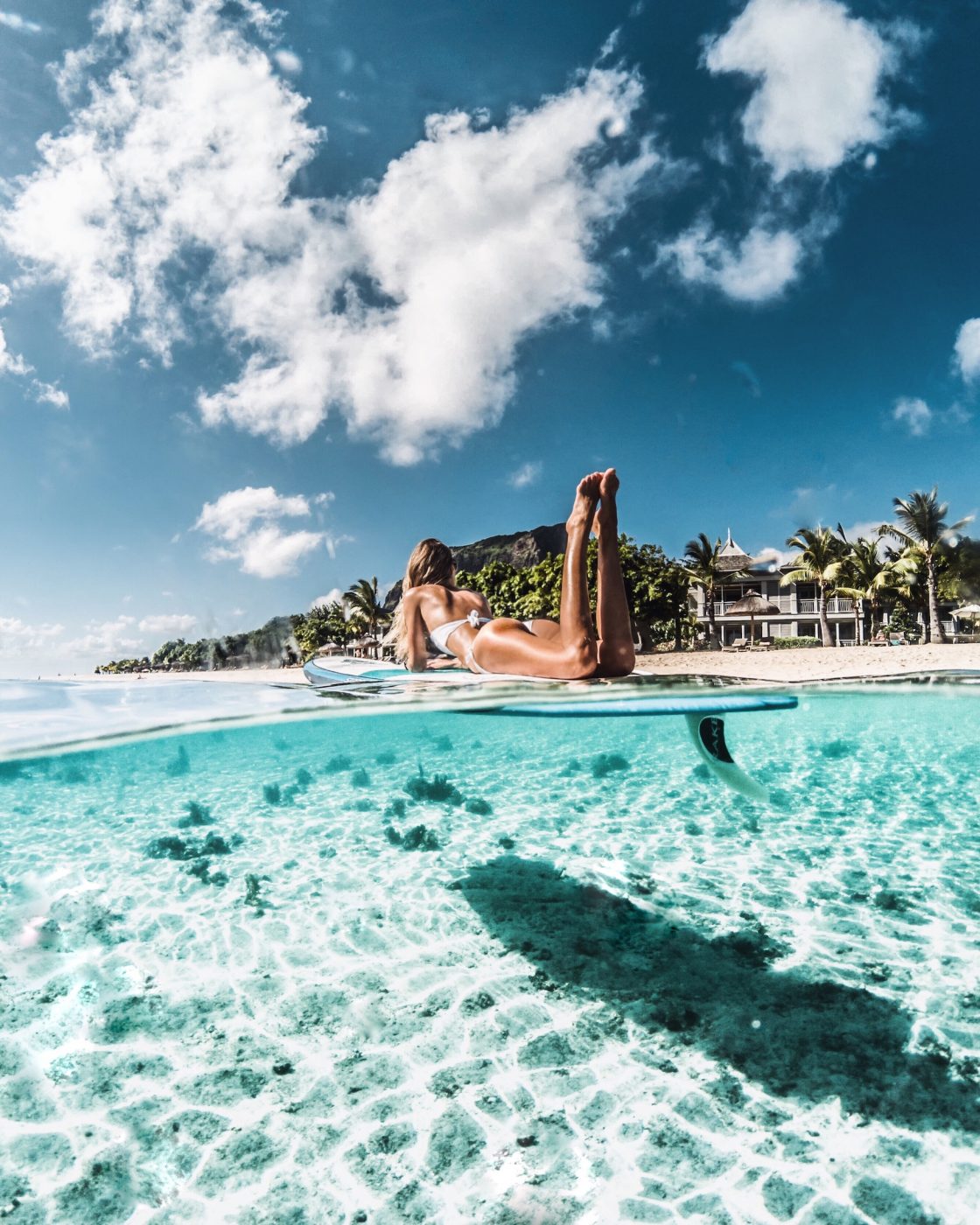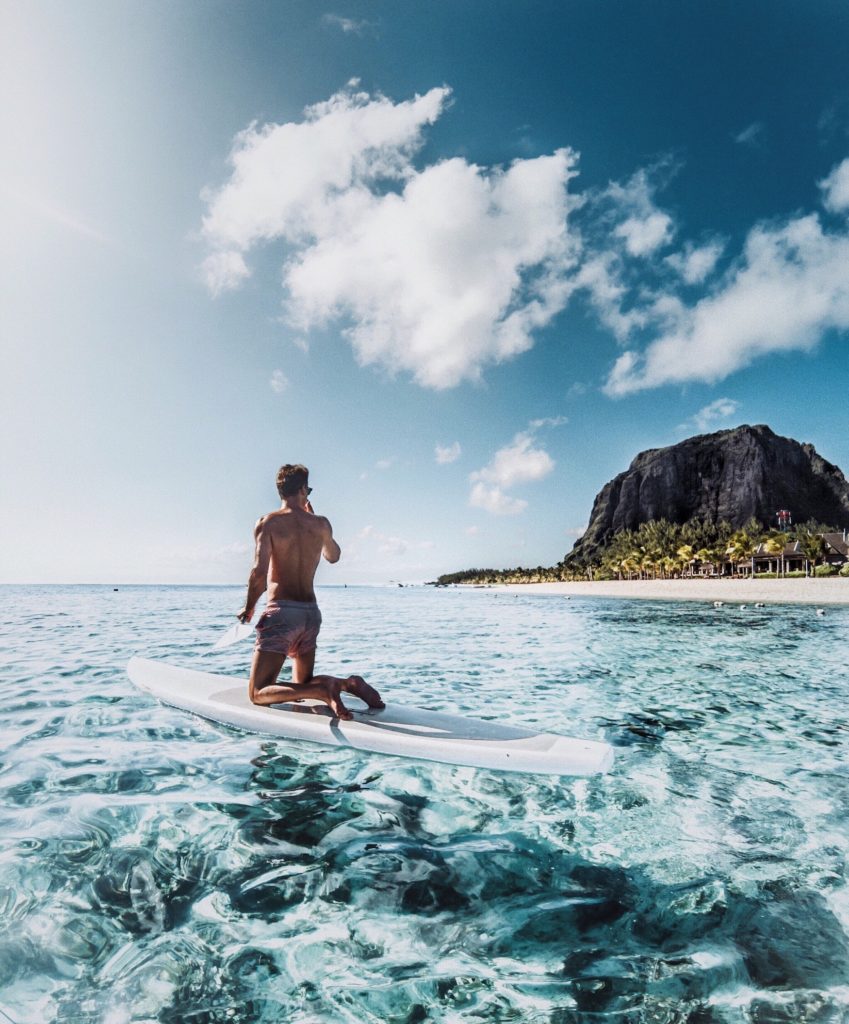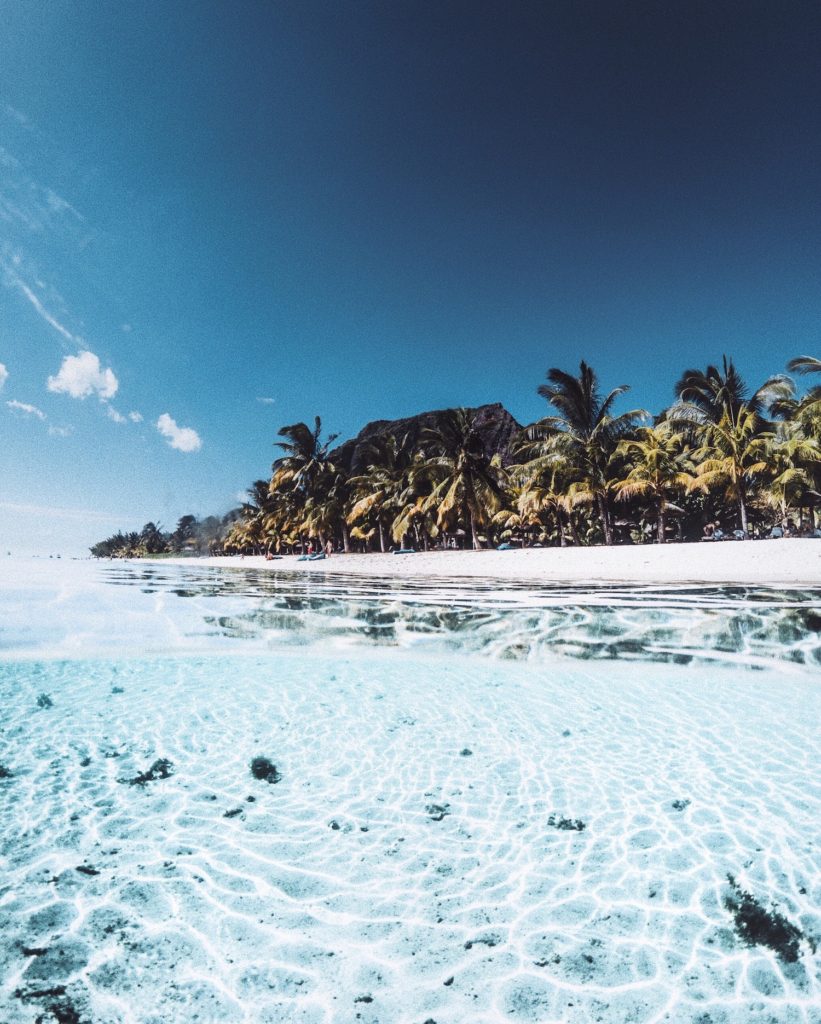 In addition to that the beach is perfect for walks as it's several kilometres long. Just a minute or 2 along the beach we found 2 hammocks located right at the shore so that you can chill and let your feet dangle in the water 🙂
Außerdem ist der Strand perfekt für Spaziergänge, da er mehrere Kilometer lang ist. Nur eine oder zwei Minuten den Strand entlang haben wir 2 Hängematten direkt am Wasser gefunden. Einfach perfekt um die Sonne zu genießen und die Füße im Wasser baumeln zu lassen 🙂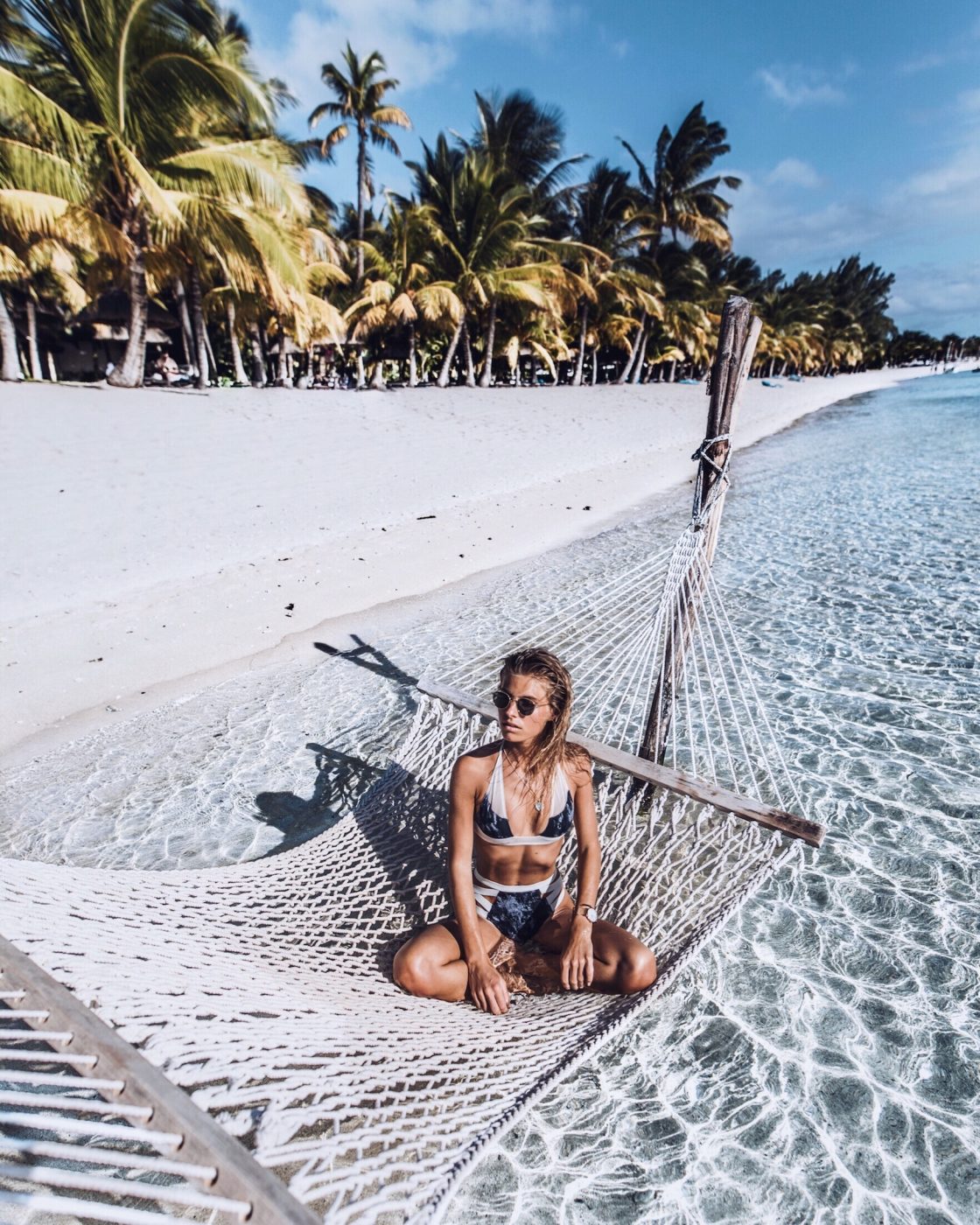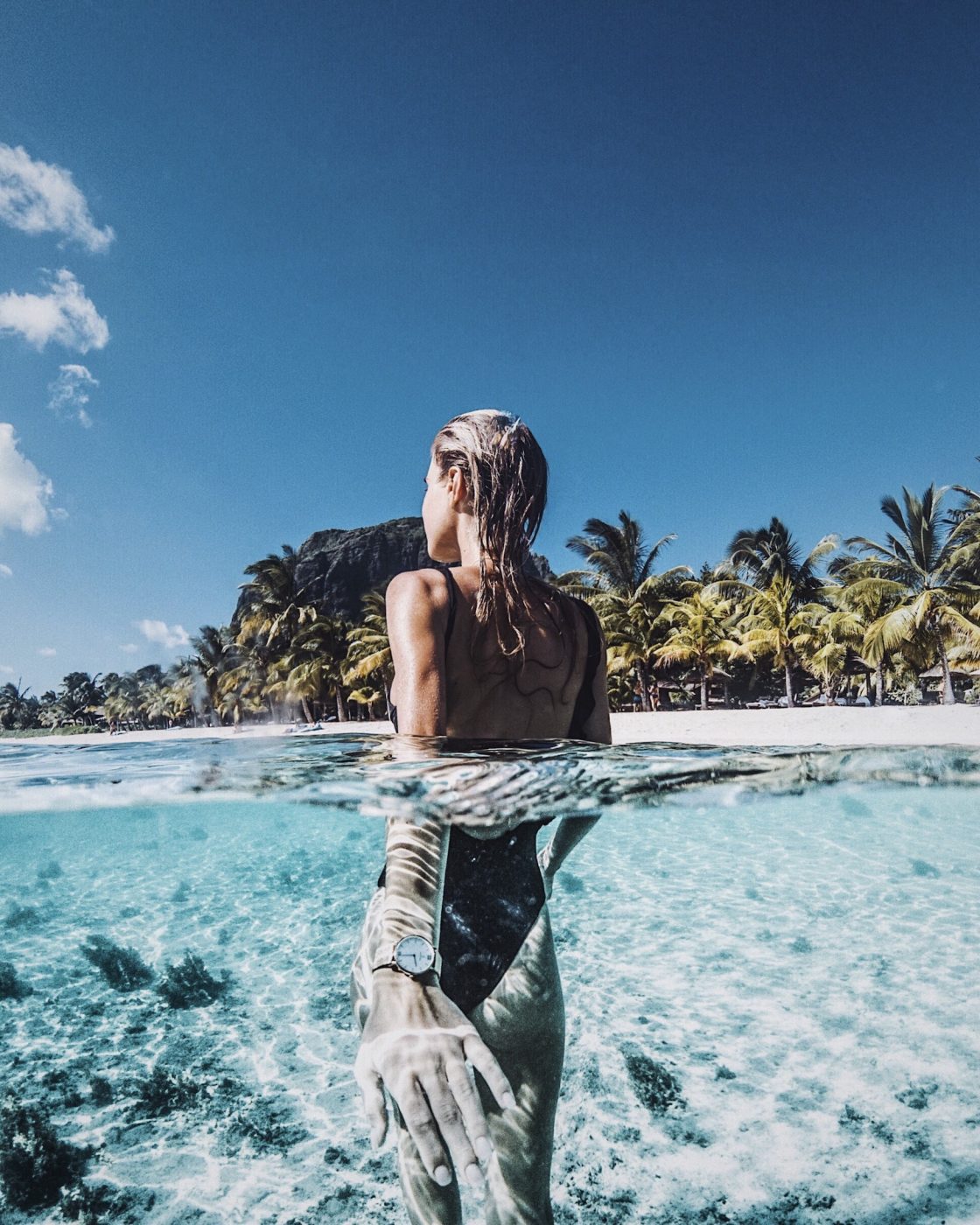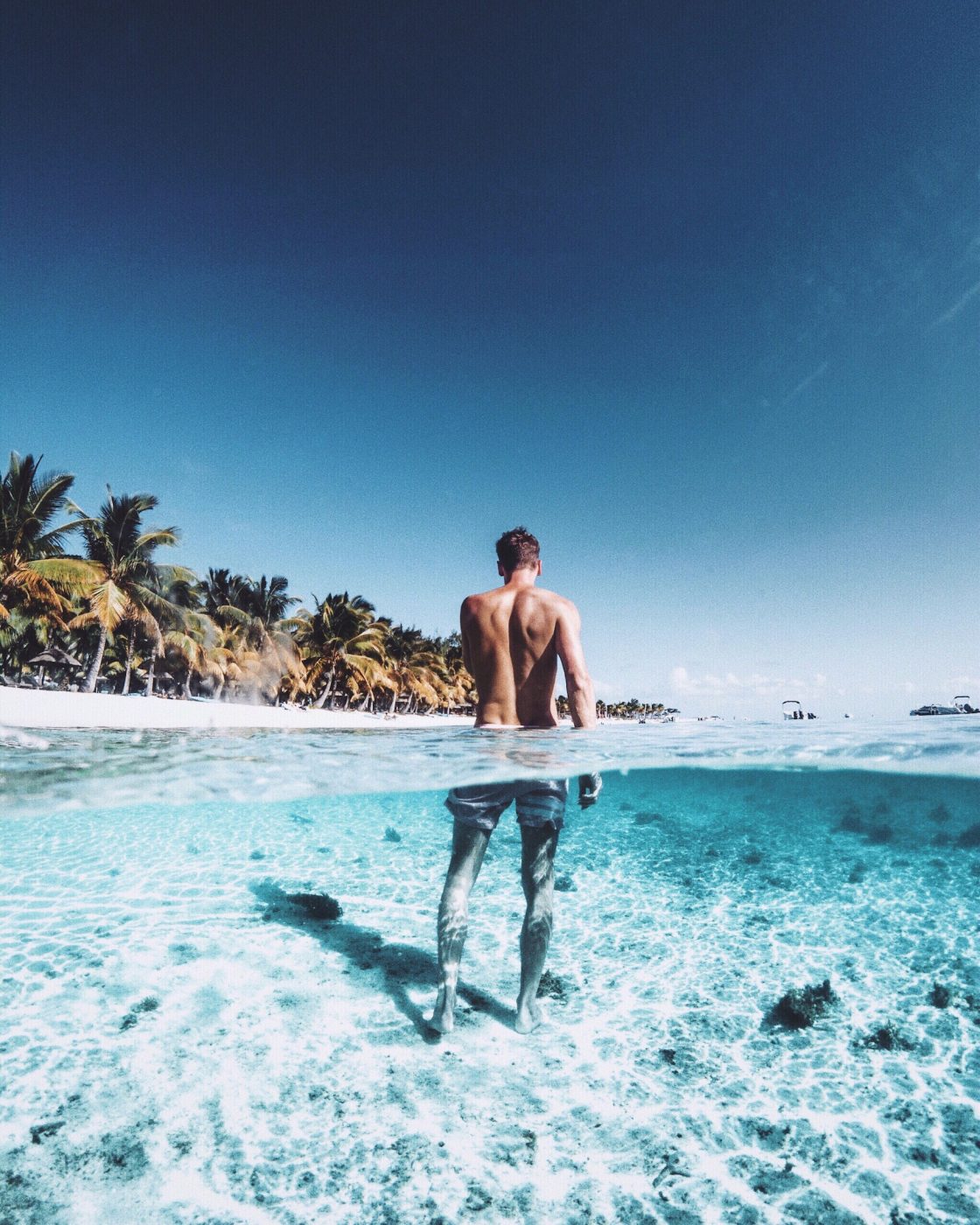 As I already mentioned earlier Kev and I knew right from the start that we wanted to climb the Mountain of Le Morne 😉 So one afternoon we made our way to the entrance of the hike. First of all: if you are going on this hike one day, you definitely have to wear solid shoes. You won't make it in slippers because the last part of the hike is pretty tough. Luckily we wore solid shoes even though we underestimated the trail because every viewpoint we climbed so far had those signs which say: "danger" or "be careful" and they were never really tough. Believe me: this one is tough 😉 but so worth it, you'll see! The hike took us about 45 mins to the first viewpoint. But we wanted to go all the way up which took another 45 minutes – and that's where the tough part starts and you really have to climb. But step by step the view got better – until we reached the summit 🙂
Wie schon erwähnt wussten Kev und ich von Anfang an, dass wir den Berg von Le Morne hochkraxeln wollen 😉 Einen Nachmittag haben wir uns also auf den Weg gemacht. Vorab: Solltet ihr vorhaben dort hoch zu wandern, tragt festes Schuhe! Mit Sandalen oder Flip Flops ist es nicht bis ganz nach oben zu schaffen, denn die zweite Hälfte des Weges hat es in sich. Wir hatten auch feste Schuhe an, obwohl wir den Weg trotzdem unterschätzt haben. Denn an jedem Viewpoint, den wir bisher erklommen haben, standen Schilder, die vor "Gefahr" gewarnt haben, sollte man nur Schlappen tragen, aber nie war es irgendwie ein Problem. Glaubt mir: hier ist das anders 😉 Bis zum ersten Viewpoint hat es knapp 45 Minuten gedauert. Wir wollten aber bis ganz nach oben, was nochmal 45 Minuten dauert – und dort beginnt dann auch der schwierigere Part, bei dem es wirklich ans klettern geht. Mit jedem Schritt aber wurde die Aussicht beeindruckender – bis wir auf dem Gipfel angekommen sind 🙂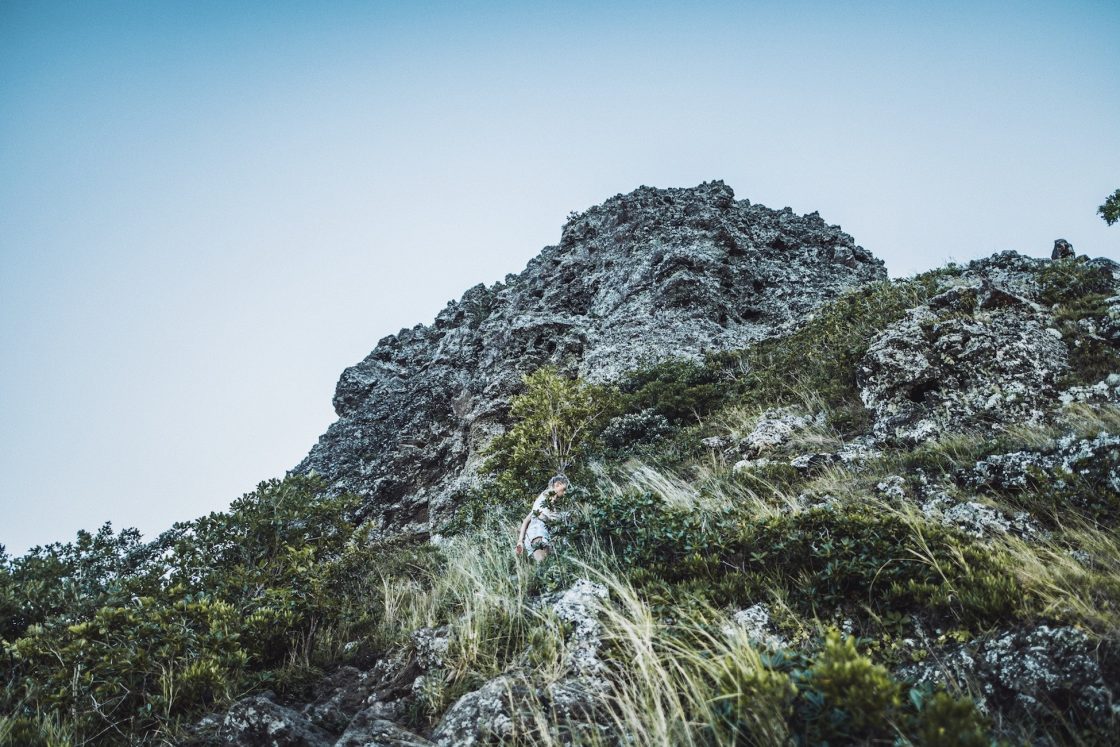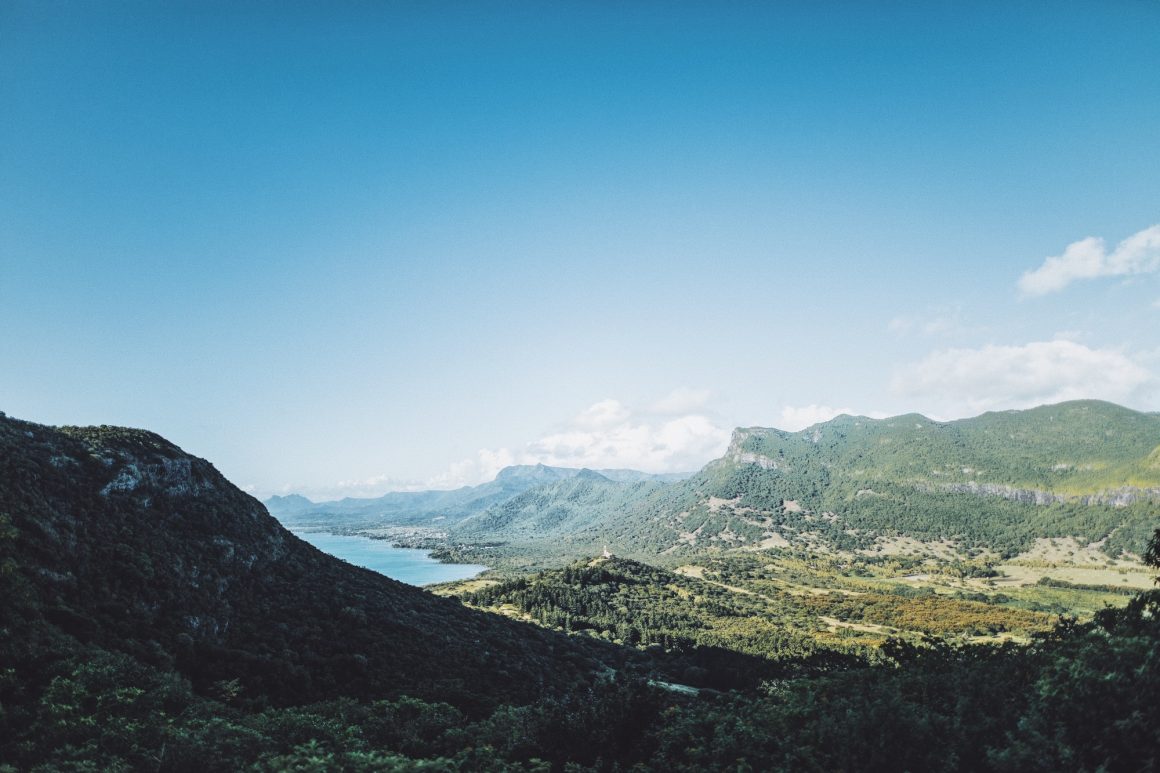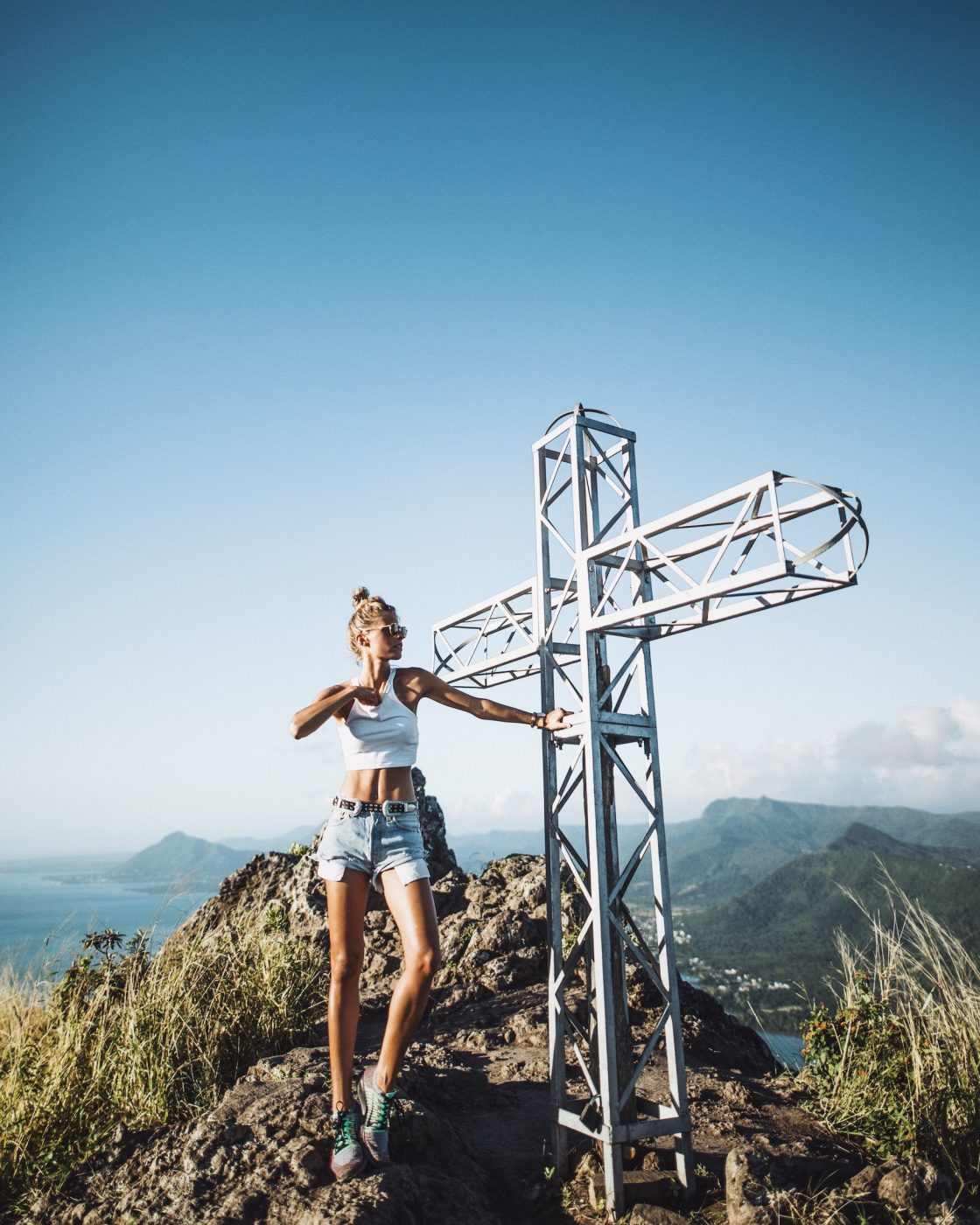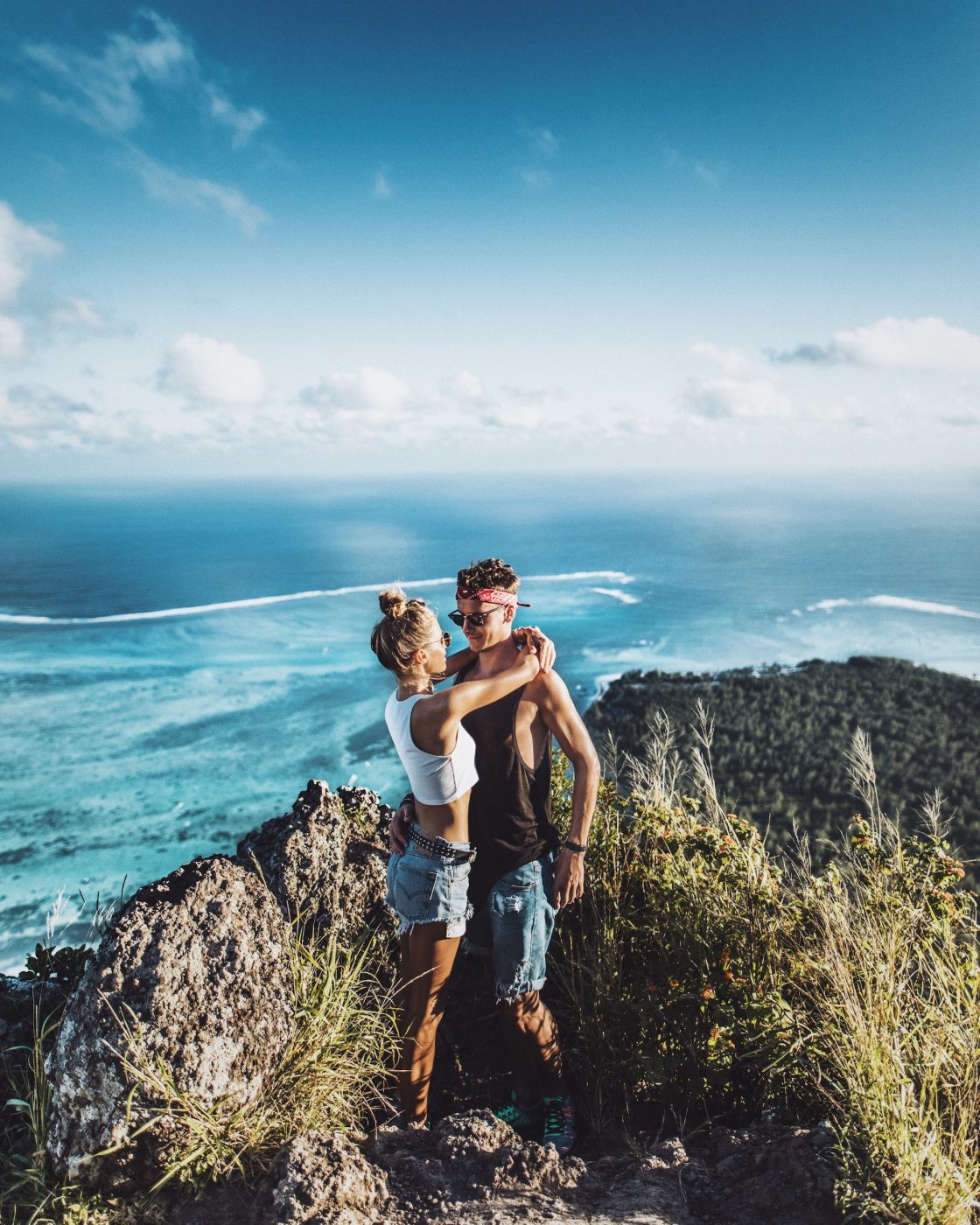 Back at the hotel we had a well deserved and amazing Dinner at the beachfront. The whole setting was so romantic and food so yummy 😛 The cook even prepared special vegan menu just for me 🙂 Besides the beachfront restaurant there are 4!! more theme restaurants (like Sushi, French or Indian) to enjoy dinner at. Our favourite ones were the Indian and of course the beachfront restaurant.
Zurück im Hotel hatten wir ein wohlverdientes und super schönes Dinner am Strand. Das ganze Setting war total romantisch und das essen ein Traum 😛 Der Koch hat sogar ein spezielles, veganes Menü kreiert – nur für mich 🙂 Neben dem Restaurant am Strand gibt es noch 4!! weitere Themen-Restaurants (zB. Sushi, französisch, indisch) in denen man ein Dinner genießen kann. Unsere Favoriten waren das indische Restaurant und das am Strand.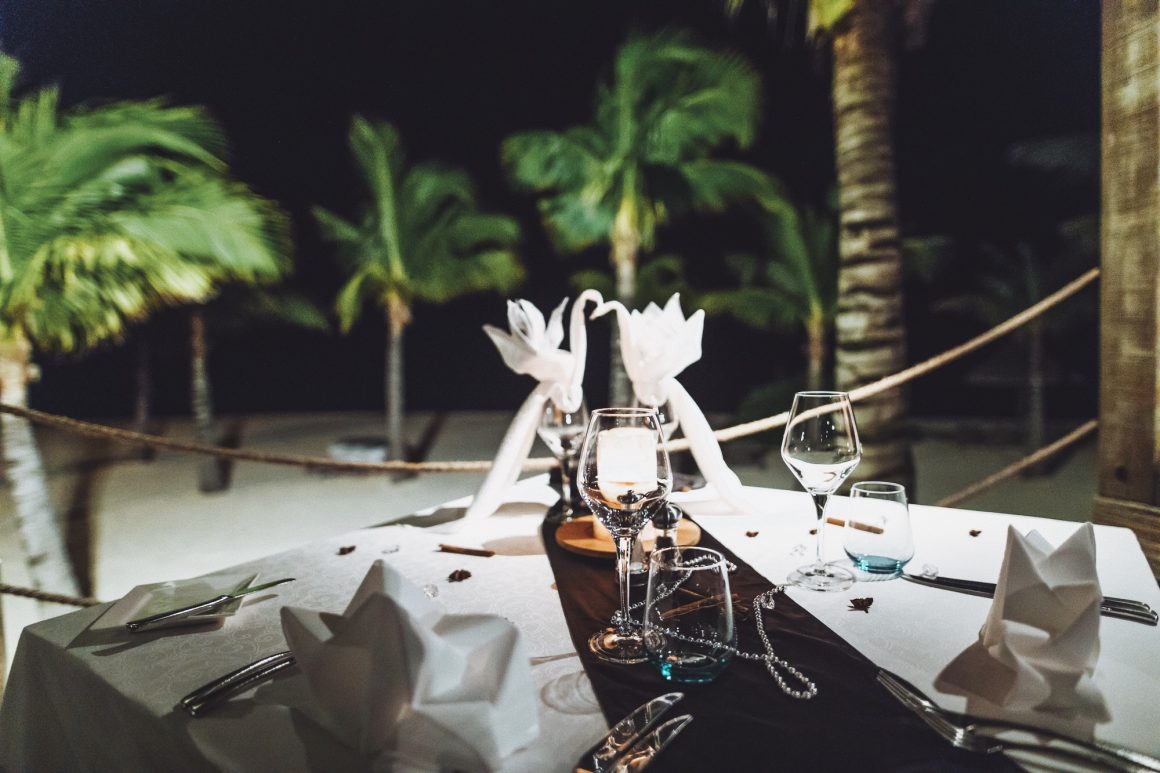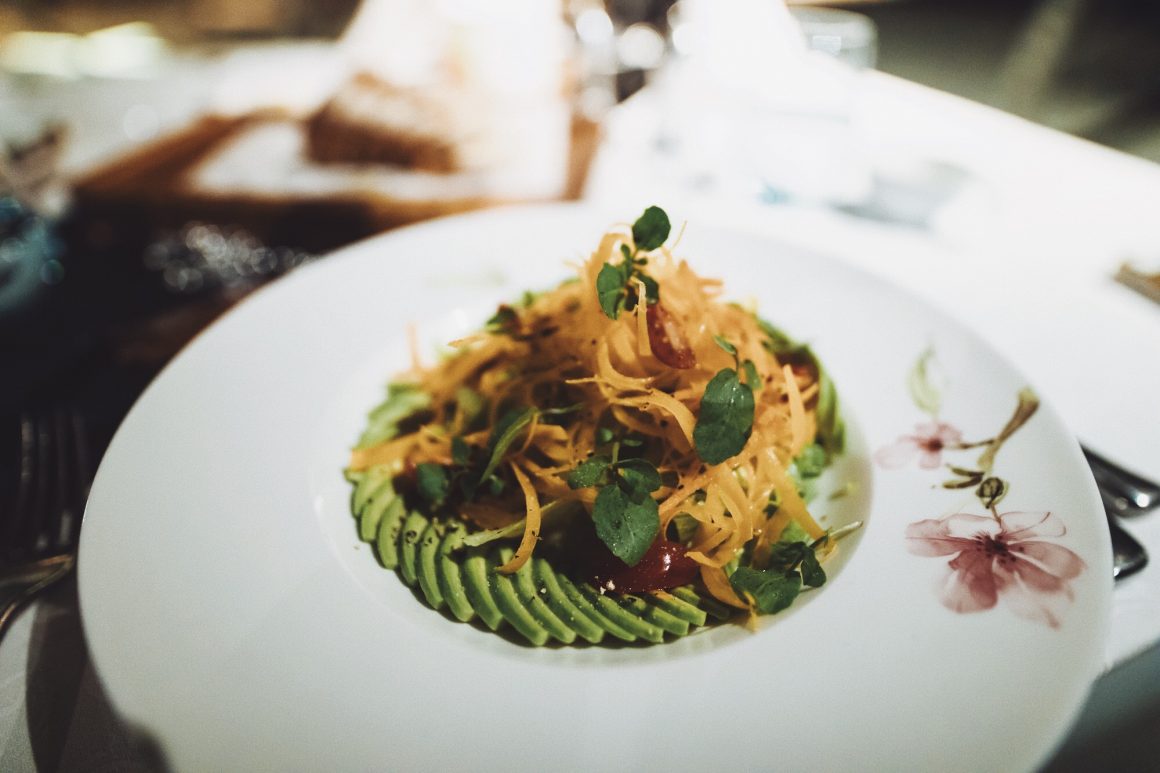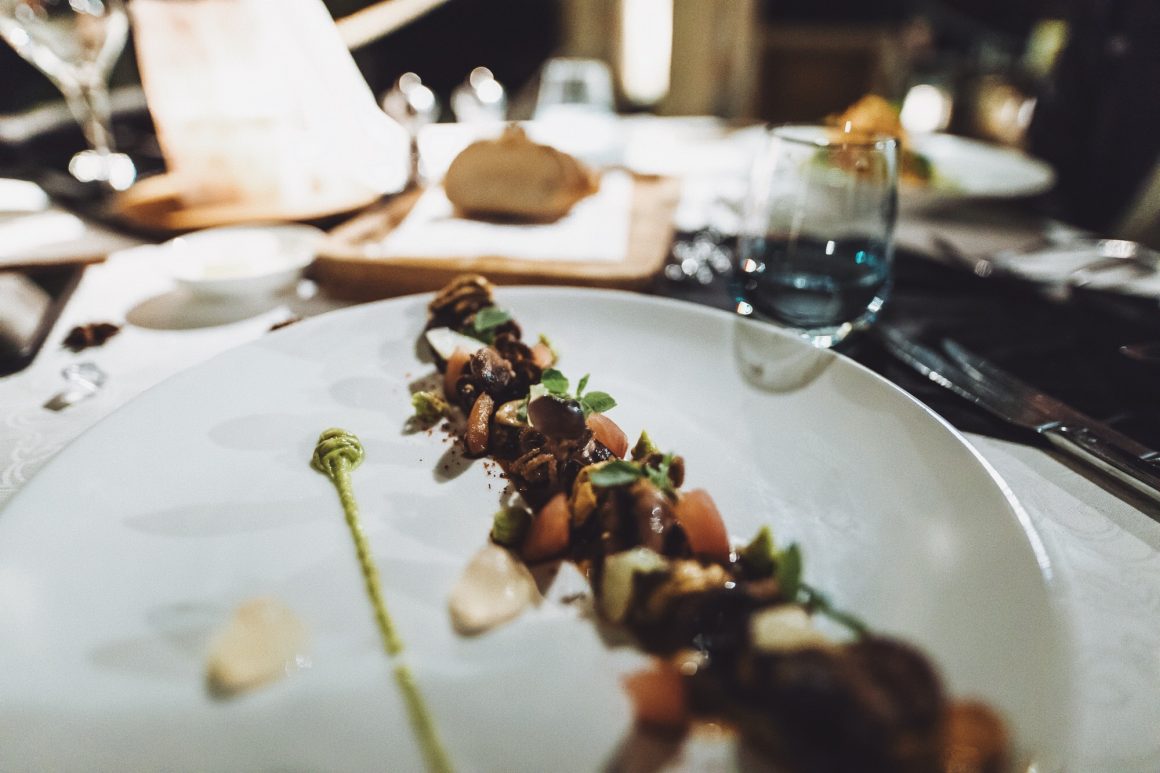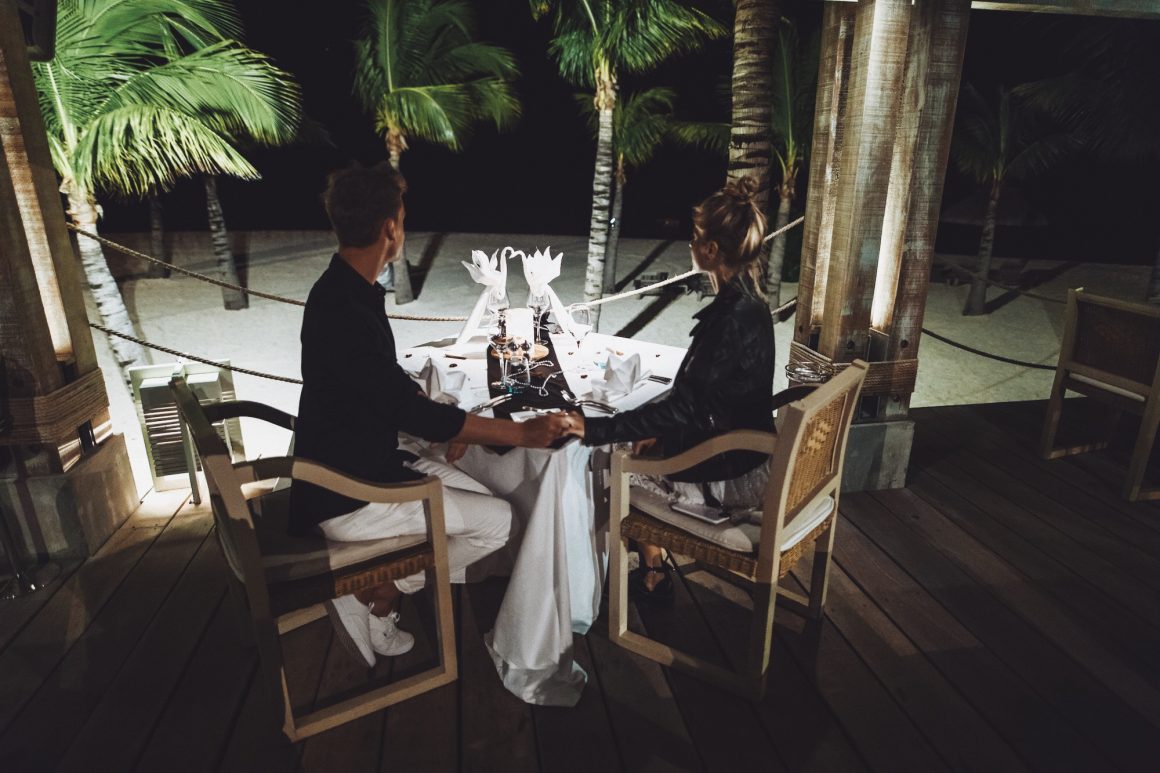 Now – a few weeks later I am missing this place already so badly and I am sure that we will come back one day 🙂 We had such an amazing time and met great people at the St. Regis Mauritius.
Heute – ein paar Wochen später vermisse ich diesen Ort schon so sehr und ich bin mit sicher, dass wir eines Tages zurückkommen werden 🙂 Wir hatten eine unglaublich schöne Zeit und haben tolle Menschen im St. Regis Mauritius.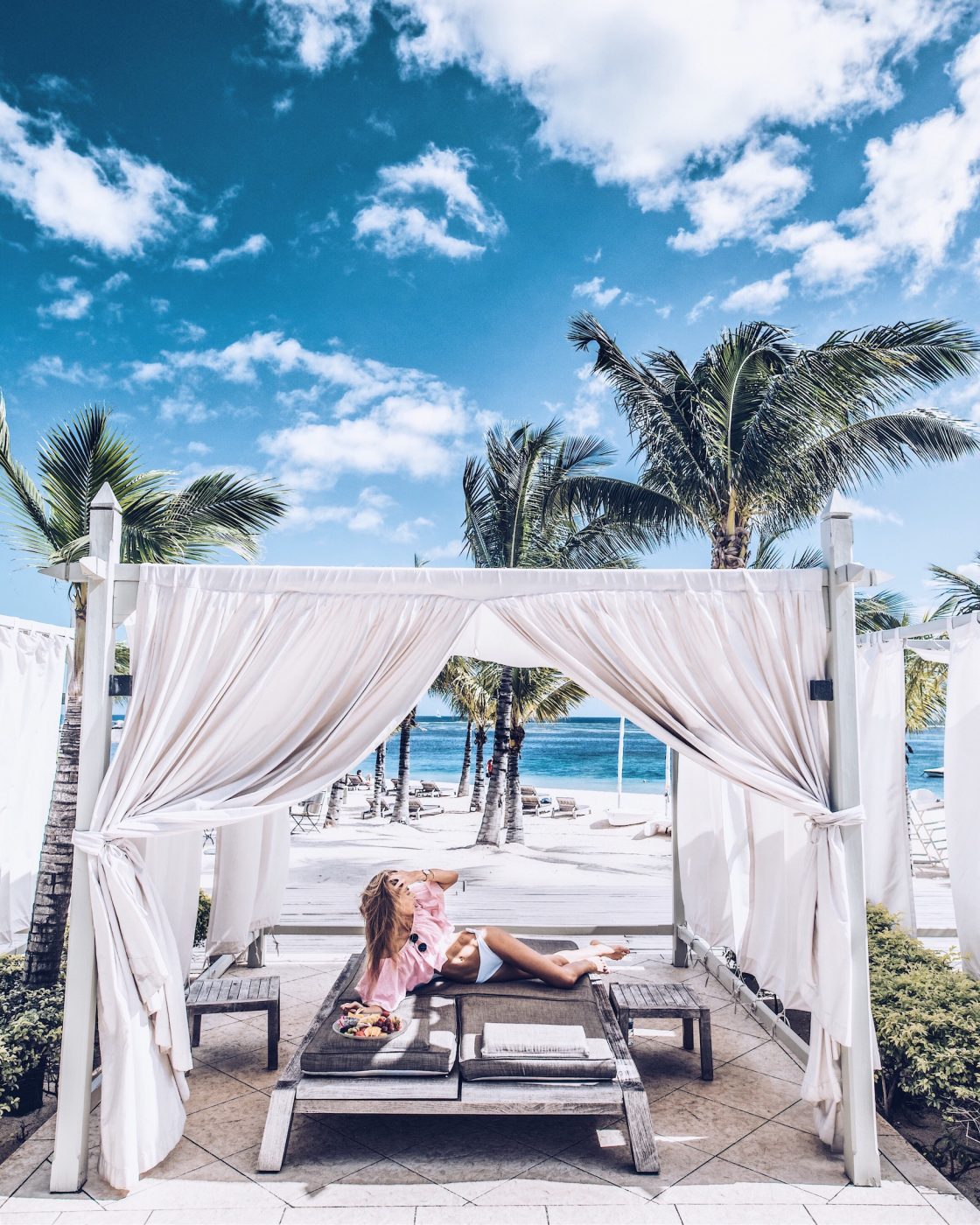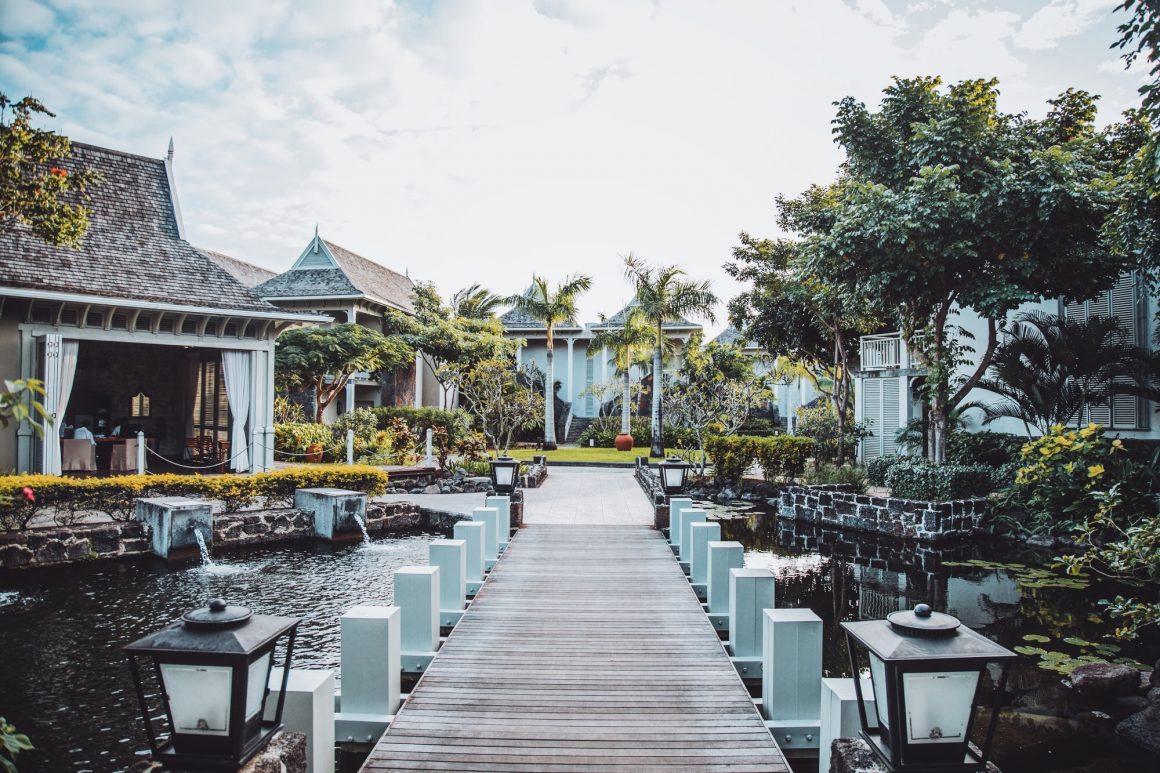 We'd like to thank everyone and especially Ovani, Seema and Ludo for making our stay so so special! We hope to see you soon 🙂
Danke an alle und besonders an Ovani, Seema und Ludo, die unsere Zeit dort so besonders gemacht haben! Wir hoffen Euch bald wieder zu sehen 🙂
xx Debi