Hi Travelbuddies,
Here comes the second part of our Puerto Rrrrrico Travel Diary! Today I wanna tell you everything about our second stop on Puerto Rico – Dorado Beach! After a few days in the city of San Juan and in the jungle of El Yunque Rainforest it was definitely time for some relaxing days at beach 🙂  – and this beach was just BEAUTIFUL! …and of course I've got some amazing pics to show you!
Hi meine lieben Reisefreunde,
Hier kommt Part 2 unseres Puerto Rrrrrrico Travel Diary's! Heute möchte ich euch alles über unseren 2. Stop auf Puerto Rico erzählen – Dorado Beach! Nach einigen Tagen in der Altstadt von San Juan und dem Dschungel vom El Yunque Regenwald war es definitiv an der Zeit für ein Paar entspannte Tage am Strand 🙂 – und dieser Strand war wirklich ein TRAUM! … und natürlich habe ich auch wieder gaaaanz viele Bilder für Euch!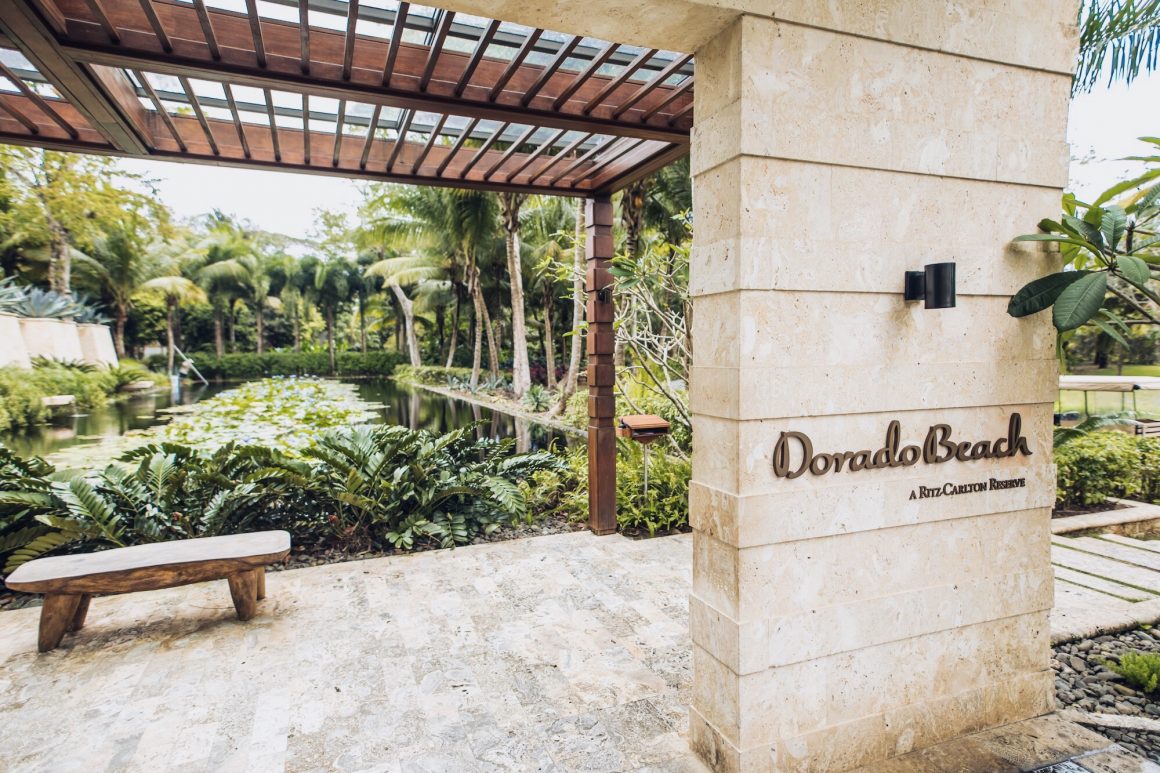 From San Juan to Dorado Beach it's about 30 minutes by car. We stayed at Dorado Beach, a Ritz-Carlton Reserve. And you can believe me when I say: this was one of the most beautiful hotels I have ever been to. It's not just a hotel, actually it's more like a small town located at the beach. It is the perfect place to relax, take some time off and just enjoy life!
Von San Juan zum Dorado Beach sind es knapp 30 Minuten mit dem Auto. Wir haben unsere Zeit im Dorado Beach, a Ritz-Carlton Reserve verbracht. Und ihr könnt mir glauben, wenn ich Euch sage: dieses Hotel war eines der schönsten Hotels, in dem wir je übernachtet haben. Es ist nicht nur ein Hotel, sondern eigentlich fast schon ein eigenes kleines Dorf direkt am Strand. Es ist einfach der perfekte Ort zum entspannen, sich eine Auszeit zu nehmen und das Leben zu genießen.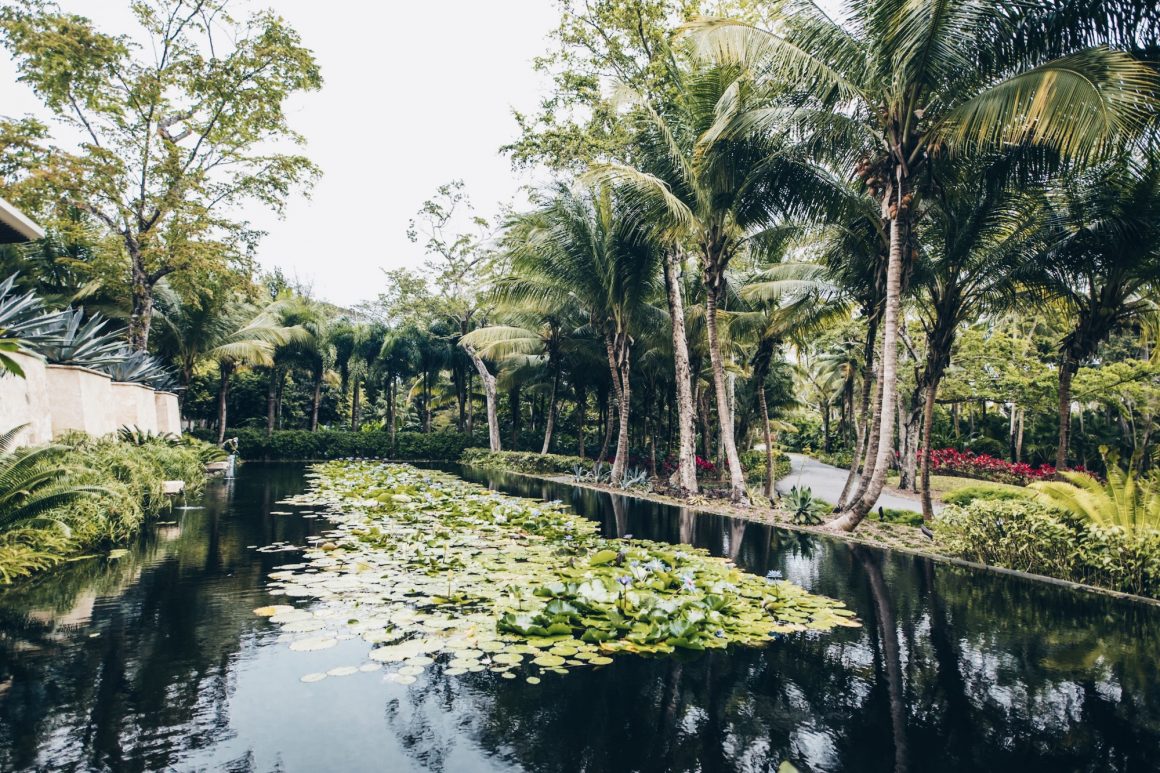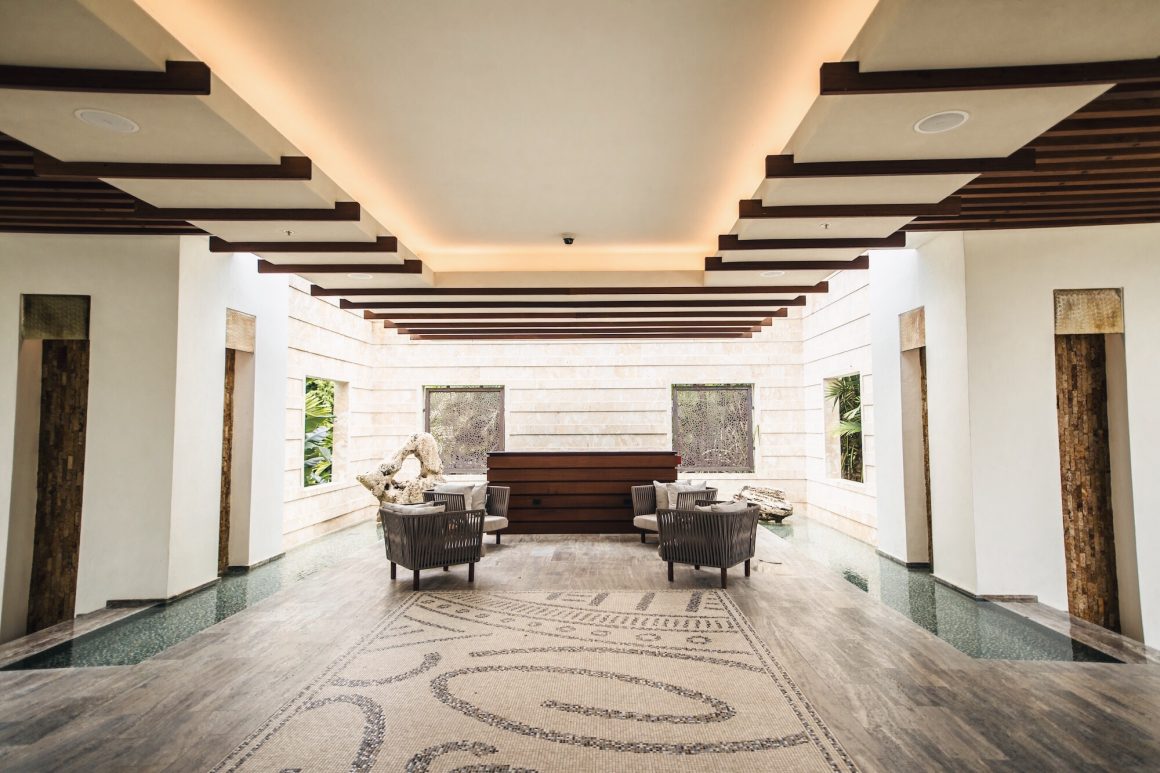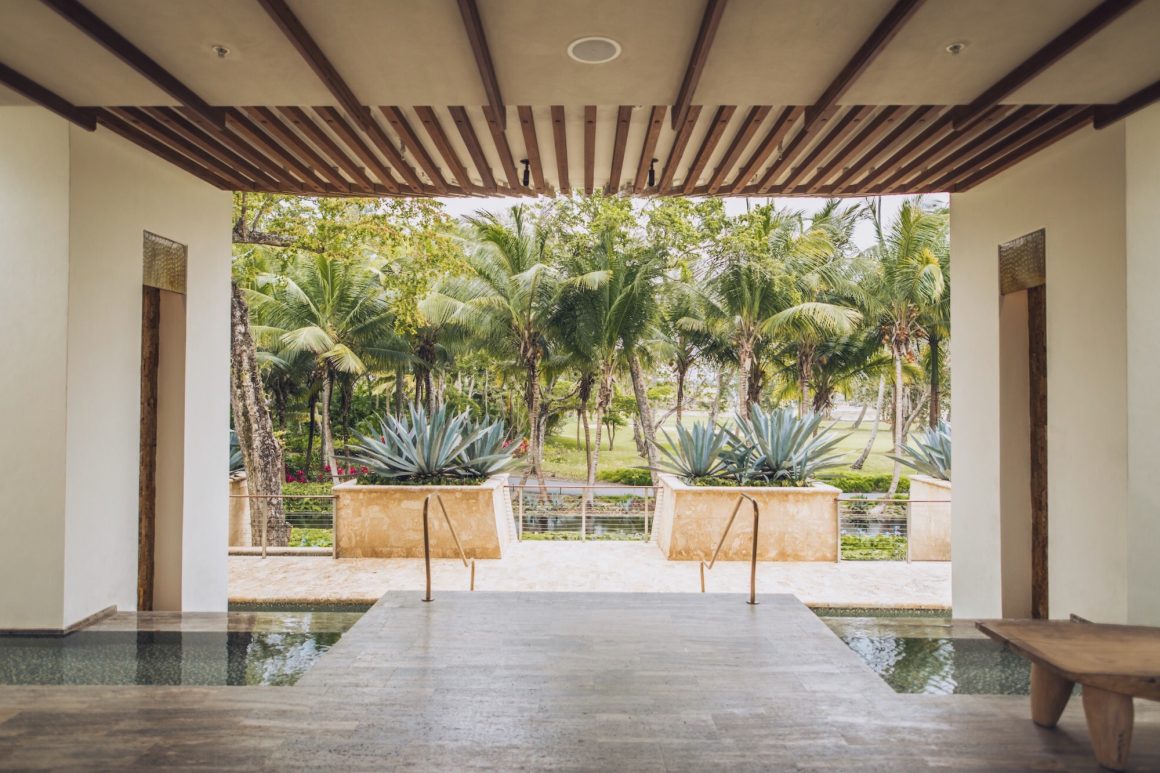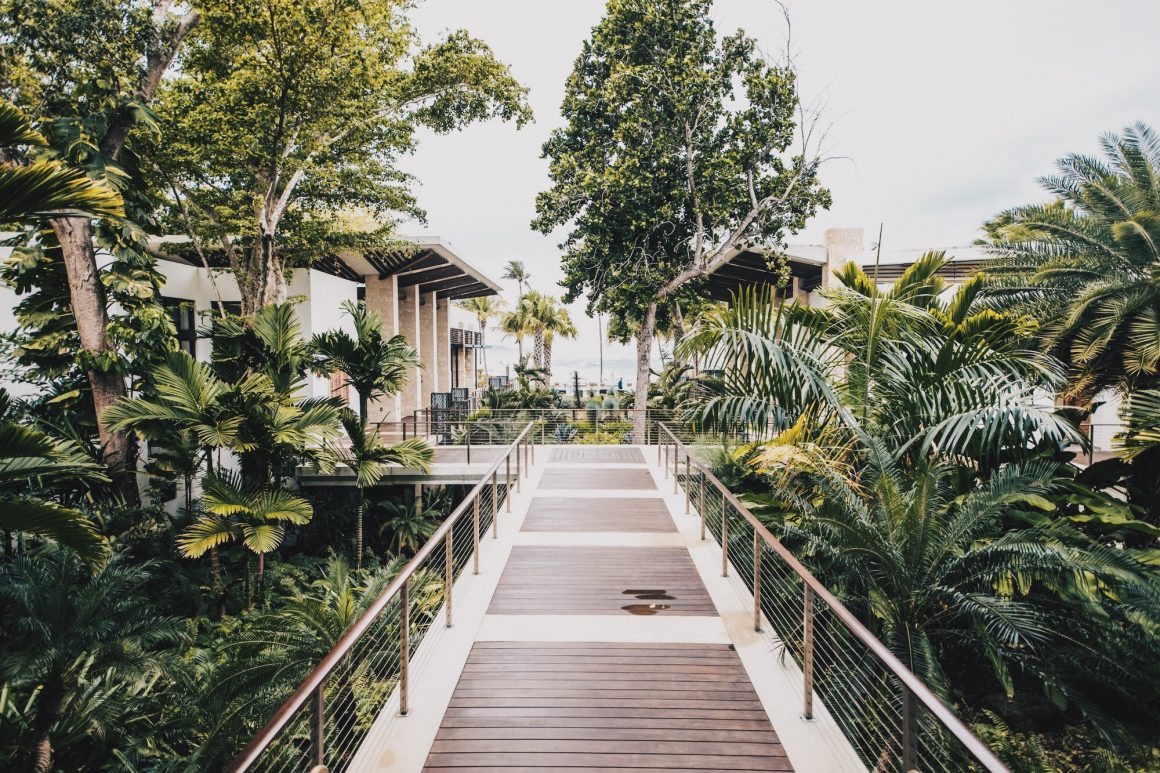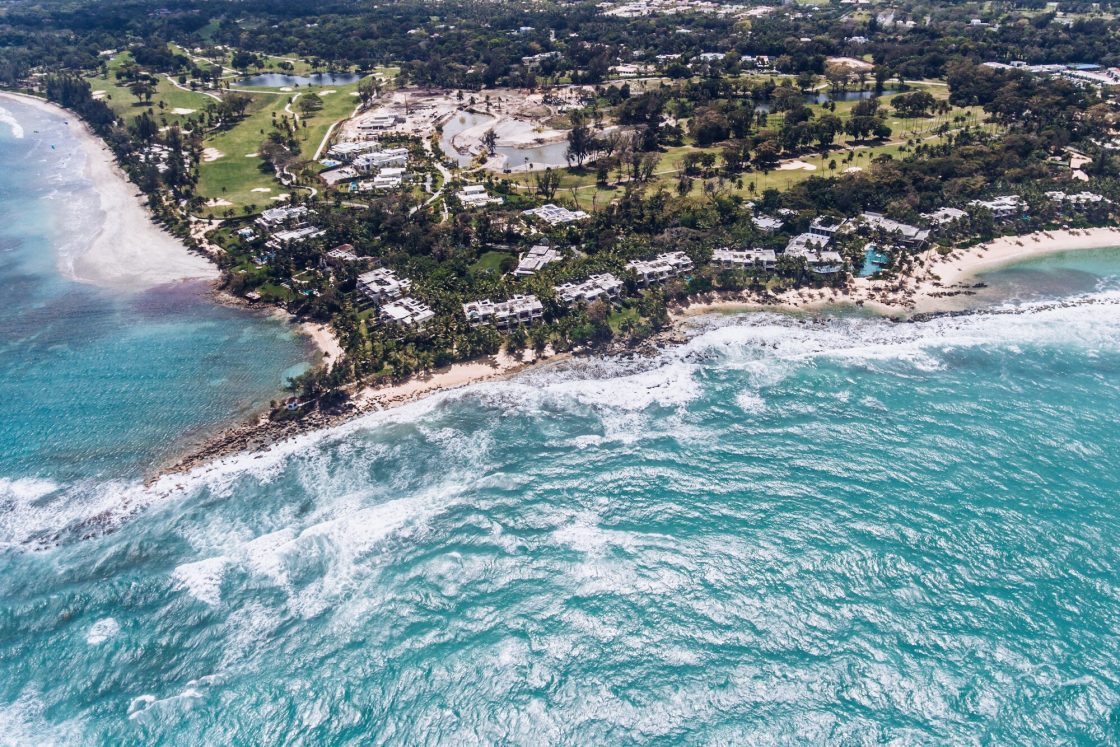 We were welcomed by our private concierge who showed us the amazing property and guided us to our room. The whole hotel complex is just wonderful. You can find exotic plants and palms around every corner with chirping birds on it. It feels so close to nature especially in combination with the sound of crushing waves in the background – I just loved it 🙂 When we arrived at our room we could not believe our eyes: our room had an open air shower and a private pool and it was located at the beachfront! *.* I could try to describe the beauty with words but I think you'll get a better impression if you just take a look at the pics 🙂
Wir wurden von einem privaten Concierge empfangen, der uns durch die wunderschöne Anlage hin zu unserem Zimmer geführt hat. Die ganze Hotel Anlage war einfach ein Traum. Überall sind exotische Pflanzen und Palmen mit zwitschernden Vögeln darauf. Es fühlte sich an, als wären wir im Dschungle besonders mit dem Geräusch der Wellen im Hintergrund – ich war sofort verliebt 🙂 Auf unserem Zimmer angekommen, konnten wir unseren Augen nicht trauen: Wir hatten eine open-air Dusche und sogar einen privaten Pool direkt am Meer! *.* Ich könnte jetzt versuchen, Euch alles mit Worten zu beschreiben, aber ich glaube ihr bekommt einen besseren Eindruck, wenn ihr Euch einfach die Bilder anschaut 🙂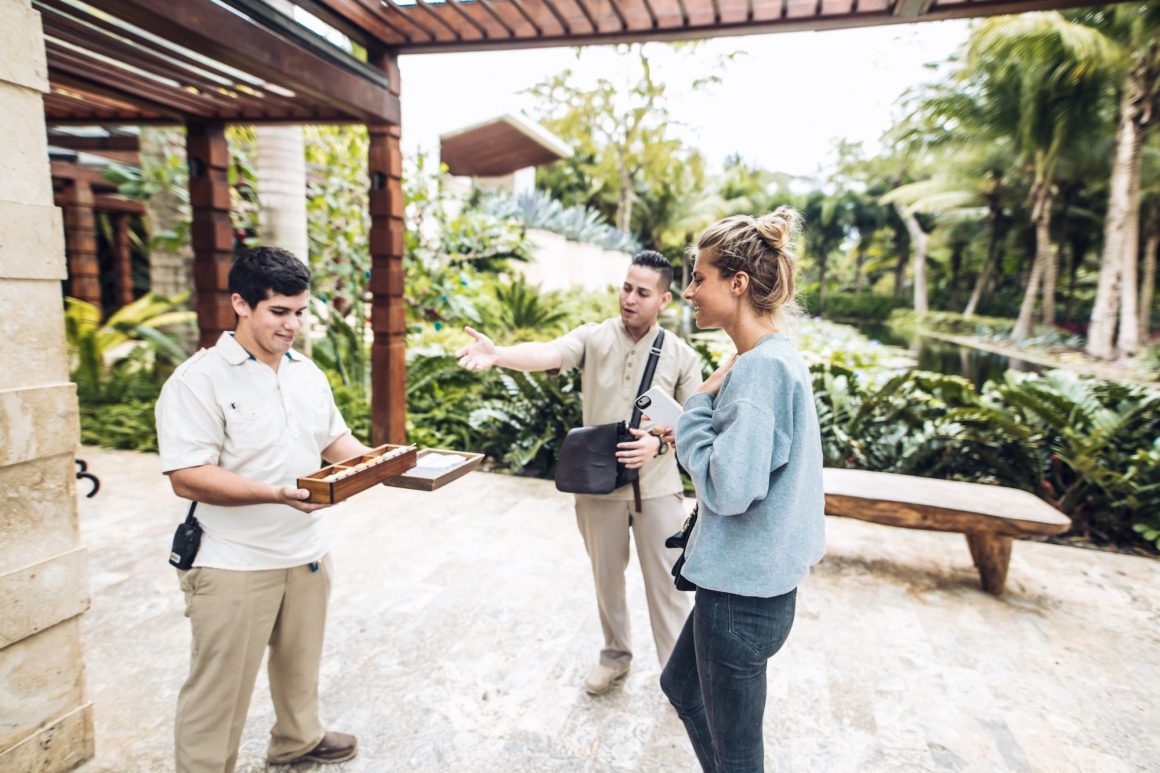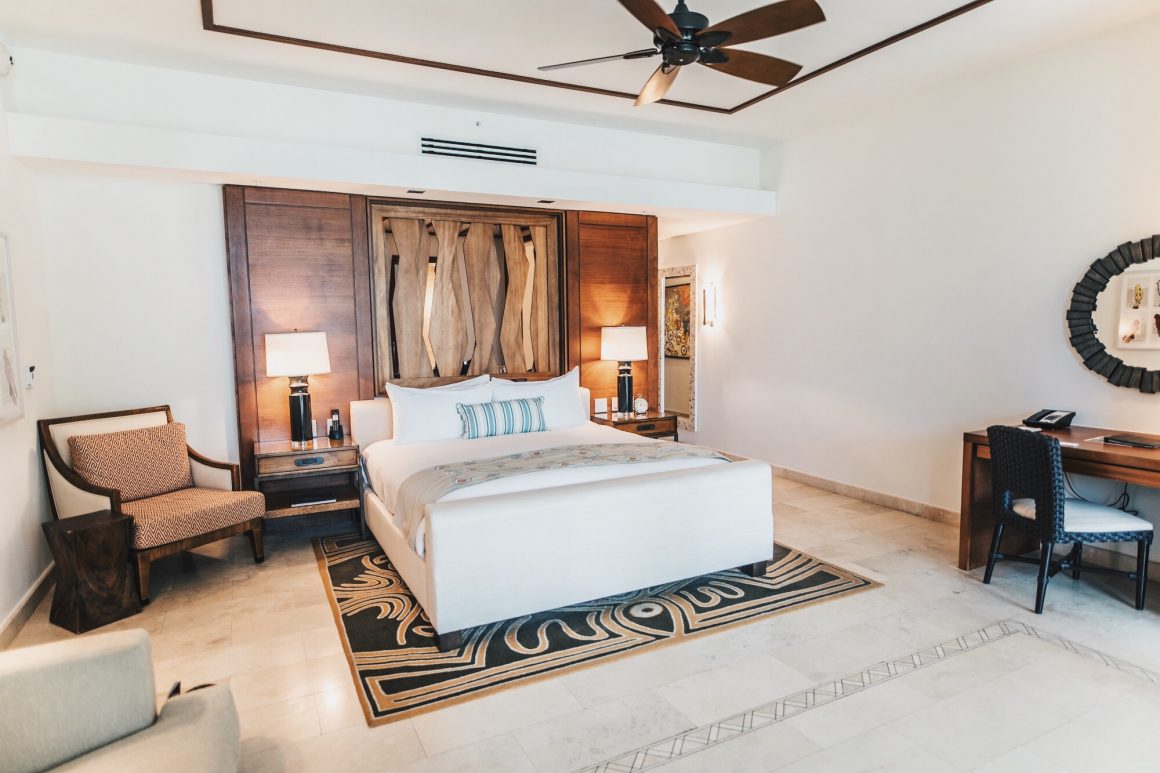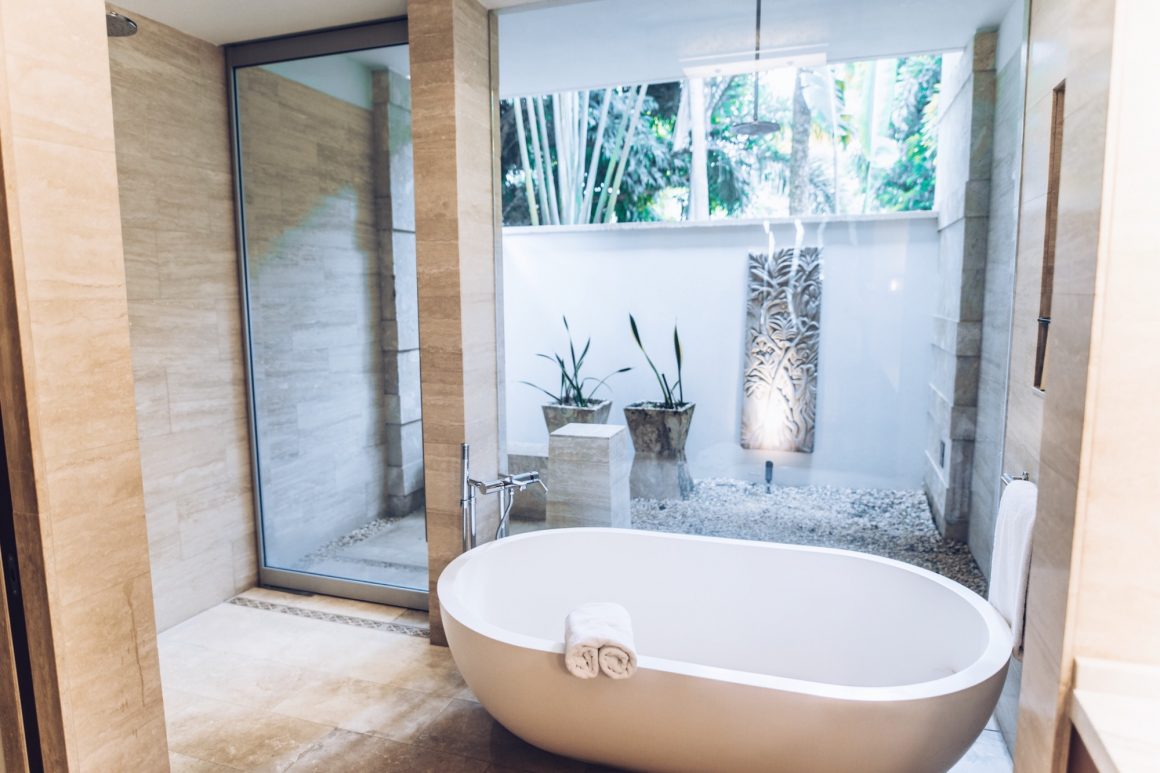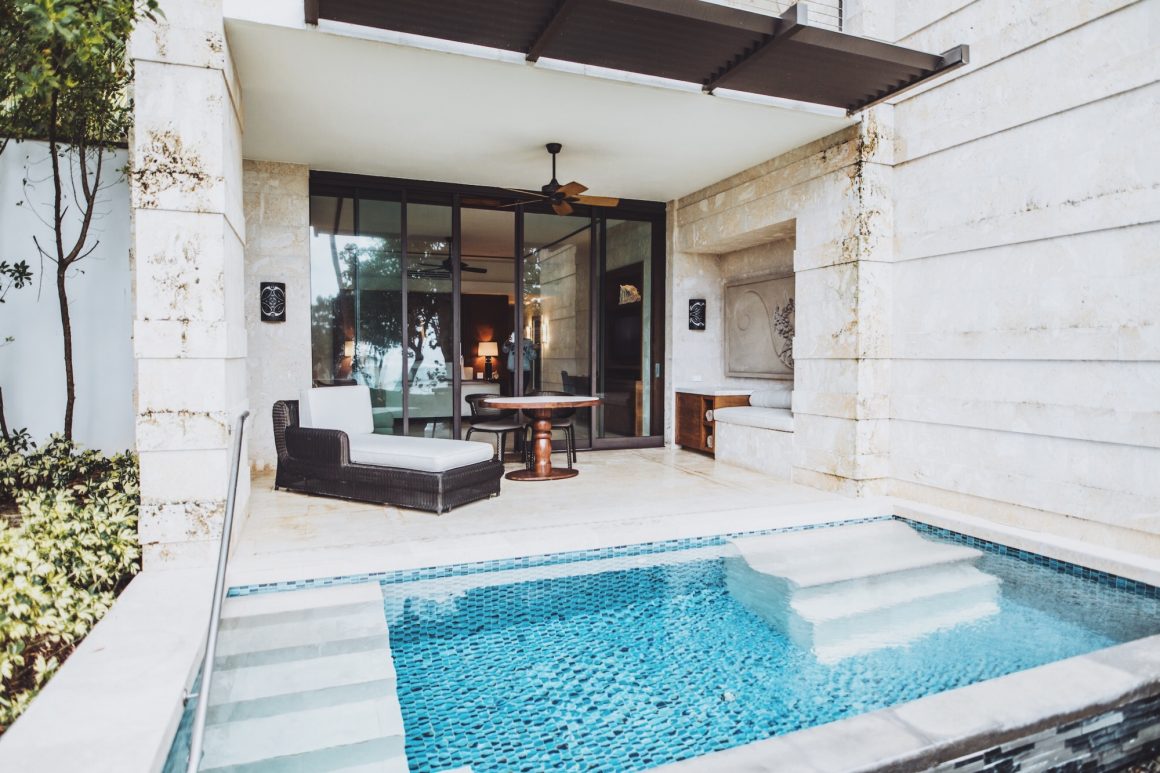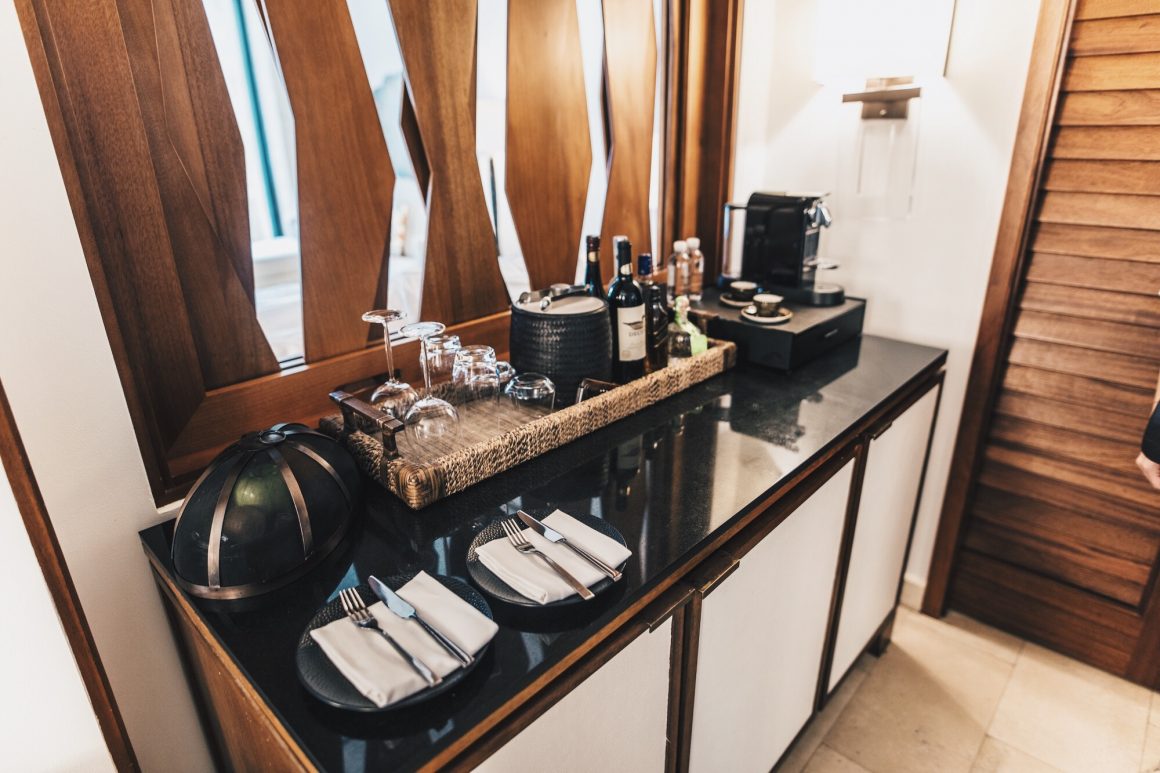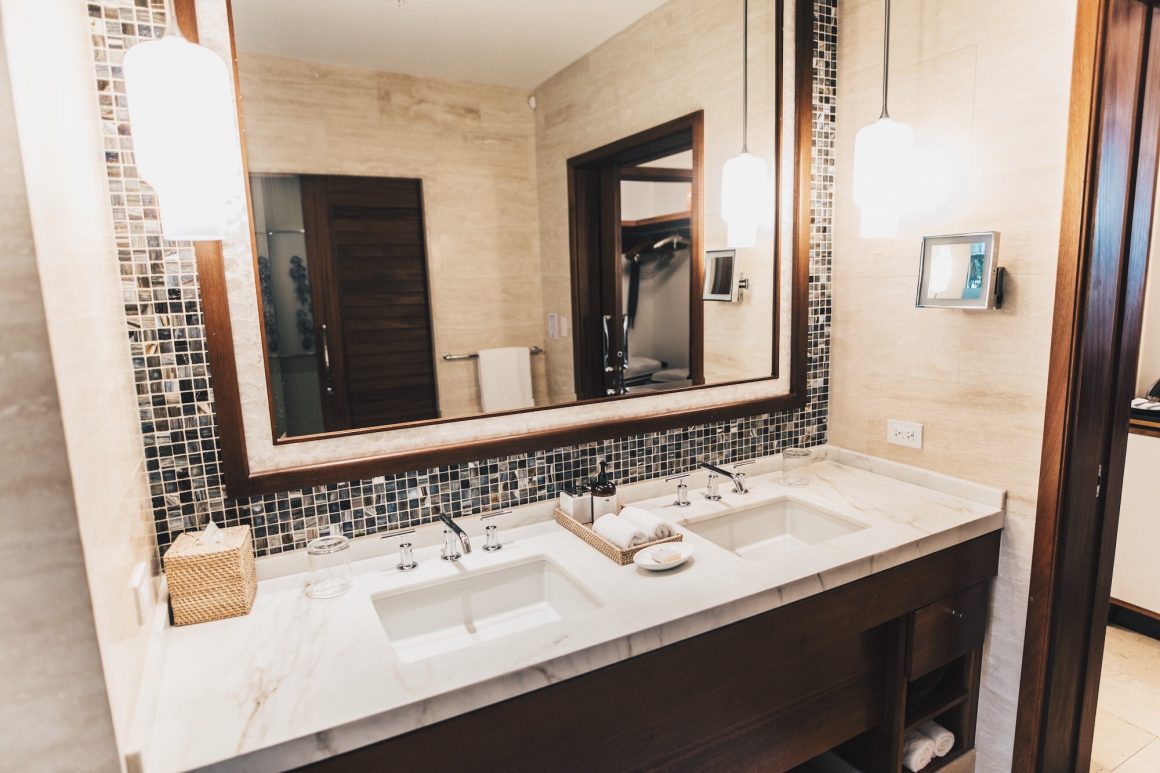 We really didn't know where to start enjoying 😛 But as you know I am a little beach addicted 😀 so we stepped out on our terrace, passed the pool and only a few steps later we arrived at an almost private beach area and of course we brought a fresh coconut for the ultimate summer feeling 😛
Wir wussten einfach nicht, wo bzw. was wir zuerst genießen sollten 😛 Wie ihr ja aber bereits wisst, liebe ich den Strand 😀 Also ging es raus auf unsere Terrasse, am Pool vorbei und wenige Schritte später waren wir an unserem fast privaten Stückchen Strand. Natürlich haben wir für das ultimative Summer-Feeling auch eine frische Kokosnuss mitgebracht 😛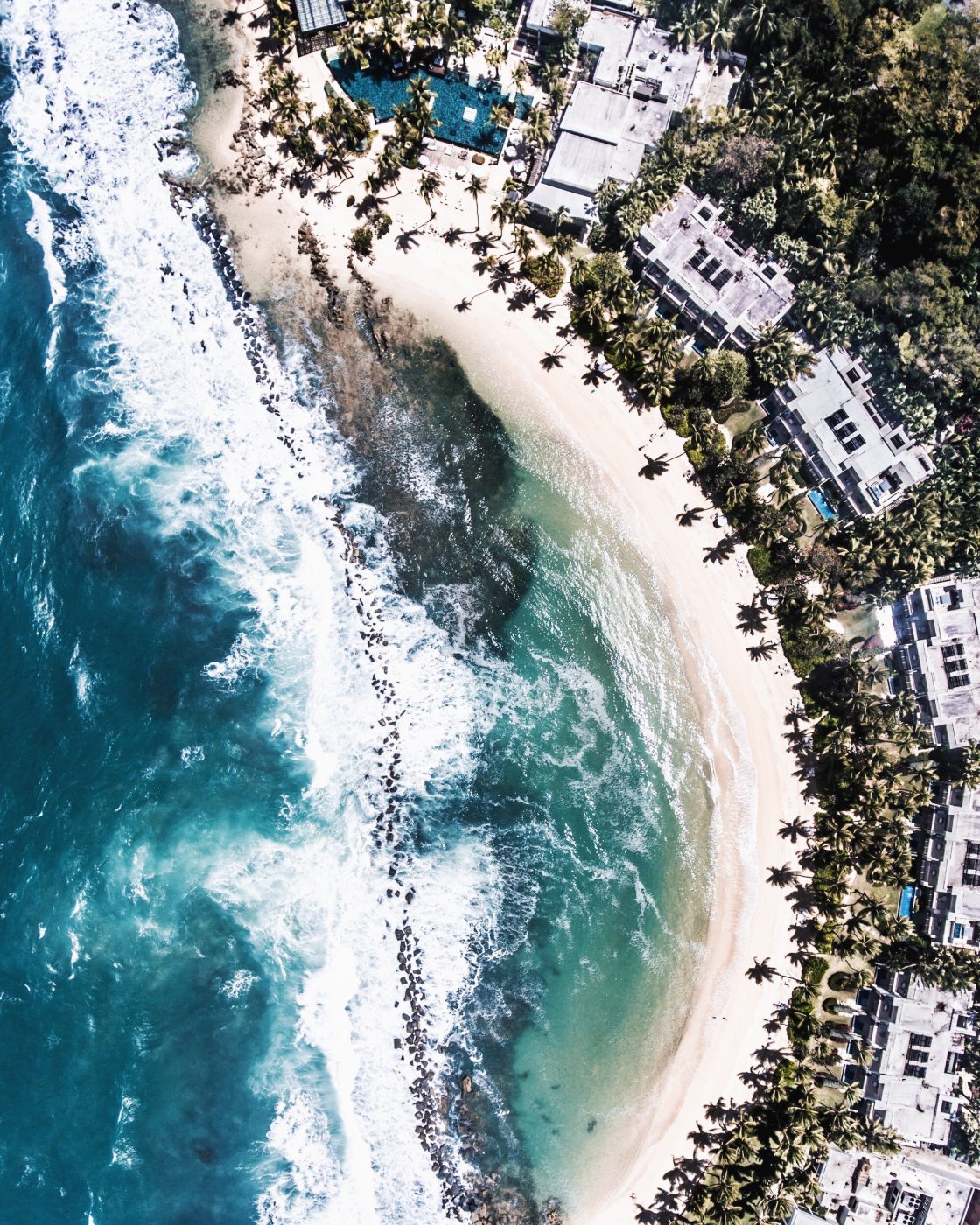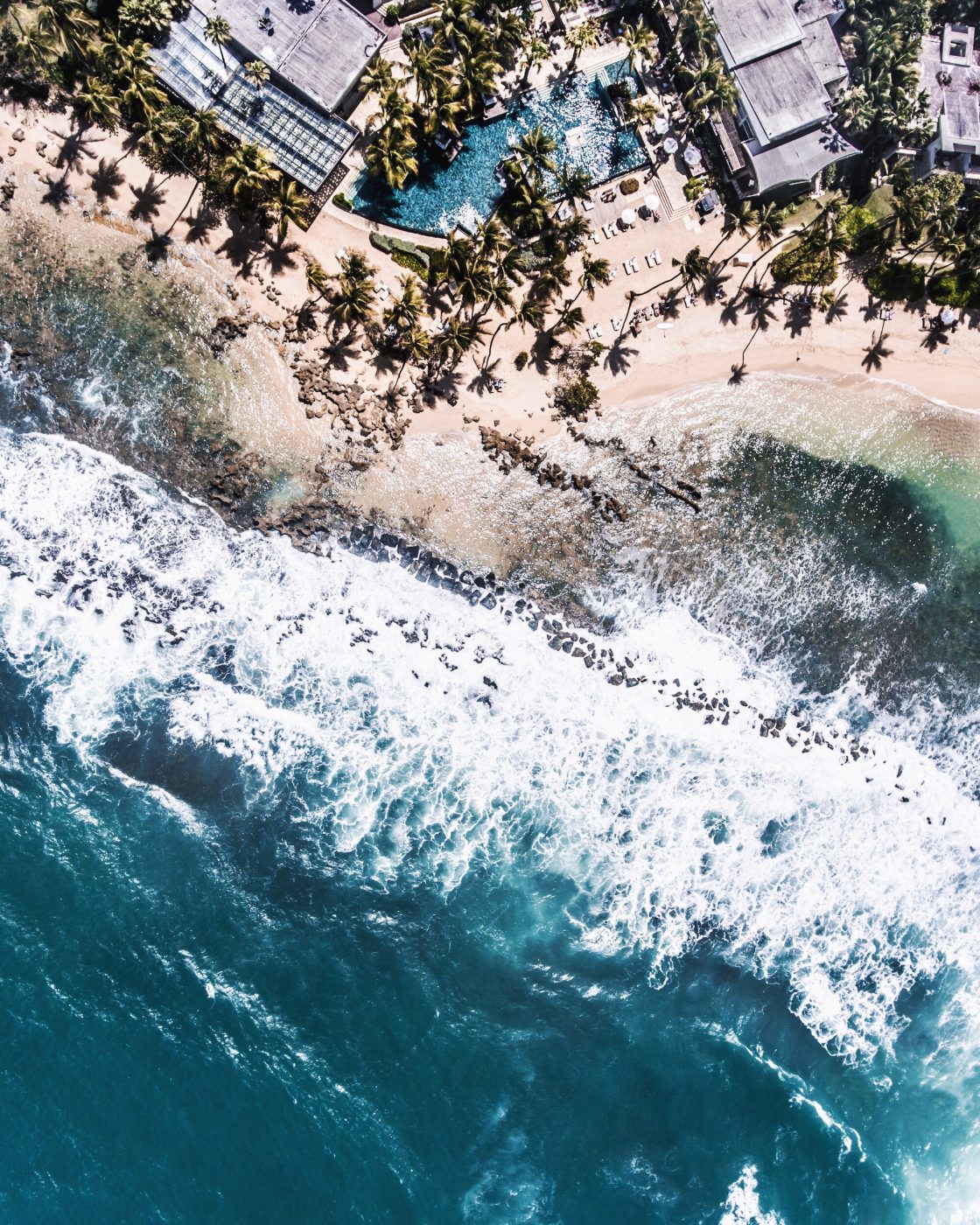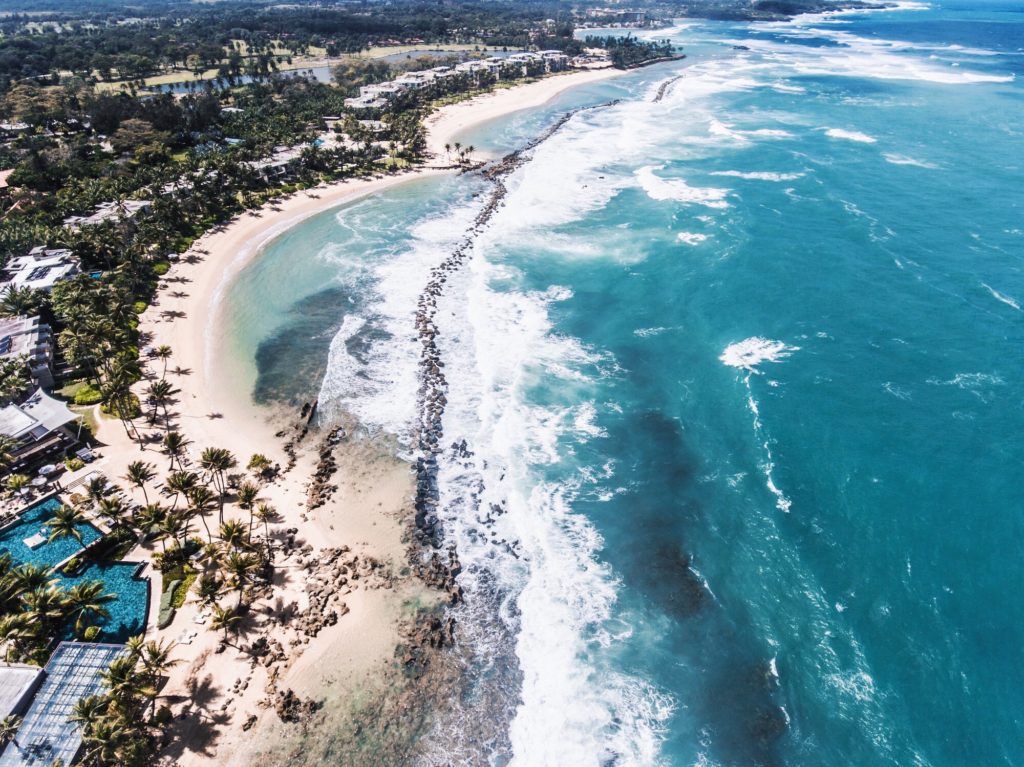 But this was only one auf many beaches located within the Reserve. There are lots of others to discover but unfortunately we couldn't visit them all. Right next to the main pool area – which is by the way already worth spending a day at – there is another beautiful beach area… with HAMMOCKS! Let's be honest: could you imagine anything more relaxing than chilling in a beach hammock enjoying the sunshine? Correct answer: no 😛
Dies war jedoch nur einer von vielen Strandabschnitten der Anlage. Es gab noch viele Andere zu entdecken, aber leider konnten wir sie nicht alle erkunden. Gleich neben dem Hauptpool – der ganz nebenbei auch schon dazu einlädt, einen Tag dort zu verbringen – gibt es einen weiteren Strandabschnitt… mit HÄNGEMATTEN! Ganz ehrlich? Was ist schöner als in einer Hängematte am Strand zu liegen und die Sonne zu genießen?! – richtig: nichts 😛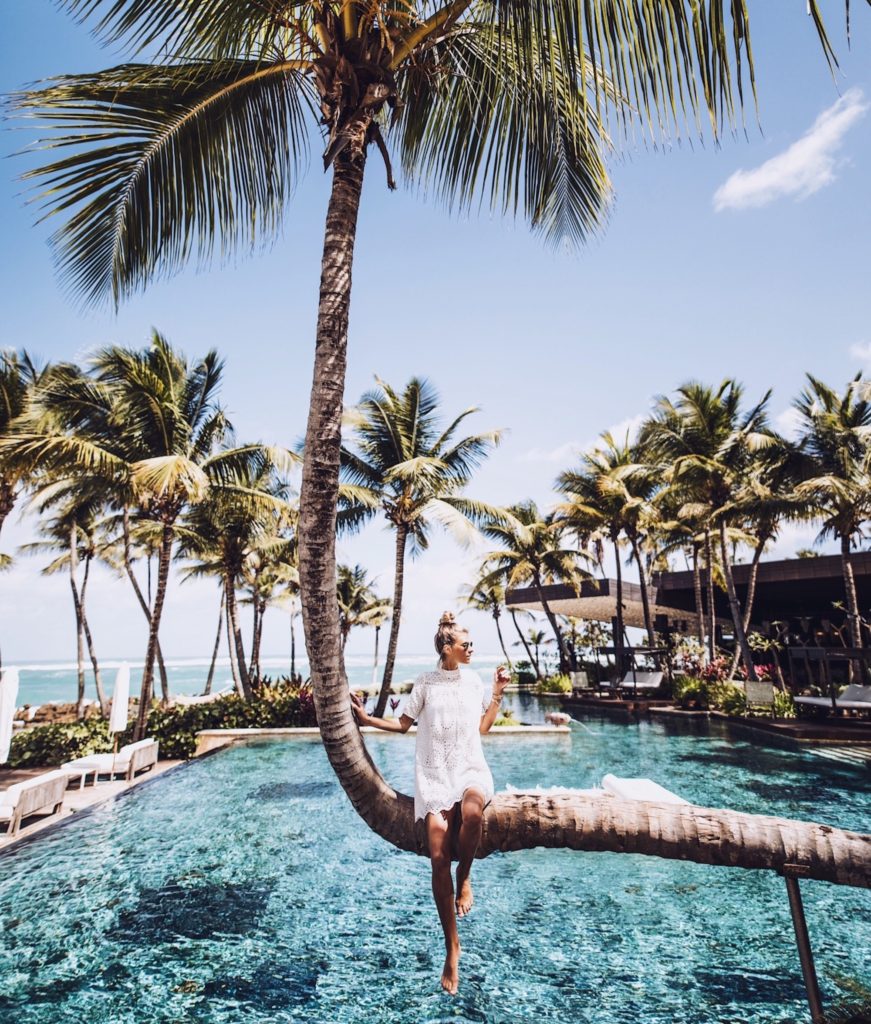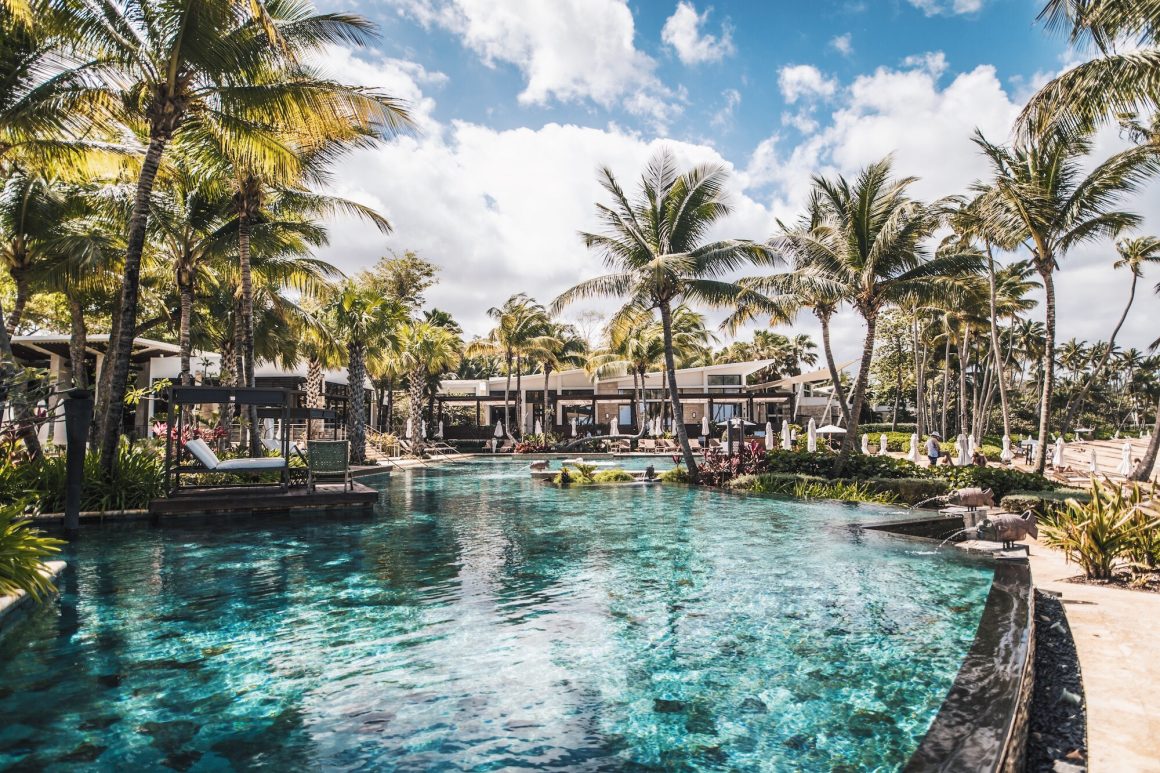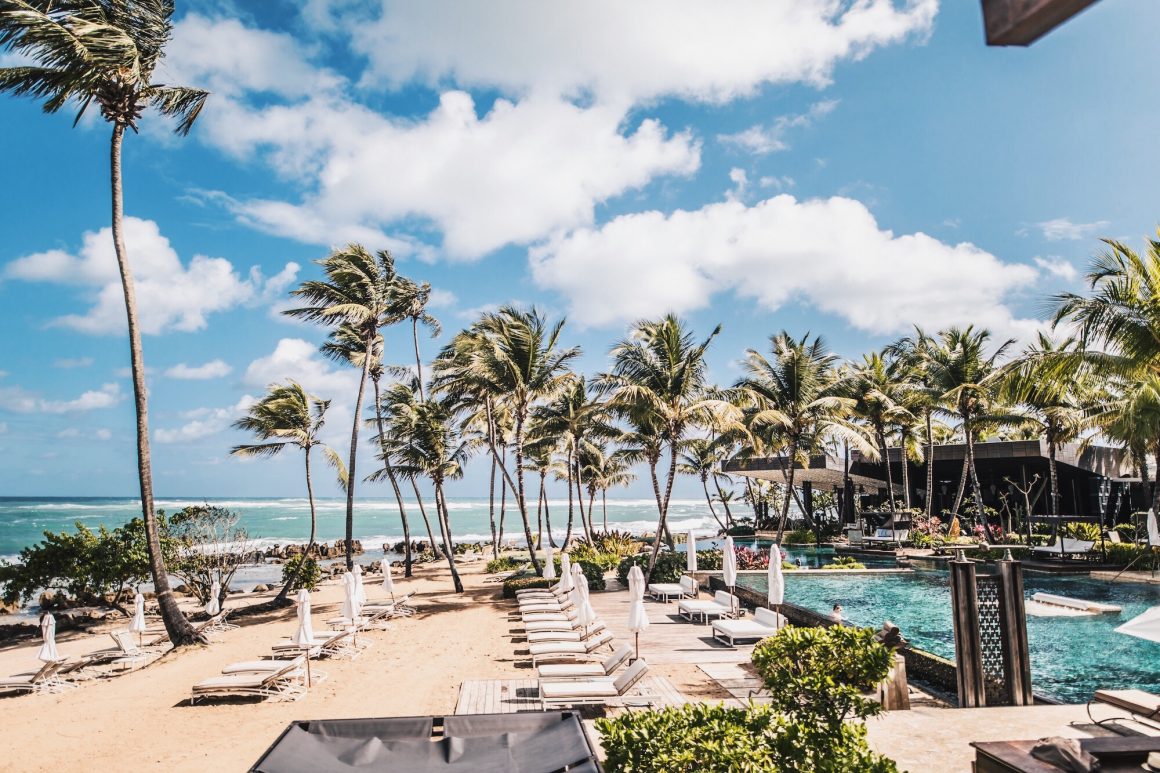 Right behind the beachfront there was one of the restaurants. So for breakfast and dinner we always enjoyed a fantastic view – besides the really really yummy food 🙂
Kurz dahinter, am selben Strandabschnitt, lag eines der Restaurants. Beim Frühstück und Abendessen konnten wir – neben dem super leckeren Essen – also auch noch eine traumhafte Aussicht genießen 🙂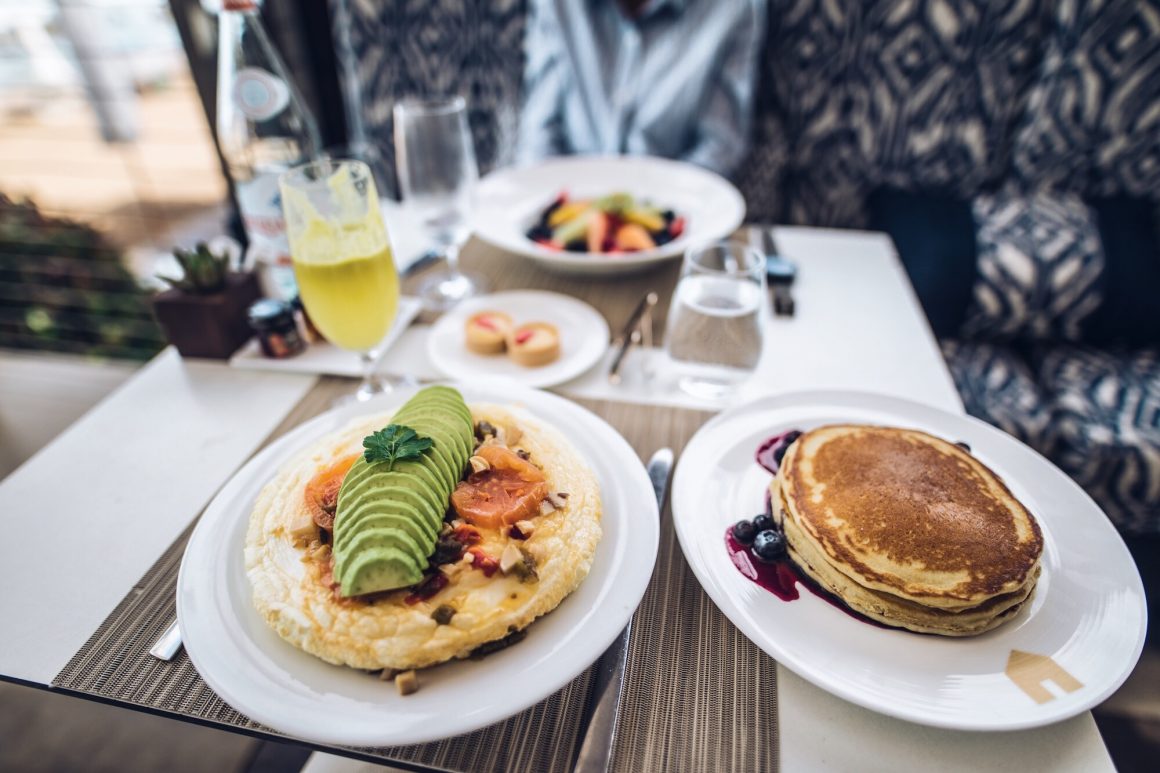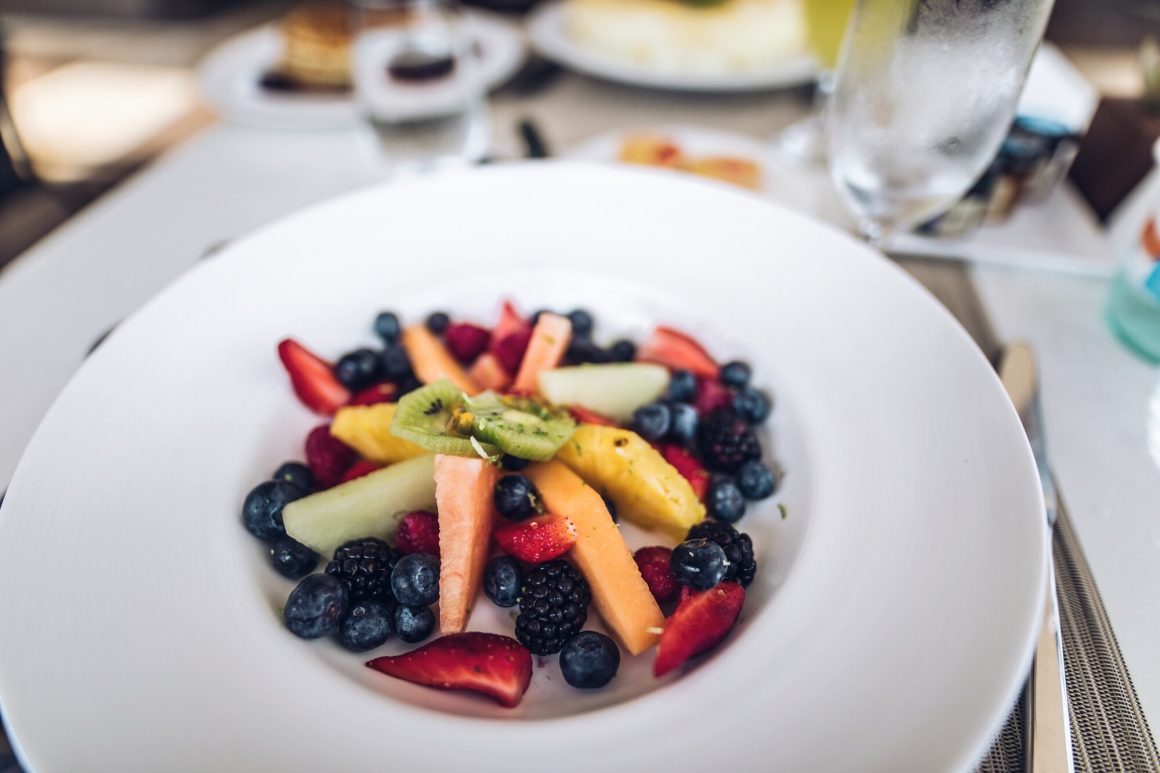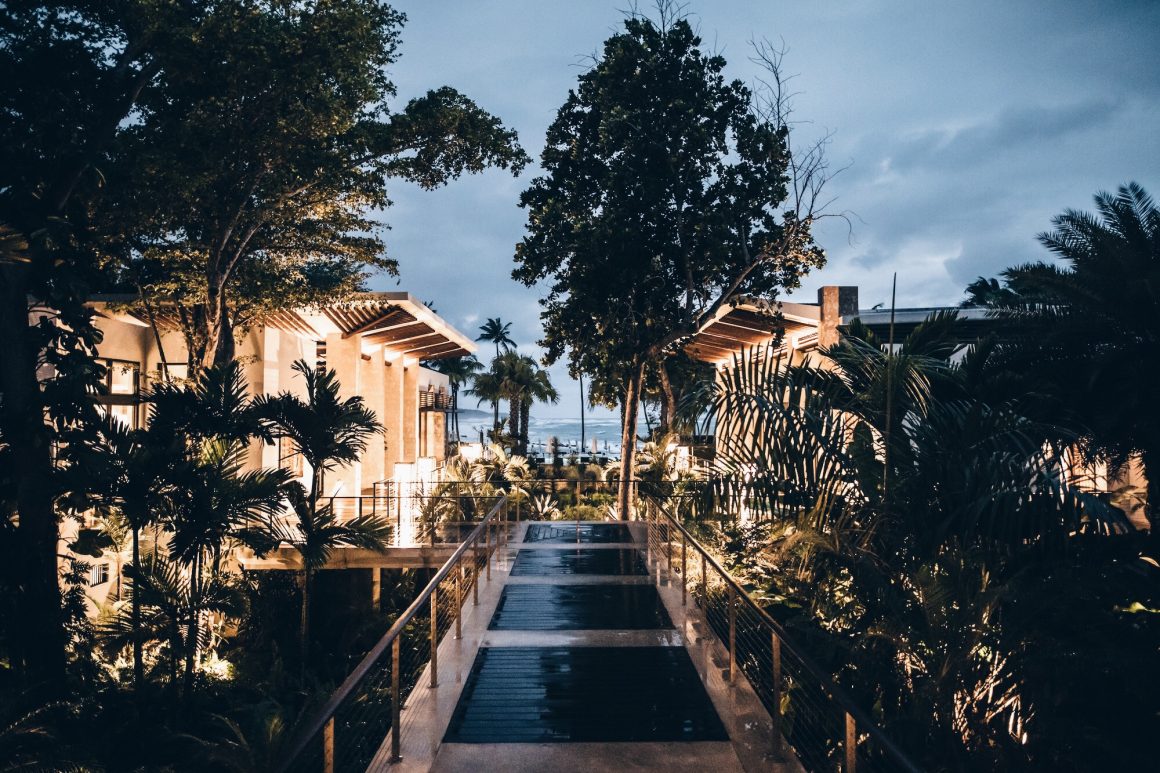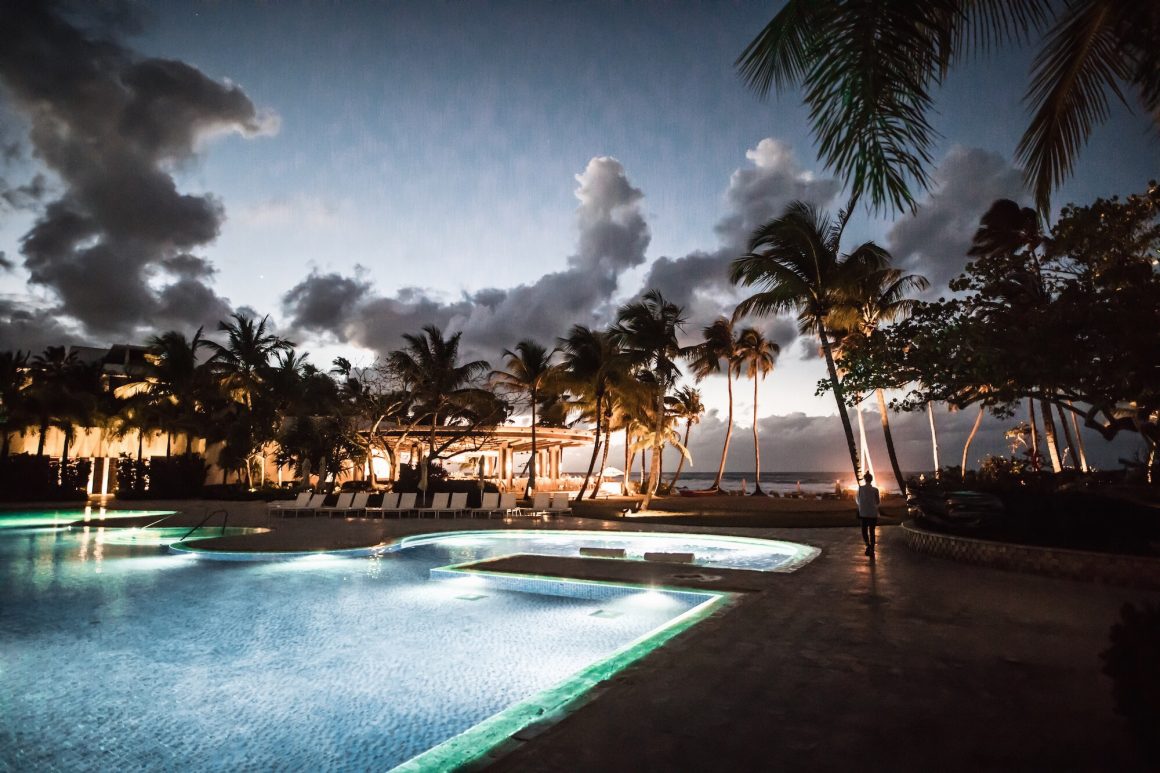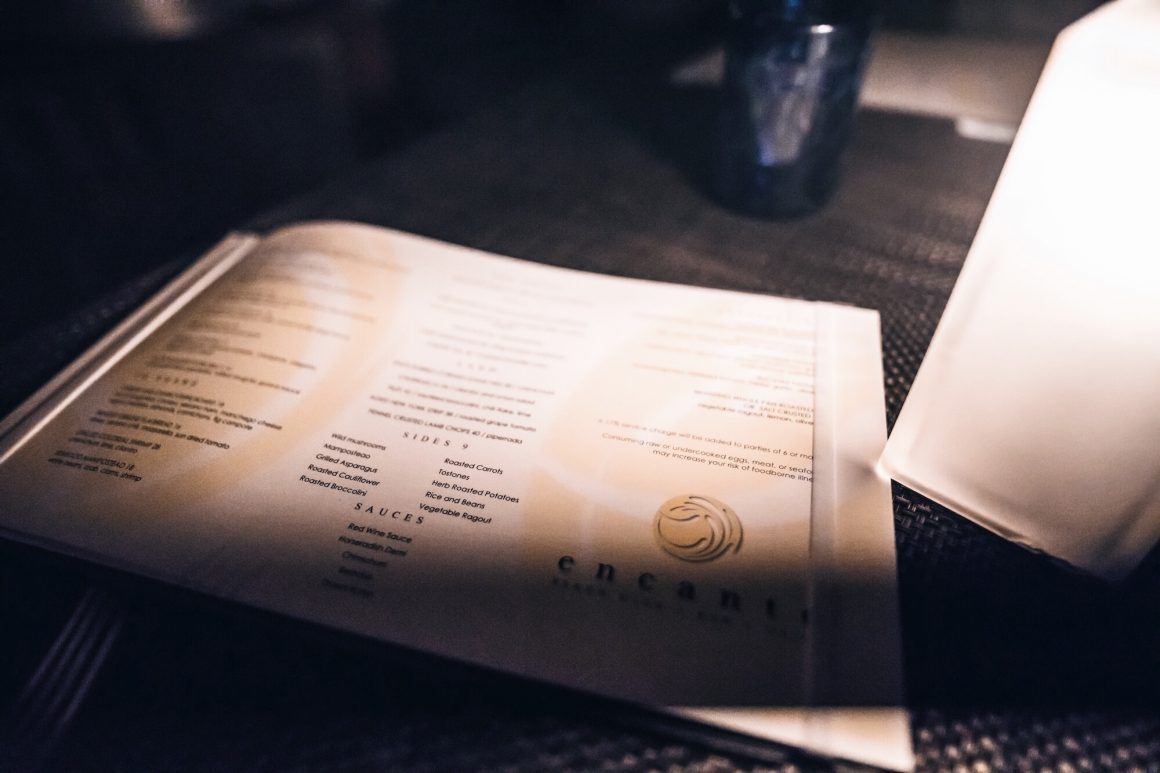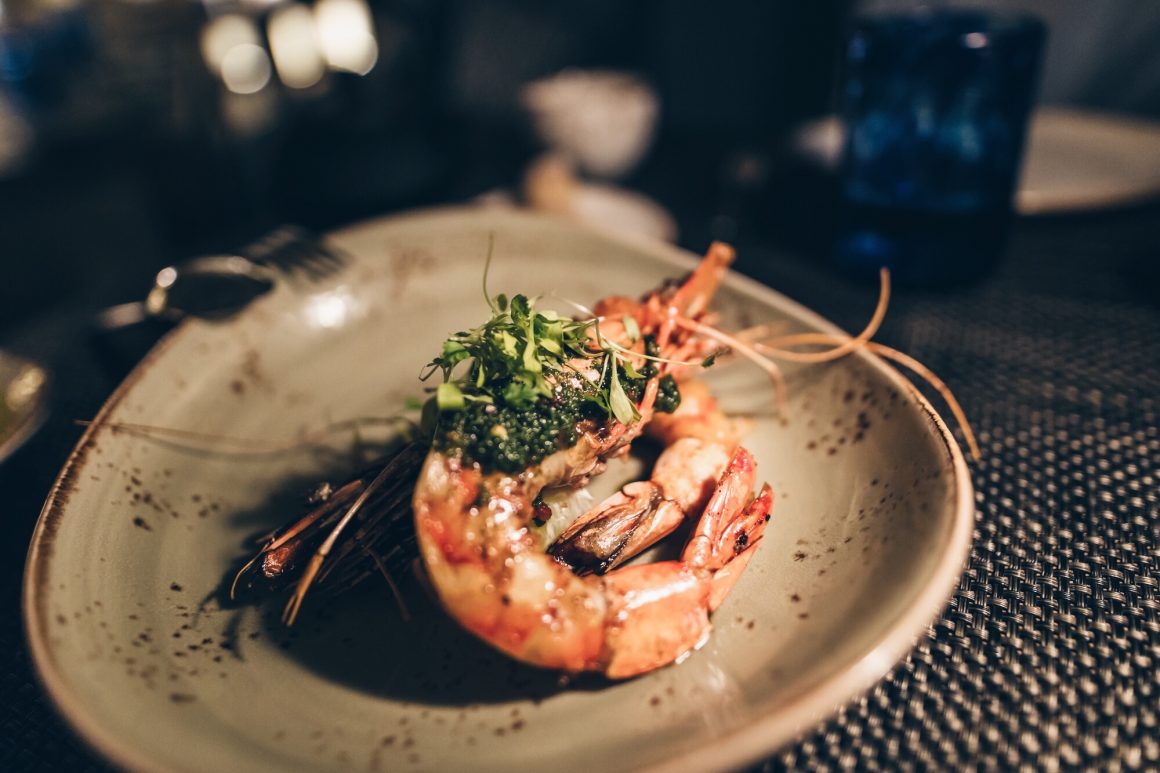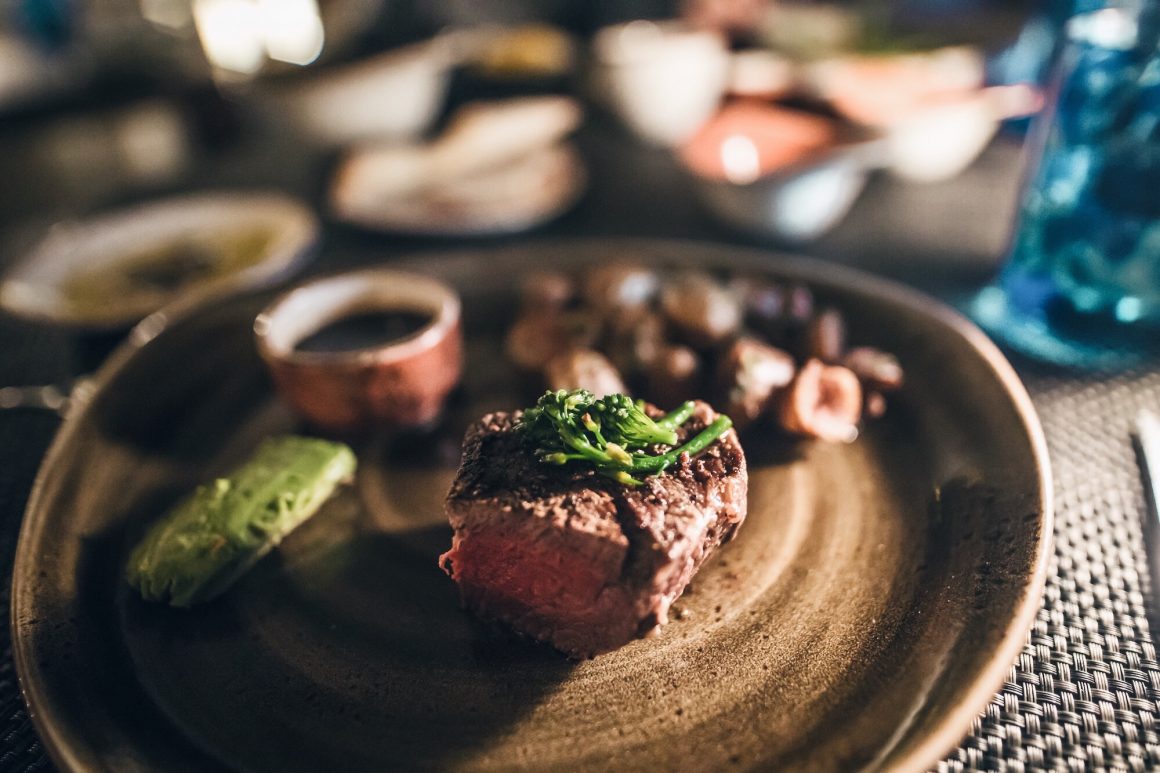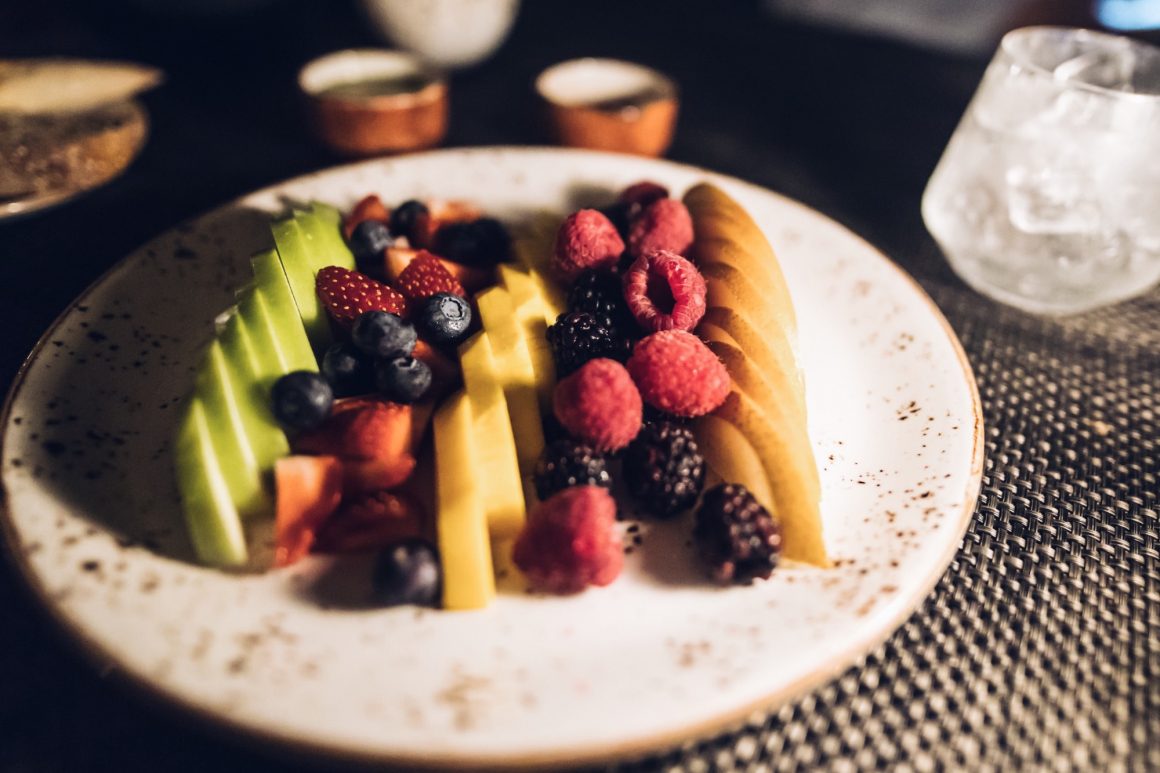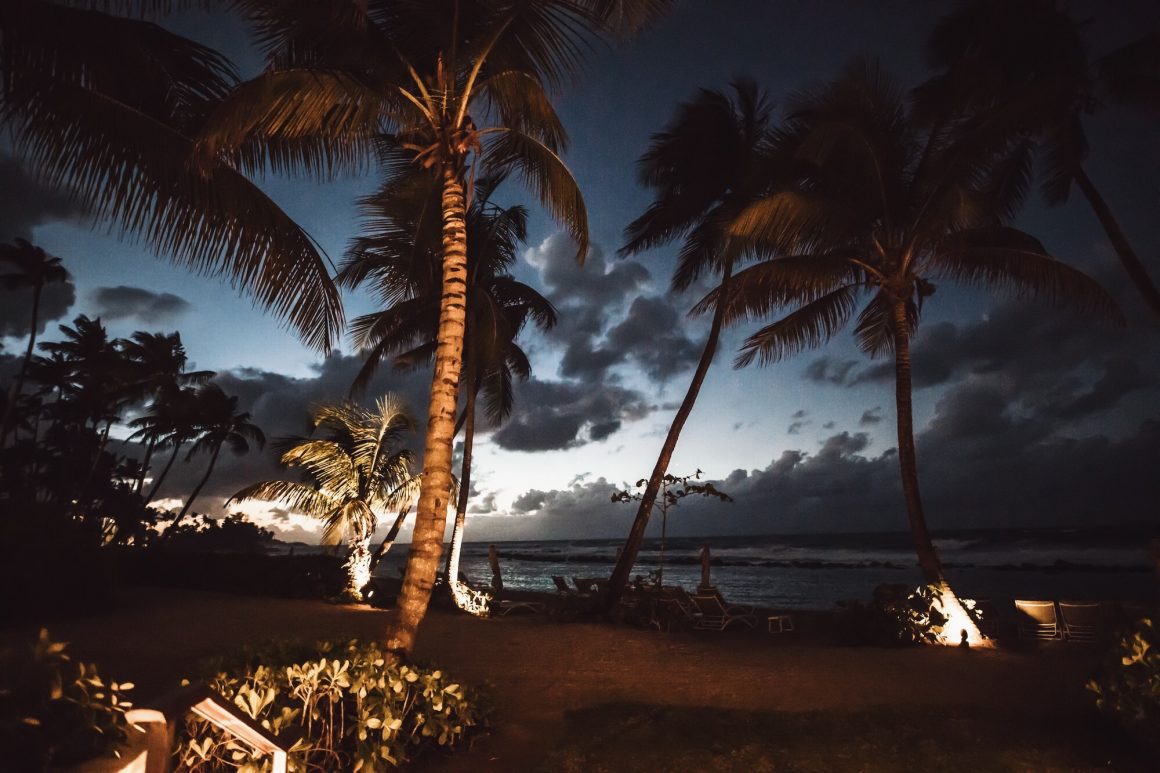 But I have to show you another beach as well we randomly discovered. This one is located outside of the reserve but more than worth a visit as well! It's called "Playa Aviones". A huge beach located about 5 kilometres east from San Juan. What's really cool about this place? Planes are passing the beach every 15-30 minutes in only about 50 meters height because the airport is so close. So that's why it's called Playa Aviones 😉
Allerdings muss ich euch auch noch einen anderen Strand zeigen, den wir zufällig entdeckt haben. Dieser liegt ausserhalb des Reserves und ist eigentlich mehr als nur einen Besuch Wert! Er heißt "Playa Aviones" – ein großes Fleckchen Strand knapp 5 Kilometer östlich von San Juan. Das coole an diesem Strand: alle 15-30 Minuten fliegt ein Flugzeug nur ca. 50 Meter hoch vorbei, da der Flughafen so nahe ist, daher auch der Name 😉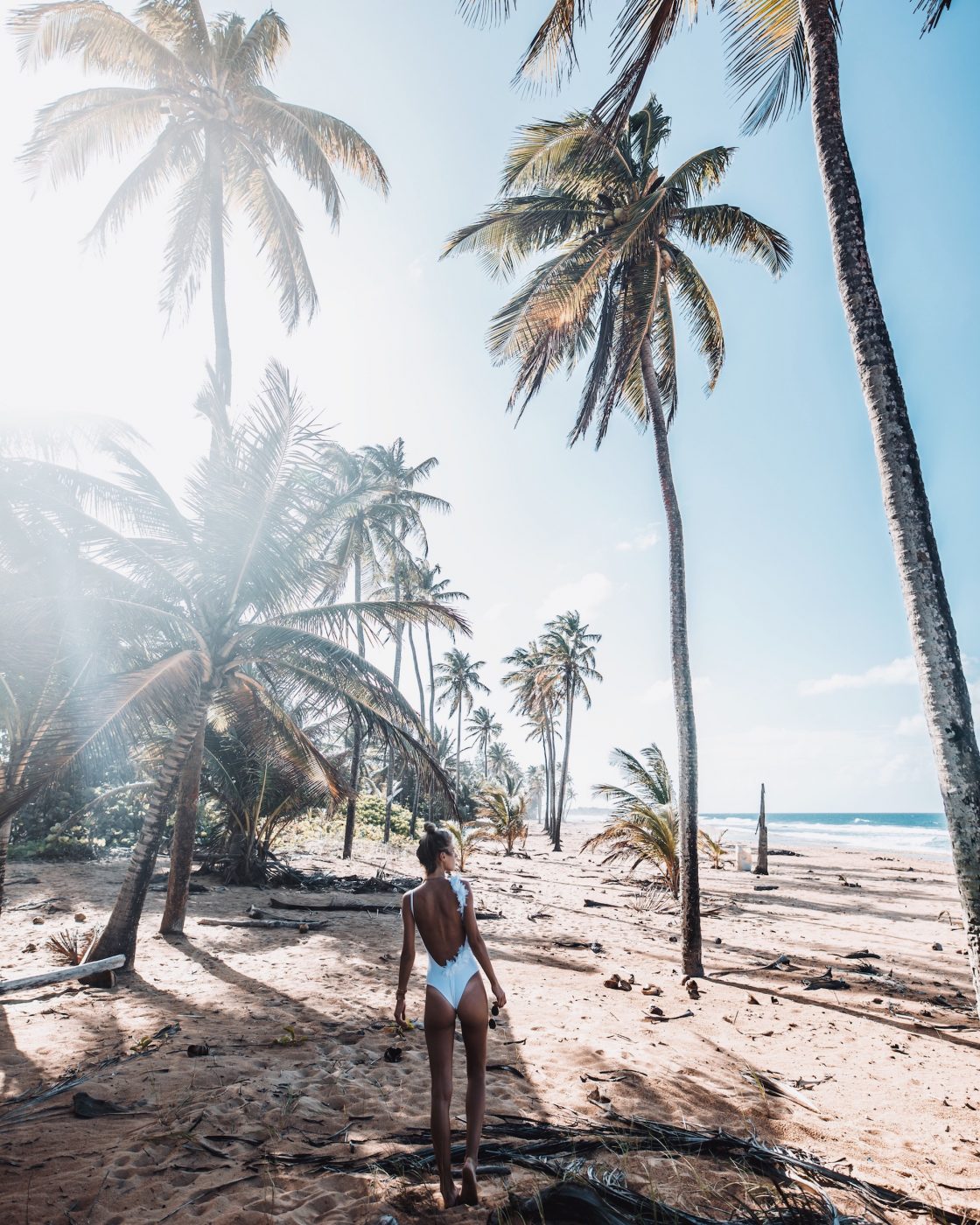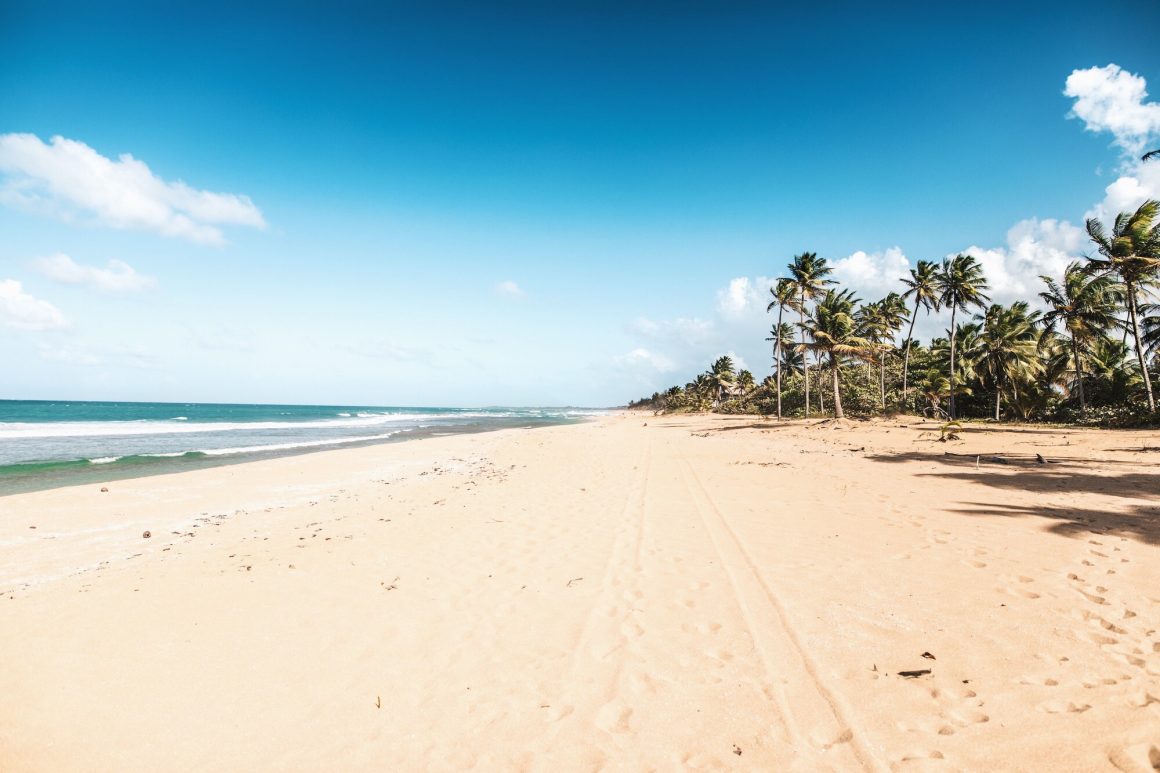 Last but not least I just have to tell you about the Botanical Spa, the most beautifully landscaped Spa I have ever seen. The entrance alone with its impressive tree in front looked like it would be there for a thousand years already. As I already said the nature-feeling at this place was incredible. I don't have words for the spa area itself – really, no words 😀 The main area had a great pool and an own botanical garden full of plants and fruits I have never seen before. There are private bungalows with open air bath tubes and a steam room where you can spend your day in total relaxation. MY HIGHLIGHT: Located in the Spa Jungle Area there are tree houses – yes, TREE HOUSES *.* – where you can get yourself a massage treatment – it was unreal 🙂
Last but not least muss ich Euch einfach noch vom botanischen Spa erzählen! Mit Abstand die schönste Spa-Area die ich bisher besucht habe. Allein der Eingang mit dem riesigen Baum davor, ist schon super beeindruckend und sieht aus, als wäre er schon seit tausenden Jahren dort. Wie schon gesagt, war dieses Natur-Feeling überall auf der Anlage zu spüren, aber nirgends so stark, wie im Spa – einfach unglaublich schön und nicht mit Worten zu beschreiben – wirklich nicht 😀 Der Hauptbereich hatte einen eigenen Pool und einen riesigen botanischen Garten voll mit Pflanzen und Früchten, die ich noch nie gesehen habe. Es gab private Bungalows mit open-air Badewannen und Dampfbädern für den entspannendsten Tag überhaupt. Mein absolutes HIGHLIGHT aber: Im eigenen Spa-Dschungel gibt es Baumhäuser – ja, BAUMHÄUSER! *.* – in denen man sich massieren lassen kann – unfassbar 🙂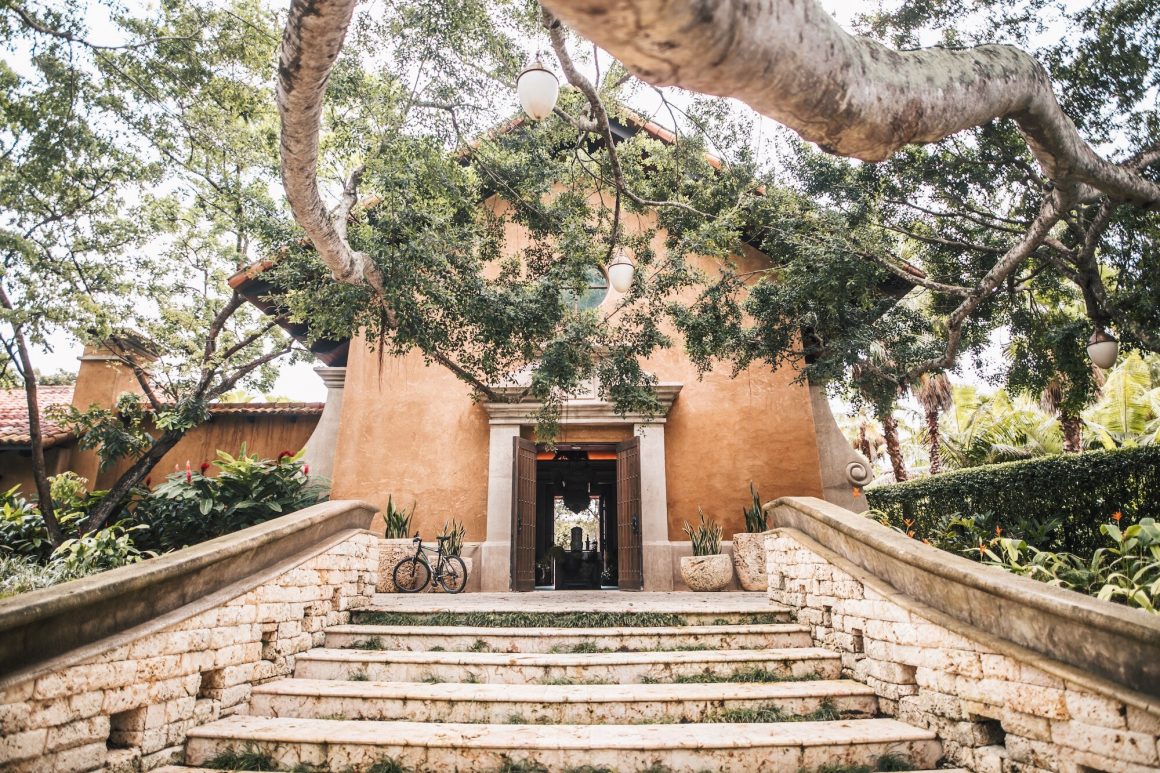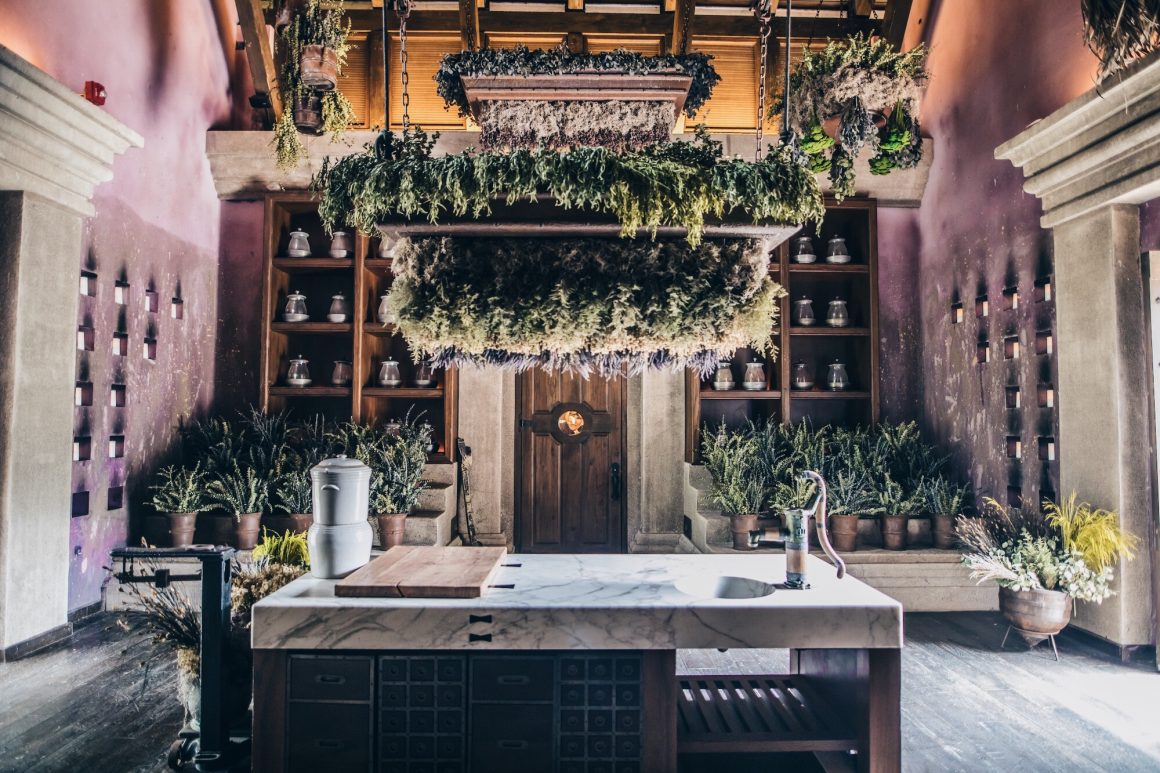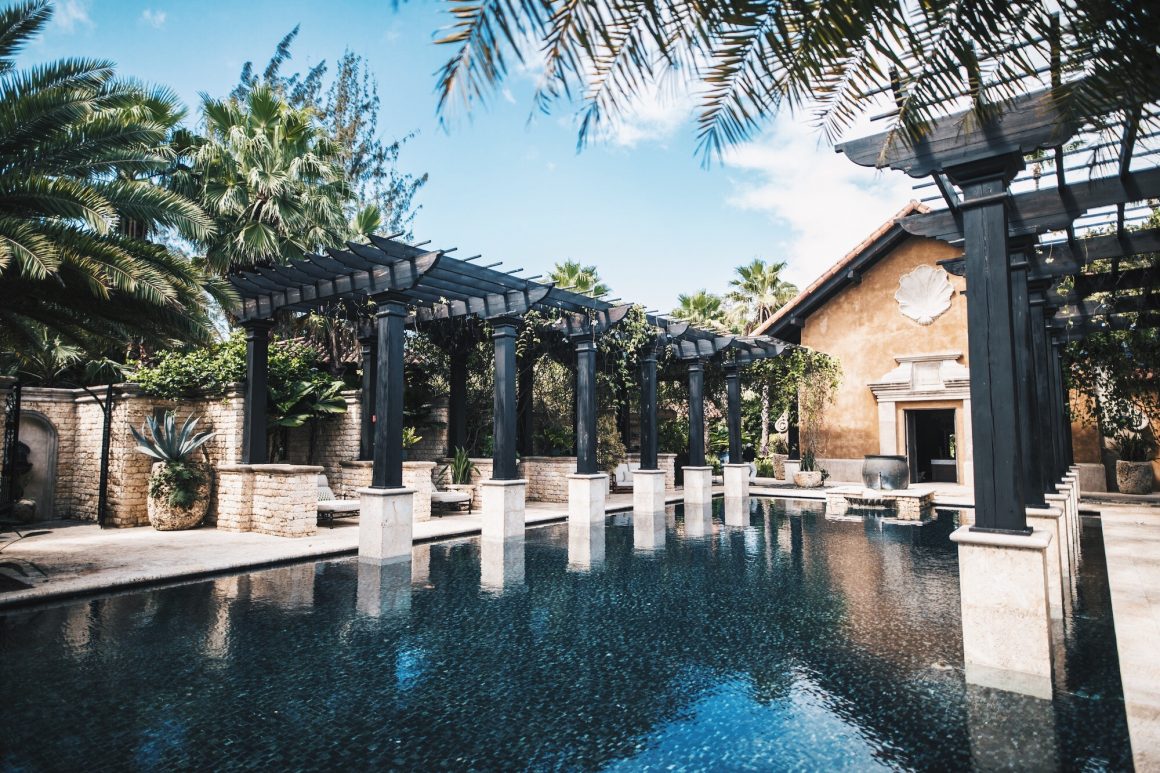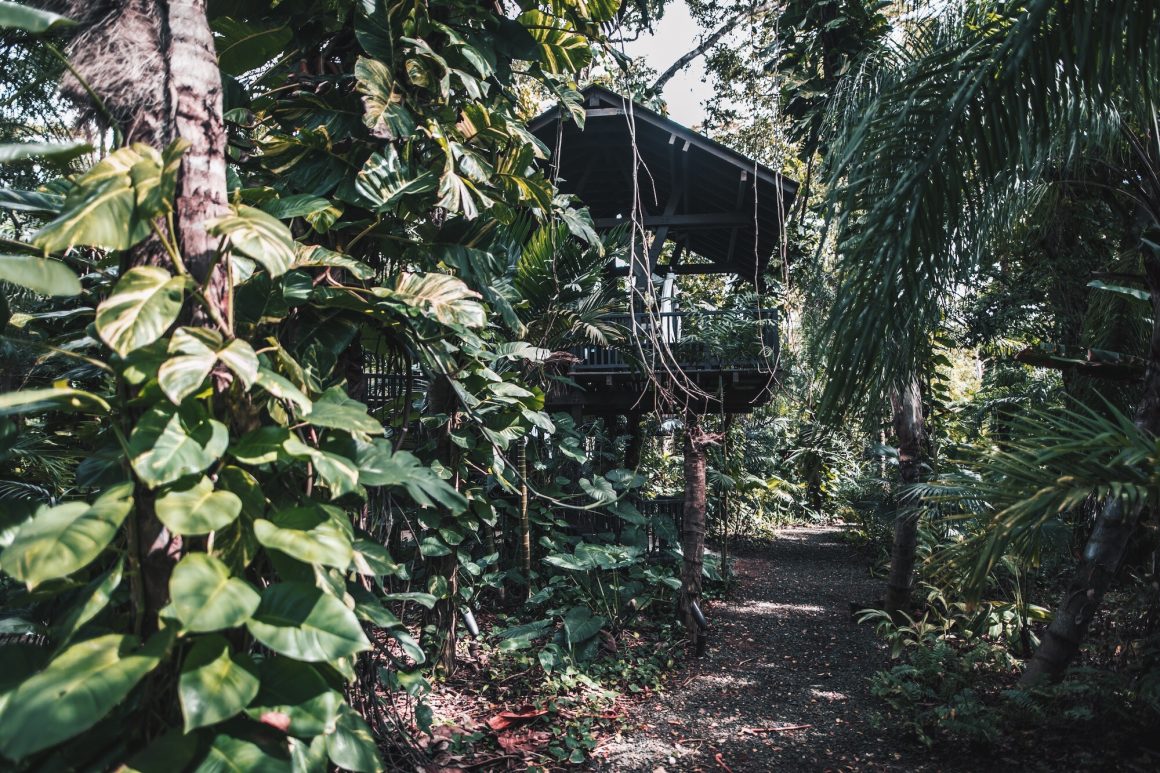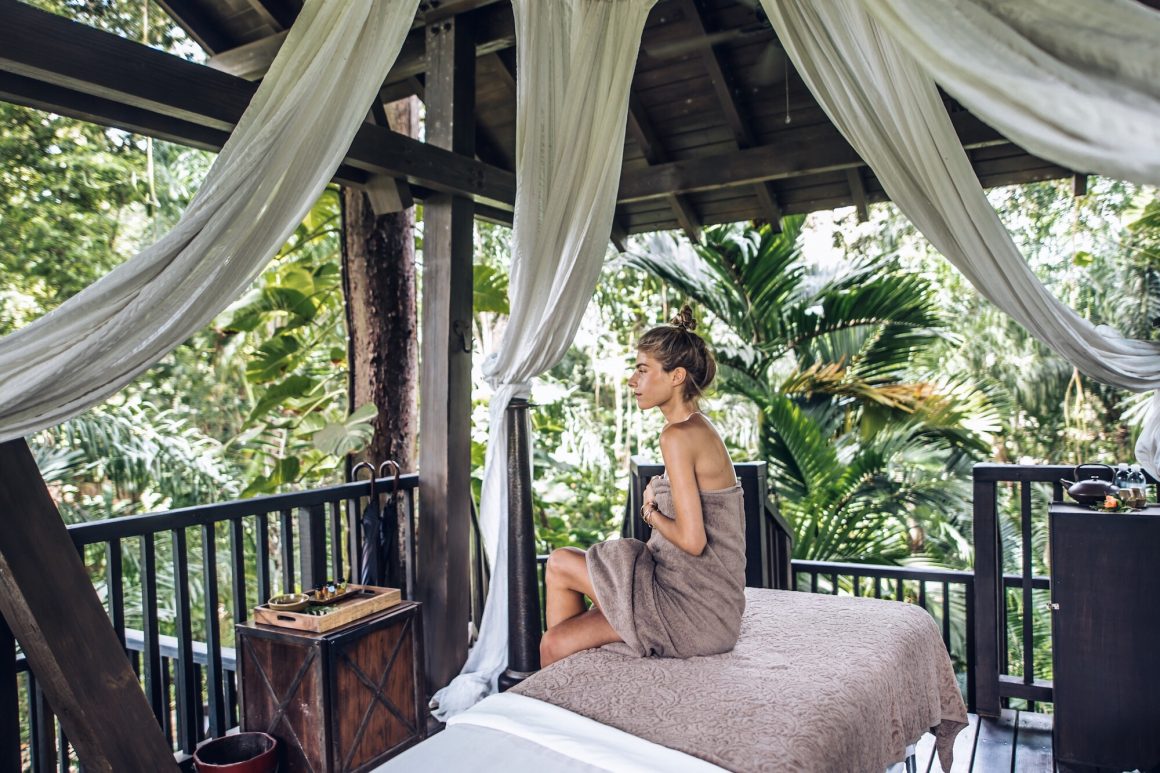 We really enjoyed the stay but unfortunately we had to say good bye after only a few days. As you maybe already know – we were heading to Paris for a exciting secret project with L'Oreal which I will tell you about in a few weeks 😉 We had an unforgettable time in Puerto Rico with the Ritz-Carlton and we'd like to say THANK YOU to everyone who made this experience so special!! 🙂
Wir haben unsere Zeit dort mehr als genossen, aber leider mussten wir uns nach nur wenigen Tagen schon wieder verabschieden. Wie ihr vielleicht schon mitbekommen haben, ging es nämlich sehr kurzfristig nach Paris für eine spannendes, aber leider noch geheimes Projekt mit L'Oreal, worüber ich Euch aber in ein paar Wochen mehr berichten kann 😉 Wir hatten eine unvergessliche Zeit in Puerto Rico mit the Ritz-Carlton und möchten noch einmal DANKE sagen, an alle, die diese Zeit so besonders gemacht haben!! 🙂
xx Debi
…and for all of you guys who haven't seen Part 1 yet: Just click on the pic below 🙂
…und für alle, die Part 1 noch nicht kennen: klickt einfach auf das Bild 🙂